Abstract
Membrane protein efflux pumps confer antibiotic resistance by extruding structurally distinct compounds and lowering their intracellular concentration. Yet, there are no clinically approved drugs to inhibit efflux pumps, which would potentiate the efficacy of existing antibiotics rendered ineffective by drug efflux. Here we identified synthetic antigen-binding fragments (Fabs) that inhibit the quinolone transporter NorA from methicillin-resistant Staphylococcus aureus (MRSA). Structures of two NorA–Fab complexes determined using cryo-electron microscopy reveal a Fab loop deeply inserted in the substrate-binding pocket of NorA. An arginine residue on this loop interacts with two neighboring aspartate and glutamate residues essential for NorA-mediated antibiotic resistance in MRSA. Peptide mimics of the Fab loop inhibit NorA with submicromolar potency and ablate MRSA growth in combination with the antibiotic norfloxacin. These findings establish a class of peptide inhibitors that block antibiotic efflux in MRSA by targeting indispensable residues in NorA without the need for membrane permeability.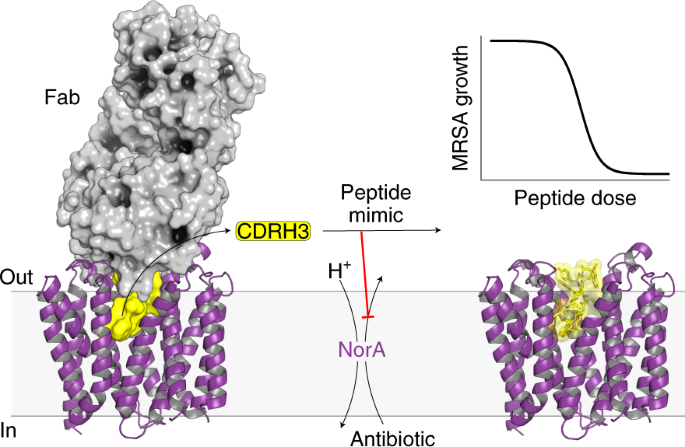 Access options
Access Nature and 54 other Nature Portfolio journals
Get Nature+, our best-value online-access subscription
$29.99 / 30 days
cancel any time
Subscribe to this journal
Receive 12 print issues and online access
$259.00 per year
only $21.58 per issue
Rent or buy this article
Get just this article for as long as you need it
$39.95
Prices may be subject to local taxes which are calculated during checkout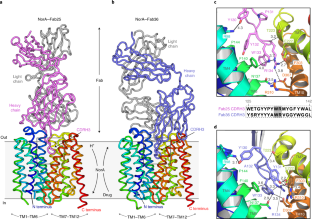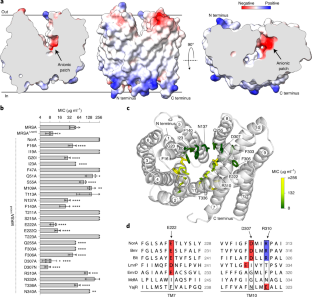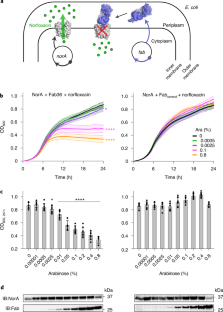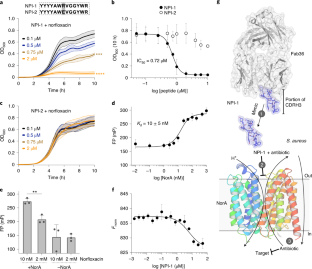 Data availability
The datasets generated during and/or analyzed during the current study are deposited in the Electron Microscopy Data Bank and PDB for NorA–Fab25 (EMD-23463; PDB ID: 7LO7) and NorA–Fab36 (EMD-23464; PDB ID: 7LO8). Source data are provided with this paper.
References
Antibiotic Resistance Threats in the United States, 2019 (Centers for Disease Control and Prevention, 2019); https://doi.org/10.15620/cdc:82532

Nikaido, H. Multidrug resistance in bacteria. Annu. Rev. Biochem. 78, 119–146 (2009).

Du, D. et al. Multidrug efflux pumps: structure, function and regulation. Nat. Rev. Microbiol. 16, 523–539 (2018).

Piddock, L. J. Multidrug-resistance efflux pumps—not just for resistance. Nat. Rev. Microbiol. 4, 629–636 (2006).

Singh, R. et al. Temporal interplay between efflux pumps and target mutations in development of antibiotic resistance in Escherichia coli. Antimicrob. Agents Chemother. 56, 1680–1685 (2012).

Papkou, A., Hedge, J., Kapel, N., Young, B. & MacLean, R. C. Efflux pump activity potentiates the evolution of antibiotic resistance across S. aureus isolates. Nat. Commun. 11, 3970 (2020).

Costa, S. S. et al. Genetic diversity of norA, coding for a main efflux pump of Staphylococcus aureus. Front. Genet. 9, 710 (2018).

Paulsen, I. T., Brown, M. H. & Skurray, R. A. Proton-dependent multidrug efflux systems. Microbiol. Rev. 60, 575–608 (1996).

Yu, J. L., Grinius, L. & Hooper, D. C. NorA functions as a multidrug efflux protein in both cytoplasmic membrane vesicles and reconstituted proteoliposomes. J. Bacteriol. 184, 1370–1377 (2002).

Ng, E. Y., Trucksis, M. & Hooper, D. C. Quinolone resistance mediated by NorA: physiologic characterization and relationship to flqB, a quinolone resistance locus on the Staphylococcus aureus chromosome. Antimicrob. Agents Chemother. 38, 1345–1355 (1994).

Kaatz, G. W., Thyagarajan, R. V. & Seo, S. M. Effect of promoter region mutations and mgrA overexpression on transcription of norA, which encodes a Staphylococcus aureus multidrug efflux transporter. Antimicrob. Agents Chemother. 49, 161–169 (2005).

DeMarco, C. E. et al. Efflux-related resistance to norfloxacin, dyes, and biocides in bloodstream isolates of Staphylococcus aureus. Antimicrob. Agents Chemother. 51, 3235–3239 (2007).

Yoshida, H., Bogaki, M., Nakamura, S., Ubukata, K. & Konno, M. Nucleotide sequence and characterization of the Staphylococcus aureus norA gene, which confers resistance to quinolones. J. Bacteriol. 172, 6942–6949 (1990).

Neyfakh, A. A., Borsch, C. M. & Kaatz, G. W. Fluoroquinolone resistance protein NorA of Staphylococcus aureus is a multidrug efflux transporter. Antimicrob. Agents Chemother. 37, 128–129 (1993).

Kaatz, G. W., Seo, S. M. & Ruble, C. A. Efflux-mediated fluoroquinolone resistance in Staphylococcus aureus. Antimicrob. Agents Chemother. 37, 1086–1094 (1993).

de Sousa Andrade, L. M. et al. Antimicrobial activity and inhibition of the NorA efflux pump of Staphylococcus aureus by extract and isolated compounds from Arrabidaea brachypoda. Microb. Pathog. 140, 103935 (2020).

Brincat, J. P. et al. Discovery of novel inhibitors of the NorA multidrug transporter of Staphylococcus aureus. J. Med. Chem. 54, 354–365 (2011).

Kathawala, R. J., Gupta, P., Ashby, C. R. Jr. & Chen, Z. S. The modulation of ABC transporter-mediated multidrug resistance in cancer: a review of the past decade. Drug Resist. Updat. 18, 1–17 (2015).

Renau, T. E. et al. Conformationally-restricted analogues of efflux pump inhibitors that potentiate the activity of levofloxacin in Pseudomonas aeruginosa. Bioorg. Med. Chem. Lett. 13, 2755–2758 (2003).

Sidhu, S. S. & Koide, S. Phage display for engineering and analyzing protein interaction interfaces. Curr. Opin. Struct. Biol. 17, 481–487 (2007).

Nygaard, R., Kim, J. & Mancia, F. Cryo-electron microscopy analysis of small membrane proteins. Curr. Opin. Struct. Biol. 64, 26–33 (2020).

Wu, S. et al. Fabs enable single particle cryoEM studies of small proteins. Structure 20, 582–592 (2012).

Huang, Y., Lemieux, M. J., Song, J., Auer, M. & Wang, D. N. Structure and mechanism of the glycerol-3-phosphate transporter from Escherichia coli. Science 301, 616–620 (2003).

Abramson, J. et al. Structure and mechanism of the lactose permease of Escherichia coli. Science 301, 610–615 (2003).

Law, C. J., Maloney, P. C. & Wang, D. N. Ins and outs of major facilitator superfamily antiporters. Annu. Rev. Microbiol. 62, 289–305 (2008).

Paulsen, I. T. & Skurray, R. A. Topology, structure and evolution of two families of proteins involved in antibiotic and antiseptic resistance in eukaryotes and prokaryotes—an analysis. Gene 124, 1–11 (1993).

Jiang, D. et al. Structure of the YajR transporter suggests a transport mechanism based on the conserved motif A. Proc. Natl Acad. Sci. USA 110, 14664–14669 (2013).

Ginn, S. L., Brown, M. H. & Skurray, R. A. The TetAK tetracycline/H+ antiporter from Staphylococcus aureus: mutagenesis and functional analysis of motif C. J. Bacteriol. 182, 1492–1498 (2000).

Klyachko, K. A., Schuldiner, S. & Neyfakh, A. A. Mutations affecting substrate specificity of the Bacillus subtilis multidrug transporter Bmr. J. Bacteriol. 179, 2189–2193 (1997).

Fey, P. D. et al. A genetic resource for rapid and comprehensive phenotype screening of nonessential Staphylococcus aureus genes. mBio 4, e00537-12 (2013).

Torres, V. J. et al. A Staphylococcus aureus regulatory system that responds to host heme and modulates virulence. Cell Host Microbe 1, 109–119 (2007).

Schuldiner, S. Competition as a way of life for H+-coupled antiporters. J. Mol. Biol. 426, 2539–2546 (2014).

Yin, Y., He, X., Szewczyk, P., Nguyen, T. & Chang, G. Structure of the multidrug transporter EmrD from Escherichia coli. Science 312, 741–744 (2006).

Debruycker, V. et al. An embedded lipid in the multidrug transporter LmrP suggests a mechanism for polyspecificity. Nat. Struct. Mol. Biol. 27, 829–835 (2020).

Heng, J. et al. Substrate-bound structure of the E. coli multidrug resistance transporter MdfA. Cell Res. 25, 1060–1073 (2015).

Fluman, N., Ryan, C. M., Whitelegge, J. P. & Bibi, E. Dissection of mechanistic principles of a secondary multidrug efflux protein. Mol. Cell 47, 777–787 (2012).

Pasquina-Lemonche, L. et al. The architecture of the Gram-positive bacterial cell wall. Nature 582, 294–297 (2020).

Sawyer, N. & Arora, P. S. Hydrogen bond surrogate stabilization of β-hairpins. ACS Chem. Biol. 13, 2027–2032 (2018).

Studier, F. W. Protein production by auto-induction in high density shaking cultures. Protein Expr. Purif. 41, 207–234 (2005).

Karpowich, N. K., Song, J. M., Cocco, N. & Wang, D. N. ATP binding drives substrate capture in an ECF transporter by a release-and-catch mechanism. Nat. Struct. Mol. Biol. 22, 565–571 (2015).

Sauer, D. B. et al. Structural basis for the reaction cycle of DASS dicarboxylate transporters. eLife 9, e61350 (2020).

Fellouse, F. A. et al. High-throughput generation of synthetic antibodies from highly functional minimalist phage-displayed libraries. J. Mol. Biol. 373, 924–940 (2007).

Dominik, P. K. & Kossiakoff, A. A. Phage display selections for affinity reagents to membrane proteins in nanodiscs. Methods Enzymol. 557, 219–245 (2015).

Sidhu, S. S., Lowman, H. B., Cunningham, B. C. & Wells, J. A. Phage display for selection of novel binding peptides. Methods Enzymol. 328, 333–363 (2000).

Burioni, R. et al. A vector for the expression of recombinant monoclonal Fab fragments in bacteria. J. Immunol. Methods 217, 195–199 (1998).

Bailey, L. J. et al. Locking the elbow: improved antibody Fab fragments as chaperones for structure determination. J. Mol. Biol. 430, 337–347 (2018).

Nikolovska-Coleska, Z. et al. Development and optimization of a binding assay for the XIAP BIR3 domain using fluorescence polarization. Anal. Biochem. 332, 261–273 (2004).

Huang, X. Y. Fluorescence polarization competition assay: the range of resolvable inhibitor potency is limited by the affinity of the fluorescent ligand. J. Biomol. Screen 8, 34–38 (2003).

Sauer, D. B. et al. Structure and inhibition mechanism of the human citrate transporter NaCT. Nature 591, 157–161 (2021).

Mastronarde, D. N. Automated electron microscope tomography using robust prediction of specimen movements. J. Struct. Biol. 152, 36–51 (2005).

Punjani, A., Rubinstein, J. L., Fleet, D. J. & Brubaker, M. A. cryoSPARC: algorithms for rapid unsupervised cryo-EM structure determination. Nat. Methods 14, 290–296 (2017).

Adams, P. D. et al. PHENIX: a comprehensive Python-based system for macromolecular structure solution. Acta Crystallogr. D 66, 213–221 (2010).

Tan, Y. Z. et al. Addressing preferred specimen orientation in single-particle cryo-EM through tilting. Nat. Methods 14, 793–796 (2017).

Grant, T., Rohou, A. & Grigorieff, N. cisTEM, user-friendly software for single-particle image processing. eLife 7, e35383 (2018).

Dang, S. et al. Cryo-EM structures of the TMEM16A calcium-activated chloride channel. Nature 552, 426–429 (2017).

Pettersen, E. F. et al. UCSF Chimera—a visualization system for exploratory research and analysis. J. Comput. Chem. 25, 1605–1612 (2004).

Emsley, P. & Cowtan, K. Coot: model-building tools for molecular graphics. Acta Crystallogr. D 60, 2126–2132 (2004).

Mazmanian, S. K. et al. Passage of heme-iron across the envelope of Staphylococcus aureus. Science 299, 906–909 (2003).

Jimenez, N. et al. Genetics and proteomics of Aeromonas salmonicida lipopolysaccharide core biosynthesis. J. Bacteriol. 191, 2228–2236 (2009).
Acknowledgements
This work was supported by NIH (R01AI165782, R01AI108889) and NSF (MCB 1902449) awards to N.J.T., NIH awards (R01AI165782, R01NS108151, R01GM121994, R01DK099023) to D.-N.W., NIH award (R01AI165782) to S.K., NIH awards (R01AI099394, R01AI105129, R01AI137336, R01AI140754, R21AI149350) to V.J.T. and an NIH award (R35GM130333) to P.S.A. V.J.T. is a Burroughs Wellcome Fund Investigator in the pathogenesis of infectious diseases. D.N.B. was supported by an NIH Predoctoral Training Grant (T32-GM088118). D.B.S. was supported by an American Cancer Society Postdoctoral Fellowship (129844-PF-17-135-01-TBE) and a Department of Defense Horizon Award (W81XWH-16-1-0153). We thank D. C. Hooper for sharing a NorA construct in the pTrcHis2C vector and J. F. Hunt for the MSP1E3D1-T277C construct. We thank S. Wang for assistance in optimizing computational resources for cryo-EM data processing at the NYU HPC, M. (Leninger) Crames and A. Tumati for initial NorA experiments that identified LMNG as a suitable solubilizing detergent, P. Tate for assistance in cloning and I. Irnov, N. K. Karpowich, J. J. Marden and W. J. Rice for helpful discussions. Negative stain and cryo-EM grids were screened at the Microscopy Facility and the Cryo-Electron Microscopy Facility of the NYU School of Medicine, respectively. We thank the Pacific Northwest Cryo-EM Center (PNCC) and laboratory personnel who assisted in the collection of the large cryo-EM datasets used for structure determination. EM data processing used computing resources at the HPC facilities of NYU and NYU School of Medicine. The following reagent was provided by the Network on Antimicrobial Resistance in S. aureus (NARSA) for distribution by BEI Resources, NIAID, NIH: S. aureus subsp. aureus, strain JE2, transposon mutant NE1034 (SAUSA300_0680), NR-47577. The pBAD33-Gm vector was obtained through Addgene (plasmid 65098; http://n2t.net/addgene:65098; RRID:Addgene_65098).
Ethics declarations
Competing interests
S.K. is a SAB member and holds equity in and receives consulting fees from Black Diamond Therapeutics, a co-founder of and holds equity in Revalia Bio, and receives research funding from Puretech Health and Argenx BVBA. V.J.T. is an inventor on patents and patent applications filed by NYU, which are currently under commercial license to Janssen Biotech Inc. Janssen Biotech Inc. provides research funding and other payments associated with the licensing agreement. All other authors declare no competing interests. NYU has filed a provisional patent application covering the NorA inhibitors described in this work.
Peer review
Peer review information
Nature Chemical Biology thanks Aravind Penmatsa, Zhao Wang and the other, anonymous, reviewer(s) for their contribution to the peer review of this work.
Additional information
Publisher's note Springer Nature remains neutral with regard to jurisdictional claims in published maps and institutional affiliations.
Supplementary information
About this article
Cite this article
Brawley, D.N., Sauer, D.B., Li, J. et al. Structural basis for inhibition of the drug efflux pump NorA from Staphylococcus aureus. Nat Chem Biol 18, 706–712 (2022). https://doi.org/10.1038/s41589-022-00994-9
Received:

Accepted:

Published:

Issue Date:

DOI: https://doi.org/10.1038/s41589-022-00994-9
This article is cited by
Nature Chemical Biology (2022)