Abstract
Current small-molecule inhibitors of KRAS(G12C) bind irreversibly in the switch-II pocket (SII-P), exploiting the strong nucleophilicity of the acquired cysteine as well as the preponderance of the GDP-bound form of this mutant. Nevertheless, many oncogenic KRAS mutants lack these two features, and it remains unknown whether targeting the SII-P is a practical therapeutic approach for KRAS mutants beyond G12C. Here we use NMR spectroscopy and a cellular KRAS engagement assay to address this question by examining a collection of SII-P ligands from the literature and from our own laboratory. We show that the SII-Ps of many KRAS hotspot (G12, G13, Q61) mutants are accessible using noncovalent ligands, and that this accessibility is not necessarily coupled to the GDP state of KRAS. The results we describe here emphasize the SII-P as a privileged drug-binding site on KRAS and unveil new therapeutic opportunities in RAS-driven cancer.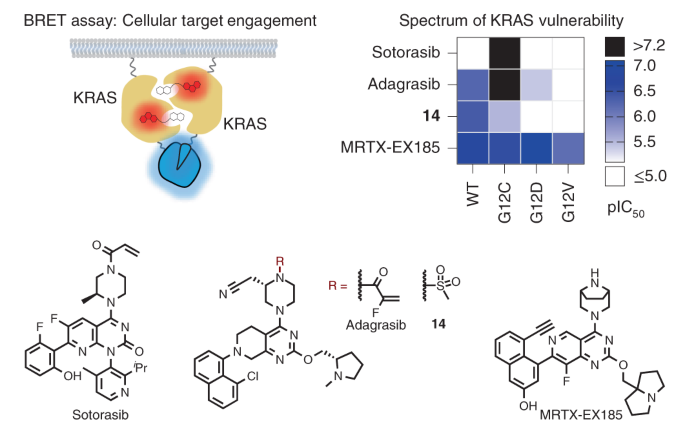 Data availability
Source data are provided with this paper. The authors declare that the data supporting the findings of this study are available within the article, the accompanying Source Data, the Supplementary Information and the Supplementary Data. Additional information, resources and reagents will be made available upon reasonable request; requests should be directed to and will be fulfilled by the lead contact M.B.R.
References
Moore, A. R., Rosenberg, S. C., McCormick, F. & Malek, S. RAS-targeted therapies: is the undruggable drugged? Nat. Rev. Drug Discov. 19, 533–552 (2020).

Ostrem, J. M., Peters, U., Sos, M. L., Wells, J. A. & Shokat, K. M. K-Ras(G12C) inhibitors allosterically control GTP affinity and effector interactions. Nature 503, 548–551 (2013).

Ostrem, J. M. L. & Shokat, K. M. Direct small-molecule inhibitors of KRAS: from structural insights to mechanism-based design. Nat. Rev. Drug Discov. 15, 771–785 (2016).

Molina-Arcas, M., Samani, A. & Downward, J. Drugging the undruggable: advances on RAS targeting in cancer. Genes 12, 899 (2021).

Canon, J. et al. The clinical KRAS(G12C) inhibitor AMG 510 drives anti-tumour immunity. Nature 575, 217–223 (2019).

Lanman, B. A. et al. Discovery of a covalent inhibitor of KRASG12C (AMG 510) for the treatment of solid tumors. J. Med. Chem. 63, 52–65 (2020).

Fell, J. B. et al. Identification of the clinical development candidate MRTX849, a covalent KRASG12C inhibitor for the treatment of cancer. J. Med. Chem. 63, 6679–6693 (2020).

Janes, M. R. et al. Targeting KRAS mutant cancers with a covalent G12C-specific inhibitor. Cell 172, 578–589.e517 (2018).

Patricelli, M. P. et al. Selective inhibition of oncogenic KRAS output with small molecules targeting the inactive state. Cancer Discov 6, 316–329 (2016).

Lito, P., Solomon, M., Li, L.-S., Hansen, R. & Rosen, N. Allele-specific inhibitors inactivate mutant KRAS G12C by a trapping mechanism. Science 351, 604–608 (2016).

Tanaka, N. et al. Clinical acquired resistance to KRASG12C inhibition through a novel KRAS switch-II pocket mutation and polyclonal alterations converging on RAS-MAPK reactivation. Cancer Discov 11, 1913–1922 (2021).

Hunter, J. C. et al. Biochemical and structural analysis of common cancer-associated KRAS mutations. Mol. Cancer Res. 13, 1325–1335 (2015).

Zhang, Z. et al. GTP-state-selective cyclic peptide ligands of K-Ras(G12D) block its interaction with Raf. ACS Cent. Sci. 6, 1753–1761 (2020).

Niida, A. et al. Investigation of the structural requirements of K-Ras(G12D) selective inhibitory peptide KRpep-2d using alanine scans and cysteine bridging. Bioorg. Med. Chem. Lett. 27, 2757–2761 (2017).

Sakamoto, K. et al. K-Ras(G12D)-selective inhibitory peptides generated by random peptide T7 phage display technology. Biochem. Biophys. Res. Commun. 484, 605–611 (2017).

Sogabe, S. et al. Crystal structure of a human K-Ras G12D mutant in complex with GDP and the cyclic inhibitory peptide KRpep-2d. ACS Med. Chem. Lett. 8, 732–736 (2017).

Teng, K. W. et al. Selective and noncovalent targeting of RAS mutants for inhibition and degradation. Nat. Commun. 12, 2656 (2021).

Durrant, D. E. et al. Development of a high-throughput NanoBRET screening platform to identify modulators of the RAS/RAF interaction. Mol. Cancer Ther. 20, 1743–1754 (2021).

Robers, M. B. et al. Target engagement and drug residence time can be observed in living cells with BRET. Nat. Commun. 6, 10091 (2015).

Wells, C. I. et al. Quantifying CDK inhibitor selectivity in live cells. Nat. Commun. 11, 2743 (2020).

Dixon, A. S. et al. NanoLuc complementation reporter optimized for accurate measurement of protein interactions in cells. ACS Chem. Biol. 11, 400–408 (2016).

Crew, A. P. et al. Preparation of bifunctional compounds as modulators of proteolysis useful for treating cancer. Patent WO2019195609A2 (2019).

Kawai, Y. et al. Preparation of 5,8-dihydropyrido[3,4-d]pyrimidine derivatives having inhibitory activity against KRAS G12D mutation and oral antitumor agents. Patent WO2021107160A1 (2021).

Kawai, Y. et al. Synthesis of fused pyrimidine compounds having inhibitory activity against KRAS G12D mutation. Patent WO2021106231A1 (2021).

Wang, X. et al. 4-(3,8-Diazabicyclo[3.2.1]octan-3-yl)pyrido[4,3-d]pyrimidines as KRas G12D inhibitors and their preparation. Patent WO2021041671A1 (2021).

Lim, S. et al. Exquisitely specific anti-KRAS biodegraders inform on the cellular prevalence of nucleotide-loaded states. ACS Cent. Sci. 7, 274–291 (2021).

Kessler, D. et al. Drugging an undruggable pocket on KRAS. Proc. Natl Acad. Sci. USA 116, 15823–15829 (2019).

Abankwa, D., Gorfe, A. A. & Hancock, J. F. Ras nanoclusters: molecular structure and assembly. Semin. Cell Dev. Biol. 18, 599–607 (2007).

Janosi, L., Li, Z., Hancock, J. F. & Gorfe, A. A. Organization, dynamics, and segregation of Ras nanoclusters in membrane domains. Proc. Natl Acad. Sci. USA 109, 8097–8102 (2012).

Nan, X. et al. Ras-GTP dimers activate the mitogen-activated protein kinase (MAPK) pathway. Proc. Natl Acad. Sci. USA 112, 7996–8001 (2015).

Philips, M. R. & Der, C. J. Seeing is believing: Ras dimers observed in live cells. Proc. Natl Acad. Sci. USA 112, 9793–9794 (2015).

Li, Y. C. et al. Analysis of RAS protein interactions in living cells reveals a mechanism for pan-RAS depletion by membrane-targeted RAS binders. Proc. Natl Acad. Sci. USA 117, 12121–12130 (2020).

Tran, T. H. et al. The small molecule BI-2852 induces a nonfunctional dimer of KRAS. Proc. Natl Acad. Sci. USA 117, 3363–3364 (2020).

Hansen, R. et al. The reactivity-driven biochemical mechanism of covalent KRASG12C inhibitors. Nat. Struct. Mol. Biol. 25, 454–462 (2018).

Smith, M. J., Neel, B. G. & Ikura, M. NMR-based functional profiling of RASopathies and oncogenic RAS mutations. Proc. Natl Acad. Sci. USA 110, 4574–4579 (2013).

Zhao, Q. et al. Real-time in-cell NMR reveals the intracellular modulation of GTP-bound levels of RAS. Cell Rep. 32, 108074 (2020).

Awad, M. M. et al. Acquired resistance to KRASG12C inhibition in cancer. N. Engl. J. Med. 384, 2382–2393 (2021).

Koga, T. et al. KRAS secondary mutations that confer acquired resistance to KRAS G12C inhibitors, sotorasib and adagrasib, and overcoming strategies: insights from in vitro experiments. J. Thorac. Oncol. 16, 1321–1332 (2021).

Ahmadian, M. R. et al. Guanosine triphosphatase stimulation of oncogenic Ras mutants. Proc. Natl Acad. Sci. USA 96, 7065–7070 (1999).

John, J. et al. Kinetics of interaction of nucleotides with nucleotide-free H-ras p21. Biochemistry 29, 6058–6065 (1990).

Maurer, T. et al. Small-molecule ligands bind to a distinct pocket in Ras and inhibit SOS-mediated nucleotide exchange activity. Proc. Natl Acad. Sci. USA 109, 5299–5304 (2012).

Skinner, S. P. et al. CcpNmr AnalysisAssign: a flexible platform for integrated NMR analysis. J. Biomol. NMR 66, 111–124 (2016).

O'Connor, C. & Kovrigin, E. L. Assignments of backbone 1H, 13C and 15N resonances in H-Ras (1–166) complexed with GppNHp at physiological pH. Biomol. NMR Assign. 6, 91–93 (2012).

Pálfy, G., Vida, I. & Perczel, A. 1H, 15N backbone assignment and comparative analysis of the wild type and G12C, G12D, G12V mutants of K-Ras bound to GDP at physiological pH. Biomol. NMR Assign. 14, 1–7 (2020).
Acknowledgements
D.M.P. is supported by a Ruth L. Kirschstein National Research Service Award from the National Cancer Institute of the National Institutes of Health (NIH; F32CA253966). The content of this publication is solely the responsibility of the authors and does not necessarily represent the official views of the NIH. Q.Z. is the Connie and Bob Lurie Fellow of the Damon Runyon Cancer Research Foundation (DRG-2434-21). Z.Z. is a Damon Runyon Fellow supported by the Damon Runyon Cancer Research Foundation (DRG-2281-17). K.M.S. would like to acknowledge support from the NIH (5R01CA244550), the Mark Foundation for Cancer Research EXTOL, the Samuel Waxman Cancer Research Foundation and the Howard Hughes Medical Institute. We would also like to thank M. Kelly (University of California San Francisco) for his advice and assistance with NMR spectroscopy experiments. We are grateful to N. Murphy for providing the CRAF-RBD/HaloTag plasmid, and to T. Machleidt and S. Knapp for helpful input on this manuscript.
Ethics declarations
Competing interests
J.D.V., J.A.W., C.A.Z., M.R.T., M.T.B., B.F.B., C.R.C. and M.B.R. are employees of Promega Corporation, which holds patents related to the NanoBRET Target Engagement method. K.M.S. is an inventor on patents owned by University of California San Francisco covering KRAS targeting small molecules licensed to Araxes and Erasca. K.M.S. has consulting agreements for the following companies, which involve monetary and/or stock compensation: Revolution Medicines, Black Diamond Therapeutics, BridGene Biosciences, Denali Therapeutics, Dice Molecules, eFFECTOR Therapeutics, Erasca, Genentech/Roche, Janssen Pharmaceuticals, Kumquat Biosciences, Kura Oncology, Mitokinin, Type6 Therapeutics, Venthera, Wellspring Biosciences (Araxes Pharma), Turning Point, Ikena, Initial Therapeutics and BioTheryX.
Peer review
Peer review information
Nature Chemical Biology thanks Ken Westover and the other, anonymous, reviewer(s) for their contribution to the peer review of this work.
Additional information
Publisher's note Springer Nature remains neutral with regard to jurisdictional claims in published maps and institutional affiliations.
Supplementary information
Supplementary Table 1, Figs. 1–12, and Notes 1 and 2.
Source Data for Supplementary Figures
Rights and permissions
Open Access This article is licensed under a Creative Commons Attribution 4.0 International License, which permits use, sharing, adaptation, distribution and reproduction in any medium or format, as long as you give appropriate credit to the original author(s) and the source, provide a link to the Creative Commons license, and indicate if changes were made. The images or other third party material in this article are included in the article's Creative Commons license, unless indicated otherwise in a credit line to the material. If material is not included in the article's Creative Commons license and your intended use is not permitted by statutory regulation or exceeds the permitted use, you will need to obtain permission directly from the copyright holder. To view a copy of this license, visit http://creativecommons.org/licenses/by/4.0/.
About this article
Cite this article
Vasta, J.D., Peacock, D.M., Zheng, Q. et al. KRAS is vulnerable to reversible switch-II pocket engagement in cells. Nat Chem Biol 18, 596–604 (2022). https://doi.org/10.1038/s41589-022-00985-w
Received:

Accepted:

Published:

Issue Date:

DOI: https://doi.org/10.1038/s41589-022-00985-w