Abstract
Ribozymes that react with small-molecule probes have important applications in transcriptomics and chemical biology, such as RNA labeling and imaging. Understanding the structural basis for these RNA-modifying reactions will enable the development of better tools for studying RNA. Nevertheless, high-resolution structures and underlying catalytic mechanisms for members of this ribozyme class remain elusive. Here, we focus on a self-alkylating ribozyme that catalyzes nitrogen–carbon bond formation between a specific guanine and a 2,3-disubstituted epoxide substrate and report the crystal structures of a self-alkylating ribozyme, including both alkylated and apo forms, at 1.71-Å and 2.49-Å resolution, respectively. The ribozyme assumes an elongated hairpin-like architecture preorganized to accommodate the epoxide substrate in a hook-shaped conformation. Observed reactivity of substrate analogs together with an inverse, log-linear pH dependence of the reaction rate suggests a requirement for epoxide protonation, possibly assisted by the ether oxygens within the substrate.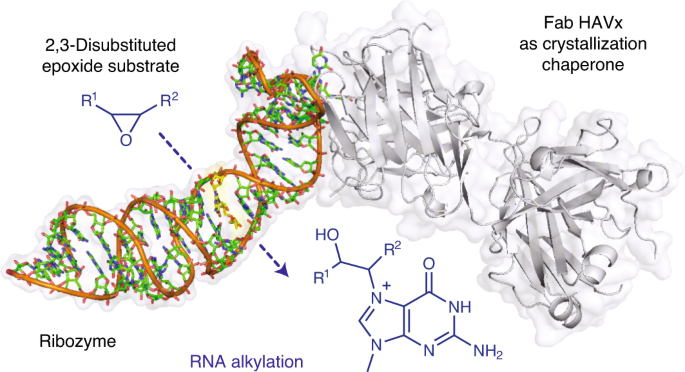 Relevant articles
Open Access articles citing this article.
Takumi Okuda

,

Ann-Kathrin Lenz

…

Claudia Höbartner

Nature Chemistry Open Access 04 September 2023

Naba K. Das

,

Nele M. Hollmann

…

Deepak Koirala

Nature Communications Open Access 07 April 2023
Access options
Access Nature and 54 other Nature Portfolio journals
Get Nature+, our best-value online-access subscription
$29.99 / 30 days
cancel any time
Subscribe to this journal
Receive 12 print issues and online access
$259.00 per year
only $21.58 per issue
Rent or buy this article
Prices vary by article type
from$1.95
to$39.95
Prices may be subject to local taxes which are calculated during checkout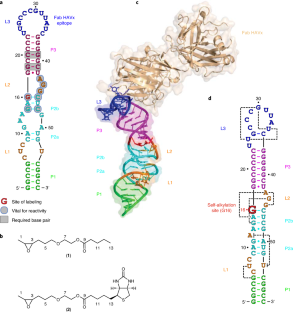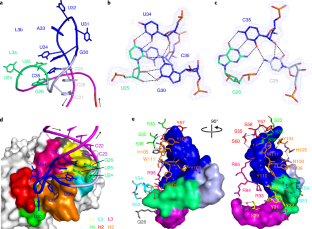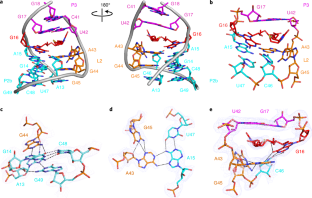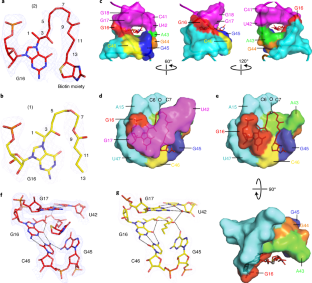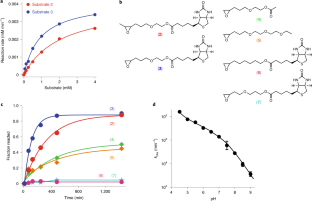 Data availability
Atomic coordinates and structure factors for the reported crystal structures have been deposited at the PDB under accession codes 6XJZ, 6XJY, 6XJW and 6XJQ for the SAR structures corresponding to the non-alkylated (apo), short incubation with biotinylated substrate (2), alkylated with non-biotinylated substrate (1) and alkylated with biotinylated substrate (2) forms, respectively. The raw data, additional information and materials, including purified Fab HAVx and plasmid for its expression, will be provided by the authors upon request. The requests should be addressed to J.A.P. Source data are provided with this paper.
References
Leung, E. K. Y., Suslov, N., Tuttle, N., Sengupta, R. & Piccirilli, J. A. The mechanism of peptidyl transfer catalysis by the ribosome. Annu. Rev. Biochem. 80, 527–555 (2011).

Lassila, J. K., Zalatan, J. G. & Herschlag, D. Biological phosphoryl-transfer reactions: understanding mechanism and catalysis. Annu. Rev. Biochem. 80, 669–702 (2011).

Ekland, E. H., Szostak, J. W. & Bartel, D. P. Structurally complex and highly active RNA ligases derived from random RNA sequences. Science 269, 364–370 (1995).

Bartel, D. P. & Szostak, J. W. Isolation of new ribozymes from a large pool of random sequences [see comment]. Science 261, 1411–1418 (1993).

Piccirilli, J. A., McConnell, T. S., Zaug, A. J., Noller, H. F. & Cech, T. R. Aminoacyl esterase activity of the Tetrahymena ribozyme. Science 256, 1420–1424 (1992).

Ma, L. & Liu, J. Catalytic nucleic acids: biochemistry, chemical biology, biosensors, and nanotechnology. iScience 23, 100815 (2020).

Wilson, C. & Szostak, J. W. In vitro evolution of a self-alkylatlng ribozyme. Nature 374, 777–782 (1995).

Wecker, M., Smith, D. & Gold, L. In vitro selection of a novel catalytic RNA: characterization of a sulfur alkylation reaction and interaction with a small peptide. RNA 2, 982–994 (1996).

Ameta, S. & Jäschke, A. An RNA catalyst that reacts with a mechanistic inhibitor of serine proteases. Chem. Sci. 4, 957–964 (2013).

Sharma, A. K. et al. Fluorescent RNA labeling using self-alkylating ribozymes. ACS Chem. Biol. 9, 1680–1684 (2014).

Scheitl, C. P. M., Ghaem Maghami, M., Lenz, A.-K. & Höbartner, C. Site-specific RNA methylation by a methyltransferase ribozyme. Nature 587, 663–667 (2020).

McDonald, R. I. et al. Electrophilic activity-based RNA probes reveal a self-alkylating RNA for RNA labeling. Nat. Chem. Biol. 10, 1049–1054 (2014).

Bevilacqua, P. C. et al. An ontology for facilitating discussion of catalytic strategies of RNA-cleaving enzymes. ACS Chem. Biol. 14, 1068–1076 (2019).

Gaines, C. S., Piccirilli, J. A. & York, D. M. The L-platform/L-scaffold framework: a blueprint for RNA-cleaving nucleic acid enzyme design. RNA 26, 111–125 (2020).

Huang, H. et al. A G-quadruplex-containing RNA activates fluorescence in a GFP-like fluorophore. Nat. Chem. Biol. 10, 686–691 (2014).

Koirala, D. et al. Affinity maturation of a portable Fab–RNA module for chaperone-assisted RNA crystallography. Nucleic Acids Res. 46, 2624–2635 (2018).

Shelke, S. A. et al. Structural basis for activation of fluorogenic dyes by an RNA aptamer lacking a G-quadruplex motif. Nat. Commun. 9, 4542 (2018).

Koldobskaya, Y. et al. A portable RNA sequence whose recognition by a synthetic antibody facilitates structural determination. Nat. Struct. Mol. Biol. 18, 100–106 (2011).

Ferré-D'Amaré, A. R. & Doudna, J. A. Crystallization and structure determination of a hepatitis delta virus ribozyme: use of the RNA-binding protein U1A as a crystallization module. J. Mol. Biol. 295, 541–556 (2000).

Koirala, D. et al. A conserved RNA structural motif for organizing topology within picornaviral internal ribosome entry sites. Nat. Commun. 10, 3629 (2019).

Nozière, B. et al. The hydrolysis of epoxides catalyzed by inorganic ammonium salts in water: kinetic evidence for hydrogen bond catalysis. Phys. Chem. Chem. Phys. 20, 1583–1590 (2018).

Yan, Y., Tao, H., He, J. & Huang, S.-Y. The HDOCK server for integrated protein–protein docking. Nat. Protoc. 15, 1829–1852 (2020).

Perrotta, A. T., Shih, I & Been, M. D. Imidazole rescue of a cytosine mutation in a self-cleaving ribozyme. Science 286, 123–126 (1999).

Piletic, I. R., Edney, E. O. & Bartolotti, L. J. A computational study of acid catalyzed aerosol reactions of atmospherically relevant epoxides. Phys. Chem. Chem. Phys. 15, 18065–18076 (2013).

Bevilacqua, P. C., Brown, T. S., Nakano, S. I. & Yajima, R. Catalytic roles for proton transfer and protonation in ribozymes. Biopolymers 73, 90–109 (2004).

Das, S. R. & Piccirilli, J. A. General acid catalysis by the hepatitis delta virus ribozyme. Nat. Chem. Biol. 1, 45–52 (2005).

Zhang, J., Lau, M. W. & Ferré-D'Amaré, A. R. Ribozymes and riboswitches: modulation of RNA function by small molecules. Biochemistry 49, 9123–9131 (2010).

Cochrane, J. C. & Strobel, S. A. Catalytic strategies of self-cleaving ribozymes. Acc. Chem. Res. 41, 1027–1035 (2008).

Viladoms, J. & Fedor, M. J. The glmS ribozyme cofactor is a general acid–base catalyst. J. Am. Chem. Soc. 134, 19043–19049 (2012).

Wilson, T. J., Liu, Y. & Lilley, D. M. J. Ribozymes and the mechanisms that underlie RNA catalysis. Front. Chem. Sci. Eng. 10, 178–185 (2016).

Ye, J.-D. et al. Synthetic antibodies for specific recognition and crystallization of structured RNA. Proc. Natl Acad. Sci. USA 105, 82–87 (2008).

Shao, Y. et al. Specific recognition of a single-stranded RNA sequence by a synthetic antibody fragment. J. Mol. Biol. 428, 4100–4114 (2016).

Kao, C., Rüdisser, S. & Zheng, M. A simple and efficient method to transcribe RNAs with reduced 3′ heterogeneity. Methods 23, 201–205 (2001).

Rio, D. C. Expression and purification of active recombinant T7 RNA polymerase from E. coli. Cold Spring Harb. Protoc. 2013, pdb.prot078527 (2013).

Hall, B. et al. In vitro selection of RNA aptamers to a protein target by filter immobilization. Curr. Protoc. Nucleic Acid Chem. 40, 9.3.1–9.3.27 (2010).

Crooks, G. E., Hon, G., Chandonia, J.-M. & Brenner, S. E. WebLogo: a sequence logo generator. Genome Res. 14, 1188–1190 (2004).

Bailey, T. L. et al. MEME Suite: tools for motif discovery and searching. Nucleic Acids Res. 37, W202–W208 (2009).

Goujon, M. et al. A new bioinformatics analysis tools framework at EMBL–EBI. Nucleic Acids Res. 38, W695–W699 (2010).

Adams, P. D. et al. PHENIX: a comprehensive Python-based system for macromolecular structure solution. Acta Crystallogr. D Biol. Crystallogr. 66, 213–221 (2010).

Emsley, P., Lohkamp, B., Scott, W. G. & Cowtan, K. Features and development of Coot. Acta Crystallogr. D Biol. Crystallogr. 66, 486–501 (2010).
Acknowledgements
This work was supported by grants from the National Institutes of Health (R01AI081987, R01GM102489) and the Chicago Biomedical Consortium with support from the Searle Funds at The Chicago Community Trust to J.A.P. and start-up funds from the University of Maryland Baltimore County to D. Koirala. The crystallographic work is based on research conducted at the Advanced Photon Source on the Northeastern Collaborative Access Team beamlines, 24-ID-C and 24-ID-E, which is supported by a grant from the National Institute of General Medical Sciences (P41 GM103403) from the National Institutes of Health. This research used resources of the Advanced Photon Source, a US Department of Energy (DOE) Office of Science User Facility operated for the DOE Office of Science by Argonne National Laboratory under contract number DE-AC02-06CH11357. We would like to thank the staff of the Advanced Photon Source at Argonne National Laboratory for providing technical advice during data collection. We are also thankful to B. Weissman, a former Piccirilli laboratory member, for helping with pH data analysis and all current Piccirilli laboratory members for critical review of the manuscript.
Ethics declarations
Competing interests
The authors declare no competing interests.
Peer review
Peer review information
Nature Chemical Biology thanks Solen Ekesan and the other anonymous reviewer(s) for their contribution to the peer review of this work.
Additional information
Publisher's note Springer Nature remains neutral with regard to jurisdictional claims in published maps and institutional affiliations.
Supplementary information
Supplementary Figs. 1–5, Table 1, Notes 1–3 and additional Supplementary Figs. 1 and 2.
About this article
Cite this article
Krochmal, D., Shao, Y., Li, NS. et al. Structural basis for substrate binding and catalysis by a self-alkylating ribozyme. Nat Chem Biol 18, 376–384 (2022). https://doi.org/10.1038/s41589-021-00950-z
Received:

Accepted:

Published:

Issue Date:

DOI: https://doi.org/10.1038/s41589-021-00950-z
This article is cited by
Naba K. Das
Nele M. Hollmann
Deepak Koirala

Nature Communications (2023)

Takumi Okuda
Ann-Kathrin Lenz
Claudia Höbartner

Nature Chemistry (2023)

David A. Hiller
Scott A. Strobel

Nature Chemical Biology (2022)