Abstract
Substrate efflux by ATP-binding cassette (ABC) transporters, which play a major role in multidrug resistance, entails the ATP-powered interconversion between transporter intermediates. Despite recent progress in structure elucidation, a number of intermediates have yet to be visualized and mechanistically interpreted. Here, we combine cryogenic-electron microscopy (cryo-EM), double electron–electron resonance spectroscopy and molecular dynamics simulations to profile a previously unobserved intermediate of BmrCD, a heterodimeric multidrug ABC exporter from Bacillus subtilis. In our cryo-EM structure, ATP-bound BmrCD adopts an inward-facing architecture featuring two molecules of the substrate Hoechst-33342 in a striking asymmetric head-to-tail arrangement. Deletion of the extracellular domain capping the substrate-binding chamber or mutation of Hoechst-coordinating residues abrogates cooperative stimulation of ATP hydrolysis. Together, our findings support a mechanistic role for symmetry mismatch between the nucleotide binding and the transmembrane domains in the conformational cycle of ABC transporters and is of notable importance for rational design of molecules for targeted ABC transporter inhibition.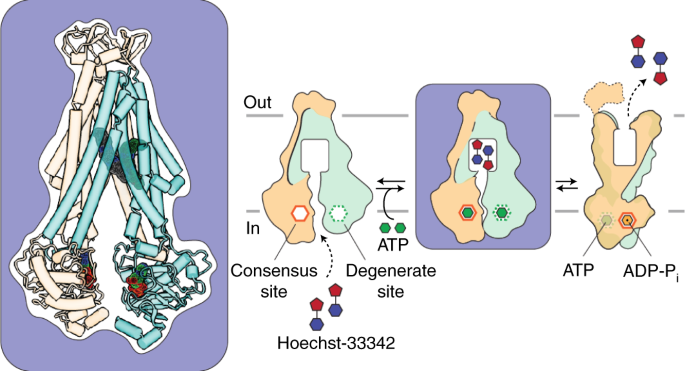 Relevant articles
Open Access articles citing this article.
Jiao Li

,

Wan Zheng

…

Jiapeng Zhu

Nature Communications Open Access 28 October 2022
Access options
Access Nature and 54 other Nature Portfolio journals
Get Nature+, our best-value online-access subscription
$29.99 / 30 days
cancel any time
Subscribe to this journal
Receive 12 print issues and online access
$259.00 per year
only $21.58 per issue
Rent or buy this article
Prices vary by article type
from$1.95
to$39.95
Prices may be subject to local taxes which are calculated during checkout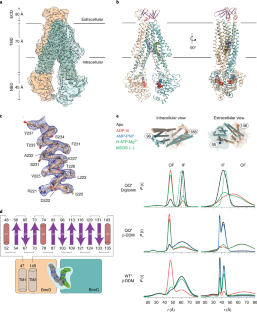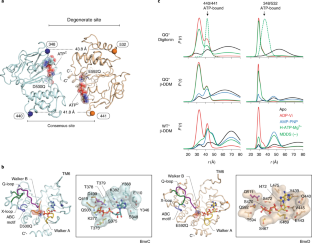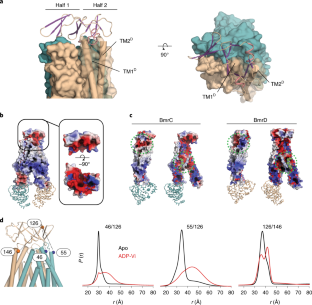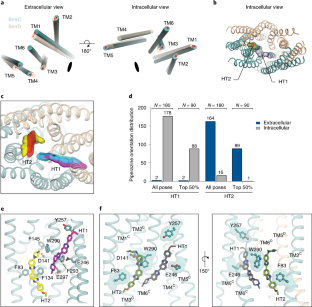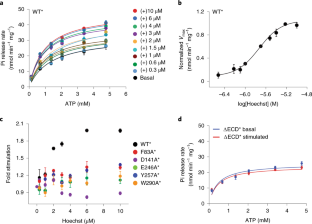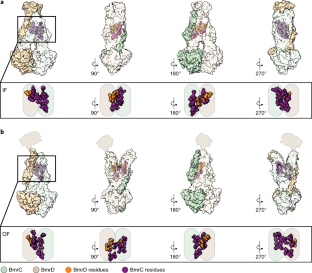 Data availability
Structural data presented in this study are available for download from the Protein Data Bank and EMDB under accession codes 7M33 and EMD-23641, respectively. Raw cryo-EM micrographs/videos are also freely available to download from the Electron Microscopy Public Image Archive. Additional data can be provided on request from the authors.
References
Holland, I. B. Rise and rise of the ABC transporter families. Res. Microbiol. 170, 304–320 (2019).

Locher, K. P. Mechanistic diversity in ATP-binding cassette (ABC) transporters. Nat. Struct. Mol. Biol. 23, 487–493 (2016).

Thomas, C. et al. Structural and functional diversity calls for a new classification of ABC transporters. FEBS Lett. 594, 3767–3775 (2020).

Hofmann, S. et al. Conformation space of a heterodimeric ABC exporter under turnover conditions. Nature 571, 580–583 (2019).

Alam, A., Kowal, J., Broude, E., Roninson, I. & Locher, K. P. Structural insight into substrate and inhibitor discrimination by human P-glycoprotein. Science 363, 753–756 (2019).

Kim, Y. & Chen, J. Molecular structure of human P-glycoprotein in the ATP-bound, outward-facing conformation. Science 359, 915–919 (2018).

Göddeke, H. & Schäfer, L. V. Capturing substrate translocation in an ABC exporter at the atomic level. J. Am. Chem. Soc. 142, 12791–12801 (2020).

Mishra, S. et al. Conformational dynamics of the nucleotide binding domains and the power stroke of a heterodimeric ABC transporter. eLife 3, e02740 (2014).

Johnson, Z. L. & Chen, J. ATP binding enables substrate release from Multidrug Resistance Protein 1. Cell 172, 81–89.e10 (2018).

Johnson, Z. L. & Chen, J. Structural basis of substrate recognition by the multidrug resistance protein MRP1. Cell 168, 1075–1085.e9 (2017).

Choudhury, H. G. et al. Structure of an antibacterial peptide ATP-binding cassette transporter in a novel outward occluded state. Proc. Natl Acad. Sci. USA 111, 9145–9150 (2014).

Ward, A., Reyes, C. L., Yu, J., Roth, C. B. & Chang, G. Flexibility in the ABC transporter MsbA: alternating access with a twist. Proc. Natl Acad. Sci. USA 104, 19005–19010 (2007).

Dawson, R. J. P. & Locher, K. P. Structure of a bacterial multidrug ABC transporter. Nature 443, 180–185 (2006).

Verhalen, B. et al. Energy transduction and alternating access of the mammalian ABC transporter P-glycoprotein. Nature 543, 738–741 (2017).

Collauto, A., Mishra, S., Litvinov, A., Mchaourab, H. S. & Goldfarb, D. Direct spectroscopic detection of ATP turnover reveals mechanistic divergence of ABC exporters. Structure 25, 1264–1274.e3 (2017).

Dastvan, R., Mishra, S., Peskova, Y. B., Nakamoto, R. K. & Mchaourab, H. S. Mechanism of allosteric modulation of P-glycoprotein by transport substrates and inhibitors. Science 364, 689–692 (2019).

Siarheyeva, A., Liu, R. & Sharom, F. J. Characterization of an asymmetric occluded state of P-glycoprotein with two bound nucleotides: implications for catalysis. J. Biol. Chem. 285, 7575–7586 (2010).

Seelig, A. P-glycoprotein: one mechanism, many tasks and the consequences for pharmacotherapy of cancers. Front Oncol. 10, 576559 (2020).

Robey, R. W. et al. Revisiting the role of ABC transporters in multidrug-resistant cancer. Nat. Rev. Cancer 18, 452–464 (2018).

Nosol, K. et al. Cryo-EM structures reveal distinct mechanisms of inhibition of the human multidrug transporter ABCB1. Proc. Natl Acad. Sci. USA 117, 26245–26253 (2020).

Bruggemann, E. P., Germann, U. A., Gottesman, M. M. & Pastan, I. Two different regions of phosphoglycoprotein are photoaffinity-labeled by azidopine. J. Biol. Chem. 264, 15483–15488 (1989).

S, D., M, R., I, P., MM, G. & SV, A. Evidence for two nonidentical drug-interaction sites in the human P-glycoprotein. Proc. Natl Acad. Sci. USA 94, 10594–10599 (1997).

HS, M., PR, S. & K, K. Toward the fourth dimension of membrane protein structure: insight into dynamics from spin-labeling EPR spectroscopy. Structure 19, 1549–1561 (2011).

Torres, C., Galián, C., Freiberg, C., Fantino, J.-R. & Jault, J.-M. The YheI/YheH heterodimer from Bacillus subtilis is a multidrug ABC transporter. Biochim. Biophys. Acta - Biomembr. 1788, 615–622 (2009).

Mi, W. et al. Structural basis of MsbA-mediated lipopolysaccharide transport. Nature 549, 233–237 (2017).

Ho, H. et al. Structural basis for dual-mode inhibition of the ABC transporter MsbA. Nature 557, 196–201 (2018).

Angiulli, G. et al. New approach for membrane protein reconstitution into peptidiscs and basis for their adaptability to different proteins. eLife 9, e53530 (2020).

Hohl, M. et al. Structural basis for allosteric cross-talk between the asymmetric nucleotide binding sites of a heterodimeric ABC exporter. Proc. Natl Acad. Sci. USA 111, 11025–11030 (2014).

Esser, L. et al. Structures of the multidrug transporter P-glycoprotein reveal asymmetric ATP binding and the mechanism of polyspecificity. J. Biol. Chem. 292, 446–461 (2017).

Hustedt, E. J., Stein, R. A. & McHaourab, H. S. Protein functional dynamics from the rigorous global analysis of DEER data: Conditions, components, and conformations. J. Gen. Physiol. 153, e201711954 (2021).

Jumper, J. et al. Highly accurate protein structure prediction with AlphaFold. Nature 596, 583–589 (2021).

Holm, L. Using Dali for protein structure comparison. Methods Mol. Biol. 2112, 29–42 (2020).

Alexander, J. A. N. et al. Structural and kinetic analyses of penicillin-binding protein 4 (PBP4)-mediated antibiotic resistance in Staphylococcus aureus. J. Biol. Chem. 293, 19854–19865 (2018).

Cooley, R. B., Arp, D. J. & Karplus, P. A. Evolutionary origin of a secondary structure: π-helices as cryptic but widespread insertional variations of α-helices that enhance protein functionality. J. Mol. Biol. 404, 232–246 (2010).

Timachi, M. H. et al. Exploring conformational equilibria of a heterodimeric ABC transporter. eLife 6, e20236 (2017).

Debruycker, V. et al. An embedded lipid in the multidrug transporter LmrP suggests a mechanism for polyspecificity. Nat. Struct. Mol. Biol. 27, 829–835 (2020).

Jin, M. S., Oldham, M. L., Zhang, Q. & Chen, J. Crystal structure of the multidrug transporter P-glycoprotein from Caenorhabditis elegans. Nature 490, 566–569 (2012).

Mittal, A., Böhm, S., Grütter, M. G., Bordignon, E. & Seeger, M. A. Asymmetry in the homodimeric ABC transporter MsbA recognized by a DARPin. J. Biol. Chem. 287, 20395–20406 (2012).

Lilkova, E. et al. The PyMOL molecular graphics system, version 2.0 (Schrödinger, LLC, 2015).

Pettersen, E. F. et al. UCSF ChimeraX: structure visualization for researchers, educators, and developers. Protein Sci. 30, 70–82 (2021).

Zivanov, J. et al. New tools for automated high-resolution cryo-EM structure determination in RELION-3. eLife 7, e42166 (2018).

Zivanov, J., Nakane, T. & Scheres, S. H. W. Estimation of high-order aberrations and anisotropic magnification from cryo-EM data sets in RELION-3.1. IUCrJ 7, 253–267 (2020).

Punjani, A., Rubinstein, J. L., Fleet, D. J. & Brubaker, M. A. cryoSPARC: algorithms for rapid unsupervised cryo-EM structure determination. Nat. Methods 14, 290–296 (2017).

Rohou, A. & Grigorieff, N. CTFFIND4: fast and accurate defocus estimation from electron micrographs. J. Struct. Biol. 192, 216–221 (2015).

Grant, T., Rohou, A. & Grigorieff, N. CisTEM, user-friendly software for single-particle image processing. eLife 7, e35383 (2018).

Ramlaul, K., Palmer, C. M., Nakane, T. & Aylett, C. H. S. Mitigating local over-fitting during single particle reconstruction with SIDESPLITTER. J. Struct. Biol. 211, 10754 (2020).

Emsley, P. & Cowtan, K. Coot: model-building tools for molecular graphics. Acta Crystallogr., Sect. D: Biol. Crystallogr. 60, 2126–2132 (2004).

Wood, C. et al. Collaborative computational project for electron cryo-microscopy. Acta Crystallogr., Sect. D: Biol. Crystallogr. 71, 123–126 (2015).

Liebschner, D. et al. Macromolecular structure determination using X-rays, neutrons and electrons: recent developments in Phenix. Acta Crystallogr. Sect. D Struct. Biol. 75, 861–877 (2019).

Croll, T. I. ISOLDE: a physically realistic environment for model building into low-resolution electron-density maps. Acta Crystallogr. Sect. D Struct. Biol. 74, 519–530 (2018).

Barad, B. A. et al. EMRinger: side chain-directed model and map validation for 3D cryo-electron microscopy. Nat. Methods 12, 943–946 (2015).

Mirdita, M. et al. ColabFold - Making protein folding accessible to all. bioRxiv https://doi.org/10.1101/2021.08.15.456425 (2021).

Staritzbichler, R., Anselmi, C., Forrest, L. R. & Faraldo-Gómez, J. D. GRIFFIN: a versatile methodology for optimization of protein-lipid interfaces for membrane protein simulations. J. Chem. Theory Comput. 7, 1167–1176 (2011).

Klauda, J. B. et al. Update of the CHARMM all-atom additive force field for lipids: validation on six lipid types. J. Phys. Chem. B. 114, 7830–7843 (2010).

Best, R. B. et al. Optimization of the additive CHARMM all-atom protein force field targeting improved sampling of the backbone φ, ψ and side-chain χ1 and χ2 dihedral angles. J. Chem. Theory Comput. 8, 3257–3273 (2012).

Jeschke, G. & Polyhach, Y. Distance measurements on spin-labelled biomacromolecules by pulsed electron paramagnetic resonance. Phys. Chem. Chem. Phys. 9, 1895–1910 (2007).

Jeschke, G. DEER distance measurements on proteins. Annu. Rev. Phys. Chem. 63, 419–446 (2012).

Jo, S., Kim, T., Iyer, V. G. & Im, W. CHARMM-GUI: a web-based graphical user interface for CHARMM. J. Comput. Chem. 29, 1859–1865 (2008).

Qi, Y. et al. CHARMM‐GUI DEER facilitator for spin‐pair distance distribution calculations and preparation of restrained‐ensemble molecular dynamics simulations. J. Comput. Chem. 41, 415–420 (2020).

Tai, C. H., Paul, R., Dukka, K. C., Shilling, J. D. & Lee, B. SymD webserver: A platform for detecting internally symmetric protein structures. Nucleic Acids Res. 42, (2014).
Acknowledgements
This research was funded by the Division of Intramural Research of the National Heart, Lung and Blood Institute (W.Z. and J.D.F.G.), and grants from the National Institute of General Medicine Sciences and National Institute of Allergy and Infectious Disease awarded to T.M.T. (grant nos. R00 GM114245 and R01 AI156270) and H.S.M. (grant no. R01 GM128087). Computational resources were in part provided by the National Institutes of Health (NIH) HPC facility Biowulf. A portion of this research was supported by NIH grant no. U24GM129547 and performed at the PNCC at the Oregon Health Sciences University and accessed through Environmental Molecular Sciences Laboratory (grid.436923.9), a Department of Energy Office of Science User Facility sponsored by the Office of Biological and Environmental Research. We thank T. Humphries and other support staff at the PNCC for assistance with cryo-EM data collection. We thank D. Williams with assistance with cryo-EM data collection and resources supported by National Science Foundation funding (grant no. NSF1531991) awarded to the Eyring Materials Center at Arizona State University. This work was also supported by resources in the University of Arizona Imaging Cores – Life Sciences North (grant no. S10 OD011981). We thank members of the Tomasiak laboratory and D. Claxton from the Mchaourab laboratory for critical reading of this paper.
Ethics declarations
Competing interests
The authors declare no competing interests.
Additional information
Peer review information Nature Chemical Biology thanks Damian Ekiert, Lars Schäfer and the other, anonymous, reviewer(s) for their contribution to the peer review of this work.
Publisher's note Springer Nature remains neutral with regard to jurisdictional claims in published maps and institutional affiliations.
Supplementary information
About this article
Cite this article
Thaker, T.M., Mishra, S., Zhou, W. et al. Asymmetric drug binding in an ATP-loaded inward-facing state of an ABC transporter. Nat Chem Biol 18, 226–235 (2022). https://doi.org/10.1038/s41589-021-00936-x
Received:

Accepted:

Published:

Issue Date:

DOI: https://doi.org/10.1038/s41589-021-00936-x
This article is cited by
Jiao Li
Wan Zheng
Jiapeng Zhu

Nature Communications (2022)