Abstract
Although the individual structures and respiratory functions of cytochromes are well studied, the structural basis for their assembly, including transport of heme for attachment, are unknown. We describe cryo-electron microscopy (cryo-EM) structures of CcsBA, a bifunctional heme transporter and cytochrome c (cyt c) synthase. Models built from the cryo-EM densities show that CcsBA is trapped with heme in two conformations, herein termed the closed and open states. The closed state has heme located solely at a transmembrane (TM) site, with a large periplasmic domain oriented such that access of heme to the cytochrome acceptor is denied. The open conformation contains two heme moieties, one in the TM-heme site and another in an external site (P-heme site). The presence of heme in the periplasmic site at the base of a chamber induces a large conformational shift that exposes the heme for reaction with apocytochrome c (apocyt c). Consistent with these structures, in vivo and in vitro cyt c synthase studies suggest a mechanism for transfer of the periplasmic heme to cytochrome.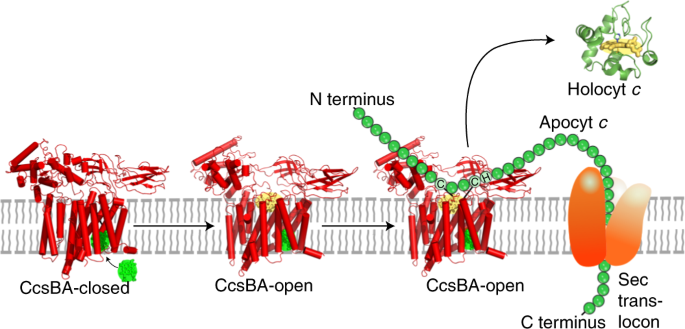 Relevant articles
Open Access articles citing this article.
Lorena Ilcu

,

Lukas Denkhaus

…

Oliver Einsle

Nature Communications Open Access 25 August 2023

Jiao Li

,

Wan Zheng

…

Jiapeng Zhu

Nature Communications Open Access 28 October 2022

Mu Gao

,

Davi Nakajima An

…

Jeffrey Skolnick

Nature Communications Open Access 01 April 2022
Access options
Access Nature and 54 other Nature Portfolio journals
Get Nature+, our best-value online-access subscription
$29.99 / 30 days
cancel any time
Subscribe to this journal
Receive 12 print issues and online access
$259.00 per year
only $21.58 per issue
Rent or buy this article
Prices vary by article type
from$1.95
to$39.95
Prices may be subject to local taxes which are calculated during checkout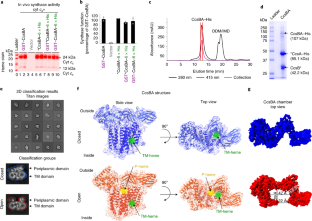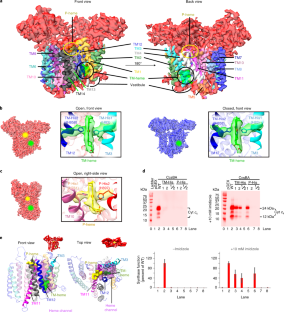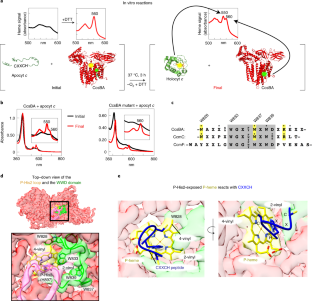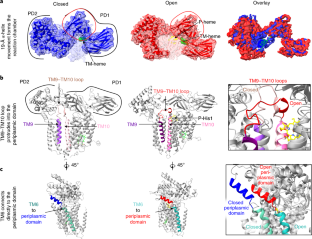 Data availability
Cryo-EM electron density maps of CcsBA-open and CcsBA-closed have been deposited in the Electron Microscopy Data Bank under accession numbers EMD-24941 and EMD-24942, respectively. Coordinates for atomic models of CcsBA-open and CcsBA-closed have been deposited in the PDB under accession numbers 7S9Y and 7S9Z, respectively. Source data are provided with this paper.
References
Donegan, R. K., Moore, C. M., Hanna, D. A. & Reddi, A. R. Handling heme: the mechanisms underlying the movement of heme within and between cells. Free Radic. Biol. Med. 133, 88–100 (2019).

Reddi, A. R. & Hamza, I. Heme mobilization in animals: a metallolipid's journey. Acc. Chem. Res. 49, 1104–1110 (2016).

Pitt, J. N. & Kaeberlein, M. Inter-organ regulation of heme homeostasis. Nat. Cell Biol. 19, 756–758 (2017).

Mercurio, S. et al. Alteration of heme metabolism in a cellular model of Diamond–Blackfan anemia. Eur. J. Haematol. 96, 367–374 (2016).

Quigley, J. G. et al. Identification of a human heme exporter that is essential for erythropoiesis. Cell 118, 757–766 (2004).

Rajagopal, A. et al. Haem homeostasis is regulated by the conserved and concerted functions of HRG-1 proteins. Nature 453, 1127–1131 (2008).

Chiabrando, D. et al. Mutations in the heme exporter FLVCR1 cause sensory neurodegeneration with loss of pain perception. PLoS Genet. 12, e1006461 (2016).

Galmozzi, A. et al. PGRMC2 is an intracellular haem chaperone critical for adipocyte function. Nature 576, 138–142 (2019).

Prepeluh, N. et al. A mosaic form of microphthalmia with linear skin defects. BMC Pediatr. 18, 254 (2018).

Schiffmann, L. M. et al. Mitochondrial respiration controls neoangiogenesis during wound healing and tumour growth. Nat. Commun. 11, 3653 (2020).

Ponka, P., Sheftel, A. D., English, A. M., Bohle, DS. & Garcia-Santos, D. Do mammalian cells really need to export and import heme?. Trends Biochem. Sci. 42, 395–406 (2017).

Kranz, R. G., Richard-Fogal, C., Taylor, J.-S. & Frawley, E. R. Cytochrome c biogenesis: mechanisms for covalent modifications and trafficking of heme and for heme–iron redox control. Microbiol. Mol. Biol. Rev. 73, 510–528 (2009).

Simon, J. & Hederstedt, L. Composition and function of cytochrome c biogenesis system II. FEBS J. 278, 4179–4188 (2011).

Sutherland, M. C. et al. Structure–function analysis of the bifunctional CcsBA heme exporter and cytochrome c synthetase. mBio 9, e02134-18 (2018).

Xie, Z. et al. Genetic analysis of chloroplast c-type cytochrome assembly in Chlamydomonas reinhardtii: one chloroplast locus and at least four nuclear loci are required for heme attachment. Genetics 148, 681–692 (1998).

Feissner, R. E. et al. Recombinant cytochromes c biogenesis systems I and II and analysis of haem delivery pathways in Escherichia coli. Mol. Microbiol. 60, 563–577 (2006).

Frawley, E. R. & Kranz, R. G. CcsBA is a cytochrome c synthetase that also functions in heme transport. Proc. Natl Acad. Sci. USA 106, 10201–10206 (2009).

Beckett, C. S. et al. Four genes are required for the system II cytochrome c biogenesis pathway in Bordetella pertussis, a unique bacterial model. Mol. Microbiol. 38, 465–481 (2000).

Schiött, T., von Wachenfeldt, C. & Hederstedt, L. Identification and characterization of the ccdA gene, required for cytochrome c synthesis in Bacillus subtilis. J. Bacteriol. 179, 1962–1973 (1997).

Sutherland, M. C. et al. In vitro reconstitution reveals major differences between human and bacterial cytochrome c synthases. eLife 10, e64891 (2021).

Chaptal, V. et al. Quantification of detergents complexed with membrane proteins. Sci. Rep. 7, 41751 (2017).

Ilgü, H. et al. Variation of the detergent-binding capacity and phospholipid content of membrane proteins when purified in different detergents. Biophys. J. 106, 1660–1670 (2014).

Barrick, D. Replacement of the proximal ligand of sperm whale myoglobin with free imidazole in the mutant His-93→Gly. Biochemistry 33, 6546–6554 (1994).

Barker, P. D. et al. Transmutation of a heme protein. Proc. Natl Acad. Sci. USA 90, 6542–6546 (1993).

Nicholson, D. W. & Neupert, W. Import of cytochrome c into mitochondria: reduction of heme, mediated by NADH and flavin nucleotides, is obligatory for its covalent linkage to apocytochrome c. Proc. Natl Acad. Sci. USA 86, 4340–4344 (1989).

Kranz, R., Lill, R., Goldman, B., Bonnard, G. & Merchant, S. Molecular mechanisms of cytochrome c biogenesis: three distinct systems. Mol. Microbiol. 29, 383–396 (1998).

Babul, J. & Stellwagen, E. Participation of the protein ligands in the folding of cytochrome c. Biochemistry 11, 1195–1200 (1972).

Kleingardner, J. G. & Bren, K. L. Comparing substrate specificity between cytochrome c maturation and cytochrome c heme lyase systems for cytochrome c biogenesis. Metallomics 3, 396 (2011).

Richard-Fogal, C. L., San Francisco, B., Frawley, E. R. & Kranz, R. G. Thiol redox requirements and substrate specificities of recombinant cytochrome c assembly systems II and III. Biochim. Biophys. Acta 1817, 911–919 (2012).

Beckman, D. L., Trawick, D. R. & Kranz, R. G. Bacterial cytochromes c biogenesis. Genes Dev. 6, 268–283 (1992).

Lee, J.-H., Harvat, E. M., Stevens, J. M., Ferguson, S. J. & Saier, M. H. Evolutionary origins of members of a superfamily of integral membrane cytochrome c biogenesis proteins. Biochim. Biophys. Acta 1768, 2164–2181 (2007).

Verissimo, A. F. & Daldal, F. Cytochrome c biogenesis system I: an intricate process catalyzed by a maturase supercomplex? Biochim. Biophys. Acta 1837, 989–998 (2014).

Richard-Fogal, C. L. et al. A conserved haem redox and trafficking pathway for cofactor attachment. EMBO J. 28, 2349–2359 (2009).

San Francisco, B., Sutherland, M. C. & Kranz, R. G. The CcmFH complex is the system I holocytochrome c synthetase: engineering cytochrome c maturation independent of CcmABCDE. Mol. Microbiol. 91, 996–1008 (2014).

Sutherland, M. C., Jarodsky, J. M., Ovchinnikov, S., Baker, D. & Kranz, R. G. Structurally mapping endogenous heme in the CcmCDE membrane complex for cytochrome c biogenesis. J. Mol. Biol. 430, 1065–1080 (2018).

Naoe, Y. et al. Crystal structure of bacterial haem importer complex in the inward-facing conformation. Nat. Commun. 7, 13411 (2016).

Woo, J.-S., Zeltina, A., Goetz, B. A. & Locher, K. P. X-ray structure of the Yersinia pestis heme transporter HmuUV. Nat. Struct. Mol. Biol. 19, 1310–1315 (2012).

Huang, W. & Wilks, A. Extracellular heme uptake and the challenge of bacterial cell membranes. Annu. Rev. Biochem. 86, 799–823 (2017).

Hanna, D. A. et al. Heme dynamics and trafficking factors revealed by genetically encoded fluorescent heme sensors. Proc. Natl Acad. Sci. USA 113, 7539–7544 (2016).

Yuan, X. et al. Regulation of intracellular heme trafficking revealed by subcellular reporters. Proc. Natl Acad. Sci. USA 113, E5144–E5152 (2016).

Medlock, A., Swartz, L., Dailey, T. A., Dailey, H. A. & Lanzilotta, W. N. Substrate interactions with human ferrochelatase. Proc. Natl. Acad. Sci. USA 104, 1789–1793 (2007).

Medlock, A. E. et al. Identification of the mitochondrial heme metabolism complex. PLoS ONE 10, e0135896 (2015).

Dailey, H. A. et al. Ferrochelatase at the millennium: structures, mechanisms and [2Fe–2S] clusters. Cell. Mol. Life Sci. 57, 1909–1926 (2000).

Breyton, C., Haase, W., Rapoport, T. A., Kühlbrandt, W. & Collinson, I. Three-dimensional structure of the bacterial protein-translocation complex SecYEG. Nature 418, 662–665 (2002).

Tsirigotaki, A., De Geyter, J., Šoštaric, N., Economou, A. & Karamanou, S. Protein export through the bacterial Sec pathway. Nat. Rev. Microbiol. 15, 21–36 (2017).

Merchant, S. S. His protects heme as it crosses the membrane. Proc. Natl Acad. Sci. USA 106, 10069–10070 (2009).

Brausemann, A., Zhang, L., Ilcu, L. & Einsle, O. Architecture of the membrane-bound cytochrome c heme lyase CcmF. Nat. Chem. Biol. 17, 800–805 (2021).

San Francisco, B. & Kranz, R. G. Interaction of holoCcmE with CcmF in heme trafficking and cytochrome c biosynthesis. J. Mol. Biol. 426, 570–585 (2014).

Schulz, H., Hennecke, H. & Thöny-Meyer, L. Prototype of a heme chaperone essential for cytochrome c maturation. Science 281, 1197–1200 (1998).

Brown, B. L. & Iverson, T. M. Handling heme with care. Nat. Chem. Biol. 17, 751–752 (2021).

Trott, O. & Olson, A. J. AutoDock Vina: improving the speed and accuracy of docking with a new scoring function, efficient optimization, and multithreading. J. Comput. Chem. 31, 455–461 (2010).

Grant, T., Rohou, A. & Grigorieff, N. cisTEM, user-friendly software for single-particle image processing. eLife 7, e35383 (2018).

Punjani, A., Rubinstein, J. L., Fleet, D. J. & Brubaker, M. cryoSPARC: algorithms for rapid unsupervised cryo-EM structure determination. Nat. Methods 14, 290–296 (2017).

Punjani, A., Zhang, H. & Fleet, D. J. Non-uniform refinement: adaptive regularization improves single-particle cryo-EM reconstruction. Nat. Methods 17, 1214–1221 (2020).

Emsley, P. & Cowtan, K. Coot: model-building tools for molecular graphics. Acta Crystallogr. D Biol. Crystallogr. 60, 2126–2132 (2004).

Liebschner, D. et al. Macromolecular structure determination using X-rays, neutrons and electrons: recent developments in Phenix. Acta Crystallogr. D Struct. Biol. 75, 861–877 (2019).

Croll, T. I. ISOLDE: a physically realistic environment for model building into low-resolution electron-density maps. Acta Crystallogr. D Struct. Biol. 74, 519–530 (2018).

Williams, C. J. et al. MolProbity: more and better reference data for improved all-atom structure validation. Protein Sci. 27, 293–315 (2018).

Pettersen, E. F. et al. UCSF ChimeraX: structure visualization for researchers, educators, and developers. Protein Sci. 30, 70–82 (2021).
Acknowledgements
This work was funded by the National Institutes of Health (R01 GM47909 to R.G.K.). M.J.R. and J.A.J.F. are supported by the Washington University Center for Cellular Imaging (WUCCI), which is funded in part by Washington University School of Medicine, The Children's Discovery Institute of Washington University and St. Louis Children's Hospital (CDI-CORE-2015-505 and CDI-CORE-2019-813), the Foundation for Barnes-Jewish Hospital (3770). J.A.J.F. is also supported by a Chan Zuckerberg Initiative Imaging Scientist award (2020-225726). We thank J. Jarodsky and E. Burgie for critically reading the manuscript and providing insightful feedback.
Ethics declarations
Competing interests
The authors declare no competing interests.
Additional information
Peer review information Nature Chemical Biology thanks Celia Goulding, Amy Medlock and the other, anonymous, reviewer(s) for their contribution to the peer review of this work.
Publisher's note Springer Nature remains neutral with regard to jurisdictional claims in published maps and institutional affiliations.
Supplementary information
Source data
Statistics source data and gels.
Statistics source data and gels.
About this article
Cite this article
Mendez, D.L., Lowder, E.P., Tillman, D.E. et al. Cryo-EM of CcsBA reveals the basis for cytochrome c biogenesis and heme transport. Nat Chem Biol 18, 101–108 (2022). https://doi.org/10.1038/s41589-021-00935-y
Received:

Accepted:

Published:

Issue Date:

DOI: https://doi.org/10.1038/s41589-021-00935-y
This article is cited by
Lorena Ilcu
Lukas Denkhaus
Oliver Einsle

Nature Communications (2023)

Jiao Li
Wan Zheng
Jiapeng Zhu

Nature Communications (2022)

Mu Gao
Davi Nakajima An
Jeffrey Skolnick

Nature Communications (2022)