Abstract
Fluorogenic RNA aptamers are used to genetically encode fluorescent RNA and to construct RNA-based metabolite sensors. Unlike naturally occurring aptamers that efficiently fold and undergo metabolite-induced conformational changes, fluorogenic aptamers can exhibit poor folding, which limits their cellular fluorescence. To overcome this, we evolved a naturally occurring well-folded adenine riboswitch into a fluorogenic aptamer. We generated a library of roughly 1015 adenine aptamer-like RNAs in which the adenine-binding pocket was randomized for both size and sequence, and selected Squash, which binds and activates the fluorescence of green fluorescent protein-like fluorophores. Squash exhibits markedly improved in-cell folding and highly efficient metabolite-dependent folding when fused to a S-adenosylmethionine (SAM)-binding aptamer. A Squash-based ratiometric sensor achieved quantitative SAM measurements, revealed cell-to-cell heterogeneity in SAM levels and revealed metabolic origins of SAM. These studies show that the efficient folding of naturally occurring aptamers can be exploited to engineer well-folded cell-compatible fluorogenic aptamers and devices.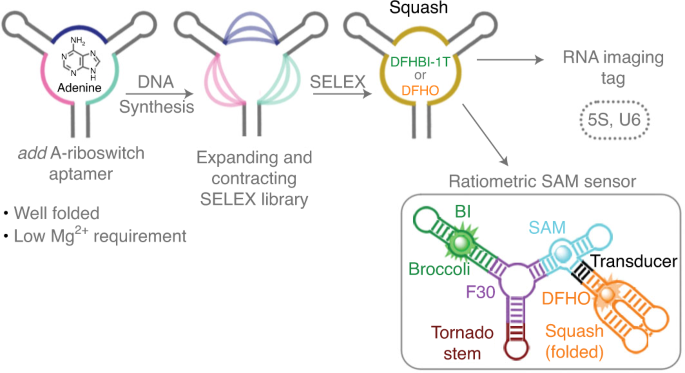 Access options
Subscribe to Nature+
Get immediate online access to the entire Nature family of 50+ journals
Subscribe to Journal
Get full journal access for 1 year
$119.00
only $9.92 per issue
All prices are NET prices.
VAT will be added later in the checkout.
Tax calculation will be finalised during checkout.
Buy article
Get time limited or full article access on ReadCube.
$32.00
All prices are NET prices.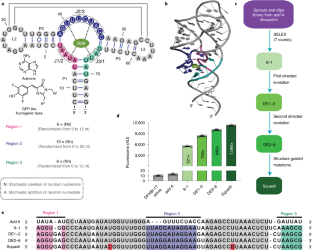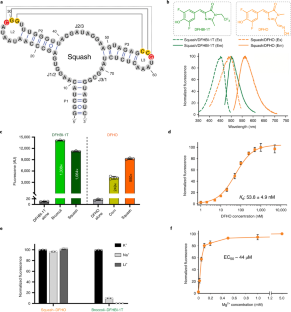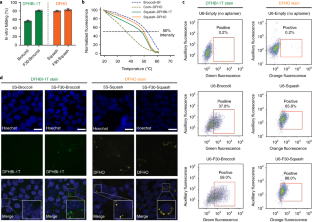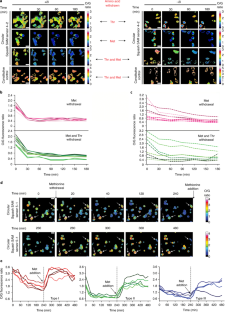 Data availability
All data supporting the findings of this study are available within the paper and its Supplementary Information files. They are also available from the corresponding author on reasonable request. The following plasmids generated in this study will be available through Addgene: pAV-U6+27-Squash (ID 177913), pAV-5S-Squash (ID 177914), pAV-U6+27-Tornado-Squash (ID 177915), pAV-U6+27-Tornado-Squash-SAM sensor 4-2 (ID 177916), pAV-U6 + 27-Tornado-Squash-SAM sensor 5-1 (ID 177917), pAV-U6+27-Tornado-F30-Squash-Broccoli (ID 177918), pAV-U6+27-Tornado-F30-Broccoli-Squash-SAM sensor 4-2 (ID 177919) and pAV-U6+27-Tornado-F30-Broccoli-Squash-SAM sensor 5-1 (ID 177920). Source data are provided with this paper.
References
Sanford, L. & Palmer, A. Recent advances in development of genetically encoded fluorescent sensors. Methods Enzymol. 589, 1–49 (2017).

Lindenburg, L. & Merkx, M. Engineering genetically encoded FRET sensors. Sensors 14, 11691–11713 (2014).

Palmer, A. E., Qin, Y., Park, J. G. & McCombs, J. E. Design and application of genetically encoded biosensors. Trends Biotechnol. 29, 144–152 (2011).

Lechner, H., Ferruz, N. & Höcker, B. Strategies for designing non-natural enzymes and binders. Curr. Opin. Chem. Biol. 47, 67–76 (2018).

Paige, J. S., Nguyen-duc, T., Song, W. & Jaffrey, S. R. Fluorescence imaging of cellular metabolites with RNA. Science 335, 1194 (2012).

Kellenberger, C. A., Wilson, S. C., Sales-Lee, J. & Hammond, M. C. RNA-based fluorescent biosensors for live cell imaging of second messengers cyclic di-GMP and cyclic AMP-GMP. J. Am. Chem. Soc. 135, 4906–4909 (2013).

Sun, Z., Nguyen, T., McAuliffe, K. & You, M. Intracellular imaging with genetically encoded RNA-based molecular sensors. Nanomaterials 9, 233 (2019).

Kim, H. & Jaffrey, S. R. A fluorogenic RNA-based sensor activated by metabolite-induced RNA dimerization. Cell Chem. Biol. 26, 1725–1731 (2019).

Li, X. et al. Imaging intracellular S-adenosyl methionine dynamics in live mammalian cells with a genetically encoded red fluorescent RNA-based sensor. J. Am. Chem. Soc. 142, 14117–14124 (2020).

Ortega, A. D. et al. A synthetic RNA-based biosensor for fructose-1,6-bisphosphate that reports glycolytic flux. Cell Chem. Biol. https://doi.org/10.1016/j.chembiol.2021.04.006 (2021).

Litke, J. L. & Jaffrey, S. R. Highly efficient expression of circular RNA aptamers in cells using autocatalytic transcripts. Nat. Biotechnol. 37, 667–675 (2019).

Frieda, K. L. & Block, S. M. Direct observation of cotranscriptional folding in an adenine riboswitch. Science 338, 397–400 (2012).

Mandal, M. & Breaker, R. R. Adenine riboswitches and gene activation by disruption of a transcription terminator. Nat. Struct. Mol. Biol. 11, 29–35 (2004).

Serganov, A. et al. Structural basis for discriminative regulation of gene expression by adenine- and guanine-sensing mRNAs. Chem. Biol. 11, 1729–1741 (2004).

Dalgarno, P. A. et al. Single-molecule chemical denaturation of riboswitches. Nucleic Acids Res. 41, 4253–4265 (2013).

Lemay, J. F., Penedo, J. C., Tremblay, R., Lilley, D. M. J. & Lafontaine, D. A. Folding of the adenine riboswitch. Chem. Biol. 13, 857–868 (2006).

Grubbs, R. D. Intracellular magnesium and magnesium buffering. BioMetals 15, 251–259 (2002).

Romani, A. M. P. Magnesium homeostasis in mammalian cells. in Metallomics and the Cell (ed. Banci, L.) 69–118 (Springer, 2013).

Tyrrell, J., Mcginnis, J. L., Weeks, K. M. & Pielak, G. J. The cellular environment stabilizes adenine riboswitch RNA structure. Biochemistry 52, 8777–8785 (2013).

Paige, J. S., Wu, K. Y. & Jaffrey, S. R. RNA mimics of green fluorescent protein. Science 333, 642–646 (2011).

Filonov, G. S., Moon, J. D., Svensen, N. & Jaffrey, S. R. Broccoli: rapid selection of an RNA mimic of green fluorescent protein by fluorescence-based selection and directed evolution. J. Am. Chem. Soc. 136, 16299–16308 (2014).

Song, W., Strack, R. L., Svensen, N. & Jaffrey, S. R. Plug-and-play fluorophores extend the spectral properties of spinach. J. Am. Chem. Soc. 136, 1198–1201 (2014).

Song, W. et al. Imaging RNA polymerase III transcription using a photostable RNA – fluorophore complex. Nat. Chem. Biol. 13, 1187–1194 (2017).

Steinmetzger, C., Palanisamy, N., Gore, K. R. & Höbartner, C. A multicolor large stokes shift fluorogen-activating RNA aptamer with cationic chromophores. Chem. Eur. J. 25, 1931–1935 (2019).

Tuerk, C. & Gold, L. Systematic evolution of ligands by exponential enrichment: RNA ligands to bacteriophage T4 DNA polymerase. Science 249, 505–510 (1990).

Ellington, A. D. & Szostak, J. W. In vitro selection of RNA molecules that bind specific ligands. Nature 346, 818–822 (1990).

Dixon, N. et al. Reengineering orthogonally selective riboswitches. Proc. Natl Acad. Sci. USA 107, 2830–2835 (2010).

Porter, E. B., Polaski, J. T., Morck, M. M. & Batey, R. T. Recurrent RNA motifs as scaffolds for genetically encodable small-molecule biosensors. Nat. Chem. Biol. 13, 295–301 (2017).

Hall, B. et al. Design, synthesis, and amplification of DNA pools for in vitro selection. Curr. Protoc. Mol. Biol. 24, 24.2.1–24.2.27 (2009).

Bartel, D. P., Zapp, M. L., Green, M. R. & Szostak, J. W. HIV-1 rev regulation involves recognition of non-watson-crick base pairs in viral RNA. Cell 67, 529–536 (1991).

Sunbul, M. et al. Super-resolution RNA imaging using a rhodamine-binding aptamer with fast exchange kinetics. Nat. Biotechnol. 39, 686–690 (2021).

Truong, L. & Ferré-D'Amaré, A. R. From fluorescent proteins to fluorogenic RNAs: tools for imaging cellular macromolecules. Protein Sci. 28, 1374–1386 (2019).

Li, X., Kim, H., Litke, J. L., Wu, J. & Jaffrey, S. R. Fluorophore-promoted RNA folding and photostability enables imaging of single broccoli-tagged mRNAs in live mammalian cells. Angew. Chemie Int. Edn 59, 4511–4518 (2019).

Strack, R. L., Disney, M. D. & Jaffrey, S. R. A superfolding Spinach2 reveals the dynamic nature of trinucleotide repeat–containing RNA. Nat. Methods 10, 1219–1224 (2013).

Shu, D., Khisamutdinov, E. F., Zhang, L. & Guo, P. Programmable folding of fusion RNA in vivo and in vitro driven by pRNA 3WJ motif of phi29 DNA packaging motor. Nucleic Acids Res. 42, e10 (2014).

Filonov, G. S. et al. In-gel imaging of RNA processing using broccoli reveals optimal aptamer expression strategies. Chem. Biol. 22, 649–660 (2015).

Su, X., Wellen, K. E. & Rabinowitz, J. D. Metabolic control of methylation and acetylation. Curr. Opin. Chem. Biol. 30, 52–60 (2016).

Moon, J. D. et al. Naturally occurring three-way junctions can be repurposed as genetically encoded RNA-based sensors. Cell Chem. Biol. 28, S2451-9456(21)00215-4 (2021).

Lu, C. et al. Crystal structures of the SAM-III/SMK riboswitch reveal the SAM-dependent translation inhibition mechanism. Nat. Struct. Mol. Biol. 15, 1076–1083 (2008).

Wang, J. et al. Dependence of mouse embryonic stem cells on threonine catabolism. Science 325, 435–439 (2009).

Shyh-Chang, N. et al. Influence of threonine metabolism on S-adenosylmethionine and histone methylation. Science 339, 222–226 (2013).

Sanderson, S. M., Gao, X., Dai, Z. & Locasale, J. W. Methionine metabolism in health and cancer: a nexus of diet and precision medicine. Nat. Rev. Cancer 19, 625–637 (2019).

Ying, Q. L. et al. The ground state of embryonic stem cell self-renewal. Nature 453, 519–523 (2008).

Chambers, I. et al. Nanog safeguards pluripotency and mediates germline development. Nature 450, 1230–1234 (2007).

Filipczyk, A. et al. Biallelic expression of nanog protein in mouse embryonic stem cells. Cell Stem Cell 13, 12–13 (2013).

Lemay, J. F. et al. Comparative study between transcriptionally- and translationally-acting adenine riboswitches reveals key differences in riboswitch regulatory mechanisms. PLoS Genet. 7, e1001278 (2011).

Wu, R. et al. Genetically encoded ratiometric RNA-based sensors for quantitative imaging of small molecules in living cells. Angew. Chemie Int. Edn 58, 18271–18275 (2019).

Sunbul, M. & Jäschke, A. SRB-2: a promiscuous rainbow aptamer for live-cell RNA imaging. Nucleic Acids Res. 46, e110 (2018).

Hao, X. et al. Immunoassay of S-adenosylmethionine and S-adenosylhomocysteine: the methylation index as a biomarker for disease and health status. BMC Res. Notes 9, 498 (2016).

Han, K. Y., Leslie, B. J., Fei, J., Zhang, J. & Ha, T. Understanding the photophysics of the Spinach-DFHBI RNA aptamer-fluorogen complex to improve live-cell RNA imaging. J. Am. Chem. Soc. 135, 19033–19038 (2013).

Endoh, T. & Sugimoto, N. Selection of RNAs for constructing 'Lighting-UP' biomolecular switches in response to specific small molecules. PLoS One 8, e60222 (2013).

Endoh, T. & Sugimoto, N. Signaling aptamer optimization through selection using RNA-capturing microsphere particles. Anal. Chem. 92, 7955–7963 (2020).

Paul, C. P. et al. Localized expression of small RNA inhibitors in human cells. Mol. Ther. 7, 237–247 (2003).

Carey, B. W., Finley, L. W. S., Cross, J. R., Allis, C. D. & Thompson, C. B. Intracellular α-ketoglutarate maintains the pluripotency of embryonic stem cells. Nature 518, 413–416 (2015).

Mentch, S. J. et al. Histone methylation dynamics and gene regulation occur through the sensing of one-carbon metabolism. Cell Metab. 22, 861–873 (2015).
Acknowledgements
We thank members of the Jaffrey and Finley laboratories for helpful comments and suggestions. We thank S. Daniska and J. DeLuca from the Oligo Synthesis Facility, Keck Biotechnology Resource Laboratory at Yale University for their help in establishing the protocol for the sprouts and clips library generation. We thank R. Rao for help with analysis of some mutant RNAs during initial developments of Squash. We also thank J. McCormick at the Flow Cytometry Core facility at Weill Cornell Medical College for help with FACS. This work was supported by NIH grant nos. R01NS064516 and R35NS111631, the American Diabetes Association Pathway to Stop Diabetes grant no. 1-18-VSN-02, the Weill Cornell Medicine Daedalus Fund for Innovation, and DoD ALSRP Research Grant AL1301111 to S.R.J., Starr Cancer Consortium grant no. I12-0051 to S.R.J. and L.W.S.F., NIH grant nos. F32GM120987 and T32 CA062948 to A.O.O.-G.
Ethics declarations
Competing interests
S.R.J. is the cofounder of Lucerna Technologies and has equity in this company. Lucerna has licensed technology related to Spinach, Broccoli and other RNA–fluorophore complexes. S.R.J. is a founder of Chimerna Therapeutics and has equity in this company.
Peer review
Peer review information
Nature Chemical Biology thanks Yamuna Krishnan and other anonymous reviewer(s) for their contribution to the peer review of this work.
Additional information
Publisher's note Springer Nature remains neutral with regard to jurisdictional claims in published maps and institutional affiliations.
Supplementary information
Supplementary Figs. 1–8, Tables 1–5 and Note.
About this article
Cite this article
Dey, S.K., Filonov, G.S., Olarerin-George, A.O. et al. Repurposing an adenine riboswitch into a fluorogenic imaging and sensing tag. Nat Chem Biol 18, 180–190 (2022). https://doi.org/10.1038/s41589-021-00925-0
Received:

Accepted:

Published:

Issue Date:

DOI: https://doi.org/10.1038/s41589-021-00925-0
This article is cited by
Abhishek Kaushik
Ashok Nuthanakanti
Alexander Serganov

Nature Chemical Biology (2022)

Lynda Truong
Hamed Kooshapur
Adrian R. Ferré-D'Amaré

Nature Chemical Biology (2022)