Abstract
Emerging evidence suggests that host glycans influence severe acute respiratory syndrome coronavirus 2 (SARS-CoV-2) infection. Here, we reveal that the receptor-binding domain (RBD) of the spike (S) protein on SARS-CoV-2 recognizes oligosaccharides containing sialic acid (Sia), with preference for monosialylated gangliosides. Gangliosides embedded within an artificial membrane also bind to the RBD. The monomeric affinities (Kd = 100–200 μM) of gangliosides for the RBD are similar to another negatively charged glycan ligand of the RBD proposed as a viral co-receptor, heparan sulfate (HS) dp2–dp6 oligosaccharides. RBD binding and infection of SARS-CoV-2 pseudotyped lentivirus to angiotensin-converting enzyme 2 (ACE2)-expressing cells is decreased following depletion of cell surface Sia levels using three approaches: sialyltransferase (ST) inhibition, genetic knockout of Sia biosynthesis, or neuraminidase treatment. These effects on RBD binding and both pseudotyped and authentic SARS-CoV-2 viral entry are recapitulated with pharmacological or genetic disruption of glycolipid biosynthesis. Together, these results suggest that sialylated glycans, specifically glycolipids, facilitate viral entry of SARS-CoV-2.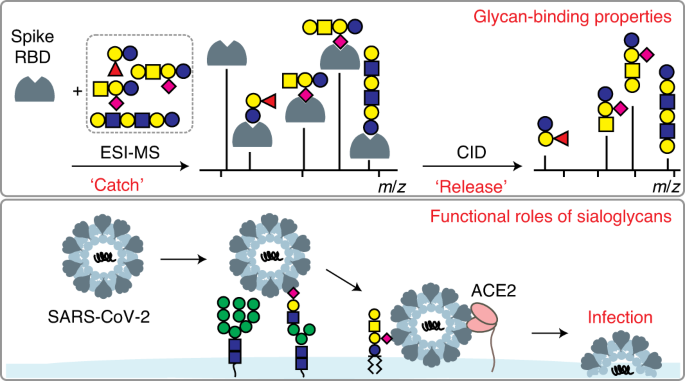 Data availability
The authors declare that all data supporting the findings of this study are available within the paper and its Supplementary Information files. Please contact the corresponding authors for questions regarding the raw data. Additional information will be made available upon reasonable request. Source data are provided with this paper.
References
Maginnis, M. S. Virus-receptor interactions: the key to cellular invasion. J. Mol. Biol. 430, 2590–2611 (2018).

Varki, N. M. & Varki, A. Diversity in cell surface sialic acid presentations: implications for biology and disease. Lab. Invest. 87, 851–857 (2007).

Matrosovich, M., Herrler, G. & Klenk, H. D. Sialic acid receptors of viruses. Top. Curr. Chem. 367, 1–28 (2015).

Kim, S. Y. et al. Characterization of heparin and severe acute respiratory syndrome-related coronavirus 2 (SARS-CoV-2) spike glycoprotein binding interactions. Antiviral. Res. 181, 104873 (2020).

Liu, L. et al. Heparan sulfate proteoglycans as attachment factor for SARS-CoV-2. ACS Cent. Sci. 7, 1009–1018 (2021).

Hao, W. et al. Binding of the SARS-CoV-2 spike protein to glycans. Sci. Bull. 66, 1205–1214 (2021).

Thompson, A. J., de Vries, R. P. & Paulson, J. C. Virus recognition of glycan receptors. Curr. Opin. Virol. 34, 117–129 (2019).

Li, W. et al. Identification of sialic acid-binding function for the Middle East respiratory syndrome coronavirus spike glycoprotein. Proc. Natl Acad. Sci. USA 114, E8508–E8517 (2017).

Tortorici, M. A. et al. Structural basis for human coronavirus attachment to sialic acid receptors. Nat. Struct. Mol. Biol. 26, 481–489 (2019).

Weiss, R. J., Esko, J. D. & Tor, Y. Targeting heparin and heparan sulfate protein interactions. Org. Biomol. Chem. 15, 5656–5668 (2017).

Milewska, A. et al. Human coronavirus NL63 utilizes heparan sulfate proteoglycans for attachment to target cells. J. Virol. 88, 13221–13230 (2014).

Yang, Y., Du, Y. & Kaltashov, I. A. The utility of native MS for understanding the mechanism of action of repurposed therapeutics in COVID-19: heparin as a disruptor of the SARS-CoV-2 interaction with its host cell receptor. Anal. Chem. 92, 10930–10934 (2020).

Kwon, P. S. et al. Sulfated polysaccharides effectively inhibit SARS-CoV-2 in vitro. Cell Discov. 6, 50 (2020).

Clausen, T. M. et al. SARS-CoV-2 infection depends on cellular heparan sulfate and ACE2. Cell 183, 1043–1057 (2020).

Morniroli, D., Gianni, M. L., Consales, A., Pietrasanta, C. & Mosca, F. Human sialome and coronavirus disease-2019 (COVID-19) pandemic: an understated correlation? Front. Immunol. 11, 1480 (2020).

Baker, A. N. et al. The SARS-COV-2 spike protein binds sialic acids and enables rapid detection in a lateral flow point of care diagnostic device. ACS Cent. Sci. 6, 2046–2052 (2020).

Ryzhikov, A. B. et al. Recombinant SARS-CoV-2 S protein binds to glycans of the lactosamine family in vitro. Biochemistry 86, 243–247 (2021).

Dhar, C. et al. Are sialic acids involved in COVID-19 pathogenesis? Glycobiology 31, 1068–1071 (2021).

Wu, S. C. et al. The SARS-CoV-2 receptor-binding domain preferentially recognizes blood group A. Blood Adv. 5, 1305–1309 (2021).

Yang, Q. et al. Inhibition of SARS-CoV-2 viral entry upon blocking N- and O-glycan elaboration. eLife 9, e61552 (2020).

Allen, J. D., Watanabe, Y., Chawla, H., Newby, M. L. & Crispin, M. Subtle influence of ACE2 glycan processing on SARS-CoV-2 recognition. J. Mol. Biol. 433, 166762 (2021).

El-Hawiet, A., Shoemaker, G. K., Daneshfar, R., Kitova, E. N. & Klassen, J. S. Applications of a catch and release electrospray ionization mass spectrometry assay for carbohydrate library screening. Anal. Chem. 84, 50–58 (2012).

Park, H. et al. Mass spectrometry-based shotgun glycomics for discovery of natural ligands of glycan-binding proteins. Anal. Chem. 92, 14012–14020 (2020).

Meloncelli, P. J. & Lowary, T. L. Synthesis of ABO histo-blood group type I and II antigens. Carbohydr. Res. 345, 2305–2322 (2010).

Meloncelli, P. J., West, L. J. & Lowary, T. L. Synthesis and NMR studies on the ABO histo-blood group antigens: synthesis of type III and IV structures and NMR characterization of type I-VI antigens. Carbohydr. Res. 346, 1406–1426 (2011).

Meloncelli, P. J. & Lowary, T. L. Synthesis of ABO histo-blood group type V and VI antigens. Austr. J. Chem. 62, 558–574 (2009).

Arungundram, S. et al. Modular synthesis of heparan sulfate oligosaccharides for structure-activity relationship studies. J. Am. Chem. Soc. 131, 17394–17405 (2009).

Elsaidi, H. R., Barreda, D. R., Cairo, C. W. & Lowary, T. L. Mycobacterial phenolic glycolipids with a simplified lipid aglycone modulate cytokine levels through Toll-like receptor 2. ChemBioChem 14, 2153–2159 (2013).

Sun, J., Kitova, E. N., Wang, W. & Klassen, J. S. Method for distinguishing specific from nonspecific protein-ligand complexes in nanoelectrospray ionization mass spectrometry. Anal. Chem. 78, 3010–3018 (2006).

Kitova, E. N., El-Hawiet, A., Schnier, P. D. & Klassen, J. S. Reliable determinations of protein–ligand interactions by direct ESI-MS measurements. Are we there yet? J. Am. Soc. Mass. Spectrom. 23, 431–441 (2012).

York, W. S. et al. GlyGen: computational and informatics resources for glycoscience. Glycobiology 30, 72–73 (2020).

Zhao, P. et al. Virus–receptor interactions of glycosylated SARS-CoV-2 spike and human ACE2 receptor. Cell Host Microbe 28, 586–601 (2020).

Zhang, Y. et al. Mucin-type O-glycosylation landscapes of SARS-CoV-2 spike proteins. Preprint at https://doi.org/10.1101/2020.07.29.227785 (2020).

Shajahan, A., Supekar, N. T., Gleinich, A. S. & Azadi, P. Deducing the N- and O-glycosylation profile of the spike protein of novel coronavirus SARS-CoV-2. Glycobiology 30, 981–988 (2020).

Sanda, M., Morrison, L. & Goldman, R. N- and O-glycosylation of the SARS-CoV-2 spike protein. Anal. Chem. 93, 2003–2009 (2021).

Guile, G. R., Rudd, P. M., Wing, D. R., Prime, S. B. & Dwek, R. A. A rapid high-resolution high-performance liquid chromatographic method for separating glycan mixtures and analyzing oligosaccharide profiles. Anal. Biochem. 240, 210–226 (1996).

Han, L. et al. Protein–glycolipid interactions studied in vitro using ESI-MS and nanodiscs: insights into the mechanisms and energetics of binding. Anal. Chem. 87, 4888–4896 (2015).

Bouwman, K. M. et al. Multimerization- and glycosylation-dependent receptor binding of SARS-CoV-2 spike proteins. PLoS Pathog. 17, e1009282 (2021).

Rillahan, C. D. et al. Global metabolic inhibitors of sialyl- and fucosyltransferases remodel the glycome. Nat. Chem. Biol. 8, 661–668 (2012).

Albrecht, S. et al. Comprehensive profiling of glycosphingolipid glycans using a novel broad specificity endoglycoceramidase in a high-throughput workflow. Anal. Chem. 88, 4795–4802 (2016).

Stroh, L. J. et al. The greater affinity of JC polyomavirus capsid for α2,6-linked lactoseries tetrasaccharide c than for other sialylated glycans is a major determinant of infectivity. J. Virol. 89, 6364–6375 (2015).

Wu, W. & Air, G. M. Binding of influenza viruses to sialic acids: reassortant viruses with A/NWS/33 hemagglutinin bind to α2,8-linked sialic acid. Virology 325, 340–350 (2004).

Szklarczyk, O. M. et al. Receptor concentration and diffusivity control multivalent binding of Sv40 to membrane bilayers. PLoS Comput. Biol. 9, e1003310 (2013).

Song, E. et al. Neuroinvasion of SARS-CoV-2 in human and mouse brain. J. Exp. Med. 218, e20202135 (2021).

Sipione, S., Monyror, J., Galleguillos, D., Steinberg, N. & Kadam, V. Gangliosides in the brain: physiology, pathophysiology and therapeutic applications. Front. Neurosci. 14, 572965 (2020).

Salvatore, C. M. et al. Neonatal management and outcomes during the COVID-19 pandemic: an observation cohort study. Lancet Child Adolesc. Health 4, 721–727 (2020).

Li, J. et al. Association between ABO blood groups and risk of SARS-CoV-2 pneumonia. Br. J. Haematol. 190, 24–27 (2020).

Vitner, E. B. et al. Glucosylceramide synthase inhibitors prevent replication of SARS-CoV-2 and Influenza virus. J. Biol. Chem. 296, 100470 (2021).

Cho, J.-H. et al. Differential expression patterns of gangliosides in the tissues and cells of NIH-mini pig kidneys. Lab. Anim. Res. 14, 83–89 (2020).

Yang, T. J. et al. Cryo-EM analysis of a feline coronavirus spike protein reveals a unique structure and camouflaging glycans. Proc. Natl Acad. Sci. USA 117, 1438–1446 (2020).

Stadlbauer, D. et al. SARS-CoV-2 seroconversion in humans: a detailed protocol for a serological assay, antigen production, and test setup. Curr. Protoc. Microbiol. 57, e100 (2020).

Han, L. et al. Quantifying the binding stoichiometry and affinity of histo-blood group antigen oligosaccharides for human noroviruses. Glycobiology 28, 488–498 (2018).

Denisov, I. G., Grinkova, Y. V., Lazarides, A. A. & Sligar, S. G. Directed self-assembly of monodisperse phospholipid bilayer nanodiscs with controlled size. J. Am. Chem. Soc. 126, 3477–3487 (2004).

Kitov, P. I., Han, L., Kitova, E. N. & Klassen, J. S. Sliding window adduct removal method (SWARM) for enhanced electrospray ionization mass spectrometry binding data. J. Am. Soc. Mass. Spectrom. 30, 1446–1454 (2019).

Kitov, P. I. et al. A quantitative, high-throughput method identifies protein–glycan interactions via mass spectrometry. Commun. Biol. 2, 268 (2019).

Ceroni, A. et al. GlycoWorkbench: a tool for the computer-assisted annotation of mass spectra of glycans. J. Proteome. Res. 7, 1650–1659 (2008).

Schmidt, F. et al. Measuring SARS-CoV-2 neutralizing antibody activity using pseudotyped and chimeric viruses. J. Exp. Med. 217, e20201181 (2020).

Schmitt, M. G., White, R. N. & Barnard, G. C. Development of a high cell density transient CHO plateform yielding mAb titers greater than 2g/L in only 7 days. Biotechnol. Prog. 36, e3047 (2020).

Yowler, B. C., Kensinger, R. D. & Schengrund, C. L. Botulinum neurotoxin A activity is dependent upon the presence of specific gangliosides in neuroblastoma cells expressing synaptotagmin I. J. Biol. Chem. 277, 32815–32819 (2002).
Acknowledgements
We acknowledge the Natural Sciences and Engineering Research Council of Canada (RGPIN-2019-06771 to J.S.K., RGPIN-2018-03815 to M.S.M.), ERC Starting Grant from the European Commission (802780 to R.P.dV), NIH National Heart, Lung and Blood Institute (R01HL151617 to G.-J.B.) the Canadian Glycomics Network, the Canada Foundation for Innovation and the Alberta Innovation and Advanced Education Research Capacity Program and the Beijerinck Premium of the Royal Dutch Academy of Sciences to R.P.dV. for generous funding. L.K.M. thanks the Canada Excellence Research Chair Program for funding. M.S.M. and L.J.W. thank Canada Research Chairs for a Chair in Chemical Glycoimmunology and Cardiac Transplantation, respectively. We thank D. J. Marchant (University of Alberta) for advice and critical reading the manuscript, J. Nagendran (University of Alberta) for generously providing the lung tissue, K. Susuki (University of Alberta) for preparation of lung homogenate, P. D. Bieniasz (The Rockefeller University) and J. L. M. Law (University of Alberta) for providing reagents (plasmids) for generating the pseudotyped virus and ACE2+ HEK293 cells, C. Cairo (University of Alberta) for the endoglycoceramidase enzyme and S. Sipione (University of Alberta) for advice related to glycolipids. mPlum-ER-3 was a gift from M. Davidson (Addgene plasmid 55966; http://n2t.net/addgene:55966; RRID:Addgene_55966). Plasmids for expression of SARS-CoV-2 S protein and RBD proteins were generously provided by F. Krammer (Icahn School of Medicine at Mount Sinai, produced under NIAID Centers of Excellence for Influenza Research and Surveillance (CEIRS) contract HHSN272201400008C) and produced under CEIRS contract HHSN272201400004C awarded to S.M.T. SARS-CoV-2 VIDO strain (hCoV-19/Canada/ON-VIDO-01/2020, GISAID accession EPI_ISL_425177) was kindly provided by D. Falzarano (Vaccine and Infectious Disease Organization). The SARS-CoV-2 72b Calg strain (72B/CA/CALG) was kindly provided by D. Evans (University of Alberta).
Ethics declarations
Competing interests
The authors declare no competing interests.
Additional information
Peer review information Nature Chemical Biology thanks Jeffrey Esko, Carlito Lebrilla and the other, anonymous, reviewer(s) for their contribution to the peer review of this work.
Publisher's note Springer Nature remains neutral with regard to jurisdictional claims in published maps and institutional affiliations.
Supplementary information
About this article
Cite this article
Nguyen, L., McCord, K.A., Bui, D.T. et al. Sialic acid-containing glycolipids mediate binding and viral entry of SARS-CoV-2. Nat Chem Biol 18, 81–90 (2022). https://doi.org/10.1038/s41589-021-00924-1
Received:

Accepted:

Published:

Issue Date:

DOI: https://doi.org/10.1038/s41589-021-00924-1