Abstract
Nuclear receptor-binding SET domain-containing 2 (NSD2) is the primary enzyme responsible for the dimethylation of lysine 36 of histone 3 (H3K36), a mark associated with active gene transcription and intergenic DNA methylation. In addition to a methyltransferase domain, NSD2 harbors two proline-tryptophan-tryptophan-proline (PWWP) domains and five plant homeodomains (PHDs) believed to serve as chromatin reading modules. Here, we report a chemical probe targeting the N-terminal PWWP (PWWP1) domain of NSD2. UNC6934 occupies the canonical H3K36me2-binding pocket of PWWP1, antagonizes PWWP1 interaction with nucleosomal H3K36me2 and selectively engages endogenous NSD2 in cells. UNC6934 induces accumulation of endogenous NSD2 in the nucleolus, phenocopying the localization defects of NSD2 protein isoforms lacking PWWP1 that result from translocations prevalent in multiple myeloma (MM). Mutations of other NSD2 chromatin reader domains also increase NSD2 nucleolar localization and enhance the effect of UNC6934. This chemical probe and the accompanying negative control UNC7145 will be useful tools in defining NSD2 biology.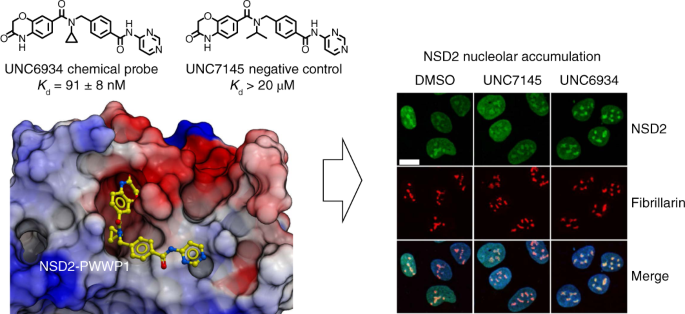 This is a preview of subscription content
Access options
Subscribe to Nature+
Get immediate online access to the entire Nature family of 50+ journals
Subscribe to Journal
Get full journal access for 1 year
$119.00
only $9.92 per issue
All prices are NET prices.
VAT will be added later in the checkout.
Tax calculation will be finalised during checkout.
Buy article
Get time limited or full article access on ReadCube.
$32.00
All prices are NET prices.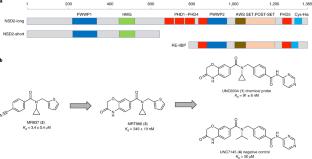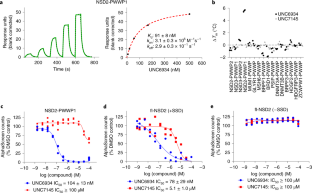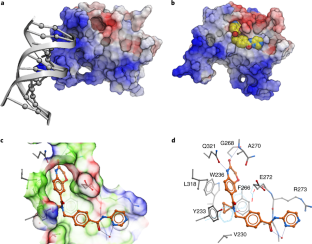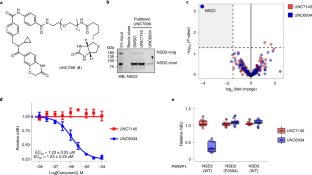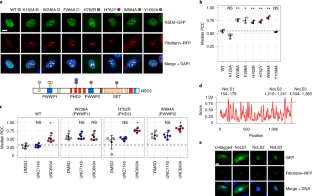 Data availability
The MS proteomics data have been deposited to the ProteomeXchange Consortium via the PRIDE54 partner repository with the data set identifier PXD017641. Additionally, the code used to analyze the proteomics data has been posted to Zenodo at https://doi.org/10.5281/zenodo.5153406. The structures of NSD2-PWWP1 in complex with MRT866 and UNC6934 were deposited to the PDB with accession numbers 7MDN and 6XCG respectively. Source data are provided with this paper.
References
Kuo, A. J. et al. NSD2 links dimethylation of histone H3 at lysine 36 to oncogenic programming. Mol. Cell 44, 609–620 (2011).

Bennett, R. L., Swaroop, A., Troche, C. & Licht, J. D. The role of nuclear receptor-binding SET domain family histone lysine methyltransferases in cancer. Cold Spring Harb. Perspect. Med. 7, a026708 (2017).

Keats, J. J. et al. In multiple myeloma, t(4;14)(p16;q32) is an adverse prognostic factor irrespective of FGFR3 expression. Blood 101, 1520–1529 (2003).

Mirabella, F. et al. MMSET is the key molecular target in t(4;14) myeloma. Blood Cancer J. 3, e114 (2013).

Jaffe, J. D. et al. Global chromatin profiling reveals NSD2 mutations in pediatric acute lymphoblastic leukemia. Nat. Genet. 45, 1386–1391 (2013).

Swaroop, A. et al. An activating mutation of the NSD2 histone methyltransferase drives oncogenic reprogramming in acute lymphocytic leukemia. Oncogene 38, 671–686 (2019).

Oyer, J. A. et al. Point mutation E1099K in MMSET/NSD2 enhances its methyltranferase activity and leads to altered global chromatin methylation in lymphoid malignancies. Leukemia 28, 198–201 (2014).

Sankaran, S. M., Wilkinson, A. W., Elias, J. E. & Gozani, O. A PWWP domain of histone-lysine N-methyltransferase NSD2 binds to dimethylated Lys-36 of histone H3 and regulates NSD2 function at chromatin. J. Biol. Chem. 291, 8465–8474 (2016).

Weinberg, D. N. et al. The histone mark H3K36me2 recruits DNMT3A and shapes the intergenic DNA methylation landscape. Nature 573, 281–286 (2019).

Shah, M. Y. et al. MMSET/WHSC1 enhances DNA damage repair leading to an increase in resistance to chemotherapeutic agents. Oncogene 35, 5905–5915 (2016).

Zhang, J. et al. PTEN methylation by NSD2 controls cellular sensitivity to DNA damage. Cancer Discov. 9, 1306–1323 (2019).

Qin, S. & Min, J. Structure and function of the nucleosome-binding PWWP domain. Trends Biochem. Sci. 39, 536–547 (2014).

Vermeulen, M. et al. Quantitative interaction proteomics and genome-wide profiling of epigenetic histone marks and their readers. Cell 142, 967–980 (2010).

Huang, Z. et al. NSD2 is recruited through its PHD domain to oncogenic gene loci to drive multiple myeloma. Cancer Res. 73, 6277–6288 (2013).

Keats, J. J. et al. Overexpression of transcripts originating from the MMSET locus characterizes all t(4;14)(p16;q32)-positive multiple myeloma patients. Blood 105, 4060–4069 (2005).

Marango, J. et al. The MMSET protein is a histone methyltransferase with characteristics of a transcriptional corepressor. Blood 111, 3145–3154 (2008).

Huang, H. et al. Covalent inhibition of NSD1 histone methyltransferase. Nat. Chem. Biol. 16, 1403–1410 (2020).

Böttcher, J. et al. Fragment-based discovery of a chemical probe for the PWWP1 domain of NSD3. Nat. Chem. Biol. 15, 822–829 (2019).

Freitas, R. Fde et al. Discovery of small-molecule antagonists of the PWWP domain of NSD2. J. Med. Chem. 64, 1584–1592 (2021).

Li, W. et al. Molecular basis of nucleosomal H3K36 methylation by NSD methyltransferases. Nature 590, 498–503 (2021).

Machleidt, T. et al. NanoBRET—a novel BRET platform for the analysis of protein–protein interactions. ACS Chem. Biol. 10, 1797–1804 (2015).

Lambert, J.-P. et al. Interactome rewiring following pharmacological targeting of BET bromodomains. Mol. Cell 73, 621–638 (2019).

James, L. I. et al. Discovery of a chemical probe for the L3MBTL3 methyllysine reader domain. Nat. Chem. Biol. 9, 184–191 (2013).

Andersen, J. S. et al. Nucleolar proteome dynamics. Nature 433, 77–83 (2005).

Halim, V. A. et al. Doxorubicin-induced DNA damage causes extensive ubiquitination of ribosomal proteins associated with a decrease in protein translation. Mol. Cell Proteomics 17, 2297–2308 (2018).

Zhang, Q. et al. Structural mechanism of transcriptional regulator NSD3 recognition by the ET domain of BRD4. Structure 24, 1201–1208 (2016).

Brito, J. L. R. et al. MMSET deregulation affects cell cycle progression and adhesion regulons in t(4;14) myeloma plasma cells. Haematologica 94, 78–86 (2009).

Lauring, J. et al. The multiple myeloma associated MMSET gene contributes to cellular adhesion, clonogenic growth, and tumorigenicity. Blood 111, 856–864 (2008).

Scott, M. S., Boisvert, F.-M., McDowall, M. D., Lamond, A. I. & Barton, G. J. Characterization and prediction of protein nucleolar localization sequences. Nucleic Acids Res. 38, 7388–7399 (2010).

Arrowsmith, C. H. et al. The promise and peril of chemical probes. Nat. Chem. Biol. 11, 536–541 (2015).

Frye, S. V. The art of the chemical probe. Nat. Chem. Biol. 6, 159–161 (2010).

Blagg, J. & Workman, P. Choose and use your chemical probe wisely to explore cancer biology. Cancer Cell 32, 268–270 (2017).

Iarovaia, O. V. et al. Nucleolus: a central hub for nuclear functions. Trends Cell Biol. 29, 647–659 (2019).

Pederson, T. The nucleolus. Cold Spring Harb. Perspect. Biol. 3, a000638 (2011).

Shaw, P. J. & Jordan, E. G. The nucleolus. Annu. Rev. Cell Dev. Biol. 11, 93–121 (1995).

Azkanaz, M. et al. Protein quality control in the nucleolus safeguards recovery of epigenetic regulators after heat shock. eLife 8, e45205 (2019).

Zhang, X. et al. Proteome-wide identification of ubiquitin interactions using UbIA-MS. Nat. Protoc. 13, 530–550 (2018).

Scott, M. S., Troshin, P. V. & Barton, G. J. NoD: a nucleolar localization sequence detector for eukaryotic and viral proteins. BMC Bioinformatics 12, 317 (2011).

Weinberg, D. N. et al. The histone mark H3K36me2 recruits DNMT3A and shapes the intergenic DNA methylation landscape. Nature 573, 281–286 (2019).

Allali-Hassani, A. et al. Discovery of a chemical probe for PRDM9. Nat. Commun. 10, 5759 (2019).

Scheer, S. et al. A chemical biology toolbox to study protein methyltransferases and epigenetic signaling. Nat. Commun. 10, 19 (2019).

Besnard, J. et al. Automated design of ligands to polypharmacological profiles. Nature 492, 215–220 (2012).

Minor, W., Cymborowski, M., Otwinowski, Z. & Chruszcz, M. HKL-3000: the integration of data reduction and structure solution—from diffraction images to an initial model in minutes. Acta Crystallogr. D Biol. Crystallogr. 62, 859–866 (2006).

Murshudov, G. N., Vagin, A. A. & Dodson, E. J. Refinement of macromolecular structures by the maximum-likelihood method. Acta Crystallogr. D Biol. Crystallogr. 53, 240–255 (1997).

Emsley, P. & Cowtan, K. Coot: model-building tools for molecular graphics. Acta Crystallogr. D Biol. Crystallogr. 60, 2126–2132 (2004).

Davis, I. W., Murray, L. W., Richardson, J. S. & Richardson, D. C. MOLPROBITY: structure validation and all-atom contact analysis for nucleic acids and their complexes. Nucleic Acids Res. 32, W615–W619 (2004).

Kabsch, W. XDS. Acta Crystallogr. D Biol. Crystallogr. 66, 125–132 (2010).

Vagin, A. & Teplyakov, A. Molecular replacement with MOLREP. Acta Crystallogr. D Biol. Crystallogr. 66, 22–25 (2010).

Long, F. et al. AceDRG: a stereochemical description generator for ligands. Acta Crystallogr. D Struct. Biol. 73, 112–122 (2017).

Smart, O. S. et al. Exploiting structure similarity in refinement: automated NCS and target-structure restraints in BUSTER. Acta Crystallogr. D Biol. Crystallogr. 68, 368–380 (2012).

Chen, D. & Huang, S. Nucleolar components involved in ribosome biogenesis cycle between the nucleolus and nucleoplasm in interphase cells. J. Cell Biol. 153, 169–176 (2001).

McQuin, C. et al. CellProfiler 3.0: next-generation image processing for biology. PLoS Biol. 16, e2005970 (2018).

Yang, L. et al. Regulation of SirT1–nucleomethylin binding by rRNA coordinates ribosome biogenesis with nutrient availability. Mol. Cell. Biol. 33, 3835–3848 (2013).

Deutsch, E. W. et al. The ProteomeXchange consortium in 2017: supporting the cultural change in proteomics public data deposition. Nucleic Acids Res. 45, D1100–D1106 (2017).

Boulon, S., Westman, B. J., Hutten, S., Boisvert, F.-M. & Lamond, A. I. The nucleolus under stress. Mol. Cell 40, 216–227 (2010).

Burger, K. et al. Chemotherapeutic drugs inhibit ribosome biogenesis at various levels. J. Biol. Chem. 285, 12416–12425 (2010).
Acknowledgements
The Structural Genomics Consortium is a registered charity (no. 1097737) that receives funds from AbbVie, Bayer AG, Boehringer Ingelheim, Canada Foundation for Innovation, Eshelman Institute for Innovation, Genentech, Genome Canada through Ontario Genomics Institute (OGI-196), EU/EFPIA/OICR/McGill/KTH/Diamond Innovative Medicines Initiative 2 Joint Undertaking (EUbOPEN grant 875510), Janssen, Merck KGaA (also known as EMD in Canada and the United State), Merck & Co (also known as MSD outside Canada and the United States), Pfizer, Takeda and Wellcome (106169/ZZ14/Z). We acknowledge the Natural Sciences and Engineering Research Council of Canada (NSERC) for a postdoctoral fellowship awarded to D.D. This work was supported by the National Cancer Institute, NIH (grant R01CA242305) to L.I.J. M.S. gratefully acknowledges NSERC (grant RGPIN-2019-04416). Research in EpiCypher was supported by NIH grants R44GM117683 and R44GM116584. This work was supported by Cancer Research Society operating grant (25418) to D.B.-L. We thank T. Hajian for purifying proteins and L. Halabelian for providing fluorescein-labeled dsDNA. We thank the University of North Carolina's Department of Chemistry Mass Spectrometry Core Laboratory, especially D. Wallace, for their assistance with MS analysis. The Mass Spectrometry Core Laboratory is supported by the National Science Foundation under grant number CHE-1726291. Research reported in this publication was supported, in part, with funding by the University of North Carolina's School of Medicine Office of Research. We thank F. Potjewyd for reviewing the primary synthesis data supporting this manuscript. Receptor-, channel- and transporter-binding profiles were generously provided by the National Institute of Mental Health's Psychoactive Drug Screening Program, contract number HHSN-271-2018-00023-C (NIMH PDSP). The NIMH PDSP is directed by B.L. Roth at the University of North Carolina at Chapel Hill and Project Officer J. Driscoll at NIMH, Bethesda MD, USA. For experimental details, please refer to the PDSP web site at https://pdsp.unc.edu/ims/investigator/web/.
Ethics declarations
Competing interests
M.R.M., I.K.P., N.W.H., M.J.M., M.A.C. and M.-C.K. are employees of EpiCypher, a commercial developer and supplier of reagents and platforms used in this study: recombinant semi-synthetic dNucs and the dCypher binding assay. The remaining authors declare no competing interests.
Additional information
Peer review information Nature Chemical Biology thanks Tomasz Cierpicki, Jonathan Licht and other anonymous reviewer(s) for their contribution to the peer review of this work.
Publisher's note Springer Nature remains neutral with regard to jurisdictional claims in published maps and institutional affiliations.
Supplementary information
Supplementary Tables 1–4 and Note.
About this article
Cite this article
Dilworth, D., Hanley, R.P., Ferreira de Freitas, R. et al. A chemical probe targeting the PWWP domain alters NSD2 nucleolar localization. Nat Chem Biol 18, 56–63 (2022). https://doi.org/10.1038/s41589-021-00898-0
Received:

Accepted:

Published:

Issue Date:

DOI: https://doi.org/10.1038/s41589-021-00898-0
Further reading
Iuliia Topchu
Rajendra P. Pangeni
Yanis Boumber

Cellular and Molecular Life Sciences (2022)