Abstract
Spindle position control is essential for cell fate determination and organogenesis. Early studies indicate the essential role of the evolutionarily conserved Gαi/LGN/NuMA network in spindle positioning. However, the regulatory mechanisms that couple astral microtubules dynamics to the spindle orientation remain elusive. Here we delineated a new mitosis-specific crotonylation-regulated astral microtubule–EB1–NuMA interaction in mitosis. EB1 is a substrate of TIP60, and TIP60-dependent crotonylation of EB1 tunes accurate spindle positioning in mitosis. Mechanistically, TIP60 crotonylation of EB1 at Lys66 forms a dynamic link between accurate attachment of astral microtubules to the lateral cell cortex defined by NuMA–LGN and fine tune of spindle positioning. Real-time imaging of chromosome movements in HeLa cells expressing genetically encoded crotonylated EB1 revealed the importance of crotonylation dynamics for accurate control of spindle orientation during metaphase–anaphase transition. These findings delineate a general signaling cascade that integrates protein crotonylation with accurate spindle positioning for chromosome stability in mitosis.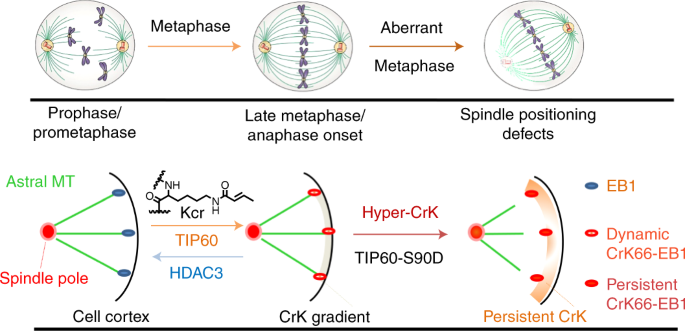 This is a preview of subscription content
Access options
Subscribe to Journal
Get full journal access for 1 year
$119.00
only $9.92 per issue
All prices are NET prices.
VAT will be added later in the checkout.
Tax calculation will be finalised during checkout.
Rent or Buy article
Get time limited or full article access on ReadCube.
from$8.99
All prices are NET prices.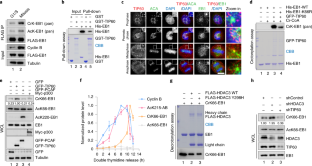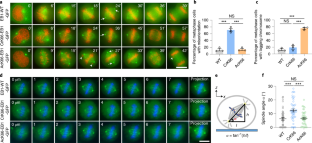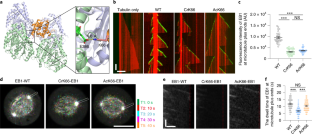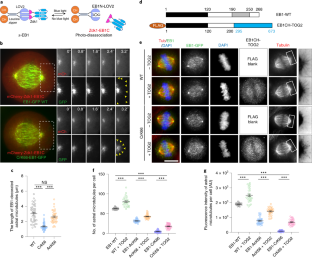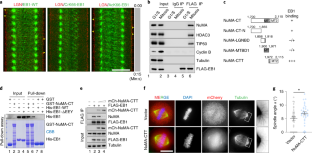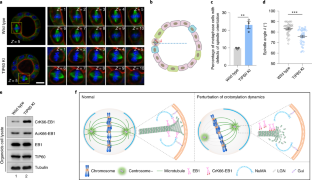 Data availability
All data supporting our findings in this study are available in this paper and the Supplementary Data. The structure of EB3–microtubule (PDB entry 3JAK) and EB1CH domain (PDB 1PA7) were from PDB. Source data are provided with this paper.
References
1.

Cheeseman, I. M. & Desai, A. Molecular architecture of the kinetochore-microtubule interface. Nat. Rev. Mol. Cell Biol. 9, 33–46 (2008).

2.

Yao, X. B., Abrieu, A., Zheng, Y., Sullivan, K. F. & Cleveland, D. W. CENP-E forms a link between attachment of spindle microtubules to kinetochores and the mitotic checkpoint. Nat. Cell Biol. 2, 484–491 (2000).

3.

Pearson, C. G. & Bloom, K. Dynamic microtubules lead the way for spindle positioning. Nat. Rev. Mol. Cell Biol. 5, 481–492 (2004).

4.

Thery, M. et al. The extracellular matrix guides the orientation of the cell division axis. Nat. Cell Biol. 7, 947–953 (2005).

5.

Hendricks, A. G. et al. Dynein tethers and stabilizes dynamic microtubule plus ends. Curr. Biol. 22, 632–637 (2012).

6.

Seldin, L., Muroyama, A. & Lechler, T. NuMA-microtubule interactions are critical for spindle orientation and the morphogenesis of diverse epidermal structures. eLife 5, e12504 (2016).

7.

Kiyomitsu, T. & Cheeseman, I. M. Chromosome- and spindle-pole-derived signals generate an intrinsic code for spindle position and orientation. Nat. Cell Biol. 14, 311–317 (2012).

8.

Akhmanova, A. & Steinmetz, M. O. Tracking the ends: a dynamic protein network controls the fate of microtubule tips. Nat. Rev. Mol. Cell Biol. 9, 309–322 (2008).

9.

Jiang, K. et al. TIP150 interacts with and targets MCAK at the microtubule plus ends. EMBO Rep. 10, 857–865 (2009).

10.

Lu, M. S. & Johnston, C. A. Molecular pathways regulating mitotic spindle orientation in animal cells. Development 140, 1843–1856 (2013).

11.

Hayashi, I. & Ikura, M. Crystal structure of the amino-terminal microtubule-binding domain of end-binding protein 1 (EB1). J. Biol. Chem. 278, 36430–36434 (2003).

12.

Xia, P. et al. EB1 acetylation by P300/CBP-associated factor (PCAF) ensures accurate kinetochore-microtubule interactions in mitosis. Proc. Natl Acad. Sci. USA 109, 16564–16569 (2012).

13.

Tan, M. et al. Identification of 67 histone marks and histone lysine crotonylation as a new type of histone modification. Cell 146, 1016–1028 (2011).

14.

Wan, J., Liu, H., Chu, J. & Zhang, H. Functions and mechanisms of lysine crotonylation. J. Cell. Mol. Med. 23, 7163–7169 (2019).

15.

Mo, F. et al. Acetylation of Aurora B by TIP60 ensures accurate chromosomal segregation. Nat. Chem. Biol. 12, 226–232 (2016).

16.

Wu, Q. et al. Ultradeep lysine crotonylome reveals the crotonylation enhancement on both histones and nonhistone proteins by SAHA treatment. J. Proteome Res. 16, 3664–3671 (2017).

17.

Kim, C. H., Kang, M., Kim, H. J., Chatterjee, A. & Schultz, P. G. Site-specific incorporation of epsilon-N-crotonyllysine into histones. Angew. Chem. Int. Ed. Engl. 51, 7246–7249 (2012).

18.

Qin, X. et al. An orthogonal tyrosyl-tRNA synthetase/tRNA pair from a thermophilic bacterium for an expanded eukaryotic genetic code. Biochemistry 59, 90–99 (2020).

19.

McKinley, K. L. & Cheeseman, I. M. Large-scale analysis of CRISPR/Cas9 cell-cycle knockouts reveals the diversity of p53-dependent responses to cell-cycle defects. Dev. Cell 40, 405–420 e2 (2017).

20.

Wei, W. et al. Class I histone deacetylases are major histone decrotonylases: evidence for critical and broad function of histone crotonylation in transcription. Cell Res. 27, 898–915 (2017).

21.

Ishii, S., Kurasawa, Y., Wong, J. & Yu-Lee, L. Y. Histone deacetylase 3 localizes to the mitotic spindle and is required for kinetochore-microtubule attachment. Proc. Natl Acad. Sci. USA 105, 4179–4184 (2008).

22.

Lahm, A. et al. Unraveling the hidden catalytic activity of vertebrate class IIa histone deacetylases. Proc. Natl Acad. Sci. USA 104, 17335–17340 (2007).

23.

Bao, X. et al. Mitosis-specific acetylation tunes Ran effector binding for chromosome segregation. J. Mol. Cell. Biol. 10, 18–32 (2018).

24.

Zhao, G. et al. Dynamic acetylation of the kinetochore-associated protein HEC1 ensures accurate microtubule-kinetochore attachment. J. Biol. Chem. 294, 576–592 (2019).

25.

Huang, Y. et al. BubR1 phosphorylates CENP-E as a switch enabling the transition from lateral association to end-on capture of spindle microtubules. Cell Res. 29, 562–578 (2019).

26.

Yu, H. et al. NDP52 tunes cortical actin interaction with astral microtubules for accurate spindle orientation. Cell Res. 29, 666–679 (2019).

27.

di Pietro, F., Echard, A. & Morin, X. Regulation of mitotic spindle orientation: an integrated view. EMBO Rep. 17, 1106–1130 (2016).

28.

Zhang, R., Alushin, G. M., Brown, A. & Nogales, E. Mechanistic origin of microtubule dynamic instability and its modulation by EB proteins. Cell 162, 849–859 (2015).

29.

van Haren, J. et al. Local control of intracellular microtubule dynamics by EB1 photodissociation. Nat. Cell Biol. 20, 252–261 (2018).

30.

Aher, A. et al. CLASP suppresses microtubule catastrophes through a single TOG domain. Dev. Cell 46, 40–58 e8 (2018).

31.

Morin, X. & Bellaiche, Y. Mitotic spindle orientation in asymmetric and symmetric cell divisions during animal development. Dev. Cell 21, 102–119 (2011).

32.

Jiang, K. et al. A proteome-wide screen for mammalian SxIP motif-containing microtubule plus-end tracking proteins. Curr. Biol. 22, 1800–1807 (2012).

33.

Yao, X. & Smolka, A. J. Gastric parietal cell physiology and Helicobacter pylori-induced disease. Gastroenterology 156, 2158–2173 (2019).

34.

Liu, X. et al. Mitotic motor CENP-E cooperates with PRC1 in temporal control of central spindle assembly. J. Mol. Cell. Biol. 12, 654–665 (2020).

35.

Pirovano, L. et al. Hexameric NuMA:LGN structures promote multivalent interactions required for planar epithelial divisions. Nat. Commun. 10, 2208 (2019).

36.

Yang, Y. et al. CYLD regulates spindle orientation by stabilizing astral microtubules and promoting dishevelled-NuMA-dynein/dynactin complex formation. Proc. Natl Acad. Sci. USA 111, 2158–2163 (2014).

37.

Mora-Bermudez, F., Matsuzaki, F. & Huttner, W. B. Specific polar subpopulations of astral microtubules control spindle orientation and symmetric neural stem cell division. eLife 3, e02875 (2014).

38.

Toyoshima, F. & Nishida, E. Integrin-mediated adhesion orients the spindle parallel to the substratum in an EB1- and myosin X-dependent manner. EMBO J. 26, 1487–1498 (2007).

39.

Bouissou, A. et al. gamma-tubulin ring complexes and EB1 play antagonistic roles in microtubule dynamics and spindle positioning. EMBO J. 33, 114–128 (2014).

40.

Gallini, S. et al. NuMA phosphorylation by Aurora-A orchestrates spindle orientation. Curr. Biol. 26, 458–469 (2016).

41.

Kotak, S., Afshar, K., Busso, C. & Gonczy, P. Aurora A kinase regulates proper spindle positioning in C. elegans and in human cells. J. Cell Sci. 129, 3015–3025 (2016).

42.

Polverino, F. et al. The Aurora-A/TPX2 Axis directs spindle orientation in adherent human cells by regulating NuMA and microtubule stability. Curr. Biol. 31, 658–667.e5 (2020).

43.

Du, Q., Taylor, L., Compton, D. A. & Macara, I. G. LGN blocks the ability of NuMA to bind and stabilize microtubules. A mechanism for mitotic spindle assembly regulation. Curr. Biol. 12, 1928–1933 (2002).

44.

Li, X. et al. Structure-guided development of YEATS domain inhibitors by targeting pi-pi-pi stacking. Nat. Chem. Biol. 14, 1140–1149 (2018).

45.

Yao, X. B., Anderson, K. L. & Cleveland, D. W. The microtubule-dependent motor centromere-associated protein E (CENP-E) is an integral component of kinetochore corona fibers that link centromeres to spindle microtubules. J. Cell Biol. 139, 435–447 (1997).

46.

Xia, P. et al. Superresolution imaging reveals structural features of EB1 in microtubule plus-end tracking. Mol. Biol. Cell 25, 4166–4173 (2014).

47.

Song, X. et al. Acetylation of ACAP4 regulates CCL18-elicited breast cancer cell migration and invasion. J. Mol. Cell. Biol. 10, 559–572 (2018).

48.

Song, X. et al. Acetylation of ezrin regulates membrane-cytoskeleton interaction underlying CCL18-elicited cell migration. J. Mol. Cell. Biol. 12, 424–437 (2020).

49.

Forester, T. R. & Smith, W. SHAKE, rattle, and roll: efficient constraint algorithms for linked rigid bodies. J. Comput. Chem. 19, 102–111 (1998).

50.

Darden, T., York, D. & Pedersen, L. Particle mesh Ewald—an N.Log(N) method for Ewald sums in large systems. J. Chem. Phys. 98, 10089–10092 (1993).

51.

Wang, T. et al. SENP1-Sirt3 signaling controls mitochondrial protein acetylation and metabolism. Mol. Cell 75, 823–834 e5 (2019).
Acknowledgements
We are grateful to Y. Shi, Y. Chen, Y. Luo, H. Jiang, S. Harris-Hooker and G. Tosini for support, and P. Schultz and I.M. Cheeseman for reagents. This work was supported by the MOST-NSFC grants (nos. 2017YFA0503600, 91854203, 31621002, 91853115, 21922706, 31671405, 32090040 and 2016YFA0100500 to Xing L.; 2016YFA0101202, 31970655 to Z.D., 91953101 to Z.Z. and 92059102 to X.S.); the Strategic Priority Research Program of the Chinese Academy of Sciences (grant no. XDB19040000) to Xing L.; the Ministry of Education (grant nos. IRT_17R102, 20113402130010; YD2070006001 to Xing L.); the Fundamental Research Funds for the Central Universities (grant no. WK2070000194 to Xing L.); Anhui Provincial Natural Science Foundation grant (no. 1908085MC64); and a China Postdoctoral Science Foundation grant (no. 2019M662184) to X.S. The funders had no role in study design, data collection and analysis, decision to publish or preparation of the paper.
Ethics declarations
Competing interests
The authors declare no competing interests.
Additional information
Publisher's note Springer Nature remains neutral with regard to jurisdictional claims in published maps and institutional affiliations.
Supplementary information
About this article
Cite this article
Song, X., Yang, F., Liu, X. et al. Dynamic crotonylation of EB1 by TIP60 ensures accurate spindle positioning in mitosis. Nat Chem Biol 17, 1314–1323 (2021). https://doi.org/10.1038/s41589-021-00875-7
Received:

Accepted:

Published:

Issue Date:
Further reading
Stefano Santaguida
Marina Mapelli

Nature Chemical Biology (2021)