RNA knot-like structures function as an efficient physical barrier to RNA exoribonucleases. Single-molecule mechanical manipulation is used to unfold these structures and unravel the cause of their unusual mechanical resistance from a different direction.
Access options
Subscribe to Journal
Get full journal access for 1 year
$119.00
only $9.92 per issue
All prices are NET prices.
VAT will be added later in the checkout.
Tax calculation will be finalised during checkout.
Rent or Buy article
Get time limited or full article access on ReadCube.
from$8.99
All prices are NET prices.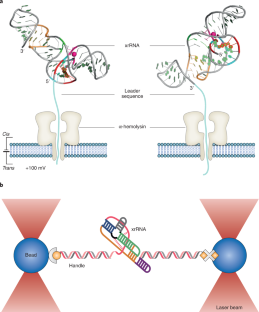 References
1.

Chapman, E. G., Moon, S. L., Wilusz, J. & Kieft, J. S. eLife 3, e01892 (2014).

2.

Chapman, E. G. et al. Science 344, 307–310 (2014).

3.

Zhao, M. & Woodside, M. T. Nat. Chem. Biol. https://doi.org/10.1038/s41589-021-00829-z (2021).

4.

Niu, X. et al. Nat. Commun. 11, 5496 (2020).

5.

Liphardt, J., Onoa, B., Smith, S. B., Tinoco, I. Jr. & Bustamante, C. Science 292, 733–737 (2001).

6.

Akiyama, B. M. et al. Science 354, 1148–1152 (2016).

7.

Steckelberg, A. L. et al. Proc. Natl. Acad. Sci. USA 115, 6404–6409 (2018).

8.

Steckelberg, A. L., Vicens, Q., Costantino, D. A., Nix, J. C. & Kieft, J. S. RNA 26, 1767–1776 (2020).
Ethics declarations
Competing interests
The author declares no competing interests.
About this article
Cite this article
Li, P.T.X. Untying knots with force. Nat Chem Biol 17, 933–934 (2021). https://doi.org/10.1038/s41589-021-00856-w