Abstract
Graspetides, also known as ω-ester-containing peptides (OEPs), are a family of ribosomally synthesized and post-translationally modified peptides (RiPPs) bearing side chain-to-side chain macrolactone or macrolactam linkages. Here, we present the molecular details of precursor peptide recognition by the macrocyclase enzyme PsnB in the biosynthesis of plesiocin, a group 2 graspetide. Biochemical analysis revealed that, in contrast to other RiPPs, the core region of the plesiocin precursor peptide noticeably enhanced the enzyme–precursor interaction via the conserved glutamate residues. We obtained four crystal structures of symmetric or asymmetric PsnB dimers, including those with a bound core peptide and a nucleotide, and suggest that the highly conserved Arg213 at the enzyme active site specifically recognizes a ring-forming acidic residue before phosphorylation. Collectively, this study provides insights into the mechanism underlying substrate recognition in graspetide biosynthesis and lays a foundation for engineering new variants.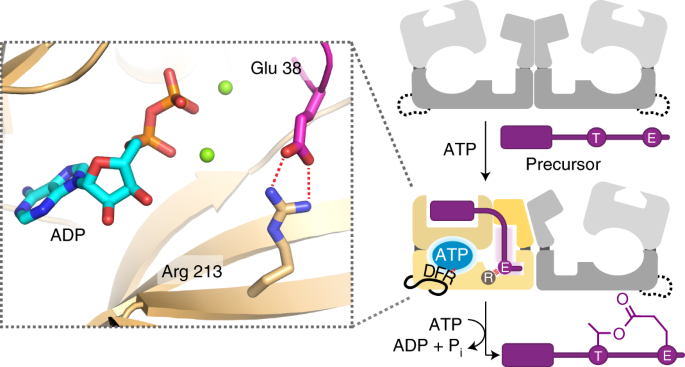 Access options
Subscribe to Journal
Get full journal access for 1 year
$119.00
only $9.92 per issue
All prices are NET prices.
VAT will be added later in the checkout.
Tax calculation will be finalised during checkout.
Rent or Buy article
Get time limited or full article access on ReadCube.
from$8.99
All prices are NET prices.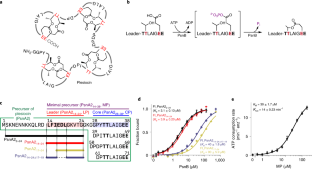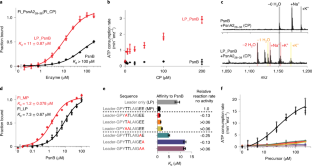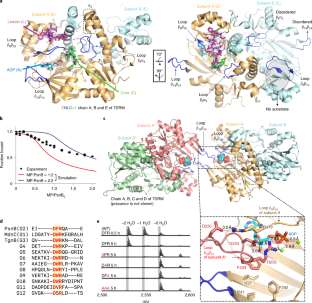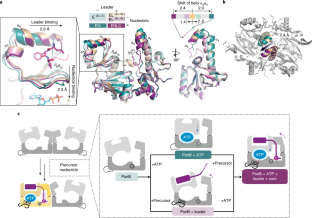 Data availability
Coordinates and structure factors for the reported crystal structures in this work were deposited in the RCSB PDB under accession numbers 7DRM (MP- and ADP-bound PsnB), 7DRN (MP- and AMPPNP-bound PsnB), 7DRP (MP(pE37)- and ADP-bound PsnB) and 7DRO (MP-bound PsnB). Source data are provided with this paper.
References
1.

Newman, D. J. & Cragg, G. M. Natural products as sources of new drugs from 1981 to 2014. J. Nat. Prod. 79, 629–661 (2016).

2.

Arnison, P. G. et al. Ribosomally synthesized and post-translationally modified peptide natural products: overview and recommendations for a universal nomenclature. Nat. Prod. Rep. 30, 108–160 (2013).

3.

Cimermancic, P. et al. Insights into secondary metabolism from a global analysis of prokaryotic biosynthetic gene clusters. Cell 158, 412–421 (2014).

4.

Montalban-Lopez, M. et al. New developments in RiPP discovery, enzymology and engineering. Nat. Prod. Rep. 38, 130–239 (2021).

5.

Ortega, M. A. et al. Structure and mechanism of the tRNA-dependent lantibiotic dehydratase NisB. Nature 517, 509–512 (2015).

6.

Koehnke, J. et al. Structural analysis of leader peptide binding enables leader-free cyanobactin processing. Nat. Chem. Biol. 11, 558–563 (2015).

7.

Regni, C. A. et al. How the MccB bacterial ancestor of ubiquitin E1 initiates biosynthesis of the microcin C7 antibiotic. EMBO J. 28, 1953–1964 (2009).

8.

Evans, R. L. III, Latham, J. A., Xia, Y., Klinman, J. P. & Wilmot, C. M. Nuclear magnetic resonance structure and binding studies of PqqD, a chaperone required in the biosynthesis of the bacterial dehydrogenase cofactor pyrroloquinoline quinone. Biochemistry 56, 2735–2746 (2017).

9.

Sumida, T., Dubiley, S., Wilcox, B., Severinov, K. & Tagami, S. Structural basis of leader peptide recognition in lasso peptide biosynthesis pathway. ACS Chem. Biol. 14, 1619–1627 (2019).

10.

Chekan, J. R., Ongpipattanakul, C. & Nair, S. K. Steric complementarity directs sequence promiscuous leader binding in RiPP biosynthesis. Proc. Natl Acad. Sci. USA 116, 24049–24055 (2019).

11.

Ghilarov, D. et al. Architecture of microcin B17 synthetase: an octameric protein complex converting a ribosomally synthesized peptide into a DNA gyrase poison. Mol. Cell 73, 749–762 (2019).

12.

Grove, T. L. et al. Structural insights into thioether bond formation in the biosynthesis of sactipeptides. J. Am. Chem. Soc. 139, 11734–11744 (2017).

13.

Davis, K. M. et al. Structures of the peptide-modifying radical SAM enzyme SuiB elucidate the basis of substrate recognition. Proc. Natl Acad. Sci. USA 114, 10420–10425 (2017).

14.

Li, K., Condurso, H. L., Li, G., Ding, Y. & Bruner, S. D. Structural basis for precursor protein-directed ribosomal peptide macrocyclization. Nat. Chem. Biol. 12, 973–979 (2016).

15.

Chekan, J. R., Estrada, P., Covello, P. S. & Nair, S. K. Characterization of the macrocyclase involved in the biosynthesis of RiPP cyclic peptides in plants. Proc. Natl Acad. Sci. USA 114, 6551–6556 (2017).

16.

Ludewig, H. et al. Characterization of the fast and promiscuous macrocyclase from plant PCY1 enables the use of simple substrates. ACS Chem. Biol. 13, 801–811 (2018).

17.

Song, H. et al. A molecular mechanism for the enzymatic methylation of nitrogen atoms within peptide bonds. Sci. Adv. 4, eaat2720 (2018).

18.

Ongpipattanakul, C. & Nair, S. K. Molecular basis for autocatalytic backbone N-methylation in RiPP natural product biosynthesis. ACS Chem. Biol. 13, 2989–2999 (2018).

19.

Bothwell, I. R. et al. Characterization of glutamyl-tRNA-dependent dehydratases using nonreactive substrate mimics. Proc. Natl Acad. Sci. USA 116, 17245–17250 (2019).

20.

Dong, S. H., Liu, A., Mahanta, N., Mitchell, D. A. & Nair, S. K. Mechanistic basis for ribosomal peptide backbone modifications. ACS Cent. Sci. 5, 842–851 (2019).

21.

Thibodeaux, G. N., McClerren, A. L., Ma, Y., Gancayco, M. R. & van der Donk, W. A. Synergistic binding of the leader and core peptides by the lantibiotic synthetase HalM2. ACS Chem. Biol. 10, 970–977 (2015).

22.

Cogan, D. P. et al. Structural insights into enzymatic [4+2] aza-cycloaddition in thiopeptide antibiotic biosynthesis. Proc. Natl Acad. Sci. USA 114, 12928–12933 (2017).

23.

Ishitsuka, M. O., Kusumi, T., Kakisawa, H., Kaya, K. & Watanabe, M. M. Microviridin—a novel tricyclic depsipeptide from the toxic cyanobacterium Microcystis viridis. JACS 112, 8180–8182 (1990).

24.

Ziemert, N., Ishida, K., Liaimer, A., Hertweck, C. & Dittmann, E. Ribosomal synthesis of tricyclic depsipeptides in bloom-forming cyanobacteria. Angew. Chem. Int. Ed. Engl. 47, 7756–7759 (2008).

25.

Philmus, B., Christiansen, G., Yoshida, W. Y. & Hemscheidt, T. K. Post-translational modification in microviridin biosynthesis. Chembiochem 9, 3066–3073 (2008).

26.

Lee, H., Park, Y. & Kim, S. Enzymatic cross-linking of side chains generates a modified peptide with four hairpin-like bicyclic repeats. Biochemistry 56, 4927–4930 (2017).

27.

Roh, H., Han, Y., Lee, H. & Kim, S. A topologically distinct modified peptide with multiple bicyclic core motifs expands the diversity of microviridin-like peptides. Chembiochem 20, 1051–1059 (2019).

28.

Lee, H., Choi, M., Park, J. U., Roh, H. & Kim, S. Genome mining reveals high topological diversity of ω-ester-containing peptides and divergent evolution of ATP-grasp macrocyclases. J. Am. Chem. Soc. 142, 3013–3023 (2020).

29.

Unno, K. & Kodani, S. Heterologous expression of cryptic biosynthetic gene cluster from Streptomyces prunicolor yields novel bicyclic peptide prunipeptin. Microbiol. Res. 244, 126669 (2021).

30.

Ahmed, M. N. et al. Phylogenomic analysis of the microviridin biosynthetic pathway coupled with targeted chemo-enzymatic synthesis yields potent protease inhibitors. ACS Chem. Biol. 12, 1538–1546 (2017).

31.

Weiz, A. R. et al. Harnessing the evolvability of tricyclic microviridins to dissect protease–inhibitor interactions. Angew. Chem. Int. Ed. Engl. 53, 3735–3738 (2014).

32.

Reyna-Gonzalez, E., Schmid, B., Petras, D., Sussmuth, R. D. & Dittmann, E. Leader peptide-free in vitro reconstitution of microviridin biosynthesis enables design of synthetic protease-targeted libraries. Angew. Chem. Int. Ed. Engl. 55, 9398–9401 (2016).

33.

Lee, C., Lee, H., Park, J. U. & Kim, S. Introduction of bifunctionality into the multidomain architecture of the ω-ester-containing peptide plesiocin. Biochemistry 59, 285–289 (2020).

34.

Zhang, Y. et al. A distributive peptide cyclase processes multiple microviridin core peptides within a single polypeptide substrate. Nat. Commun. 9, 1780 (2018).

35.

Tanaka, T., Nishioka, T. & Oda, J. Nicked multifunctional loop of glutathione synthetase still protects the catalytic intermediate. Arch. Biochem. Biophys. 339, 151–156 (1997).

36.

Shi, Y. & Walsh, C. T. Active site mapping of Escherichia coli d-Ala-d-Ala ligase by structure-based mutagenesis. Biochemistry 34, 2768–2776 (1995).

37.

Lipmann, F. & Tuttle, L. C. A specific micromethod for the determination of acyl phosphates. J. Biol. Chem. 159, 21–28 (1945).

38.

Jencks, W. P. The mechanism of the reaction of hydroxylamine with activated acyl groups. Biochim. Biophys. Acta 27, 417–418 (1958).

39.

Fawaz, M. V., Topper, M. E. & Firestine, S. M. The ATP-grasp enzymes. Bioorg. Chem. 39, 185–191 (2011).

40.

Weiz, A. R. et al. Leader peptide and a membrane protein scaffold guide the biosynthesis of the tricyclic peptide microviridin. Chem. Biol. 18, 1413–1421 (2011).

41.

Oman, T. J., Knerr, P. J., Bindman, N. A., Velasquez, J. E. & van der Donk, W. A. An engineered lantibiotic synthetase that does not require a leader peptide on its substrate. J. Am. Chem. Soc. 134, 6952–6955 (2012).

42.

Dunbar, K. L. & Mitchell, D. A. Insights into the mechanism of peptide cyclodehydrations achieved through the chemoenzymatic generation of amide derivatives. J. Am. Chem. Soc. 135, 8692–8701 (2013).

43.

Wang, H. & van der Donk, W. A. Biosynthesis of the class III lantipeptide catenulipeptin. ACS Chem. Biol. 7, 1529–1535 (2012).

44.

Zhao, G. et al. Structure and function of Escherichia coli RimK, an ATP-grasp fold, l-glutamyl ligase enzyme. Proteins 81, 1847–1854 (2013).

45.

Hara, T., Kato, H., Katsube, Y. & Oda, J. A pseudo-Michaelis quaternary complex in the reverse reaction of a ligase: structure of Escherichia coli B glutathione synthetase complexed with ADP, glutathione, and sulfate at 2.0 Å resolution. Biochemistry 35, 11967–11974 (1996).

46.

Ouchi, T. et al. Lysine and arginine biosyntheses mediated by a common carrier protein in Sulfolobus. Nat. Chem. Biol. 9, 277–283 (2013).

47.

Thoden, J. B., Firestine, S., Nixon, A., Benkovic, S. J. & Holden, H. M. Molecular structure of Escherichia coli PurT-encoded glycinamide ribonucleotide transformylase. Biochemistry 39, 8791–8802 (2000).

48.

Batson, S. et al. Inhibition of d-Ala:d-Ala ligase through a phosphorylated form of the antibiotic d-cycloserine. Nat. Commun. 8, 1939 (2017).

49.

Fan, C., Moews, P. C., Walsh, C. T. & Knox, J. R. Vancomycin resistance: structure of d-alanine:d-alanine ligase at 2.3 Å resolution. Science 266, 439–443 (1994).

50.

Salwiczek, M., Nyakatura, E. K., Gerling, U. I., Ye, S. & Koksch, B. Fluorinated amino acids: compatibility with native protein structures and effects on protein–protein interactions. Chem. Soc. Rev. 41, 2135–2171 (2012).

51.

Hemsley, A., Arnheim, N., Toney, M. D., Cortopassi, G. & Galas, D. J. A simple method for site-directed mutagenesis using the polymerase chain reaction. Nucleic Acids Res. 17, 6545–6551 (1989).

52.

Bouwman, S., Orru, R. V. & Ruijter, E. Stereoselective synthesis of fluorinated aminoglycosyl phosphonates. Org. Biomol. Chem. 13, 1317–1321 (2015).

53.

Sausen, C. W., Rogers, C. M. & Bochman, M. L. Thin-layer chromatography and real-time coupled assays to measure ATP hydrolysis. Methods Mol. Biol. 1999, 245–253 (2019).

54.

Otwinowski, Z. & Minor, W. Processing of X-ray diffraction data collected in oscillation mode. Methods Enzymol. 276, 307–326 (1997).

55.

McCoy, A. J. et al. Phaser crystallographic software. J. Appl. Crystallogr. 40, 658–674 (2007).

56.

Adams, P. D. et al. PHENIX: a comprehensive Python-based system for macromolecular structure solution. Acta Crystallogr. D 66, 213–221 (2010).

57.

Emsley, P. & Cowtan, K. Coot: model-building tools for molecular graphics. Acta Crystallogr. D 60, 2126–2132 (2004).

58.

Liebschner, D. et al. Polder maps: improving OMIT maps by excluding bulk solvent. Acta Crystallogr. D 73, 148–157 (2017).

59.

Ko, J. et al. The FALC-Loop web server for protein loop modeling. Nucleic Acids Res. 39, W210–W214 (2011).

60.

Park, H., Lee, G. R., Heo, L. & Seok, C. Protein loop modeling using a new hybrid energy function and its application to modeling in inaccurate structural environments. PLoS ONE 9, e113811 (2014).
Acknowledgements
We thank H. Lee, G. Eom, C. Lee, H. Roh, H. Cho and H. Park for helpful discussions and technical assistance, H. Chung, Y.J. Lee and T.Y. Im for assistance in synthesizing compounds, Y.T. Kim, W.J. Jeong and Y. Choi for advice in crystallization and crystallographic analysis and H. Woo for help in loop modeling. We also thank the staff of the 5C and 7A beamlines at the Pohang Light Source. This research was supported by the Basic Science Research Program through the National Research Foundation of Korea (NRF) funded by the Ministry of Education (NRF-2020R1F1A1054191 and 2021R1A2C1008730) to S.K.
Ethics declarations
Competing interests
The authors declare no competing interests.
Additional information
Peer review information Nature Chemical Biology thanks Jesko Koehnke and the other, anonymous, reviewer(s) for their contribution to the peer review of this work.
Publisher's note Springer Nature remains neutral with regard to jurisdictional claims in published maps and institutional affiliations.
Supplementary information
Supplementary Figs. 1–6, Tables 1–5 and Note.
About this article
Cite this article
Song, I., Kim, Y., Yu, J. et al. Molecular mechanism underlying substrate recognition of the peptide macrocyclase PsnB. Nat Chem Biol (2021). https://doi.org/10.1038/s41589-021-00855-x
Received:

Accepted:

Published: