Abstract
Gram-negative bacteria express structurally diverse lipoproteins in their cell envelope. Here, we find that approximately half of lipoproteins destined to the Escherichia coli outer membrane display an intrinsically disordered linker at their N terminus. Intrinsically disordered regions are common in proteins, but establishing their importance in vivo has remained challenging. As we sought to unravel how lipoproteins mature, we discovered that unstructured linkers are required for optimal trafficking by the Lol lipoprotein sorting system, whereby linker deletion re-routes three unrelated lipoproteins to the inner membrane. Focusing on the stress sensor RcsF, we found that replacing the linker with an artificial peptide restored normal outer-membrane targeting only when the peptide was of similar length and disordered. Overall, this study reveals the role played by intrinsic disorder in lipoprotein sorting, providing mechanistic insight into the biogenesis of these proteins and suggesting that evolution can select for intrinsic disorder that supports protein function.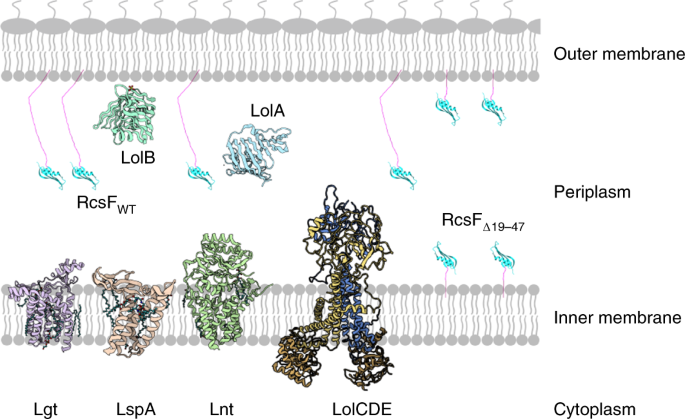 Access options
Subscribe to Journal
Get full journal access for 1 year
$119.00
only $9.92 per issue
All prices are NET prices.
VAT will be added later in the checkout.
Tax calculation will be finalised during checkout.
Rent or Buy article
Get time limited or full article access on ReadCube.
from$8.99
All prices are NET prices.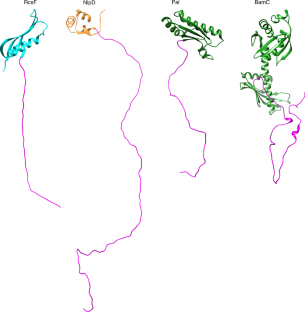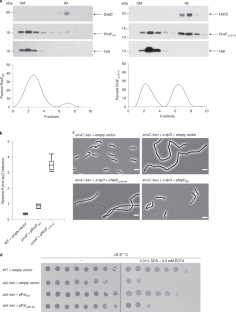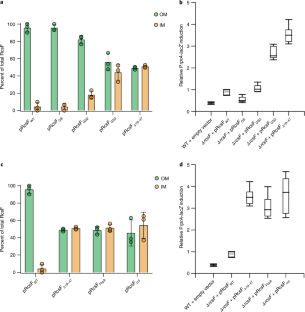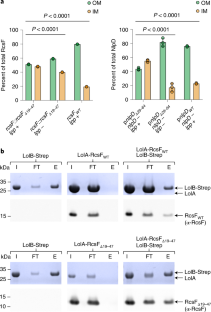 References
1.

Silhavy, T. J., Kahne, D. & Walker, S. The bacterial cell envelope. Cold Spring Harb. Perspect. Biol. 2, a000414 (2010).

2.

Weiner, J. H. & Li, L. Proteome of the Escherichia coli envelope and technological challenges in membrane proteome analysis. Biochim. Biophys. Acta 1778, 1698–1713 (2008).

3.

Ricci, D. P. & Silhavy, T. J. Outer membrane protein insertion by the β-barrel assembly machine. EcoSal Plus https://doi.org/10.1128/ecosalplus.ESP-0035-2018 (2019).

4.

El Rayes, J., Rodríguez-Alonso, R. & Collet, J. F. Lipoproteins in Gram-negative bacteria: new insights into their biogenesis, subcellular targeting and functional roles. Curr. Opin. Microbiol. 61, 25–34 (2021).

5.

Chimalakonda, G. et al. Lipoprotein LptE is required for the assembly of LptD by the β-barrel assembly machine in the outer membrane of Escherichia coli. Proc. Natl Acad. Sci. USA 108, 2492–2497 (2011).

6.

Sherman, D. J. et al. Lipopolysaccharide is transported to the cell surface by a membrane-to-membrane protein bridge. Science 359, 798–801 (2018).

7.

Malinverni, J. C. et al. YfiO stabilizes the YaeT complex and is essential for outer membrane protein assembly in Escherichia coli. Mol. Microbiol. 61, 151–164 (2006).

8.

Laloux, G. & Collet, J. F. Major Tom to ground control: how lipoproteins communicate extra-cytoplasmic stress to the decision center of the cell. J. Bacteriol. https://doi.org/10.1128/jb.00216-17 (2017).

9.

Kovacs-Simon, A., Titball, R. W. & Michell, S. L. Lipoproteins of bacterial pathogens. Infect. Immun. 79, 548–561 (2011).

10.

Szewczyk, J. & Collet, J. F. The journey of lipoproteins through the cell: one birthplace, multiple destinations. Adv. Micro. Physiol. 69, 1–50 (2016).

11.

Babu, M. M. et al. A database of bacterial lipoproteins (DOLOP) with functional assignments to predicted lipoproteins. J. Bacteriol. 188, 2761–2773 (2006).

12.

Narita, S. I. & Tokuda, H. Bacterial lipoproteins; biogenesis, sorting and quality control. Biochim. Biophys. Acta Mol. Cell. Biol. Lipids 1862, 1414–1423 (2017).

13.

Horler, R. S., Butcher, A., Papangelopoulos, N., Ashton, P. D. & Thomas, G. H. EchoLOCATION: an in silico analysis of the subcellular locations of Escherichia coli proteins and comparison with experimentally derived locations. Bioinformatics 25, 163–166 (2009).

14.

Tokuda, H. & Matsuyama, S. Sorting of lipoproteins to the outer membrane in E. coli. Biochim. Biophys. Acta 1694, IN1-9 (2004).

15.

Gennity, J. M. & Inouye, M. The protein sequence responsible for lipoprotein membrane localization in Escherichia coli exhibits remarkable specificity. J. Biol. Chem. 266, 16458–16464 (1991).

16.

Terada, M., Kuroda, T., Matsuyama, S. I. & Tokuda, H. Lipoprotein sorting signals evaluated as the LolA-dependent release of lipoproteins from the cytoplasmic membrane of Escherichia coli. J. Biol. Chem. 276, 47690–47694 (2001).

17.

Hara, T., Matsuyama, S. & Tokuda, H. Mechanism underlying the inner membrane retention of Escherichia coli lipoproteins caused by Lol avoidance signals. J. Biol. Chem. 278, 40408–40414 (2003).

18.

Narita, S. & Tokuda, H. Amino acids at positions 3 and 4 determine the membrane specificity of Pseudomonas aeruginosa lipoproteins. J. Biol. Chem. 282, 13372–13378 (2007).

19.

Lewenza, S., Mhlanga, M. M. & Pugsley, A. P. Novel inner membrane retention signals in Pseudomonas aeruginosa lipoproteins. J. Bacteriol. 190, 6119–6125 (2008).

20.

Lorenz, C., Dougherty, T. J. & Lory, S. Correct sorting of lipoproteins into the inner and outer membranes of Pseudomonas aeruginosa by the Escherichia coli LolCDE transport system. mBio 10, e00194-19 (2019).

21.

Grabowicz, M. & Silhavy, T. J. Redefining the essential trafficking pathway for outer membrane lipoproteins. Proc. Natl Acad. Sci. USA 114, 4769–4774 (2017).

22.

Wilson, M. M. & Bernstein, H. D. Surface-exposed lipoproteins: an emerging secretion phenomenon in Gram-negative bacteria. Trends Microbiol. 24, 198–208 (2016).

23.

Zuckert, W. R. Secretion of bacterial lipoproteins: through the cytoplasmic membrane, the periplasm and beyond. Biochim. Biophys. Acta 1843, 1509–1516 (2014).

24.

Pride, A. C., Herrera, C. M., Guan, Z., Giles, D. K. & Trent, M. S. The outer surface lipoprotein VolA mediates utilization of exogenous lipids by Vibrio cholerae. mBio 4, e00305-13 (2013).

25.

Gonnet, P., Rudd, K. E. & Lisacek, F. Fine-tuning the prediction of sequences cleaved by signal peptidase II: a curated set of proven and predicted lipoproteins of Escherichia coli K-12. Proteomics 4, 1597–1613 (2004).

26.

Sueki, A., Stein, F., Savitski, M. M., Selkrig, J. & Typas, A. Systematic localization of Escherichia coli membrane proteins. mSystems 5, 00808-19 (2020).

27.

Cho, S. H. et al. Detecting envelope stress by monitoring β-barrel assembly. Cell 159, 1652–1664 (2014).

28.

Uehara, T., Parzych, K. R., Dinh, T. & Bernhardt, T. G. Daughter cell separation is controlled by cytokinetic ring-activated cell wall hydrolysis. EMBO J. 29, 1412–1422 (2010).

29.

Gerding, M. A., Ogata, Y., Pecora, N. D., Niki, H. & de Boer, P. A. The trans-envelope Tol–Pal complex is part of the cell division machinery and required for proper outer-membrane invagination during cell constriction in E. coli. Mol. Microbiol. 63, 1008–1025 (2007).

30.

Hussein, N. A., Cho, S. H., Laloux, G., Siam, R. & Collet, J. F. Distinct domains of Escherichia coli IgaA connect envelope stress sensing and down-regulation of the Rcs phosphorelay across subcellular compartments. PLoS Genet. 14, e1007398 (2018).

31.

Tsang, M. J., Yakhnina, A. A. & Bernhardt, T. G. NlpD links cell wall remodeling and outer membrane invagination during cytokinesis in Escherichia coli. PLoS Genet. 13, e1006888 (2017).

32.

Shrivastava, R., Jiang, X. & Chng, S. S. Outer membrane lipid homeostasis via retrograde phospholipid transport in Escherichia coli. Mol. Microbiol. 106, 395–408 (2017).

33.

Cohen, E. J., Ferreira, J. L., Ladinsky, M. S., Beeby, M. & Hughes, K. T. Nanoscale-length control of the flagellar driveshaft requires hitting the tethered outer membrane. Science 356, 197–200 (2017).

34.

Asmar, A. T. et al. Communication across the bacterial cell envelope depends on the size of the periplasm. PLoS Biol. 15, e2004303 (2017).

35.

Li, G. W., Burkhardt, D., Gross, C. & Weissman, J. S. Quantifying absolute protein synthesis rates reveals principles underlying allocation of cellular resources. Cell 157, 624–635 (2014).

36.

Okuda, S. & Tokuda, H. Model of mouth-to-mouth transfer of bacterial lipoproteins through inner membrane LolC, periplasmic LolA, and outer membrane LolB. Proc. Natl Acad. Sci. USA 106, 5877–5882 (2009).

37.

Tang, X. et al. Structural basis for bacterial lipoprotein relocation by the transporter LolCDE. Nat. Struct. Mol. Biol. 28, 347–355 (2021).

38.

Michel, L. V. et al. Dual orientation of the outer membrane lipoprotein Pal in Escherichia coli. Microbiology 161, 1251–1259 (2015).

39.

Konovalova, A., Perlman, D. H., Cowles, C. E. & Silhavy, T. J. Transmembrane domain of surface-exposed outer membrane lipoprotein RcsF is threaded through the lumen of β-barrel proteins. Proc. Natl Acad. Sci. USA 111, E4350–E4358 (2014).

40.

Rodriguez-Alonso, R. et al. Structural insight into the formation of lipoprotein–β-barrel complexes. Nat. Chem. Biol. 16, 1019–1025 (2020).

41.

Webb, C. T. & Lithgow, T. Identification of BamC on the surface of E. coli. Methods Mol. Biol. 1329, 215–225 (2015).

42.

Webb, C. T. et al. Dynamic association of BAM complex modules includes surface exposure of the lipoprotein BamC. J. Mol. Biol. 422, 545–555 (2012).

43.

Brooks, C. L., Arutyunova, E. & Lemieux, M. J. The structure of lactoferrin-binding protein B from Neisseria meningitidis suggests roles in iron acquisition and neutralization of host defences. Acta Crystallogr. F Struct. Biol. Commun. 70, 1312–1317 (2014).

44.

Bardwell, J. C. & Jakob, U. Conditional disorder in chaperone action. Trends Biochem. Sci. 37, 517–525 (2012).

45.

Majdalani, N., Hernandez, D. & Gottesman, S. Regulation and mode of action of the second small RNA activator of RpoS translation, RprA. Mol. Microbiol. 46, 813–826 (2002).

46.

Baba, T. et al. Construction of Escherichia coli K-12 in-frame, single-gene knockout mutants: the Keio collection. Mol. Syst. Biol. 2, 2006.0008 (2006).

47.

Cherepanov, P. P. & Wackernagel, W. Gene disruption in Escherichia coli: TcR and KmR cassettes with the option of Flp-catalyzed excision of the antibiotic-resistance determinant. Gene 158, 9–14 (1995).

48.

Gil, D. & Bouche, J. P. ColE1-type vectors with fully repressible replication. Gene 105, 17–22 (1991).

49.

Yu, D. et al. An efficient recombination system for chromosome engineering in Escherichia coli. Proc. Natl Acad. Sci. USA 97, 5978–5983 (2000).

50.

Sklar, J. G. et al. Lipoprotein SmpA is a component of the YaeT complex that assembles outer membrane proteins in Escherichia coli. Proc. Natl Acad. Sci. USA 104, 6400–6405 (2007).

51.

Miller, J. C. Experiments in Molecular Genetics (Cold Spring Harbor Laboratory Press, 1972).

52.

Pailler, J., Aucher, W., Pires, M. & Buddelmeijer, N. Phosphatidylglycerol::prolipoprotein diacylglyceryl transferase (Lgt) of Escherichia coli has seven transmembrane segments, and its essential residues are embedded in the membrane. J. Bacteriol. 194, 2142–2151 (2012).

53.

Robichon, C., Vidal-Ingigliardi, D. & Pugsley, A. P. Depletion of apolipoprotein N-acyltransferase causes mislocalization of outer membrane lipoproteins in Escherichia coli. J. Biol. Chem. 280, 974–983 (2005).

54.

Šali, A. & Blundell, T. L. Comparative protein modelling by satisfaction of spatial restraints. J. Mol. Biol. 234, 779–815 (1993).

55.

Pettersen, E. F. et al. UCSF Chimera—a visualization system for exploratory research and analysis. J. Comput. Chem. 25, 1605–1612 (2004).
Acknowledgements
We thank A. Boujtat for technical help. We are indebted to the members of the Collet laboratory and to Nassos Typas (EMBL, Heidelberg) for helpful suggestions and discussions and to T. Silhavy (Princeton) and N. Buddelmeijer (Pasteur) for providing bacterial strains. J.S. was a research fellow of FRIA and J.-F.C. is an Investigator of FRFS-WELBIO. This work was funded by WELBIO (grant no. WELBIO-CR-20190-03), by grants from F.R.S.-FNRS, from Fédération Wallonie-Bruxelles (ARC 17/22-087), from the European Commission via the International Training Network Train2Target (721484) and from the EOS Excellence in Research Program of FWO and F.R.S.-FNRS (G0G0818N).
Ethics declarations
Competing interests
The authors declare no competing interests.
Additional information
Peer review information Nature Chemical Biology thanks Vladimir Uversky and the other, anonymous, reviewer(s) for their contribution to the peer review of this work.
Publisher's note Springer Nature remains neutral with regard to jurisdictional claims in published maps and institutional affiliations.
Supplementary information
Supplementary Figs. 1–3 and Tables 2–5.
Rayes_Szewczyk_Supplementary Table 1.
About this article
Cite this article
El Rayes, J., Szewczyk, J., Deghelt, M. et al. Disorder is a critical component of lipoprotein sorting in Gram-negative bacteria. Nat Chem Biol 17, 1093–1100 (2021). https://doi.org/10.1038/s41589-021-00845-z
Received:

Accepted:

Published:

Issue Date: