Abstract
The ability to tune RNA and gene expression dynamics is greatly needed for biotechnological applications. Native RNA stabilizers or engineered 5′ stability hairpins have been used to regulate transcript half-life to control recombinant protein expression. However, these methods have been mostly ad hoc and hence lack predictability and modularity. Here, we report a library of RNA modules called degradation-tuning RNAs (dtRNAs) that can increase or decrease transcript stability in vivo and in vitro. dtRNAs enable modulation of transcript stability over a 40-fold dynamic range in Escherichia coli with minimal influence on translation initiation. We harness dtRNAs in messenger RNAs and noncoding RNAs to tune gene circuit dynamics and enhance CRISPR interference in vivo. Use of stabilizing dtRNAs in cell-free transcription-translation reactions also tunes gene and RNA aptamer production. Finally, we combine dtRNAs with toehold switch sensors to enhance the performance of paper-based norovirus diagnostics, illustrating the potential of dtRNAs for biotechnological applications.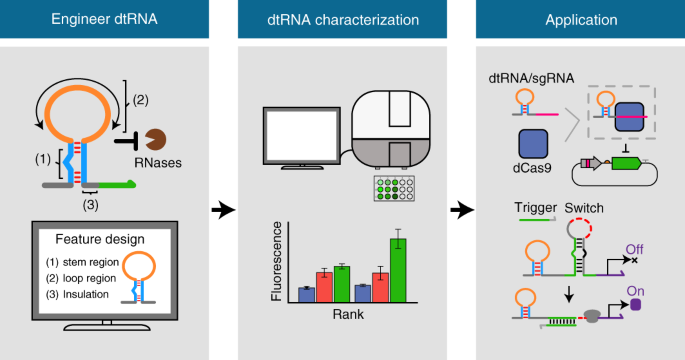 Access options
Subscribe to Journal
Get full journal access for 1 year
$119.00
only $9.92 per issue
All prices are NET prices.
VAT will be added later in the checkout.
Tax calculation will be finalised during checkout.
Rent or Buy article
Get time limited or full article access on ReadCube.
from$8.99
All prices are NET prices.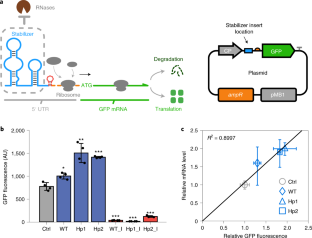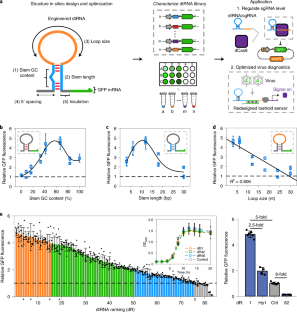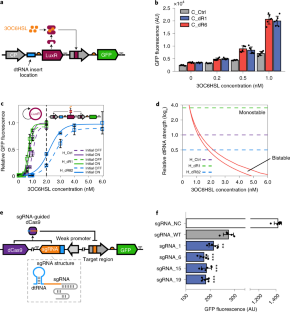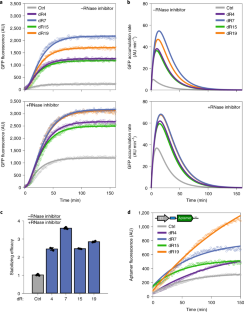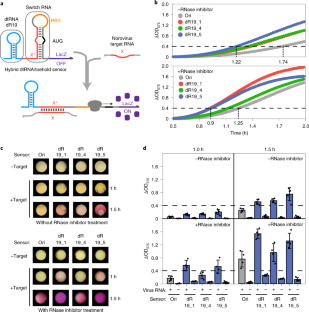 Data availability
The data generated and/or analyzed during the current study are available from the corresponding authors on reasonable request. Source data are provided with this paper.
Code availability
The codes that support this study are available from the corresponding authors upon reasonable request.
References
1.

Cambray, G., Guimaraes, J. C. & Arkin, A. P. Evaluation of 244,000 synthetic sequences reveals design principles to optimize translation in Escherichia coli. Nat. Biotechnol. 36, 1005–1015 (2018).

2.

Delivering the promise of RNA therapeutics. Nat. Med. 25, 1321 (2019).

3.

Kole, R., Krainer, A. R. & Altman, S. RNA therapeutics: beyond RNA interference and antisense oligonucleotides. Nat. Rev. Drug Disco. 11, 125–140 (2012).

4.

Pardee, K. et al. Rapid, low-cost detection of zika virus using programmable biomolecular components. Cell 165, 1255–1266 (2016).

5.

Slomovic, S., Pardee, K. & Collins, J. J. Synthetic biology devices for in vitro and in vivo diagnostics. Proc. Natl Acad. Sci. USA 112, 14429–14435 (2015).

6.

Chen, Y. Y., Galloway, K. E. & Smolke, C. D. Synthetic biology: advancing biological frontiers by building synthetic systems. Genome Biol. 13, 240 (2012).

7.

Khalil, A. S. & Collins, J. J. Synthetic biology: applications come of age. Nat. Rev. Genet. 11, 367–379 (2010).

8.

Chen, Y.-J. et al. Characterization of 582 natural and synthetic terminators and quantification of their design constraints. Nat. Methods 10, 659–664 (2013).

9.

Gardner, P. P., Barquist, L., Bateman, A., Nawrocki, E. P. & Weinberg, Z. RNIE: genome-wide prediction of bacterial intrinsic terminators. Nucleic Acids Res. 39, 5845–5852 (2011).

10.

Green, A. A., Silver, P. A., Collins, J. J. & Yin, P. Toehold switches: de-novo-designed regulators of gene expression. Cell 159, 925–939 (2014).

11.

Chappell, J., Takahashi, M. K. & Lucks, J. B. Creating small transcription activating RNAs. Nat. Chem. Biol. 11, 214–220 (2015).

12.

Green, A. A. et al. Complex cellular logic computation using ribocomputing devices. Nature 548, 117–121 (2017).

13.

Kim, J. et al. De novo-designed translation-repressing riboregulators for multi-input cellular logic. Nat. Chem. Biol. 15, 1173–1182 (2019).

14.

Hoynes-O'Connor, A., Hinman, K., Kirchner, L. & Moon, T. S. De novo design of heat-repressible RNA thermosensors in E. coli. Nucleic Acids Res. 43, 6166–6179 (2015).

15.

Lou, C., Stanton, B., Chen, Y.-J., Munsky, B. & Voigt, C. A. Ribozyme-based insulator parts buffer synthetic circuits from genetic context. Nat. Biotechnol. 30, 1137–1142 (2012).

16.

Qi, L. S. et al. Repurposing CRISPR as an RNA-guided platform for sequence-specific control of gene expression. Cell 152, 1173–1183 (2013).

17.

Matharu, N. et al. CRISPR-mediated activation of a promoter or enhancer rescues obesity caused by haploinsufficiency. Science 363, eaau0629 (2019).

18.

Siu, K.-H. & Chen, W. Riboregulated toehold-gated gRNA for programmable CRISPR–Cas9 function. Nat. Chem. Biol. 15, 217–220 (2019).

19.

Hanewich-Hollatz, M. H., Chen, Z., Hochrein, L. M., Huang, J. & Pierce, N. A. Conditional guide RNAs: programmable conditional regulation of CRISPR/Cas function in bacterial and mammalian cells via dynamic RNA nanotechnology. ACS Cent. Sci. 5, 1241–1249 (2019).

20.

Wu, F., Zhang, Q. & Wang, X. Design of adjacent transcriptional regions to tune gene expression and facilitate circuit construction. Cell Syst. 6, 206–215.e6 (2018).

21.

Pfleger, B. F., Pitera, D. J., Smolke, C. D. & Keasling, J. D. Combinatorial engineering of intergenic regions in operons tunes expression of multiple genes. Nat. Biotechnol. 24, 1027–1032 (2006).

22.

Win, M. N. & Smolke, C. D. Higher-order cellular information processing with synthetic RNA devices. Science 322, 456–460 (2008).

23.

Yang, T. T., Cheng, L. & Kain, S. R. Optimized codon usage and chromophore mutations provide enhanced sensitivity with the green fluorescent protein. Nucleic Acids Res. 24, 4592–4593 (1996).

24.

Hui, M. P., Foley, P. L. & Belasco, J. G. Messenger RNA degradation in bacterial cells. Annu. Rev. Genet. 48, 537–559 (2014).

25.

Mohanty, B. K. & Kushner, S. R. Enzymes involved in posttranscriptional RNA metabolism in gram-negative bacteria. Microbiol. Spectr. 6, https://doi.org/10.1128/microbiolspec.RWR-0011-2017 (2018).

26.

Mohanty, B. K. & Kushner, S. R. Regulation of mRNA decay in bacteria. Annu. Rev. Microbiol. 70, 25–44 (2016).

27.

Case, C. C., Simons, E. L. & Simons, R. W. The IS10 transposase mRNA is destabilized during antisense RNA control. EMBO J. 9, 1259–1266 (1990).

28.

Arraiano, C. M. et al. The critical role of RNA processing and degradation in the control of gene expression. FEMS Microbiol. Rev. 34, 883–923 (2010).

29.

Arraiano, C. M., Mauxion, F., Viegas, S. C., Matos, R. G. & Séraphin, B. Intracellular ribonucleases involved in transcript processing and decay: Precision tools for RNA. Biochim. Biophys. Acta - Gene Reg. Mech. 1829, 491–513 (2013).

30.

Bouvet, P. & Belasco, J. G. Control of RNase E-mediated RNA degradation by 5′-terminal base pairing in E. coli. Nature 360, 488–491 (1992).

31.

Carrier, T. A. & Keasling, J. D. Library of synthetic 5′ secondary structures to manipulate mRNA stability in Escherichia coli. Biotechnol. Prog. 15, 58–64 (1999).

32.

Cetnar, D. P. & Salis, H. M. Systematic quantification of sequence and structural determinants controlling mRNA stability in bacterial operons. ACS Synth. Biol. 10, 318–332 (2021).

33.

Viegas, S. C., Apura, P., Martínez-García, E., de Lorenzo, V. & Arraiano, C. M. Modulating heterologous gene expression with portable mRNA-stabilizing 5′-UTR sequences. ACS Synth. Biol. 7, 2177–2188 (2018).

34.

Arnold, T. E., Yu, J. & Belasco, J. G. mRNA stabilization by the ompA 5′ untranslated region: two protective elements hinder distinct pathways for mRNA degradation. RNA 4, 319–330 (1998).

35.

Emory, S. A., Bouvet, P. & Belasco, J. G. A 5′-terminal stem-loop structure can stabilize mRNA in Escherichia coli. Genes Dev. 6, 135–148 (1992).

36.

Salis, H. M., Mirsky, E. A. & Voigt, C. A. Automated design of synthetic ribosome binding sites to control protein expression. Nat. Biotechnol. 27, 946–950 (2009).

37.

Gusarov, I. & Nudler, E. The mechanism of intrinsic transcription termination. Mol. Cell 3, 495–504 (1999).

38.

d'Aubenton Carafa, Y., Brody, E. & Thermes, C. Prediction of rho-independent Escherichia coli transcription terminators. A statistical analysis of their RNA stem-loop structures. J. Mol. Biol. 216, 835–858 (1990).

39.

Varani, G. Exceptionally stable nucleic acid hairpins. Annu. Rev. Biophys. Biomol. Struct. 24, 379–404 (1995).

40.

Caron, M.-P. et al. Dual-acting riboswitch control of translation initiation and mRNA decay. Proc. Natl Acad. Sci. USA 109, E3444–E3453 (2012).

41.

Wu, F., Menn, D. J. & Wang, X. Quorum-sensing crosstalk-driven synthetic circuits: from unimodality to trimodality. Chem. Biol. 21, 1629–1638 (2014).

42.

Wu, M. et al. Engineering of regulated stochastic cell fate determination. Proc. Natl Acad. Sci. USA 110, 10610–10615 (2013).

43.

Pardee, K. et al. Paper-based synthetic gene networks. Cell 159, 940–954 (2014).

44.

Dudley, Q. M., Karim, A. S. & Jewett, M. C. Cell-free metabolic engineering: biomanufacturing beyond the cell. Biotechnol. J. 10, 69–82 (2015).

45.

Ma, D., Shen, L., Wu, K., Diehnelt, C. W. & Green, A. A. Low-cost detection of norovirus using paper-based cell-free systems and synbody-based viral enrichment. Synth. Biol. 3, ysy018 (2018).

46.

Huang, A. et al. BioBitsTM Explorer: a modular synthetic biology education kit. Sci. Adv. 4, eaat5105 (2018).

47.

Ceroni, F. et al. Burden-driven feedback control of gene expression. Nat. Methods 15, 387–393 (2018).

48.

Kwon, Y.-C. & Jewett, M. C. High-throughput preparation methods of crude extract for robust cell-free protein synthesis. Sci. Rep. 5, 8663 (2015).

49.

Lavickova, B. & Maerkl, S. J. A simple, robust, and low-cost method to produce the pure cell-free system. ACS Synth. Biol. 8, 455–462 (2019).

50.

Silverman, A. D., Kelley-Loughnane, N., Lucks, J. B. & Jewett, M. C. Deconstructing cell-free extract preparation for in vitro activation of transcriptional genetic circuitry. ACS Synth. Biol. 8, 403–414 (2019).

51.

Wu, F., Su, R.-Q., Lai, Y.-C. & Wang, X. Engineering of a synthetic quadrastable gene network to approach Waddington landscape and cell fate determination. eLife 6, e23702 (2017).

52.

Zadeh, J. N. et al. NUPACK: analysis and design of nucleic acid systems. J. Comput. Chem. 32, 170–173 (2011).

53.

Standage-Beier, K., Zhang, Q. & Wang, X. Targeted large-scale deletion of bacterial genomes using CRISPR-nickases. ACS Synth. Biol. 4, 1217–1225 (2015).

54.

Gibson, D. G. et al. Enzymatic assembly of DNA molecules up to several hundred kilobases. Nat. Methods 6, 343–345 (2009).

55.

Basu, S., Gerchman, Y., Collins, C. H., Arnold, F. H. & Weiss, R. A synthetic multicellular system for programmed pattern formation. Nature 434, 1130–1134 (2005).

56.

Ermentrout, B. in Computational Systems Neurobiology (ed. Le Novère, N.) 519–531 (Springer, 2012).

57.

Gardner, T. S., Cantor, C. R. & Collins, J. J. Construction of a genetic toggle switch in Escherichia coli. Nature 403, 339–342 (2000).

58.

Zhang, R. et al. Topology-dependent interference of synthetic gene circuit function by growth feedback. Nat. Chem. Biol. 16, 695–701 (2020).

59.

Shin, J. & Noireaux, V. Study of messenger RNA inactivation and protein degradation in an Escherichia coli cell-free expression system. J. Biol. Eng. 4, 9 (2010).
Acknowledgements
We thank Z. Yan for assistance with RNA preparation and in vitro gene expression experiments, and J. Cutts and N. Brookhouser for technical guidance for RT–qPCR experiments and data analysis. We also thank X. Tian, R. Zhang and Z. Mi for MATLAB assistance and useful discussions. This work was financially supported by a National Science Foundation grant (no. DMS-1100309) and National Institutes of Health (NIH) grant (nos. GM106081, GM131405) to X.W.; an NIH Director's New Innovator Award (no. 1DP2GM126892), the Gates Foundation (grant no. OPP1160667), an Arizona Biomedical Research Commission New Investigator Award (no. ADHS16-162400), an Alfred P. Sloan Fellowship (no. FG-2017-9108), Gordon and Betty Moore Foundation funds (no. 6984), NIH funds (no. 1R21AI136571) and Arizona State University funds to A.A.G. The views, opinions and/or findings contained in this article are those of the authors and should not be interpreted as representing the official views or policies, either expressed or implied, of the NIH.
Ethics declarations
Competing interests
A patent application has been filed relating to this work.
Additional information
Peer review information Nature Chemical Biology thanks the anonymous reviewers for their contribution to the peer review of this work.
Publisher's note Springer Nature remains neutral with regard to jurisdictional claims in published maps and institutional affiliations.
Supplementary information
Supplementary Figs. 1–3, Tables 1–5 and Note.
About this article
Cite this article
Zhang, Q., Ma, D., Wu, F. et al. Predictable control of RNA lifetime using engineered degradation-tuning RNAs. Nat Chem Biol 17, 828–836 (2021). https://doi.org/10.1038/s41589-021-00816-4
Received:

Accepted:

Published:

Issue Date: