Abstract
Polycomb repressive complex 1 (PRC1) is an essential chromatin-modifying complex that monoubiquitinates histone H2A and is involved in maintaining the repressed chromatin state. Emerging evidence suggests PRC1 activity in various cancers, rationalizing the need for small-molecule inhibitors with well-defined mechanisms of action. Here, we describe the development of compounds that directly bind to RING1B–BMI1, the heterodimeric complex constituting the E3 ligase activity of PRC1. These compounds block the association of RING1B–BMI1 with chromatin and inhibit H2A ubiquitination. Structural studies demonstrate that these inhibitors bind to RING1B by inducing the formation of a hydrophobic pocket in the RING domain. Our PRC1 inhibitor, RB-3, decreases the global level of H2A ubiquitination and induces differentiation in leukemia cell lines and primary acute myeloid leukemia (AML) samples. In summary, we demonstrate that targeting the PRC1 RING domain with small molecules is feasible, and RB-3 represents a valuable chemical tool to study PRC1 biology.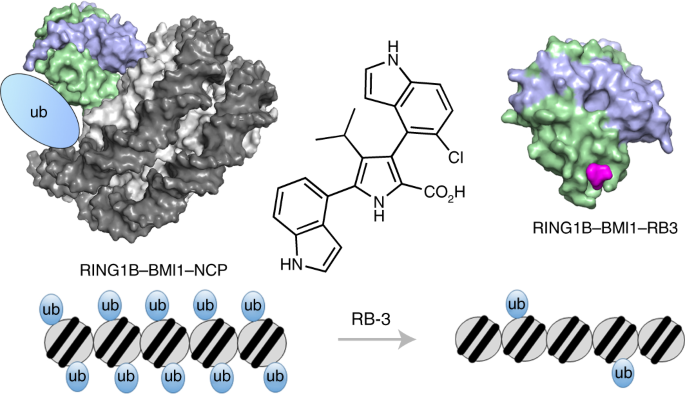 Relevant articles
Open Access articles citing this article.
Helena G. Asenjo

,

María Alcazar-Fabra

…

David Landeira

Nature Communications Open Access 12 January 2023
Access options
Access Nature and 54 other Nature Portfolio journals
Get Nature+, our best-value online-access subscription
$29.99 per month
cancel any time
Subscribe to this journal
Receive 12 print issues and online access
$259.00 per year
only $21.58 per issue
Rent or buy this article
Get just this article for as long as you need it
$39.95
Prices may be subject to local taxes which are calculated during checkout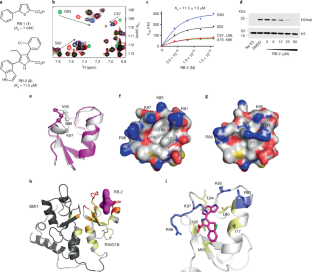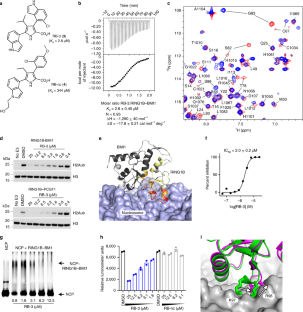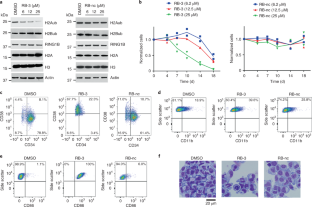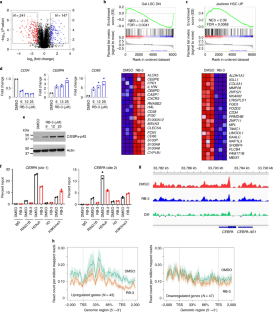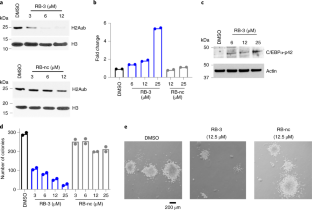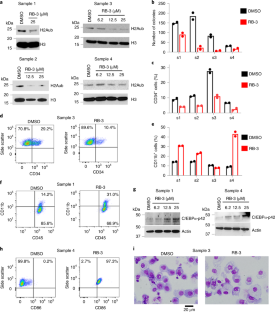 Data availability
RNA-seq and ChIP–seq data for TEX cells treated with RB-3 have been submitted to the Gene Expression Omnibus (GEO) database under accession codes GSE123490 and GSE123930, respectively. Structures of RING1B–BMI1f and RING1B–BMI1f cocrystalized in the presence of RB-2 were deposited in the PDB under the accession codes 6WI7 and 6WI8, respectively. The structure of the RING1B–BMI1f–RB-2 complex determined using a hybrid approach was deposited in the PDB under the accession code 7ND1. PDB structures 3RPB and 4R8P were used for data analysis. Source data are provided with this paper.
References
Simon, J. A. & Kingston, R. E. Mechanisms of Polycomb gene silencing: knowns and unknowns. Nat. Rev. Mol. Cell Biol. 10, 697–708 (2009).

Chittock, E. C., Latwiel, S., Miller, T. C. & Muller, C. W. Molecular architecture of Polycomb repressive complexes. Biochem. Soc. Trans. 45, 193–205 (2017).

Gao, Z. et al. PCGF homologs, CBX proteins, and RYBP define functionally distinct PRC1 family complexes. Mol. Cell 45, 344–356 (2012).

Taherbhoy, A. M., Huang, O. W. & Cochran, A. G. BMI1–RING1B is an autoinhibited RING E3 ubiquitin ligase. Nat. Commun. 6, 7621 (2015).

Scelfo, A. et al. Functional landscape of PCGF proteins reveals both RING1A/B-dependent- and RING1A/B-independent-specific activities. Mol. Cell 74, 1037–1052 (2019).

Buchwald, G. et al. Structure and E3-ligase activity of the Ring–Ring complex of Polycomb proteins Bmi1 and Ring1b. EMBO J. 25, 2465–2474 (2006).

Tamburri, S. et al. Histone H2AK119 mono-ubiquitination is essential for Polycomb-mediated transcriptional repression. Mol. Cell 77, 840–856 (2020).

Blackledge, N. P. et al. PRC1 catalytic activity is central to Polycomb system function. Mol. Cell 77, 857–874 (2020).

McGinty, R. K., Henrici, R. C. & Tan, S. Crystal structure of the PRC1 ubiquitylation module bound to the nucleosome. Nature 514, 591–596 (2014).

Blackledge, N. P. et al. Variant PRC1 complex-dependent H2A ubiquitylation drives PRC2 recruitment and Polycomb domain formation. Cell 157, 1445–1459 (2014).

Rose, N. R. et al. RYBP stimulates PRC1 to shape chromatin-based communication between Polycomb repressive complexes. eLife 5, e18591 (2016).

Fursova, N. A. et al. Synergy between variant PRC1 complexes defines Polycomb-mediated gene repression. Mol. Cell 74, 1020–1036 (2019).

Bonnet, D. & Dick, J. E. Human acute myeloid leukemia is organized as a hierarchy that originates from a primitive hematopoietic cell. Nat. Med. 3, 730–737 (1997).

Kreso, A. et al. Self-renewal as a therapeutic target in human colorectal cancer. Nat. Med. 20, 29–36 (2014).

Martin-Perez, D., Piris, M. A. & Sanchez-Beato, M. Polycomb proteins in hematologic malignancies. Blood 116, 5465–5475 (2010).

Sauvageau, M. & Sauvageau, G. Polycomb group proteins: multi-faceted regulators of somatic stem cells and cancer. Cell Stem Cell 7, 299–313 (2010).

Lessard, J. & Sauvageau, G. Bmi-1 determines the proliferative capacity of normal and leukaemic stem cells. Nature 423, 255–260 (2003).

Shima, H. et al. Ring1A and Ring1B inhibit expression of Glis2 to maintain murine MOZ–TIF2 AML stem cells. Blood 131, 1833–1845 (2018).

Rizo, A. et al. Repression of BMI1 in normal and leukemic human CD34+ cells impairs self-renewal and induces apoptosis. Blood 114, 1498–1505 (2009).

van den Boom, V. et al. Non-canonical PRC1.1 targets active genes independent of H3K27me3 and is essential for leukemogenesis. Cell Rep. 14, 332–346 (2016).

Alchanati, I. et al. The E3 ubiquitin-ligase Bmi1/Ring1A controls the proteasomal degradation of Top2α cleavage complex—a potentially new drug target. PLoS ONE 4, e8104 (2009).

Su, W. et al. The Polycomb repressor complex 1 drives double-negative prostate cancer metastasis by coordinating stemness and immune suppression. Cancer Cell 36, 139–155 (2019).

Li, Z. et al. Structure of a Bmi-1–Ring1B Polycomb group ubiquitin ligase complex. J. Biol. Chem. 281, 20643–20649 (2006).

van Zundert, G. C. P. et al. The HADDOCK2.2 web server: user-friendly integrative modeling of biomolecular complexes. J. Mol. Biol. 428, 720–725 (2016).

Bhatnagar, S. et al. TRIM37 is a new histone H2A ubiquitin ligase and breast cancer oncoprotein. Nature 516, 116–120 (2014).

Kalb, R., Mallery, D. L., Larkin, C., Huang, J. T. & Hiom, K. BRCA1 is a histone-H2A-specific ubiquitin ligase. Cell Rep. 8, 999–1005 (2014).

Horn, V. et al. Structural basis of specific H2A K13/K15 ubiquitination by RNF168. Nat. Commun. 10, 1751 (2019).

Dixon, A. S. et al. NanoLuc complementation reporter optimized for accurate measurement of protein interactions in cells. ACS Chem. Biol. 11, 400–408 (2016).

Warner, J. K. et al. Direct evidence for cooperating genetic events in the leukemic transformation of normal human hematopoietic cells. Leukemia 19, 1794–1805 (2005).

McDermott, S. P. et al. A small molecule screening strategy with validation on human leukemia stem cells uncovers the therapeutic efficacy of kinetin riboside. Blood 119, 1200–1207 (2012).

van Rhenen, A. et al. High stem cell frequency in acute myeloid leukemia at diagnosis predicts high minimal residual disease and poor survival. Clin. Cancer Res. 11, 6520–6527 (2005).

Pulikkan, J. A., Tenen, D. G. & Behre, G. C/EBPα deregulation as a paradigm for leukemogenesis. Leukemia 31, 2279–2285 (2017).

Yu, M. et al. Direct recruitment of Polycomb repressive complex 1 to chromatin by core binding transcription factors. Mol. Cell 45, 330–343 (2012).

Barbour, H., Daou, S., Hendzel, M. & Affar, E. B. Polycomb group-mediated histone H2A monoubiquitination in epigenome regulation and nuclear processes. Nat. Commun. 11, 5947 (2020).

Cales, C. et al. Inactivation of the Polycomb group protein Ring1B unveils an antiproliferative role in hematopoietic cell expansion and cooperation with tumorigenesis associated with Ink4a deletion. Mol. Cell. Biol. 28, 1018–1028 (2008).

Nishida, Y. et al. Preclinical activity of the novel B-cell-specific Moloney murine leukemia virus integration site 1 inhibitor PTC-209 in acute myeloid leukemia: implications for leukemia therapy. Cancer Sci. 106, 1705–1713 (2015).

Barabe, F., Kennedy, J. A., Hope, K. J. & Dick, J. E. Modeling the initiation and progression of human acute leukemia in mice. Science 316, 600–604 (2007).

Jeusset, L. M. & McManus, K. J. Developing targeted therapies that exploit aberrant histone ubiquitination in cancer. Cells 8, 165 (2019).

Park, I. K. et al. Bmi-1 is required for maintenance of adult self-renewing haematopoietic stem cells. Nature 423, 302–305 (2003).

Su, W. J. et al. RNF2/Ring1b negatively regulates p53 expression in selective cancer cell types to promote tumor development. Proc. Natl Acad. Sci. USA 110, 1720–1725 (2013).

Ardley, H. C. Ring finger ubiquitin protein ligases and their implication to the pathogenesis of human diseases. Curr. Pharm. Des. 15, 3697–3715 (2009).

Duffy, M.J., Synnott, N.C., O'Grady, S. & Crown, J. Targeting p53 for the treatment of cancer. Semin. Cancer Biol. https://doi.org/10.1016/j.semcancer.2020.07.005 (2020).

Watt, G. F., Scott-Stevens, P. & Gaohua, L. Targeted protein degradation in vivo with proteolysis targeting chimeras: current status and future considerations. Drug Discov. Today Technol. 31, 69–80 (2019).

Gray, F. et al. BMI1 regulates PRC1 architecture and activity through homo- and hetero-oligomerization. Nat. Commun. 7, 13343 (2016).

Jaatinen, T. et al. Global gene expression profile of human cord blood-derived CD133+ cells. Stem Cells 24, 631–641 (2006).

Gal, H. et al. Gene expression profiles of AML derived stem cells; similarity to hematopoietic stem cells. Leukemia 20, 2147–2154 (2006).

Sheffield, P. J., Derewenda, U., Taylor, J., Parsons, T. J. & Derewenda, Z. S. Expression, purification and crystallization of a BH domain from the GTPase regulatory protein associated with focal adhesion kinase. Acta Crystallogr. D Biol. Crystallogr. 55, 356–359 (1999).

Brzovic, P. S. et al. Binding and recognition in the assembly of an active BRCA1/BARD1 ubiquitin-ligase complex. Proc. Natl Acad. Sci. USA 100, 5646–5651 (2003).

Wiener, R. et al. E2 ubiquitin-conjugating enzymes regulate the deubiquitinating activity of OTUB1. Nat. Struct. Mol. Biol. 20, 1033–1039 (2013).

Delaglio, F. et al. NMRPipe: a multidimensional spectral processing system based on UNIX pipes. J. Biomol. NMR 6, 277–293 (1995).

Tugarinov, V. & Kay, L. E. Quantitative NMR studies of high molecular weight proteins: application to domain orientation and ligand binding in the 723 residue enzyme malate synthase G. J. Mol. Biol. 327, 1121–1133 (2003).

Otwinowski, Z. & Minor, W. Processing of X-ray diffraction data collected in oscillation mode. Methods Enzymol. 276, 307–326 (1997).

Vagin, A. & Teplyakov, A. Molecular replacement with MOLREP. Acta Crystallogr. D Biol. Crystallogr. 66, 22–25 (2010).

Emsley, P., Lohkamp, B., Scott, W. G. & Cowtan, K. Features and development of Coot. Acta Crystallogr. D Biol. Crystallogr. 66, 486–501 (2010).

Afonine, P. V. et al. Towards automated crystallographic structure refinement with phenix.refine. Acta Crystallogr. D Biol. Crystallogr. 68, 352–367 (2012).

McCoy, A. J. et al. Phaser crystallographic software. J. Appl. Crystallogr. 40, 658–674 (2007).

Tugarinov, V. & Kay, L. E. Ile, Leu, and Val methyl assignments of the 723-residue malate synthase G using a new labeling strategy and novel NMR methods. J. Am. Chem. Soc. 125, 13868–13878 (2003).

Huang, H. et al. Covalent inhibition of NSD1 histone methyltransferase. Nat. Chem. Biol. 16, 1403–1410 (2020).

Egan, B. et al. An alternative approach to ChIP–seq normalization enables detection of genome-wide changes in histone H3 lysine 27 trimethylation upon EZH2 inhibition. PLoS ONE 11, e0166438 (2016).

Grembecka, J. et al. Menin–MLL inhibitors reverse oncogenic activity of MLL fusion proteins in leukemia. Nat. Chem. Biol. 8, 277–284 (2012).
Acknowledgements
This work was funded by the National Institute of Health (NIH) R01 grants CA207272, CA226759 and CA240514 to T.C., CA201204, CA244254 and CA160467 to J.G. and LLS Scholar grants (1340-17) to T.C. and (1215-14) to J.G. This research used resources of the Advanced Photon Source, a US Department of Energy (DOE) Office of Science User Facility operated for the DOE Office of Science by Argonne National Laboratory under contract number DE-AC02-06CH11357. Use of the LS-CAT Sector 21 was supported by the Michigan Economic Development Corporation and the Michigan Technology Tri-Corridor (grant 085P1000817). TEX and MLL–ENL cells were received from J. Dick, University Health Network, Toronto, Canada. We thank M. Carroll and G. Danet-Desnoyers from the Stem Cell and Xenograft Core at the University of Pennsylvania for providing a human AML primary sample.
Ethics declarations
Competing interests
W.Y., Y.Y., F.G., Q.Z., J.G. and T.C. are co-inventors on a patent application for PRC1 inhibitors.
Additional information
Peer review information Nature Chemical Biology thanks Joshua Plotnik, Chi Wai Eric So and the other, anonymous, reviewer(s) for their contribution to the peer review of this work.
Publisher's note Springer Nature remains neutral with regard to jurisdictional claims in published maps and institutional affiliations.
Supplementary information
Supplementary Tables 1 and 2, Figs. 1–7 and Note.
About this article
Cite this article
Shukla, S., Ying, W., Gray, F. et al. Small-molecule inhibitors targeting Polycomb repressive complex 1 RING domain. Nat Chem Biol 17, 784–793 (2021). https://doi.org/10.1038/s41589-021-00815-5
Received:

Accepted:

Published:

Issue Date:

DOI: https://doi.org/10.1038/s41589-021-00815-5
This article is cited by
Helena G. Asenjo
María Alcazar-Fabra
David Landeira

Nature Communications (2023)

Nature Chemical Biology (2021)