Abstract
The clinical benefits of pan-mTOR active-site inhibitors are limited by toxicity and relief of feedback inhibition of receptor expression. To address these limitations, we designed a series of compounds that selectively inhibit mTORC1 and not mTORC2. These 'bi-steric inhibitors' comprise a rapamycin-like core moiety covalently linked to an mTOR active-site inhibitor. Structural modification of these components modulated their affinities for their binding sites on mTOR and the selectivity of the bi-steric compound. mTORC1-selective compounds potently inhibited 4EBP1 phosphorylation and caused regressions of breast cancer xenografts. Inhibition of 4EBP1 phosphorylation was sufficient to block cancer cell growth and was necessary for maximal antitumor activity. At mTORC1-selective doses, these compounds do not alter glucose tolerance, nor do they relieve AKT-dependent feedback inhibition of HER3. Thus, in preclinical models, selective inhibitors of mTORC1 potently inhibit tumor growth while causing less toxicity and receptor reactivation as compared to pan-mTOR inhibitors.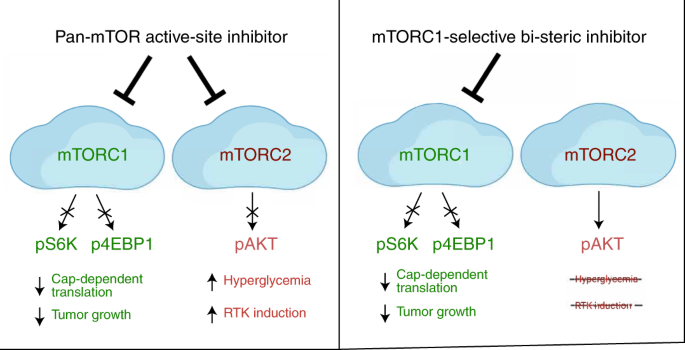 This is a preview of subscription content
Access options
Subscribe to Nature+
Get immediate online access to the entire Nature family of 50+ journals
Subscribe to Journal
Get full journal access for 1 year
$119.00
only $9.92 per issue
All prices are NET prices.
VAT will be added later in the checkout.
Tax calculation will be finalised during checkout.
Buy article
Get time limited or full article access on ReadCube.
$32.00
All prices are NET prices.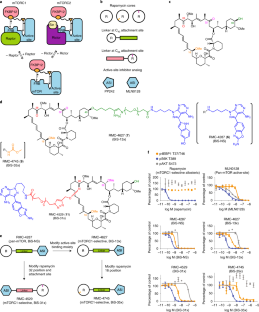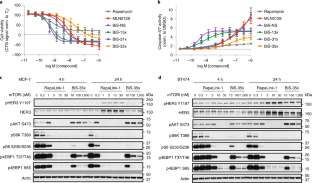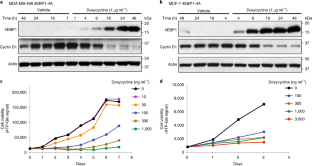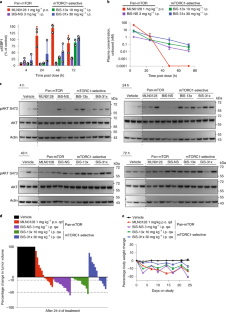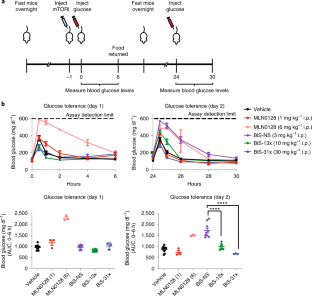 Data availability
Source data for Extended Data Fig. 7 have been provided as Supplementary Dataset 3. Source data for Extended Data Fig. 7 have been deposited at the Gene Expression Omnibus with the accession number GSE138417. All other data supporting the findings of this study are available from the corresponding authors on reasonable request.
Material availability
Requests for materials should be addressed to N.R. and J.A.M.S. Source data are provided with this paper.
Code availability
Computational code used in this study is available from the corresponding authors on reasonable request.
References
Chalhoub, N. & Baker, S. J. PTEN and the PI3-kinase pathway in cancer. Annu Rev. Pathol. 4, 127–150 (2009).

Vivanco, I. & Sawyers, C. L. The phosphatidylinositol 3-Kinase AKT pathway in human cancer. Nat. Rev. Cancer 2, 489–501 (2002).

Sarbassov, D. D. et al. RICTOR, a novel binding partner of mTOR, defines a rapamycin-insensitive and raptor-independent pathway that regulates the cytoskeleton. Curr. Biol. 14, 1296–1302 (2004).

Sengupta, S., Peterson, T. R. & Sabatini, D. M. Regulation of the mTOR complex 1 pathway by nutrients, growth factors, and stress. Mol. Cell 40, 310–322 (2010).

Dowling, R. J. et al. mTORC1-mediated cell proliferation, but not cell growth, controlled by the 4E-BPs. Science 328, 1172–1176 (2010).

Fingar, D. C. et al. mTOR controls cell cycle progression through its cell growth effectors S6K1 and 4E-BP1/eukaryotic translation initiation factor 4E. Mol. Cell. Biol. 24, 200–216 (2004).

Sarbassov, D. D., Guertin, D. A., Ali, S. M. & Sabatini, D. M. Phosphorylation and regulation of Akt/PKB by the RICTOR-mTOR complex. Science 307, 1098–1101 (2005).

Avdulov, S. et al. Activation of translation complex eIF4F is essential for the genesis and maintenance of the malignant phenotype in human mammary epithelial cells. Cancer Cell 5, 553–563 (2004).

Roux, P. P. & Topisirovic, I. Signaling pathways involved in the regulation of mRNA translation. Mol. Cell Biol. 38, e00070-18 (2018).

Feldman, M. E. et al. Active-site inhibitors of mTOR target rapamycin-resistant outputs of mTORC1 and mTORC2. PLoS Biol. 7, e38 (2009).

Thoreen, C. C. et al. An ATP-competitive mammalian target of rapamycin inhibitor reveals rapamycin-resistant functions of mTORC1. J. Biol. Chem. 284, 8023–8032 (2009).

Choi, J., Chen, J., Schreiber, S. L. & Clardy, J. Structure of the FKBP12-rapamycin complex interacting with the binding domain of human FRAP. Science 273, 239–242 (1996).

Choo, A. Y., Yoon, S. O., Kim, S. G., Roux, P. P. & Blenis, J. Rapamycin differentially inhibits S6Ks and 4E-BP1 to mediate cell-type-specific repression of mRNA translation. Proc. Natl Acad. Sci. USA 105, 17414–17419 (2008).

Sarbassov, D. D. et al. Prolonged rapamycin treatment inhibits mTORC2 assembly and Akt/PKB. Mol. Cell 22, 159–168 (2006).

Bissler, J. J. et al. Sirolimus for angiomyolipoma in tuberous sclerosis complex or lymphangioleiomyomatosis. N. Engl. J. Med. 358, 140–151 (2008).

Buti, S., Leonetti, A., Dallatomasina, A. & Bersanelli, M. Everolimus in the management of metastatic renal cell carcinoma: an evidence-based review of its place in therapy. Core Evid. 11, 23–36 (2016).

Vinayak, S. & Carlson, R. W. mTOR inhibitors in the treatment of breast cancer. Oncol. 27, 38–44 (2013). 46, 48 passim.

Graham, L. et al. A phase II study of the dual mTOR inhibitor MLN0128 in patients with metastatic castration resistant prostate cancer. Invest. N. Drugs 36, 458–467 (2018).

Powles, T. et al. A randomised phase 2 study of AZD2014 versus everolimus in patients with VEGF-refractory metastatic clear cell renal cancer. Eur. Urol. 69, 450–456 (2016).

Hagiwara, A. et al. Hepatic mTORC2 activates glycolysis and lipogenesis through Akt, glucokinase, and SREBP1c. Cell Metab. 15, 725–738 (2012).

Chandarlapaty, S. et al. AKT inhibition relieves feedback suppression of receptor tyrosine kinase expression and activity. Cancer Cell 19, 58–71 (2011).

Muranen, T. et al. Inhibition of PI3K/mTOR leads to adaptive resistance in matrix-attached cancer cells. Cancer Cell 21, 227–239 (2012).

Rodrik-Outmezguine, V. S. et al. mTOR kinase inhibition causes feedback-dependent biphasic regulation of AKT signaling. Cancer Disco. 1, 248–259 (2011).

Serra, V. et al. PI3K inhibition results in enhanced HER signaling and acquired ERK dependency in HER2-overexpressing breast cancer. Oncogene 30, 2547–2557 (2011).

Rodrik-Outmezguine, V. S. et al. Overcoming mTOR resistance mutations with a new-generation mTOR inhibitor. Nature 534, 272–276 (2016).

Fan, Q. et al. A kinase inhibitor targeted to mTORC1 drives regression in glioblastoma. Cancer Cell 31, 424–435 (2017).

Mohr, K. et al. Rational design of dualsteric GPCR ligands: quests and promise. Br. J. Pharmacol. 159, 997–1008 (2010).

Valant, C., Robert Lane, J., Sexton, P. M. & Christopoulos, A. The best of both worlds? Bitopic orthosteric/allosteric ligands of g protein-coupled receptors. Annu. Rev. Pharmacol. Toxicol. 52, 153–178 (2012).

Yu, K. et al. Biochemical, cellular, and in vivo activity of novel ATP-competitive and selective inhibitors of the mammalian target of rapamycin. Cancer Res. 69, 6232–6240 (2009).

Chen, X. et al. Cryo-EM structure of human mTOR complex 2. Cell Res. 28, 518–528 (2018).

O'Reilly, K. E. et al. mTOR inhibition induces upstream receptor tyrosine kinase signaling and activates Akt. Cancer Res. 66, 1500–1508 (2006).

Shi, Y., Yan, H., Frost, P., Gera, J. & Lichtenstein, A. Mammalian target of rapamycin inhibitors activate the AKT kinase in multiple myeloma cells by up-regulating the insulin-like growth factor receptor/insulin receptor substrate-1/phosphatidylinositol 3-kinase cascade. Mol. Cancer Ther. 4, 1533–1540 (2005).

Sun, S. Y. et al. Activation of Akt and eIF4E survival pathways by rapamycin-mediated mammalian target of rapamycin inhibition. Cancer Res. 65, 7052–7058 (2005).

Bayle, J. H. et al. Rapamycin analogs with differential binding specificity permit orthogonal control of protein activity. Chem. Biol. 13, 99–107 (2006).

Luengo, J. I. et al. Structure-activity studies of rapamycin analogs: evidence that the C-7 methoxy group is part of the effector domain and positioned at the FKBP12-FRAP interface. Chem. Biol. 2, 471–481 (1995).

Reichling, L. J. et al. Pharmacological characterization of purified recombinant mTOR FRB-kinase domain using fluorescence-based assays. J. Biomol. Screen 13, 238–244 (2008).

Patricelli, M. P. et al. Functional interrogation of the kinome using nucleotide acyl phosphates. Biochemistry 46, 350–358 (2007).

She, Q. B. et al. 4E-BP1 is a key effector of the oncogenic activation of the AKT and ERK signaling pathways that integrates their function in tumors. Cancer Cell 18, 39–51 (2010).

Hsieh, A. C. et al. Genetic dissection of the oncogenic mTOR pathway reveals druggable addiction to translational control via 4EBP-eIF4E. Cancer Cell 17, 249–261 (2010).

Rong, L. et al. Control of eIF4E cellular localization by eIF4E-binding proteins, 4E-BPs. RNA 14, 1318–1327 (2008).

Petroulakis, E. et al. p53-dependent translational control of senescence and transformation via 4E-BPs. Cancer Cell 16, 439–446 (2009).

Bhat, M. et al. Targeting the translation machinery in cancer. Nat. Rev. Drug Disco. 14, 261–278 (2015).

Masvidal, L., Hulea, L., Furic, L., Topisirovic, I. & Larsson, O. mTOR-sensitive translation: cleared fog reveals more trees. RNA Biol. 14, 1299–1305 (2017).

Gandin, V. et al. nanoCAGE reveals 5′ UTR features that define specific modes of translation of functionally related MTOR-sensitive mRNAs. Genome Res 26, 636–648 (2016).

Larsson, O. et al. Distinct perturbation of the translatome by the antidiabetic drug metformin. Proc. Natl Acad. Sci. USA 109, 8977–8982 (2012).

Basu, B. et al. First-in-human pharmacokinetic and pharmacodynamic study of the dual m-TORC 1/2 inhibitor AZD2014. Clin. Cancer Res. 21, 3412–3419 (2015).

Steinfeld, T., Mammen, M., Smith, J. A., Wilson, R. D. & Jasper, J. R. A novel multivalent ligand that bridges the allosteric and orthosteric binding sites of the M2 muscarinic receptor. Mol. Pharmacol. 72, 291–302 (2007).

Thoreen, C. C. et al. A unifying model for mTORC1-mediated regulation of mRNA translation. Nature 485, 109–113 (2012).

Gandin, V. et al. Polysome fractionation and analysis of mammalian translatomes on a genome-wide scale. J. Vis. Exp. 2014, 51455 (2014).

Oertlin, C. et al. Generally applicable transcriptome-wide analysis of translation using anota2seq. Nucleic Acids Res. 47, e70 (2019).

Picelli, S. et al. Full-length RNA-seq from single cells using Smart-seq2. Nat. Protoc. 9, 171–181 (2014).

Ewels, P. A. et al. The nf-core framework for community-curated bioinformatics pipelines. Nat. Biotechnol. 38, 276–278 (2020).

Ritchie, M. E. et al. Limma powers differential expression analyses for RNA-sequencing and microarray studies. Nucleic Acids Res. 43, e47 (2015).

Robinson, M. D. & Oshlack, A. A scaling normalization method for differential expression analysis of RNA-seq data. Genome Biol. 11, R25 (2010).

Cenik, C. et al. Integrative analysis of RNA, translation, and protein levels reveals distinct regulatory variation across humans. Genome Res. 25, 1610–1621 (2015).

Lorent, J. et al. Translational offsetting as a mode of estrogen receptor alpha-dependent regulation of gene expression. EMBO J. 38, https://doi.org/10.15252/embj.2018101323 (2019).
Acknowledgements
We thank S. Kelsey and M.A. Goldsmith for scientific guidance and critical review of the manuscript, and A.I. Bassan for invaluable discussions leading to this work. We gratefully acknowledge the contributions of M.J. Gliedt, J. Pitzen, C. Semko, G. Wang and W. Won for the syntheses of the bi-steric mTORC1 inhibitors. N.R. is supported by an NCI Outstanding investigator grant, R35 CA210085 and a Breast Cancer Research Foundation Grant, BCRF17-139. I.T. is supported by Senior Scholar Award from Le Fonds de recherche du Québec–Santé (FRQS) and acknowledges support from Cancer Research Society grant no. 102585. L.H. is supported by Junior 1 Scholar Award from Le Fonds de recherche du Québec–Santé (FRQS). O.L. is a Wallenberg Academy Fellow. We also thank the researchers at WuXi Apptec who supported our in vivo pharmacology efforts. This study was funded in part through the NIH/NCI Cancer Center Support Grant P30 CA008748.
Ethics declarations
Competing interests
N.R. reports grants from Revolutionary Medicines and Boehringer Ingelheim; grants and consulting fees from AstraZeneca and Pfizer Array; consulting fees (scientific advisory board) from Ribon Therapeutics, Tarveda Therapeutics, and Chugai Pharmaceuticals; scientific advisory board fees and equity in Beigene and Zai Laboratories; and equity in Kura Oncology and Fortress. I.T. and O.L. have consulted at and are recipients of research grants from Revolution Medicines. B.J.L., G.L.B., A.P.T., N.T., S.L.W., T.H., A.M., E.G.L., J.W.E., G.K., D.L., Zhengping W., Zhican W., Y.Z., D.W., J.B.A., M.S., A.L.G. and J.A.M.S. are current or former employees of Revolution Medicines, Inc. The other authors declare no competing interests.
Additional information
Peer review information Nature Chemical Biology thanks Nathaneal Gray, Masahiro Morita and the other, anonymous, reviewer(s) for their contribution to the peer review of this work.
Publisher's note Springer Nature remains neutral with regard to jurisdictional claims in published maps and institutional affiliations.
Supplementary information
About this article
Cite this article
Lee, B.J., Boyer, J.A., Burnett, G.L. et al. Selective inhibitors of mTORC1 activate 4EBP1 and suppress tumor growth. Nat Chem Biol 17, 1065–1074 (2021). https://doi.org/10.1038/s41589-021-00813-7
Received:

Accepted:

Published:

Issue Date:

DOI: https://doi.org/10.1038/s41589-021-00813-7
Further reading
Neil Vasan
Lewis C. Cantley

Nature Reviews Clinical Oncology (2022)

Nature Chemical Biology (2021)