Abstract
A remarkable feature of the microtubule cytoskeleton is the coexistence of subpopulations having different dynamic properties. A prominent example is the anaphase spindle, where stable antiparallel bundles exist alongside dynamic microtubules and provide spatial cues for cytokinesis. How are the dynamics of spatially proximal arrays differentially regulated? We reconstitute a minimal system of three midzone proteins: microtubule-crosslinker PRC1 and its interactors CLASP1 and Kif4A, proteins that promote and suppress microtubule elongation, respectively. We find that their collective activity promotes elongation of single microtubules while simultaneously stalling polymerization of crosslinked bundles. This differentiation arises from (1) strong rescue activity of CLASP1, which overcomes the weaker effects of Kif4A on single microtubules, and (2) lower microtubule- and PRC1-binding affinity of CLASP1, which permits the dominance of Kif4A at overlaps. In addition to canonical mechanisms where antagonistic regulators set microtubule length, our findings illuminate design principles by which collective regulator activity creates microenvironments of arrays with distinct dynamic properties.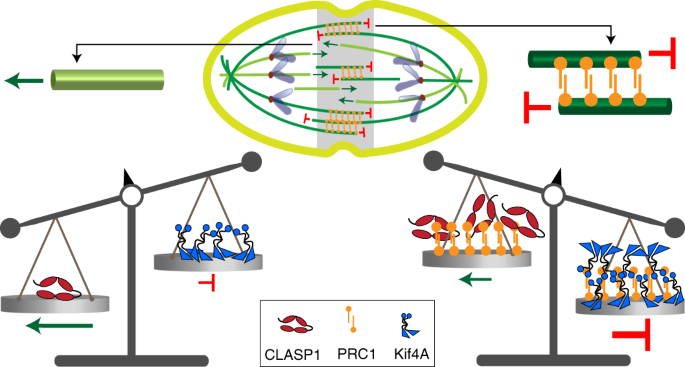 Access options
Access Nature and 54 other Nature Portfolio journals
Get Nature+, our best-value online-access subscription
$29.99 / 30 days
cancel any time
Subscribe to this journal
Receive 12 print issues and online access
$259.00 per year
only $21.58 per issue
Rent or buy this article
Prices vary by article type
from$1.95
to$39.95
Prices may be subject to local taxes which are calculated during checkout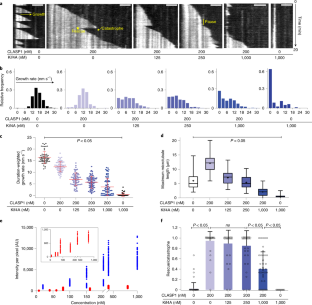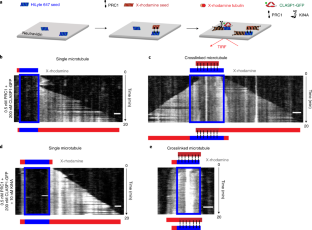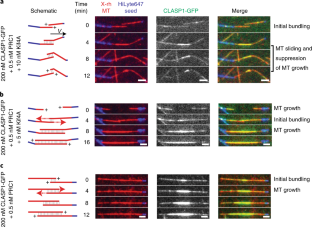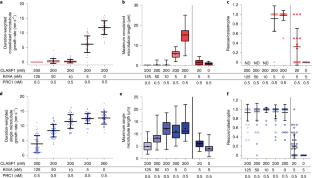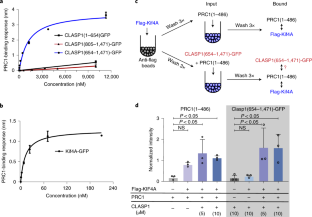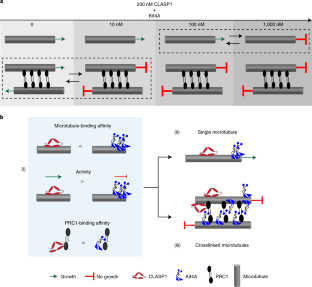 Data availability
The following datasets and their analyses generated during the current study are available from the corresponding author on reasonable request:
raw microscopy images and videos for Figs. 1a,e, 2b–e and 3a–c and Extended Data Figs. 2c,d, 3, 4, 6, 7a,b, 8 and 9a,c;
scanned SDS gel images for Extended Data Figs. 1a and 7d.
Source data for Figs. 1b–f, 4a–f and 5a,b,d and Extended Data Figs. 1b,c, 2a–c,e–i, 4a, 5a,b, 6b,d,f, 7a–c, 8b and 9a–c. Source data are provided with this paper.
References
Bitan, A., Rosenbaum, I. & Abdu, U. Stable and dynamic microtubules coordinately determine and maintain Drosophila bristle shape. Development 139, 1987–1996 (2012).

Pous, C. et al. Functional specialization of stable and dynamic microtubules in protein traffic in WIF-B cells. J. Cell Biol. 142, 153–165 (1998).

Baas, P. W., Rao, A. N., Matamoros, A. J. & Leo, L. Stability properties of neuronal microtubules. Cytoskeleton (Hoboken) 73, 442–460 (2016).

Lindeboom, J. J. et al. A mechanism for reorientation of cortical microtubule arrays driven by microtubule severing. Science 342, 1245533 (2013).

Foe, V. E. & von Dassow, G. Stable and dynamic microtubules coordinately shape the myosin activation zone during cytokinetic furrow formation. J. Cell Biol. 183, 457–470 (2008).

Vukusic, K., Buda, R. & Tolic, I. M. Force-generating mechanisms of anaphase in human cells. J. Cell Sci. 132, jcs231985 (2019).

Rizk, R. S. et al. MCAK and paclitaxel have differential effects on spindle microtubule organization and dynamics. Mol. Biol. Cell 20, 1639–1651 (2009).

Mastronarde, D. N., McDonald, K. L., Ding, R. & McIntosh, J. R. Interpolar spindle microtubules in PTK cells. J. Cell Biol. 123, 1475–1489 (1993).

Saxton, W. M. & McIntosh, J. R. Interzone microtubule behavior in late anaphase and telophase spindles. J. Cell Biol. 105, 875–886 (1987).

Murthy, K. & Wadsworth, P. Dual role for microtubules in regulating cortical contractility during cytokinesis. J. Cell Sci. 121, 2350–2359 (2008).

Uehara, R. & Goshima, G. Functional central spindle assembly requires de novo microtubule generation in the interchromosomal region during anaphase. J. Cell Biol. 191, 259–267 (2010).

Uehara, R. et al. Augmin shapes the anaphase spindle for efficient cytokinetic furrow ingression and abscission. Mol. Biol. Cell 27, 812–827 (2016).

Pamula, M. C. et al. High-resolution imaging reveals how the spindle midzone impacts chromosome movement. J. Cell Biol. 218, 2529–2544 (2019).

Jiang, W. et al. PRC1: a human mitotic spindle-associated CDK substrate protein required for cytokinesis. Mol. Cell 2, 877–885 (1998).

Verni, F. et al. Feo, the Drosophila homolog of PRC1, is required for central-spindle formation and cytokinesis. Curr. Biol. 14, 1569–1575 (2004).

Muller, S. et al. The plant microtubule-associated protein AtMAP65-3/PLE is essential for cytokinetic phragmoplast function. Curr. Biol. 14, 412–417 (2004).

Schuyler, S. C., Liu, J. Y. & Pellman, D. The molecular function of Ase1p: evidence for a MAP-dependent midzone-specific spindle matrix. Microtubule-associated proteins. J. Cell Biol. 160, 517–528 (2003).

Verbrugghe, K. J. & White, J. G. SPD-1 is required for the formation of the spindle midzone but is not essential for the completion of cytokinesis in C. elegans embryos. Curr. Biol. 14, 1755–1760 (2004).

Hu, C. K., Coughlin, M., Field, C. M. & Mitchison, T. J. KIF4 regulates midzone length during cytokinesis. Curr. Biol. 21, 815–824 (2011).

Lee, Y. M. & Kim, W. Kinesin superfamily protein member 4 (KIF4) is localized to midzone and midbody in dividing cells. Exp. Mol. Med. 36, 93–97 (2004).

Rizk, R. S., Discipio, K. A., Proudfoot, K. G. & Gupta, M. L. Jr. The kinesin-8 Kip3 scales anaphase spindle length by suppression of midzone microtubule polymerization. J. Cell Biol. 204, 965–975 (2014).

Bratman, S. V. & Chang, F. Stabilization of overlapping microtubules by fission yeast CLASP. Dev. Cell 13, 812–827 (2007).

Inoue, Y. H. et al. Mutations in orbit/mast reveal that the central spindle is comprised of two microtubule populations, those that initiate cleavage and those that propagate furrow ingression. J. Cell Biol. 166, 49–60 (2004).

Pereira, A. L. et al. Mammalian CLASP1 and CLASP2 cooperate to ensure mitotic fidelity by regulating spindle and kinetochore function. Mol. Biol. Cell 17, 4526–4542 (2006).

Gaillard, J. et al. Two microtubule-associated proteins of Arabidopsis MAP65s promote antiparallel microtubule bundling. Mol. Biol. Cell 19, 4534–4544 (2008).

Loiodice, I. et al. Ase1p organizes antiparallel microtubule arrays during interphase and mitosis in fission yeast. Mol. Biol. Cell 16, 1756–1768 (2005).

Kurasawa, Y., Earnshaw, W. C., Mochizuki, Y., Dohmae, N. & Todokoro, K. Essential roles of KIF4 and its binding partner PRC1 in organized central spindle midzone formation. EMBO J. 23, 3237–3248 (2004).

Liu, J. et al. PRC1 cooperates with CLASP1 to organize central spindle plasticity in mitosis. J. Biol. Chem. 284, 23059–23071 (2009).

Zhu, C. & Jiang, W. Cell cycle-dependent translocation of PRC1 on the spindle by Kif4 is essential for midzone formation and cytokinesis. Proc. Natl Acad. Sci. USA 102, 343–348 (2005).

Rincon, S. A. et al. Kinesin-5-independent mitotic spindle assembly requires the antiparallel microtubule crosslinker Ase1 in fission yeast. Nat. Commun. 8, 15286 (2017).

Maton, G. et al. Kinetochore components are required for central spindle assembly. Nat. Cell Biol. 17, 953 (2015).

Espiritu, E. B., Krueger, L. E., Ye, A. & Rose, L. S. CLASPs function redundantly to regulate astral microtubules in the C. elegans embryo. Dev. Biol. 368, 242–254 (2012).

Subramanian, R., Ti, S. C., Tan, L., Darst, S. A. & Kapoor, T. M. Marking and measuring single microtubules by PRC1 and kinesin-4. Cell 154, 377–390 (2013).

Bieling, P., Telley, I. A. & Surrey, T. A minimal midzone protein module controls formation and length of antiparallel microtubule overlaps. Cell 142, 420–432 (2010).

Aher, A. et al. CLASP suppresses microtubule catastrophes through a single TOG domain. Dev. Cell 46, 40–58 (2018).

Al-Bassam, J. et al. CLASP promotes microtubule rescue by recruiting tubulin dimers to the microtubule. Dev. Cell 19, 245–258 (2010).

Lawrence, E. J., Arpag, G., Norris, S. R. & Zanic, M. Human CLASP2 specifically regulates microtubule catastrophe and rescue. Mol. Biol. Cell 29, 1168–1177 (2018).

Majumdar, S. et al. An isolated CLASP TOG domain suppresses microtubule catastrophe and promotes rescue. Mol. Biol. Cell 29, 1359–1375 (2018).

Patel, K., Nogales, E. & Heald, R. Multiple domains of human CLASP contribute to microtubule dynamics and organization in vitro and in Xenopus egg extracts. Cytoskeleton (Hoboken) 69, 155–165 (2012).

Oda, Y. Cortical microtubule rearrangements and cell wall patterning. Front. Plant Sci. 6, 236 (2015).

Girao, H. et al. CLASP2 binding to curved microtubule tips promotes flux and stabilizes kinetochore attachments. J. Cell Biol. 219, e201905080 (2020).

Wijeratne, S. & Subramanian, R. Geometry of antiparallel microtubule bundles regulates relative sliding and stalling by PRC1 and Kif4A. eLife 7, e32595 (2018).

Hannabuss, J. et al. Self-organization of minimal anaphase spindle midzone bundles. Curr. Biol. 29, 2120–2130 (2019).

Jiang, S. et al. Interplay between the kinesin and tubulin mechanochemical cycles underlies microtubule tip tracking by the non-motile ciliary kinesin Kif7. Dev. Cell 49, 711–730 (2019).

Subramanian, R. et al. Insights into antiparallel microtubule crosslinking by PRC1, a conserved nonmotor microtubule binding protein. Cell 142, 433–443 (2010).

Goshima, G. & Scholey, J. M. Control of mitotic spindle length. Annu. Rev. Cell Dev. Biol. 26, 21–57 (2010).

Bastos, R. N., Cundell, M. J. & Barr, F. A. KIF4A and PP2A-B56 form a spatially restricted feedback loop opposing Aurora B at the anaphase central spindle. J. Cell Biol. 207, 683–693 (2014).

Scholey, J. M., Civelekoglu-Scholey, G. & Brust-Mascher, I. Anaphase B. Biology (Basel) 5, 10.3390/biology5040051 (2016).

Hannak, E. & Heald, R. Xorbit/CLASP links dynamic microtubules to chromosomes in the Xenopus meiotic spindle. J. Cell Biol. 172, 19–25 (2006).

Pinder, C., Matsuo, Y., Maurer, S. P. & Toda, T. Kinesin-8 and Dis1/TOG collaborate to limit spindle elongation from prophase to anaphase A for proper chromosome segregation in fission yeast. J. Cell Sci. 132, jcs232306 (2019).

Hyman, A. et al. Preparation of modified tubulins. Methods Enzymol. 196, 478–485 (1991).

Folta-Stogniew, E. & Williams, K. R. Determination of molecular masses of proteins in solution: implementation of an HPLC size exclusion chromatography and laser light scattering service in a core laboratory. J. Biomol. Tech. 10, 51–63 (1999).

Koppel, D. E. Analysis of macromolecular polydispersity in intensity correlation spectroscopy: the method of cumulants. J. Chem. Phys. 57, 4814–4820 (1972).
Acknowledgements
This work was supported by a grant from the NIH (no. 1DP2GM126894-01), and by funds from the Pew Charitable Trusts and the Smith Family Foundation to R.S. We thank J. Welburn (University of Edinburgh, UK) and M. Zanic (Vanderbilt University, USA) for the generous gift of EB plasmids, and B. K. Dass (ForteBio, Sartorius) for help with troubleshooting BLI assays. The SEC–MALS instrumentation was supported by NIH award no. 1S10RR023748-01 to E. Folta-Stogniew (Yale School of Medicine, USA (The content of this paper is solely the responsibility of the authors and does not necessarily represent the official views of the National Institutes of Health).
Ethics declarations
Competing interests
The authors declare no competing interests.
Additional information
Peer review information Nature Chemical Biology thanks Jawdat Al-Bassam and the other, anonymous, reviewer(s) for their contribution to the peer review of this work.
Publisher's note Springer Nature remains neutral with regard to jurisdictional claims in published maps and institutional affiliations.
Supplementary information
About this article
Cite this article
Mani, N., Jiang, S., Neary, A.E. et al. Differential regulation of single microtubules and bundles by a three-protein module. Nat Chem Biol 17, 964–974 (2021). https://doi.org/10.1038/s41589-021-00800-y
Received:

Accepted:

Published:

Issue Date:

DOI: https://doi.org/10.1038/s41589-021-00800-y