Liquid–liquid phase separation can increase the rate of enzyme activity by concentrating reactants together. A phase-separating SUMOylation cascade offers conceptual and quantitative insight into the mechanisms underlying the activity enhancement.
Access options
Subscribe to Journal
Get full journal access for 1 year
$59.00
only $4.92 per issue
All prices are NET prices.
VAT will be added later in the checkout.
Tax calculation will be finalised during checkout.
Rent or Buy article
Get time limited or full article access on ReadCube.
from$8.99
All prices are NET prices.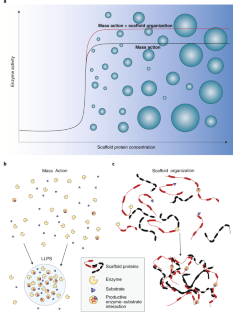 References
1.

Boeynaems, S. et al. Trends Cell Biol. 28, 420–435 (2018).

2.

Peeples, W. & Rosen, M. K. Nat. Chem. Biol. https://doi.org/10.1038/s41589-021-00801-x (2021).

3.

Martin, E. W. et al. Science 367, 694–699 (2020).

4.

Wang, J. et al. Cell 174, 688–699.e16 (2018).

5.

Choi, J.-M., Holehouse, A. S. & Pappu, R. V. Annu. Rev. Biophys. 49, 107–133 (2020).

6.

Banani, S. F. et al. Cell 166, 651–663 (2016).

7.

Li, P. et al. Nature 483, 336–340 (2012).

8.

Holehouse, A. S. & Pappu, R. V. Biochemistry 57, 2415–2423 (2018).

9.

O'Flynn, B. G. & Mittag, T. Curr. Opin. Cell Biol. 69, 70–79 (2021).

10.

Kim, T. H. et al. Science 365, 825–829 (2019).
Acknowledgements
T.M. acknowledges funding by NIH grant R01GM112846, by the St. Jude Children's Research Hospital Research Collaborative on Membrane-less Organelles in Health and Disease, and by the American Lebanese Syrian Associated Charities (ALSAC). The content is solely the responsibility of the authors and does not necessarily represent the official views of the National Institutes of Health.
Ethics declarations
Competing interests
T.M. is a consultant for Faze Medicines. This affiliation has not influenced the scientific content of this piece.
About this article
Cite this article
O'Flynn, B.G., Mittag, T. A new phase for enzyme kinetics. Nat Chem Biol 17, 628–630 (2021). https://doi.org/10.1038/s41589-021-00799-2