Abstract
The central dogma of biology does not allow for the study of glycans using DNA sequencing. We report a liquid glycan array (LiGA) platform comprising a library of DNA 'barcoded' M13 virions that display 30–1,500 copies of glycans per phage. A LiGA is synthesized by acylation of the phage pVIII protein with a dibenzocyclooctyne, followed by ligation of azido-modified glycans. Pulldown of the LiGA with lectins followed by deep sequencing of the barcodes in the bound phage decodes the optimal structure and density of the recognized glycans. The LiGA is target agnostic and can measure the glycan-binding profile of lectins, such as CD22, on cells in vitro and immune cells in a live mouse. From a mixture of multivalent glycan probes, LiGAs identify the glycoconjugates with optimal avidity necessary for binding to lectins on living cells in vitro and in vivo.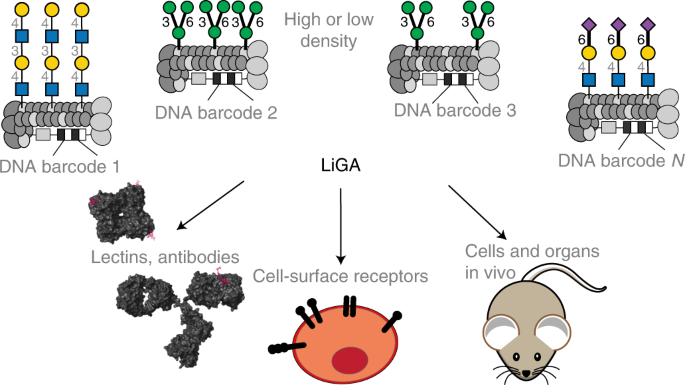 Relevant articles
Open Access articles citing this article.
Jeffrey Y. K. Wong

,

Arunika I. Ekanayake

…

Ratmir Derda

Nature Communications Open Access 13 September 2023

Edward N. Schmidt

,

Dimitra Lamprinaki

…

Matthew S. Macauley

Nature Communications Open Access 22 April 2023

Theam Soon Lim

&

Karli Montague-Cardoso

Communications Biology Open Access 12 August 2021
Access options
Access Nature and 54 other Nature Portfolio journals
Get Nature+, our best-value online-access subscription
$29.99 / 30 days
cancel any time
Subscribe to this journal
Receive 12 print issues and online access
$259.00 per year
only $21.58 per issue
Rent or buy this article
Prices vary by article type
from$1.95
to$39.95
Prices may be subject to local taxes which are calculated during checkout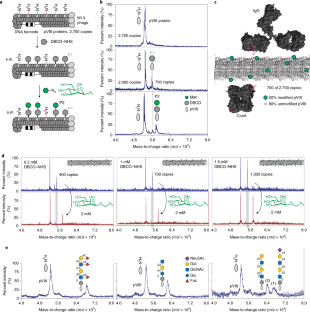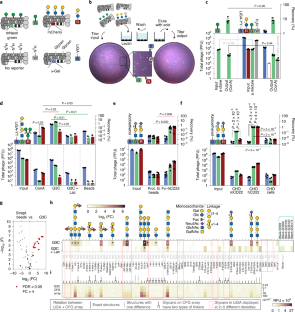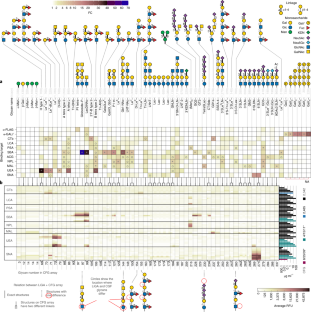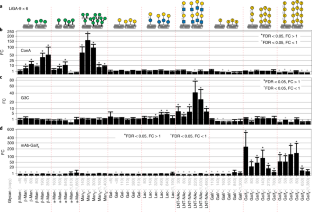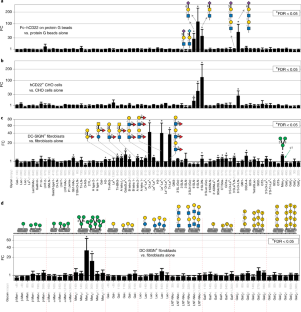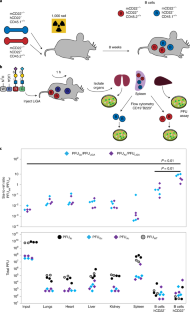 References
Shendure, J. & Ji, H. Next-generation DNA sequencing. Nat. Biotechnol. 26, 1135–1145 (2008).

Lander, E. S. Array of hope. Nat. Genet. 21, 3–4 (1999).

Blixt, O. et al. Printed covalent glycan array for ligand profiling of diverse glycan binding proteins. Proc. Natl Acad. Sci. USA 101, 17033–17038 (2004).

Stevens, J., Blixt, O., Paulson, J. C. & Wilson, I. A. Glycan microarray technologies: tools to survey host specificity of influenza viruses. Nat. Rev. Microbiol. 4, 857–864 (2006).

Raman, R., Raguram, S., Venkataraman, G., Paulson, J. C. & Sasisekharan, R. Glycomics: an integrated systems approach to structure–function relationships of glycans. Nat. Methods 2, 817–824 (2005).

Geissner, A. & Seeberger, P. H. Glycan arrays: from basic biochemical research to bioanalytical and biomedical applications. Annu. Rev. Anal. Chem. 9, 223–247 (2016).

Bertozzi, C. R. & Kiessling, L. L. Chemical glycobiology. Science 291, 2357–2364 (2001).

Zhang, Y., Li, Q., Rodriguez, L. G. & Gildersleeve, J. C. An array-based method to identify multivalent inhibitors. J. Am. Chem. Soc. 132, 9653–9662 (2010).

Wang, C. C. et al. Glycan microarray of Globo H and related structures for quantitative analysis of breast cancer. Proc. Natl Acad. Sci. USA 105, 11661–11666 (2008).

Xia, L., Schrump, D. S. & Gildersleeve, J. C. Whole-cell cancer vaccines induce large antibody responses to carbohydrates and glycoproteins. Cell Chem. Biol. 23, 1515–1525 (2016).

Fukui, S., Feizi, T., Galustian, C., Lawson, A. M. & Chai, W. Oligosaccharide microarrays for high-throughput detection and specificity assignments of carbohydrate–protein interactions. Nat. Biotechnol. 20, 1011–1017 (2002).

Cecioni, S., Imberty, A. & Vidal, S. Glycomimetics versus multivalent glycoconjugates for the design of high affinity lectin ligands. Chem. Rev. 115, 525–561 (2015).

Kiessling, L. L., Gestwicki, J. E. & Strong, L. E. Synthetic multivalent ligands as probes of signal transduction. Angew. Chem. Int. Ed. Engl. 45, 2348–2368 (2006).

Park, S., Gildersleeve, J. C., Blixt, O. & Shin, I. Carbohydrate microarrays. Chem. Soc. Rev. 42, 4310–4326 (2013).

Godula, K. & Bertozzi, C. R. Density variant glycan microarray for evaluating cross-linking of mucin-like glycoconjugates by lectins. J. Am. Chem. Soc. 134, 15732–15742 (2012).

Oyelaran, O., Li, Q., Farnsworth, D. & Gildersleeve, J. C. Microarrays with varying carbohydrate density reveal distinct subpopulations of serum antibodies. J. Proteome Res. 8, 3529–3538 (2009).

Dam, T. K. & Brewer, C. F. Lectins as pattern recognition molecules: the effects of epitope density in innate immunity. Glycobiology 20, 270–279 (2010).

Kwon, S. J. et al. Signal amplification by glyco-qPCR for ultrasensitive detection of carbohydrates: applications in glycobiology. Angew. Chem. Int. Ed. Engl. 51, 11800–11804 (2012).

Ciobanu, M. et al. Selection of a synthetic glycan oligomer from a library of DNA-templated fragments against DC-SIGN and inhibition of HIV gp120 binding to dendritic cells. Chem. Commun. 47, 9321–9323 (2011).

Yan, M. M. et al. Next-generation glycan microarray enabled by DNA-coded glycan library and next-generation sequencing technology. Anal. Chem. 91, 9221–9228 (2019).

Thomas, B. et al. Application of biocatalysis to on-DNA carbohydrate library synthesis. ChemBioChem 18, 858–863 (2017).

Chevolot, Y. et al. DNA-based carbohydrate biochips: a platform for surface glyco-engineering. Angew. Chem. Int. Ed. Engl. 46, 2398–2402 (2007).

Novoa, A., Machida, T., Barluenga, S., Imberty, A. & Winssinger, N. PNA-encoded synthesis (PES) of a 10,000-member hetero-glycoconjugate library and microarray analysis of diverse lectins. ChemBioChem 15, 2058–2065 (2014).

Horiya, S., Bailey, J. K., Temme, J. S., Schippe, Y. V. G. & Krauss, I. J. Directed evolution of multivalent glycopeptides tightly recognized by HIV antibody 2G12. J. Am. Chem. Soc. 136, 5407–5415 (2014).

Macauley, M. S. et al. Antigenic liposomes displaying CD22 ligands induce antigen-specific B cell apoptosis. J. Clin. Invest. 123, 3074–3083 (2013).

Chen, W. C. et al. In vivo targeting of B-cell lymphoma with glycan ligands of CD22. Blood 115, 4778–4786 (2010).

Kaltgrad, E. et al. On-virus construction of polyvalent glycan ligands for cell-surface receptors. J. Am. Chem. Soc. 130, 4578–4579 (2008).

Pochechueva, T. et al. Multiplex suspension array for human anti-carbohydrate antibody profiling. Analyst 136, 560–569 (2011).

Purohit, S. et al. Multiplex glycan bead array for high throughput and high content analyses of glycan binding proteins. Nat. Commun. 9, 258 (2018).

Liang, R. et al. Parallel synthesis and screening of a solid phase carbohydrate library. Science 274, 1520–1522 (1996).

Tjhung, K. F. et al. Silent encoding of chemical post-translational modifications in phage-displayed libraries. J. Am. Chem. Soc. 138, 32–35 (2016).

Celik, E., Fisher, A. C., Guarino, C., Mansell, T. J. & DeLisa, M. P. A filamentous phage display system for N-linked glycoproteins. Protein Sci. 19, 2006–2013 (2010).

Durr, C., Nothaft, H., Lizak, C., Glockshuber, R. & Aebi, M. The Escherichia coli glycophage display system. Glycobiology 20, 1366–1372 (2010).

Celik, E. et al. Glycoarrays with engineered phages displaying structurally diverse oligosaccharides enable high-throughput detection of glycan–protein interactions. Biotechnol. J. 10, 199–209 (2015).

Pasqualini, R. & Ruoslahti, E. Organ targeting in vivo using phage display peptide libraries. Nature 380, 364–366 (1996).

Krag, D. N. et al. Selection of tumor-binding ligands in cancer patients with phage display libraries. Cancer Res. 66, 7724–7733 (2006).

Arap, W. et al. Steps toward mapping the human vasculature by phage display. Nat. Med. 8, 121–127 (2002).

Scott, J. K. & Smith, G. P. Searching for peptide ligands with an epitope library. Science 249, 386–390 (1990).

Jewett, J. C. & Bertozzi, C. R. Cu-free click cycloaddition reactions in chemical biology. Chem. Soc. Rev. 39, 1272–1279 (2010).

Macauley, M. S. et al. Unmasking of CD22 co-receptor on germinal center B-cells occurs by alternative mechanisms in mouse and man. J. Biol. Chem. 290, 30066–30077 (2015).

Wang, L. L. et al. Cross-platform comparison of glycan microarray formats. Glycobiology 24, 507–517 (2014).

Hirabayashi, J., Tateno, H., Shikanai, T., Aoki-Kinoshita, K. F. & Narimatsu, H. The Lectin Frontier Database (LfDB), and data generation based on frontal affinity chromatography. Molecules 20, 951–973 (2015).

Vasile, F. et al. Comprehensive analysis of blood group antigen binding to classical and El Tor cholera toxin B-pentamers by NMR. Glycobiology 24, 766–778 (2014).

Heggelund, J. E. et al. High-resolution crystal structures elucidate the molecular basis of cholera blood group dependence. PLoS Pathog. 12, e1005567 (2016).

Mammen, M., Choi, S. K. & Whitesides, G. M. Polyvalent interactions in biological systems: implications for design and use of multivalent ligands and inhibitors. Angew. Chem. Int. Ed. 37, 2755–2794 (1998).

Feinberg, H., Mitchell, D. A., Drickamer, K. & Weis, W. I. Structural basis for selective recognition of oligosaccharides by DC-SIGN and DC-SIGNR. Science 294, 2163–2166 (2001).

Ng, S. et al. Genetically-encoded fragment-based discovery of glycopeptide ligands for DC-SIGN. Bioorg. Med. Chem. 26, 5368–5377 (2018).

Bednar, K. J. et al. Human CD22 inhibits murine B cell receptor activation in a human CD22 transgenic mouse model. J. Immunol. 199, 3116–3128 (2017).

Narimatsu, Y. et al. An atlas of human glycosylation pathways enables display of the human glycome by gene engineered cells. Mol. Cell 75, 394–407 (2019).

Tytgat, H. L. P. et al. Cytoplasmic glycoengineering enables biosynthesis of nanoscale glycoprotein assemblies. Nat. Commun. 10, 5403 (2019).

Shaner, N. C. et al. A bright monomeric green fluorescent protein derived from Branchiostoma lanceolatum. Nat. Methods 10, 407–409 (2013).

Shaner, N. C. et al. Improved monomeric red, orange and yellow fluorescent proteins derived from Discosoma sp. red fluorescent protein. Nat. Biotechnol. 22, 1567 (2004).

Crimmins, D. L., Mische, S. M. & Denslow, N. D. Chemical cleavage of proteins in solution. Curr. Protoc. Protein Sci. 41, 11.4.1–11.4.11 (2005).

Guo, Y. et al. Structural basis for distinct ligand-binding and targeting properties of the receptors DC-SIGN and DC-SIGNR. Nat. Struct. Mol. Biol. 11, 591–598 (2004).

Bundle, D. R. et al. Oligosaccharides and peptide displayed on an amphiphilic polymer enable solid phase assay of hapten specific antibodies. Bioconjug. Chem. 25, 685–697 (2014).

Matochko, W. L., Cory, Li,S., Tang, S. K. Y. & Derda, R. Prospective identification of parasitic sequences in phage display screens. Nucleic Acids Res. 42, 1784–1798 (2014).

Robinson, M. D. & Smyth, G. K. Small-sample estimation of negative binomial dispersion, with applications to SAGE data. Biostatistics 9, 321–332 (2008).

Benjamini, Y. & Hochberg, Y. Controlling the false discovery rate—a practical and powerful approach to multiple testing. J. R. Stat. Soc. B 57, 289–300 (1995).

Robinson, M. D. & Oshlack, A. A scaling normalization method for differential expression analysis of RNA-seq data. Genome Biol. 11, R25 (2010).

Cheng, K., Zhou, Y. & Neelamegham, S. DrawGlycan-SNFG: a robust tool to render glycans and glycopeptides with fragmentation information. Glycobiology 27, 200–205 (2017).
Acknowledgements
We thank the staff at the University of Alberta mass spectrometry facility (Chemistry Department) for help with MALDI analysis and S. Dang at the molecular biology service unit for assistance with Illumina sequencing. Cell sorting was performed at the University of Alberta, Faculty of Medicine and Dentistry Flow Cytometry Facility with financial support from the Faculty of Medicine and Dentistry and Canada Foundation for Innovation awards to contributing investigators. We thank K. Drickamer (Imperial College, London), B. Turnbull (University of Leeds), D. Bundle, C. Cairo and L. West (University of Alberta) for provision of critical reagents. We acknowledge funding from the NSERC (RGPIN-2018-04365 to T.L.L., RGPIN-2018-03815 to M.S.M. and RGPIN-2016-402511 to R.D.) and the NSERC Accelerator Supplement (to R.D.), GlycoNet (SD-1 to T.L.L., TP-22 to R.D.), the Alberta Innovates Strategic Research Project to R.D. and NIH projects (AI118842 to M.S.M. and GM062116 and AI050143 to J.C.P.). Infrastructure support was provided by the Canada Foundation for Innovation New Leader Opportunity (to R.D. and M.S.M.). J.M. acknowledges a summer research fellowship from GlycoNet and Alberta Innovates Health Solutions. Many compounds were prepared by the CFG, supported by NIH GM061126.
Ethics declarations
Competing interests
R.D. and N.J.B. are shareholders of the start-up company 48Hour Discovery Inc. that licensed the patent application (WO2018141058A1) describing LiGA technology. R.D., N.J.B. and S. Sarkar are co-inventors on the aforementioned application.
Additional information
Peer review information Nature Chemical Biology thanks Matthew DeLisa, Ten Feizi, and the other, anonymous, reviewer(s) for their contribution to the peer review of this work.
Publisher's note Springer Nature remains neutral with regard to jurisdictional claims in published maps and institutional affiliations.
Supplementary information
Supplementary Tables 1–4, Supplementary Notes 1 and 2, Supplementary Schemes 1–6 and Supplementary Figs. 1–15
About this article
Cite this article
Sojitra, M., Sarkar, S., Maghera, J. et al. Genetically encoded multivalent liquid glycan array displayed on M13 bacteriophage. Nat Chem Biol 17, 806–816 (2021). https://doi.org/10.1038/s41589-021-00788-5
Received:

Accepted:

Published:

Issue Date:

DOI: https://doi.org/10.1038/s41589-021-00788-5
This article is cited by
Jeffrey Y. K. Wong
Arunika I. Ekanayake
Ratmir Derda

Nature Communications (2023)

Edward N. Schmidt
Dimitra Lamprinaki
Matthew S. Macauley

Nature Communications (2023)

Theam Soon Lim
Karli Montague-Cardoso

Communications Biology (2021)