Genome mining of Streptococcus mutans clinical samples led to the identification of a structurally unique polyketide/non-ribosomal peptide, mutanofactin-697, that promotes biofilm formation. This study highlights the unexplored functional potential of secondary metabolites and opens new avenues for inhibiting pathogenic processes.
Access options
Subscribe to Journal
Get full journal access for 1 year
$59.00
only $4.92 per issue
All prices are NET prices.
VAT will be added later in the checkout.
Tax calculation will be finalised during checkout.
Rent or Buy article
Get time limited or full article access on ReadCube.
from$8.99
All prices are NET prices.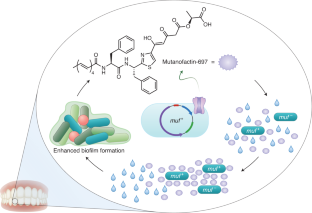 References
1.

Hibbing, M. E., Fuqua, C., Parsek, M. R. & Peterson, S. B. Nat. Rev. Microbiol. 8, 15–25 (2010).

2.

Fischbach, M. A. & Walsh, C. T. Chem. Rev. 106, 3468–3496 (2006).

3.

Lemos, J.A. et al. Microbiol. Spectr. https://doi.org/10.1128/microbiolspec.GPP3-0051-2018 (2019).

4.

Scharnow, A. M., Solinski, A. E. & Wuest, W. M. MedChemComm 10, 1057–1067 (2019).

5.

Li, Z.-R. et al. Nat. Chem. Biol. https://doi.org/10.1038/s41589-021-00745-2 (2021).

6.

World Health Organization. Antimicrobial resistance: global report on surveillance 2014. 1–257 (WHO, Geneva, Switzerland, 2014).

7.

Lemos, J. A., Quivey, R. G., Koo, H. & Abranches, J. J. Microbiol. 159, 436–445 (2013).
Ethics declarations
Competing interests
The authors declare no competing interests.
About this article
Cite this article
Scharnow, A.M., Wuest, W.M. Mining for mouth metabolites. Nat Chem Biol 17, 505–506 (2021). https://doi.org/10.1038/s41589-021-00784-9