An approach based on enrichment of 5′ hydroxylated RNAs reveals a new self-cleaving ribozyme that maps to a very long non-protein-coding RNA in simians. The ribozyme is active only among hominin sequences, suggesting a recent acquisition of the activity.
Access options
Subscribe to Journal
Get full journal access for 1 year
$59.00
only $4.92 per issue
All prices are NET prices.
VAT will be added later in the checkout.
Tax calculation will be finalised during checkout.
Rent or Buy article
Get time limited or full article access on ReadCube.
from$8.99
All prices are NET prices.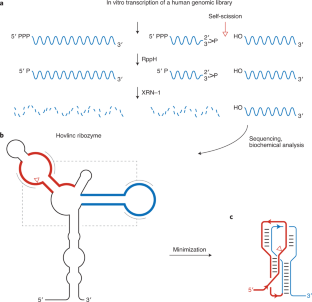 References
1.

Weinberg, C. E., Weinberg, Z. & Hammann, C. Nucleic Acids Res. 47, 9480–9494 (2019).

2.

Chen, Y. et. al. Nat. Chem. Biol. https://doi.org/10.1038/s41589-021-00763-0 (2021).

3.

Salehi-Ashtiani, K., Lupták, A., Litovchick, A. & Szostak, J. W. Science 313, 1788–1792 (2006).

4.

Jimenez, R. M., Polanco, J. A. & Lupták, A. Trends Biochem. Sci. 40, 648–661 (2015).

5.

de la Peña, M. & García-Robles, I. EMBO Rep. 11, 711–716 (2010).

6.

Perreault, J. et al. PLOS Comput. Biol. 7, e1002031 (2011).

7.

Martick, M., Horan, L. H., Noller, H. F. & Scott, W. G. Nature 454, 899–902 (2008).

8.

Hernandez, A. J. et al. Proc. Natl. Acad. Sci. USA 117, 415–425 (2020).

9.

Chen, C. C. et al. Preprint at bioRxiv https://doi.org/10.1101/2021.01.23.426448 (2021).

10.

Ransohoff, J. D., Wei, Y. & Khavari, P. A. Nat. Rev. Mol. Cell Biol. 19, 143–157 (2018).
Ethics declarations
Competing interests
The authors declare no competing interests.
About this article
Cite this article
Chen, C.C., Lupták, A. Hunting for human ribozymes. Nat Chem Biol (2021). https://doi.org/10.1038/s41589-021-00778-7