Using an interdisciplinary approach, hydrogen-peroxide-induced phase separation in the intrinsically disordered regions of the TERMINATING FLOWER transcription factor proteins was shown to regulate the shoot apical meristem through repression of the floral identity gene called ANANTHA.
Access options
Subscribe to Journal
Get full journal access for 1 year
$59.00
only $4.92 per issue
All prices are NET prices.
VAT will be added later in the checkout.
Tax calculation will be finalised during checkout.
Rent or Buy article
Get time limited or full article access on ReadCube.
from$8.99
All prices are NET prices.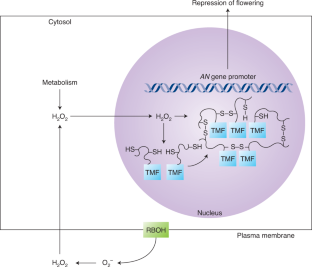 References
1.

Noctor, G. & Foyer, C. H. Plant Physiol. 171, 1581–1592 (2016).

2.

Foyer, C. H. & Noctor, G. Plant Cell Environ. 39, 951–964 (2016).

3.

Foyer, C. H., Wilson, M. H. & Wright, M. H. Free Radic. Biol. Med. 122, 137–149 (2018).

4.

Schippers, J. H. M., Foyer, C. H. & van Dongen, J. T. Curr. Opin. Plant Biol. 29, 121–128 (2016).

5.

Huang, X. et al. Nat. Chem. Biol. https://doi.org/10.1038/s41589-021-00739-0 (2021).

6.

Périlleux, C., Lobet, G. & Tocquin, P. Front. Plant Sci. 5, 121 (2014).

7.

MacAlister, C. A. et al. Nat. Genet. 44, 1393–1398 (2012).

8.

Xu, C., Park, S. J., Van Eck, J. & Lippman, Z. B. Genes Dev. 30, 2048–2061 (2016).
Ethics declarations
Competing interests
The author declares no competing interests.
About this article
Cite this article
Foyer, C.H. Redox control of flowering. Nat Chem Biol (2021). https://doi.org/10.1038/s41589-021-00758-x