Abstract
The transcriptional coactivator Yes-associated protein 1 (YAP) orchestrates a proproliferative transcriptional program that controls the fate of somatic stem cells and the regenerative responses of certain tissues. As such, agents that activate YAP may hold therapeutic potential in disease states exacerbated by insufficient proliferative repair. Here we report the discovery of a small molecule, termed PY-60, which robustly activates YAP transcriptional activity in vitro and promotes YAP-dependent expansion of epidermal keratinocytes in mouse following topical drug administration. Chemical proteomics revealed the relevant target of PY-60 to be annexin A2 (ANXA2), a protein that directly associates with YAP at the cell membrane in response to increased cell density. PY-60 treatment liberates ANXA2 from the membrane, ultimately promoting a phosphatase-bound, nonphosphorylated and transcriptionally active form of YAP. This work reveals ANXA2 as a previously undescribed, druggable component of the Hippo pathway and suggests a mechanistic rationale to promote regenerative repair in disease.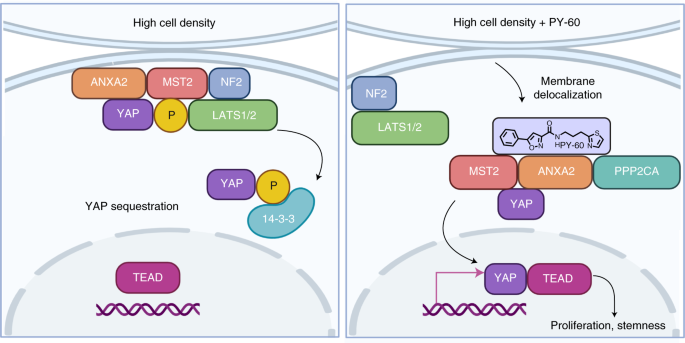 Relevant articles
Open Access articles citing this article.
Minyang Fu

,

Yuan Hu

…

Min Luo

Signal Transduction and Targeted Therapy Open Access 08 November 2022
Access options
Subscribe to Nature+
Get immediate online access to Nature and 55 other Nature journal
Subscribe to Journal
Get full journal access for 1 year
$119.00
only $9.92 per issue
All prices are NET prices.
VAT will be added later in the checkout.
Tax calculation will be finalised during checkout.
Buy article
Get time limited or full article access on ReadCube.
$32.00
All prices are NET prices.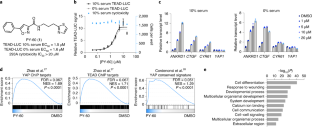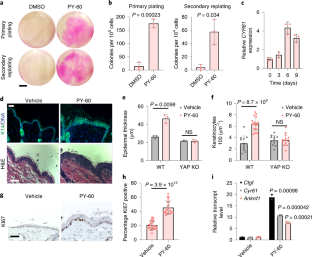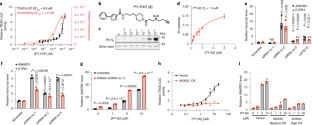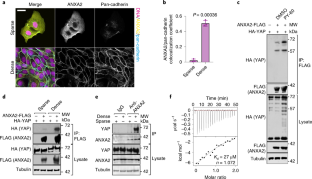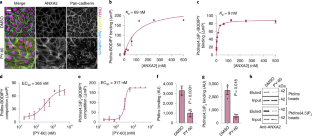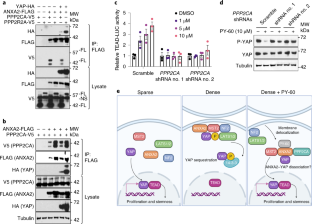 Data availability
The data that support the findings of this study are available from the corresponding author upon reasonable request. RNA-seq data that support the findings of this study have been deposited in GEO with the accession code GSE164801. Source data are provided with this paper.
References
Justice, R. W., Zilian, O., Woods, D. F., Noll, M. & Bryant, P. J. The Drosophila tumor suppressor gene warts encodes a homolog of human myotonic dystrophy kinase and is required for the control of cell shape and proliferation. Genes Dev. 9, 534–546 (1995).

Xu, T., Wang, W., Zhang, S., Stewart, R. A. & Yu, W. Identifying tumor suppressors in genetic mosaics: the Drosophila lats gene encodes a putative protein kinase. Development 121, 1053–1063 (1995).

Yu, F. X., Zhao, B. & Guan, K. L. Hippo pathway in organ size control, tissue homeostasis, and cancer. Cell 163, 811–828 (2015).

Gumbiner, B. M. & Kim, N. G. The Hippo–YAP signaling pathway and contact inhibition of growth. J. Cell Sci. 127, 709–717 (2014).

Yu, F. X. & Guan, K. L. The Hippo pathway: regulators and regulations. Genes Dev. 27, 355–371 (2013).

Meng, Z., Moroishi, T. & Guan, K. L. Mechanisms of Hippo pathway regulation. Genes Dev. 30, 1–17 (2016).

Meng, Z. et al. MAP4K family kinases act in parallel to MST1/2 to activate LATS1/2 in the Hippo pathway. Nat. Commun. 6, 8357 (2015).

Johnson, R. & Halder, G. The two faces of Hippo: targeting the Hippo pathway for regenerative medicine and cancer treatment. Nat. Rev. Drug Discov. 13, 63–79 (2014).

Lian, I. et al. The role of YAP transcription coactivator in regulating stem cell self-renewal and differentiation. Genes Dev. 24, 1106–1118 (2010).

Lavado, A. et al. The hippo pathway prevents YAP/TAZ-driven hypertranscription and controls neural progenitor number. Dev. Cell 47, 576–591 (2018).

Yui, S. et al. YAP/TAZ-dependent reprogramming of colonic epithelium links ECM remodeling to tissue regeneration. Cell Stem Cell 22, 35–49 (2018).

Gregorieff, A., Liu, Y., Inanlou, M. R., Khomchuk, Y. & Wrana, J. L. Yap-dependent reprogramming of Lgr5(+) stem cells drives intestinal regeneration and cancer. Nature 526, 715–718 (2015).

Schlegelmilch, K. et al. Yap1 acts downstream of alpha-catenin to control epidermal proliferation. Cell 144, 782–795 (2011).

Hong, A. W., Meng, Z. & Guan, K. L. The Hippo pathway in intestinal regeneration and disease. Nat. Rev. Gastroenterol. Hepatol. 13, 324–337 (2016).

Panciera, T. et al. Induction of expandable tissue-specific stem/progenitor cells through transient expression of YAP/TAZ. Cell Stem Cell 19, 725–737 (2016).

Leach, J. P. et al. Hippo pathway deficiency reverses systolic heart failure after infarction. Nature 550, 260–264 (2017).

Fan, F. et al. Pharmacological targeting of kinases MST1 and MST2 augments tissue repair and regeneration. Sci. Transl. Med. 8, 352ra108 (2016).

Galan, J. A. & Avruch, J. MST1/MST2 protein kinases: regulation and physiologic roles. Biochemistry 55, 5507–5519 (2016).

Roh, K. H. & Choi, E. J. TRAF2 functions as an activator switch in the reactive oxygen species-induced stimulation of MST1. Free Radic. Biol. Med. 91, 105–113 (2016).

Chae, J. S., Gil Hwang, S., Lim, D. S. & Choi, E. J. Thioredoxin-1 functions as a molecular switch regulating the oxidative stress-induced activation of MST1. Free Radic. Biol. Med. 53, 2335–2343 (2012).

Hergovich, A. & Hemmings, B. A. Hippo signalling in the G2/M cell cycle phase: lessons learned from the yeast MEN and SIN pathways. Semin. Cell Dev. Biol. 23, 794–802 (2012).

Praskova, M., Xia, F. & Avruch, J. MOBKL1A/MOBKL1B phosphorylation by MST1 and MST2 inhibits cell proliferation. Curr. Biol. 18, 311–321 (2008).

Lehtinen, M. K. et al. A conserved MST-FOXO signaling pathway mediates oxidative-stress responses and extends life span. Cell 125, 987–1001 (2006).

DeRan, M. et al. Energy stress regulates Hippo–YAP signaling involving AMPK-mediated regulation of angiomotin-like 1 protein. Cell Rep. 9, 495–503 (2014).

Miller, E. et al. Identification of serum-derived sphingosine-1-phosphate as a small molecule regulator of YAP. Chem. Biol. 19, 955–962 (2012).

Zhang, N. et al. The Merlin/NF2 tumor suppressor functions through the YAP oncoprotein to regulate tissue homeostasis in mammals. Dev. Cell 19, 27–38 (2010).

Zhao, B. et al. TEAD mediates YAP-dependent gene induction and growth control. Genes Dev. 22, 1962–1971 (2008).

Cordenonsi, M. et al. The Hippo transducer TAZ confers cancer stem cell-related traits on breast cancer cells. Cell 147, 759–772 (2011).

Subramanian, A. et al. Gene set enrichment analysis: a knowledge-based approach for interpreting genome-wide expression profiles. Proc. Natl Acad. Sci. USA 102, 15545–15550 (2005).

Overholtzer, M. et al. Transforming properties of YAP, a candidate oncogene on the chromosome 11q22 amplicon. Proc. Natl Acad. Sci. USA 103, 12405–12410 (2006).

Zhao, B. et al. Angiomotin is a novel Hippo pathway component that inhibits YAP oncoprotein. Genes Dev. 25, 51–63 (2011).

Totaro, A. et al. YAP/TAZ link cell mechanics to notch signalling to control epidermal stem cell fate. Nat. Commun. 8, 15206 (2017).

Pepe-Mooney, B. J. et al. Single-cell analysis of the liver epithelium reveals dynamic heterogeneity and an essential role for YAP in homeostasis and regeneration. Cell Stem Cell 25, 23–38 (2019).

Rescher, U. & Gerke, V. Annexins—unique membrane binding proteins with diverse functions. J. Cell Sci. 117, 2631–2639 (2004).

Lee, D. B., Jamgotchian, N., Allen, S. G., Kan, F. W. & Hale, I. L. Annexin A2 heterotetramer: role in tight junction assembly. Am. J. Physiol. Renal Physiol. 287, F481–F491 (2004).

Heyraud, S. et al. Contribution of annexin 2 to the architecture of mature endothelial adherens junctions. Mol. Cell. Biol. 28, 1657–1668 (2008).

Hauri, S. et al. Interaction proteome of human Hippo signaling: modular control of the co-activator YAP1. Mol. Syst. Biol. 9, 713 (2013).

Benaud, C. et al. AHNAK interaction with the annexin 2/S100A10 complex regulates cell membrane cytoarchitecture. J. Cell Biol. 164, 133–144 (2004).

Rowan, M. P. et al. Burn wound healing and treatment: review and advancements. Crit. Care 19, 243 (2015).

Han, G. & Ceilley, R. Chronic wound healing: a review of current management and treatments. Adv. Ther. 34, 599–610 (2017).

Yin, F. et al. Spatial organization of Hippo signaling at the plasma membrane mediated by the tumor suppressor Merlin/NF2. Cell 154, 1342–1355 (2013).

Ling, Q. et al. Annexin II regulates fibrin homeostasis and neoangiogenesis in vivo. J. Clin. Invest. 113, 38–48 (2004).
Acknowledgements
This work was supported by the Skaggs Institute for Chemical Biology and Calibr. We thank A. Davila and members of the compound management group at Calibr for excellent technical assistance.
Ethics declarations
Competing interests
The authors declare no competing interests.
Additional information
Publisher's note Springer Nature remains neutral with regard to jurisdictional claims in published maps and institutional affiliations.
Supplementary information
Supplementary Note 1 and Tables 1–4.
About this article
Cite this article
Shalhout, S.Z., Yang, PY., Grzelak, E.M. et al. YAP-dependent proliferation by a small molecule targeting annexin A2. Nat Chem Biol 17, 767–775 (2021). https://doi.org/10.1038/s41589-021-00755-0
Received:

Accepted:

Published:

Issue Date:

DOI: https://doi.org/10.1038/s41589-021-00755-0