Acyl protein thioesterases are critical regulators of S-acylation, removing acyl chains from dynamically S-acylated proteins. A cytosolic deacylase, APT2, is S-acylated by zDHHC3 and zDHHC7 and is predicted to deform the lipid bilayer to extract acyl chains, capturing them within a hydrophobic pocket.
Access options
Subscribe to Journal
Get full journal access for 1 year
$59.00
only $4.92 per issue
All prices are NET prices.
VAT will be added later in the checkout.
Tax calculation will be finalised during checkout.
Rent or Buy article
Get time limited or full article access on ReadCube.
from$8.99
All prices are NET prices.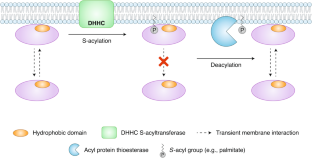 References
1.

Zaballa, M. E. & van der Goot, F. G. Crit. Rev. Biochem. Mol. Biol. 53, 420–451 (2018).

2.

Won, S. J., Cheung See Kit, M. & Martin, B. R. Crit. Rev. Biochem. Mol. Biol. 53, 83–98 (2018).

3.

Greaves, J. & Chamberlain, L. H. J. Cell Biol. 176, 249–254 (2007).

4.

Abrami, L. et al. Nat. Chem. Biol. https://doi.org/10.1028/10.1038/s41589-021-00753-2 (2021)

5.

Tomatis, V. M., Trenchi, A., Gomez, G. A. & Daniotti, J. L. PLoS One 5, e15045 (2010).

6.

Abrami, L. et al. eLife 6, e27826 (2017).

7.

Hernandez, J. L. et al. Cell Chem. Biol. 24, 87–97 (2017).

8.

Kong, E. et al. J. Biol. Chem. 288, 9112–9125 (2013).

9.

Shahinian, S. & Silvius, J. R. Biochemistry 34, 3813–3822 (1995).

10.

Won, S. J. et al. ACS Chem. Biol. 11, 3374–3382 (2016).
Ethics declarations
Competing interests
The author declares no competing interests.
About this article
Cite this article
Greaves, J. Deform the membrane, cAPTure the lipid. Nat Chem Biol 17, 371–372 (2021). https://doi.org/10.1038/s41589-021-00754-1