Abstract
The immunomodulatory drug (IMiD) thalidomide and its derivatives lenalidomide and pomalidomide are therapeutic agents used in the treatment of multiple myeloma. Although pomalidomide offers considerable clinical benefits to patients with lenalidomide-resistant multiple myeloma, the molecular mechanisms underlying its superior efficacy remain unclear. Here we show that ARID2, a component of the polybromo-associated BAF (PBAF) chromatin-remodeling complex, is a pomalidomide-induced neosubstrate of CRL4CRBN. BRD7, another subunit of PBAF, is critical for pomalidomide-induced ARID2 degradation. ARID2 is involved in transcriptional regulation of pomalidomide target genes including MYC. Pomalidomide is more effective than lenalidomide in degrading ARID2 and is capable of inhibiting MYC expression and proliferation in lenalidomide-resistant cell lines. Notably, ARID2 expression is associated with a poor prognosis and is higher in chemoresistant minimal residual disease (MRD) populations, and in patients with relapsed/refractory multiple myeloma. These findings suggest that ARID2 is a promising target for overcoming lenalidomide resistance in patients with multiple myeloma.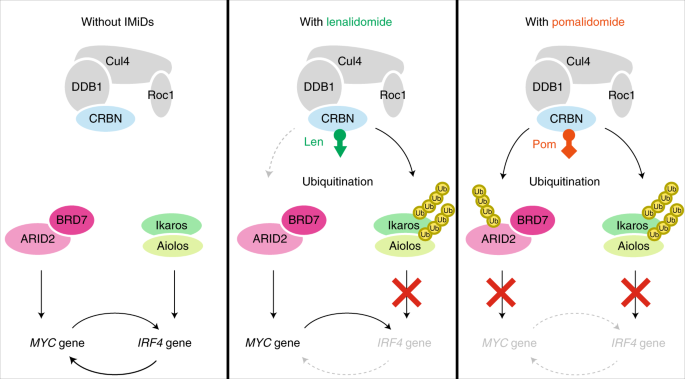 Access options
Subscribe to Journal
Get full journal access for 1 year
$169.00
only $14.08 per issue
All prices are NET prices.
VAT will be added later in the checkout.
Rent or Buy article
Get time limited or full article access on ReadCube.
from$8.99
All prices are NET prices.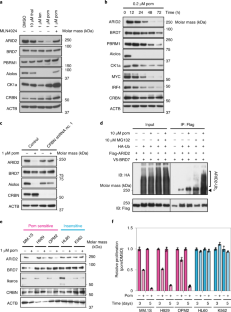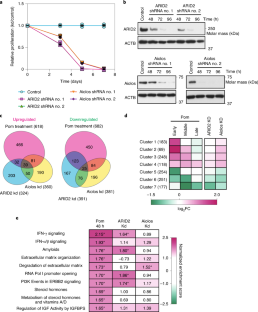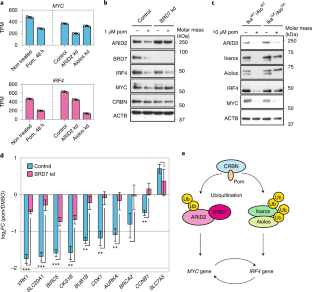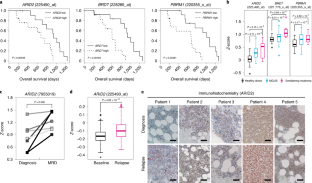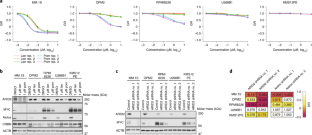 Data availability
RNA-seq data are available at Gene Expression Omnibus (GEO) (accession no. GSE126463). Source data are provided with this paper.
References
1.

Ito, T. et al. Identification of a primary target of thalidomide teratogenicity. Science 327, 1345–1350 (2010).

2.

Zhu, Y. X. et al. Cereblon expression is required for the antimyeloma activity of lenalidomide and pomalidomide. Blood 118, 4771–4780 (2011).

3.

Lopez-Girona, A. et al. Cereblon is a direct protein target for immunomodulatory and antiproliferative activities of lenalidomide and pomalidomide. Leukemia 26, 2326–2335 (2012).

4.

Chamberlain, P. et al. Structure of the human cereblon–DDB1–lenalidomide complex reveals basis for responsiveness to thalidomide analogs. Nat. Struct. Mol. Biol. 21, 803–809 (2014).

5.

Fischer, E. et al. Structure of the DDB1–CRBN E3 ubiquitin ligase in complex with thalidomide. Nature 512, 49–53 (2014).

6.

Krönke, J. et al. Lenalidomide causes selective degradation of IKZF1 and IKZF3 in multiple myeloma cells. Science 343, 301–305 (2014).

7.

Lu, G. et al. The myeloma drug lenalidomide promotes the cereblon-dependent destruction of Ikaros proteins. Science 343, 305–309 (2014).

8.

Krönke, J. et al. Lenalidomide induces ubiquitination and degradation of CK1α in del(5q) MDS. Nature 523, 183–188 (2015).

9.

Matyskiela, M. E. et al. A novel cereblon modulator recruits GSPT1 to the CRL4CRBN ubiquitin ligase. Nature 535, 252–257 (2016).

10.

An, J. et al. pSILAC mass spectrometry reveals ZFP91 as IMiD-dependent substrate of the CRL4CRBN ubiquitin ligase. Nat. Commun. 8, 15398 (2017).

11.

Shaffer, A. L. et al. IRF4 addiction in multiple myeloma. Nature 454, 226–231 (2008).

12.

Gandhi, A. K. et al. Immunomodulatory agents lenalidomide and pomalidomide co-stimulate T cells by inducing degradation of T cell repressors Ikaros and Aiolos via modulation of the E3 ubiquitin ligase complex CRL4CRBN. Br. J. Haematol. 164, 811–821 (2014).

13.

Petzold, G., Fischer, E. & Thomä, N. Structural basis of lenalidomide-induced CK1α degradation by the CRL4CRBN ubiquitin ligase. Nature 532, 127–130 (2016).

14.

Kishi, T., Ikeda, A., Nagao, R. & Koyama, N. The SCFCdc4 ubiquitin ligase regulates calcineurin signaling through degradation of phosphorylated Rcn1, an inhibitor of calcineurin. Proc. Natl Acad. Sci. USA 104, 17418–17423 (2007).

15.

Hainer, S. J. & Kaplan, C. D. Specialized RSC: substrate specificities for a conserved chromatin remodeler. Bioessays 42, e2000002 (2020).

16.

Yan, Z. et al. PBAF chromatin-remodeling complex requires a novel specificity subunit, BAF200, to regulate expression of selective interferon-responsive genes. Genes Dev. 19, 1662–1667 (2005).

17.

Chan, K., Koh, C. & Li, H. Mitosis-targeted anti-cancer therapies: where they stand. Cell Death Dis. 3, e411 (2012).

18.

Donovan, K. et al. Thalidomide promotes degradation of SALL4, a transcription factor implicated in Duane-radial ray syndrome. eLife 7, e38430 (2018).

19.

Sievers, Q. et al. Defining the human C2H2 zinc finger degrome targeted by thalidomide analogs through CRBN. Science 362, eaat0572 (2018).

20.

Drost, J. et al. BRD7 is a candidate tumour suppressor gene required for p53 function. Nat. Cell Biol. 12, 380–389 (2010).

21.

Stuhmer, T. et al. Nongenotoxic activation of the p53 pathway as a therapeutic strategy for multiple myeloma. Blood 106, 3609–3617 (2005).

22.

Pan, D. et al. A major chromatin regulator determines resistance of tumor cells to T cell-mediated killing. Science 359, 770–775 (2018).

23.

Dib, A., Gabrea, A., Glebov, O., Bergsagel, P. & Kuehl, W. Characterization of MYC translocations in multiple myeloma cell lines. J. Natl Cancer Inst. Monogr. 2008, 25–31 (2008).

24.

Dhodapkar, M. MGUS to myeloma: a mysterious gammopathy of underexplored significance. Blood 128, 2599–2606 (2016).

25.

Varghese, F., Bukhari, A., Malhotra, R. & De, A. IHC Profiler: an open source plugin for the quantitative evaluation and automated scoring of immunohistochemistry images of human tissue samples. PLoS ONE 9, e96801 (2014).

26.

Li, S. et al. IMiD immunomodulatory compounds block C/EBP translation through eIF4E down-regulation resulting in inhibition of MM. Blood 117, 5157–5165 (2011).

27.

Richardson, P. G. et al. Pomalidomide alone or in combination with low-dose dexamethasone in relapsed and refractory multiple myeloma: a randomized phase 2 study. Blood 123, 3208–3209 (2014).

28.

Hafner, M., Niepel, M., Chung, M. & Sorger, P. Growth rate inhibition metrics correct for confounders in measuring sensitivity to cancer drugs. Nat. Methods 13, 521–527 (2016).

29.

Fischer, E. et al. The molecular basis of CRL4DDB2/CSA ubiquitin ligase architecture, targeting, and activation. Cell 147, 1024–1039 (2011).

30.

Havens, C. & Walter, J. Mechanism of CRL4Cdt2, a PCNA-dependent E3 ubiquitin ligase. Genes Dev. 25, 1568–1582 (2011).

31.

Zhu, Y. et al. Identification of cereblon-binding proteins and relationship with response and survival after IMiDs in multiple myeloma. Blood 124, 536–545 (2014).

32.

Bjorklund, C. et al. Rate of CRL4CRBN substrate Ikaros and Aiolos degradation underlies differential activity of lenalidomide and pomalidomide in multiple myeloma cells by regulation of c-Myc and IRF4. Blood Cancer J. 5, e354 (2015).

33.

Fang, J. et al. A calcium- and calpain-dependent pathway determines the response to lenalidomide in myelodysplastic syndromes. Nat. Med. 22, 727–734 (2016).

34.

Zhang, L. et al. Lenalidomide efficacy in activated B-cell-like subtype diffuse large B-cell lymphoma is dependent upon IRF4 and cereblon expression. Br. J. Haematol. 160, 487–502 (2012).

35.

Hagner, P. et al. CC-122, a pleiotropic pathway modifier, mimics an interferon response and has antitumor activity in DLBCL. Blood 126, 779–789 (2015).

36.

Jones, R. et al. Lenalidomide, thalidomide, and pomalidomide reactivate the Epstein–Barr virus lytic cycle through phosphoinositide 3-kinase signaling and ikaros expression. Clin. Cancer Res. 22, 4901–4912 (2016).

37.

Oike, T., Ogiwara, H., Nakano, T., Yokota, J. & Kohno, T. Inactivating mutations in SWI/SNF chromatin remodeling genes in human cancer. Jpn. J. Clin. Oncol. 43, 849–855 (2013).

38.

Varela, I. et al. Exome sequencing identifies frequent mutation of the SWI/SNF complex gene PBRM1 in renal carcinoma. Nature 469, 539–542 (2011).

39.

Lawrence, M. et al. Discovery and saturation analysis of cancer genes across 21 tumour types. Nature 505, 495–501 (2014).

40.

Alshaker, H. & Matalka, K. IFN-γ, IL-17 and TGF-β involvement in shaping the tumor microenvironment: the significance of modulating such cytokines in treating malignant solid tumors. Cancer Cell Int. 11, 33 (2011).

41.

Karachaliou, N. et al. Interferon gamma, an important marker of response to immune checkpoint blockade in non-small cell lung cancer and melanoma patients. Ther. Adv. Med. Oncol. 10, 175883401774974 (2018).

42.

Ren, Y. et al. A dual color immunohistochemistry assay for measurement of cereblon in multiple myeloma patient samples. Appl. Immunohistochem. Mol. Morphol. 24, 695–702 (2016).
Acknowledgements
We thank J. Kato for technical assistance. We thank K. Kataoka for useful discussion. This work was supported by JSPS KAKENHI (grant nos. 17H06112 to H.H. and Y.Y., 17H04213 and 18H05502 to T.I. and 15K18418 and 17K14996 to J.Y.). This work was also supported by the MEXT-Supported Program for the Strategic Research Foundation at Private Universities (no. S1411011 to H.H.) and by PRESTO (no. JST JPMJPR1531 to T.I.).
Ethics declarations
Competing interests
The authors declare the following competing interests: H.H. received research support from Celgene/Bristol Myers Squibb.
Additional information
Publisher's note Springer Nature remains neutral with regard to jurisdictional claims in published maps and institutional affiliations.
Supplementary information
Supplementary Fig. 1 and Tables 1–8.
About this article
Cite this article
Yamamoto, J., Suwa, T., Murase, Y. et al. ARID2 is a pomalidomide-dependent CRL4CRBN substrate in multiple myeloma cells. Nat Chem Biol 16, 1208–1217 (2020). https://doi.org/10.1038/s41589-020-0645-3
Received:

Accepted:

Published:

Issue Date: