Abstract
The natural antivitamin 2′-methoxy-thiamine (MTh) is implicated in the suppression of microbial growth. However, its mode of action and enzyme-selective inhibition mechanism have remained elusive. Intriguingly, MTh inhibits some thiamine diphosphate (ThDP) enzymes, while being coenzymatically active in others. Here we report the strong inhibition of Escherichia coli transketolase activity by MTh and unravel its mode of action and the structural basis thereof. The unique 2′-methoxy group of MTh diphosphate (MThDP) clashes with a canonical glutamate required for cofactor activation in ThDP-dependent enzymes. This glutamate is forced into a stable, anticatalytic low-barrier hydrogen bond with a neighboring glutamate, disrupting cofactor activation. Molecular dynamics simulations of transketolases and other ThDP enzymes identify active-site flexibility and the topology of the cofactor-binding locale as key determinants for enzyme-selective inhibition. Human enzymes either retain enzymatic activity with MThDP or preferentially bind authentic ThDP over MThDP, while core bacterial metabolic enzymes are inhibited, demonstrating therapeutic potential.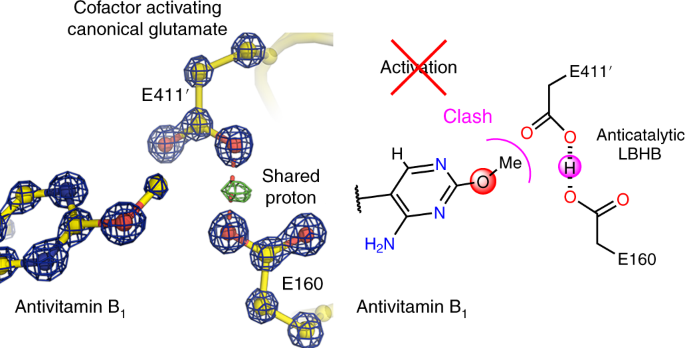 Access options
Access Nature and 54 other Nature Portfolio journals
Get Nature+, our best-value online-access subscription
$29.99 / 30 days
cancel any time
Subscribe to this journal
Receive 12 print issues and online access
$259.00 per year
only $21.58 per issue
Rent or buy this article
Prices vary by article type
from$1.95
to$39.95
Prices may be subject to local taxes which are calculated during checkout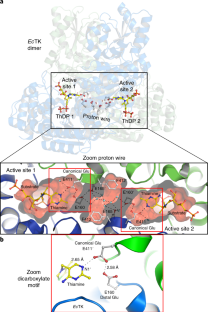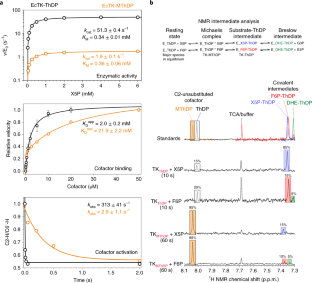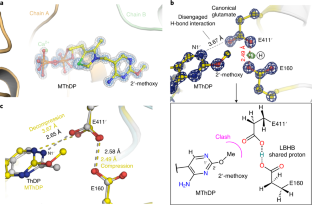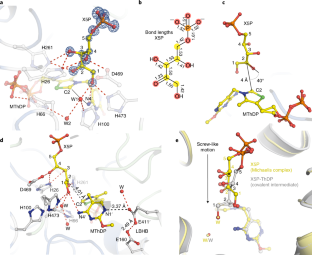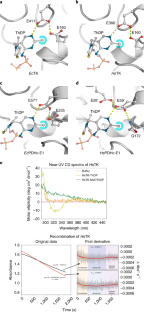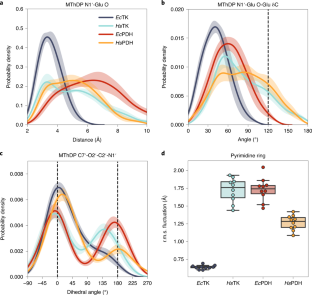 Data availability
The refined structural protein models and corresponding structure-factor amplitudes are deposited in the PDB under accession codes 6TJ8 (EcTK in complex with cofactor analog MThDP) and 6TJ9 (EcTK in complex with cofactor analog MThDP and substrate X5P). The structures cited in this publication (1QGD, 2R8O, 3MOS, 2IEA and 3EXE) are available under their respective PDB accession codes. Input files for the MD simulations are available as part of the Supplementary Information. All other data are available on request.
References
Alanis, A. J. Resistance to antibiotics: are we in the post-antibiotic era? Arch. Med. Res. 36, 697–705 (2005).

Kohansky, M. A., Dwyer, D. J. & Collins, J. J. How antibiotics kill bacteria: from targets to networks. Nat. Rev. Microbiol. 8, 423–435 (2010).

Otani, S., Takatsu, M., Nakano, M., Kasai, S. & Miura, R. Letter: roseoflavin, a new antimicrobial pigment from Streptomyces. J. Antibiot. 27, 86–87 (1974).

Wada, K. & Haga, M. Ginkgo Biloba—A Global Treasure (eds. Hori, T. et al.) 309–321 (Springer Japan, 1997).

Drautz, H., Messerer, W., Zähner, H., Breiding-Mack, S. & Zeeck, A. Metabolic products of microorganisms. 239. Bacimethrin isolated from Streptomyces albus identification, derivatives, synthesis and biological properties. J. Antibiot. 40, 1431–1439 (1987).

Reddick, J. J. et al. The mechanism of action of bacimethrin, a naturally occurring thiamin antimetabolite. Bioorg. Med. Chem. Lett. 11, 2245–2248 (2001).

Pedrolli, D. B. et al. The antibiotics roseoflavin and 8-demethyl-8-amino-riboflavin from Streptomyces davawensis are metabolized by human flavokinase and human FAD synthetase. Biochem. Pharmacol. 82, 1853–1859 (2011).

Leistner, E. & Drewke, C. Ginkgo biloba and ginkgotoxin. J. Nat. Prod. 73, 86–92 (2010).

Lee, E. R., Blount, K. F. & Breaker, R. R. Roseoflavin is a natural antibacterial compound that binds to FMN riboswitches and regulates gene expression. RNA Biol. 6, 187–194 (2009).

Langer, S., Hashimoto, M., Hobl, B., Mathes, T. & Mack, M. Flavoproteins are potential targets for the antibiotic roseoflavin in Escherichia coli. J. Bacteriol. 195, 4037–4045 (2013).

Nemeria, N. S. et al. Competence of thiamin diphosphate-dependent enzymes with 2′-methoxythiamin diphosphate derived from bacimethrin, a naturally occurring thiamin antivitamin. Biochemistry 55, 1135–1148 (2016).

Schneider, G. & Lindqvist, Y. Crystallography and mutagenesis of transketolase: mechanistic implications for enzymatic thiamin catalysis. Biochim. Biophys. Acta 1385, 387–398 (1998).

Tittmann, K. Sweet siblings with different faces: the mechanisms of FBP and F6P aldolase, transaldolase, transketolase and phosphoketolase revisited in light of recent structural data. Bioorg. Chem. 57, 263–280 (2014).

Dai, S. et al. Low-barrier hydrogen bonds in enzyme cooperativity. Nature 573, 609–613 (2019).

Frank, R. A., Titman, C. M., Pratap, J. V., Luisi, B. F. & Perham, R. N. A molecular switch and proton wire synchronize the active sites in thiamine enzymes. Science 306, 872–876 (2004).

Kern, D. et al. How thiamine diphosphate is activated in enzymes. Science 275, 67–70 (1997).

Asztalos, P. et al. Strain and near attack conformers in enzymic thiamin catalysis: X-ray crystallographic snapshots of bacterial transketolase in covalent complex with donor ketoses xylulose 5-phosphate and fructose 6-phosphate, and in noncovalent complex with acceptor aldose ribose 5-phosphate. Biochemistry 46, 12037–12052 (2007).

Meyer, D., Neumann, P., Ficner, R. & Tittmann, K. Observation of a stable carbene at the active site of a thiamin enzyme. Nat. Chem. Biol. 9, 488–490 (2013).

Nemeria, N. S., Chakraborty, S., Balakrishnan, A. & Jordan, F. Reaction mechanisms of thiamin diphosphate enzymes: defining states of ionization and tautomerization of the cofactor at individual steps. FEBS J. 276, 2432–2446 (2009).

Paulikat, M., Wechsler, C., Tittmann, K. & Mata, R. A. Theoretical studies of the electronic absorption spectra of thiamin diphosphate in pyruvate decarboxylase. Biochemistry 56, 1854–1864 (2017).

Tittmann, K. et al. NMR analysis of covalent intermediates in thiamin diphosphate enzymes. Biochemistry 42, 7885–7891 (2003).

Kluger, R. & Tittmann, K. Thiamin diphosphate catalysis: enzymic and nonenzymic covalent intermediates. Chem. Rev. 108, 1797–1833 (2008).

Muller, Y. A. et al. A thiamin diphosphate binding fold revealed by comparison of the crystal structures of transketolase, pyruvate oxidase and pyruvate decarboxylase. Structure 1, 95–103 (1993).

Kaplun, A. et al. Glyoxylate carboligase lacks the canonical active site glutamate of thiamine-dependent enzymes. Nat. Chem. Biol. 4, 113–118 (2008).

Burgi, H. B., Dunitz, J. D., Lehn, J. M. & Wipff, G. Stereochemistry of reaction paths at carbonyl centers. Tetrahedron 30, 1563–1572 (1974).

Lüdtke, S. et al. Sub-ångström-resolution crystallography reveals physical distortions that enhance reactivity of a covalent enzymatic intermediate. Nat. Chem. 5, 762–767 (2013).

Neumann, P. & Tittmann, K. Marvels of enzyme catalysis at true atomic resolution: distortions, bond elongations, hidden flips, protonation states and atom identities. Curr. Opin. Struct. Biol. 29, 122–133 (2014).

Booth, C. K. & Nixon, P. F. Reconstitution of holotransketolase is by a thiamin‐diphosphate‐magnesium complex. Eur. J. Biochem. 218, 261–265 (1993).

Mitschke, L. et al. The crystal structure of human transketolase and new insights into its mode of action. J. Biol. Chem. 285, 31559–31570 (2010).

Ciszak, E. M., Korotchkina, L. G., Dominiak, P. M., Sidhu, S. & Patel, M. S. Structural basis for flip-flop action of thiamin pyrophosphate-dependent enzymes revealed by human pyruvate dehydrogenase. J. Biol. Chem. 278, 21240–21246 (2003).

Jarzynski, C. Equilibrium free-energy differences from nonequilibrium measurements: a master-equation approach. Phys. Rev. E 56, 5018–5035 (1997).

Warshel, A., Papazyan, A. & Kollman, P. A. On low-barrier hydrogen bonds and enzyme catalysis. Science 269, 102–106 (1995).

Warshel, A. & Papazyan, A. Energy considerations show that low-barrier hydrogen bonds do not offer a catalytic advantage over ordinary hydrogen bonds. Proc. Natl Acad. Sci. USA 93, 13665–13670 (1996).

Lehwess-Litzmann, A. et al. Twisted Schiff base intermediates and substrate locale revise transaldolase mechanism. Nat. Chem. Biol. 7, 678–684 (2011).

Light, S. H., Minasov, G., Duban, M. E. & Anderson, W. F. Adherence to Burgi–Dunitz stereochemical principles requires significant structural rearrangements in Schiff-base formation: insights from transaldolase complexes. Acta Crystallogr. D Biol. Crystallogr. 70, 544–552 (2014).

Hur, S. & Bruice, T. C. The near attack conformation approach to the study of the chorismate to prephenate reaction. Proc. Natl Acad. Sci. USA 100, 12015–12020 (2003).

Kluger, R. Catalyzing decarboxylation by taming carbon dioxide. Pure Appl. Chem. 87, 353–360 (2015).

Bailey, S. S. et al. Enzymatic control of cycloadduct conformation ensures reversible 1,3-dipolar cycloaddition in a prFMN-dependent decarboxylase. Nat. Chem. 11, 1049–1057 (2019).

Fersht, A. Structure and Mechanism in Protein Science (W.H. Freeman and Company, 1999).

Fujihashi, M. et al. Substrate distortion contributes to the catalysis of orotidine 5'-monophosphate decarboxylase. J. Am. Chem. Soc. 135, 17432–17443 (2013).

Jafari, R. et al. The cellular thermal shift assay for evaluating drug target interactions in cells. Nat. Protoc. 9, 2100–2122 (2014).

Begley, T. The mechanistic enzymology of thiamin biosynthesis. FASEB J. 29, (2015).

Kabsch, W. XDS. Acta Crystallogr. D Biol. Crystallogr. 66, 125–132 (2010).

Bailey, S. The CCP4 suite—programs for protein crystallography. Acta Crystallogr. D Biol. Crystallogr. 50, 760–763 (1994).

Adams, P. D. et al. PHENIX: a comprehensive Python-based system for macromolecular structure solution. Acta Crystallogr. D Biol. Crystallogr. 66, 213–221 (2010).

Chen, V. B. et al. MolProbity: all-atom structure validation for macromolecular crystallography. Acta Crystallogr. D. Biol. Crystallogr. 66, 12–21 (2010).

Marks, C. et al. Sphinx: merging knowledge-based and ab initio approaches to improve protein loop prediction. Bioinformatics 33, 1346–1353 (2017).

Doerr, S., Harvey, M. J., Noe, F. & De Fabritiis, G. HTMD: high-throughput molecular dynamics for molecular discovery. J. Chem. Theory Comput. 12, 1845–1852 (2016).

Olsson, M. H. M., Sondergaard, C. R., Rostkowski, M. & Jensen, J. H. PROPKA3: consistent treatment of internal and surface residues in empirical pKa predictions. J. Chem. Theory Comput. 7, 525–537 (2011).

Dolinsky, T. J. et al. PDB2PQR: expanding and upgrading automated preparation of biomolecular structures for molecular simulations. Nucleic Acids Res. 35, W522–W525 (2007).

Hornak, V. et al. Comparison of multiple amber force fields and development of improved protein backbone parameters. Proteins 65, 712–725 (2006).

Jorgensen, W. L., Chandrasekhar, J., Madura, J. D., Impey, R. W. & Klein, M. L. Comparison of simple potential functions for simulating liquid water. J. Chem. Phys. 79, 926–935 (1983).

Wang, J. M., Wolf, R. M., Caldwell, J. W., Kollman, P. A. & Case, D. A. Development and testing of a general amber force field. J. Comput. Chem. 25, 1157–1174 (2004).

da Silva, A. & Vranken, W. ACPYPE—AnteChamber PYthon Parser interfacE. BMC Res. Notes 5, 367 (2012).

Abraham, M. J. et al. GROMACS: high performance molecular simulations through multi-level parallelism from laptops to supercomputers. SoftwareX 2, 19–25 (2015).

Berendsen, H. J. C., Postma, J. P. M., van Gunsteren, W. F., Dinola, A. & Haak, J. R. Molecular dynamics with coupling to an external bath. J. Chem. Phys. 81, 3684–3690 (1984).

Parrinello, M. & Rahman, A. Polymorphic transitions in single crystals—a new molecular dynamics method. J. Appl. Phys. 52, 7182–7190 (1981).

Gapsys, V., Michielssens, S., Seeliger, D. & de Groot, B. L. Pmx: automated protein structure and topology generation for alchemical perturbations. J. Comput. Chem. 36, 348–354 (2015).

Shirts, M. R., Bair, E., Hooker, G. & Pande, V. S. Equilibrium free energies from nonequilibrium measurements using maximum-likelihood methods. Phys. Rev. Lett. 91, 140601 (2003).

Aldeghi, M., Gapsys, V. & de Groot, B. L. Accurate estimation of ligand binding affinity changes upon protein mutation. ACS Cent. Sci. 4, 1708–1718 (2018).
Acknowledgements
This study was supported by the Deutsche Forschungsgemeinschaft (FOR1296/TP3 to K.T.). We acknowledge access to beamline P14 at DESY/EMBL and thank G. Bourenkov and T. Schneider for local support. We thank R. Mata, M. McLeish and R. Kluger for discussion.
Ethics declarations
Competing interests
The authors declare no competing interests.
Additional information
Publisher's note Springer Nature remains neutral with regard to jurisdictional claims in published maps and institutional affiliations.
Supplementary information
Supplementary Tables 1–5.
Input files for MD calculations.
About this article
Cite this article
Rabe von Pappenheim, F., Aldeghi, M., Shome, B. et al. Structural basis for antibiotic action of the B1 antivitamin 2′-methoxy-thiamine. Nat Chem Biol 16, 1237–1245 (2020). https://doi.org/10.1038/s41589-020-0628-4
Received:

Accepted:

Published:

Issue Date:

DOI: https://doi.org/10.1038/s41589-020-0628-4
This article is cited by
Sören Rindfleisch
Matthias Krull
Kai Tittmann

Nature Catalysis (2022)

Marie Wensien
Fabian Rabe von Pappenheim
Kai Tittmann

Nature (2021)