Abstract
The diamide insecticide class is one of the top-selling insecticides globally. They are used to control a wide range of pests by targeting their ryanodine receptors (RyRs). Here, we report the highest-resolution cryo-electron microscopy (cryo-EM) structure of RyR1 in the open state, in complex with the anthranilic diamide chlorantraniliprole (CHL). The 3.2-Å local resolution map facilitates unambiguous assignment of the CHL binding site. The molecule induces a conformational change by affecting the S4–S5 linker, triggering channel opening. The binding site is further corroborated by mutagenesis data, which reveal how diamide insecticides are selective to the Lepidoptera group of insects over honeybee or mammalian RyRs. Our data reveal that several pests have developed resistance via two mechanisms, steric hindrance and loss of contact. Our results provide a foundation for the development of highly selective pesticides aimed at overcoming resistance and therapeutic molecules to treat human myopathies.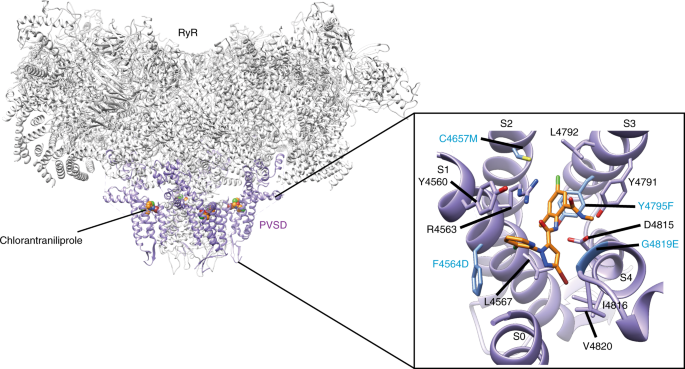 Relevant articles
Open Access articles citing this article.
Takuya Kobayashi

,

Akihisa Tsutsumi

…

Haruo Ogawa

Nature Communications Open Access 20 May 2022

Emily A. Schmitz

,

Hirohide Takahashi

&

Erkan Karakas

Nature Communications Open Access 17 March 2022

Kellie A. Woll

,

Omid Haji-Ghassemi

&

Filip Van Petegem

Nature Communications Open Access 05 February 2021
Access options
Subscribe to Nature+
Get immediate online access to Nature and 55 other Nature journal
Subscribe to Journal
Get full journal access for 1 year
$119.00
only $9.92 per issue
All prices are NET prices.
VAT will be added later in the checkout.
Tax calculation will be finalised during checkout.
Buy article
Get time limited or full article access on ReadCube.
$32.00
All prices are NET prices.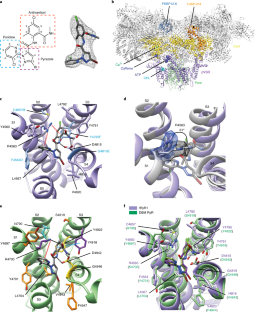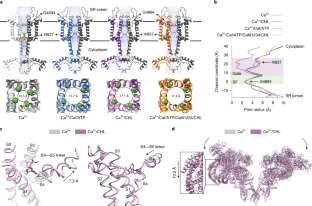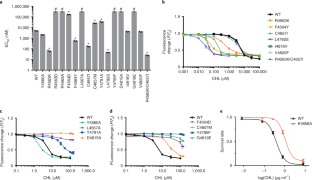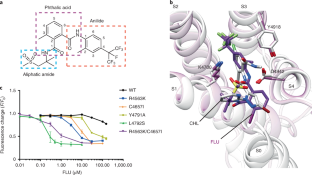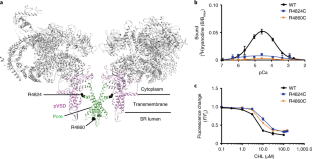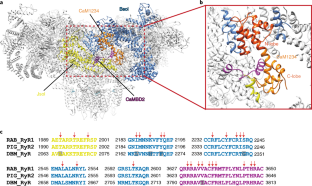 Data availability
The cryo-EM maps and atomic coordinates are deposited in the Protein Data Bank and Electron Microscopy Data Bank, respectively: Ca2+/CHL (PDB 7CF9 and EMD-30343); Ca2+/Caf/ATP/CaM1234 (PDB 6M2W and EMD-30067). Source data are provided with this paper.
References
Smith, J. S. et al. Purified ryanodine receptor from rabbit skeletal muscle is the calcium-release channel of sarcoplasmic reticulum. J. Gen. Physiol. 92, 1–26 (1988).

Pessah, I. N., Waterhouse, A. L. & Casida, J. E. The calcium-ryanodine receptor complex of skeletal and cardiac muscle. Biochem. Biophys. Res. Commun. 128, 449–456 (1985).

Giannini, G. & Sorrentino, V. Molecular structure and tissue distribution of ryanodine receptors calcium channels. Res. Rev. 15, 313–323 (1995).

Sattelle., D. B., Cordova, D. & Cheek, T. R. Insect ryanodine receptors: molecular targets for novel pest control chemicals. Invert. Neurosci. 8, 107–119 (2008).

Maura, P. et al. Coupled gating of skeletal muscle ryanodine receptors is modulated by Ca2, Mg2, and ATP. Am. J. Physiol. Cell Physiol. 303, C682–C697 (2012).

Balshaw, D. M., Xu, L., Yamaguchi, N., Pasek, D. A. & Meissner, G. Calmodulin binding and inhibition of cardiac muscle calcium release channel (Ryanodine Receptor). J. Biol. Chem. 276, 20144–20153 (2001).

Marx, S. O., Ondrias, K. & Marks, A. R. Coupled gating between individual skeletal muscle Ca2+ release channels (Ryanodine Receptors). Science 281, 818–821 (1998).

Petegem, F. V. Ryanodine receptors: allosteric ion channel giants. J. Mol. Biol. 427, 31–53 (2015).

Casida, J. E. & Bryant, R. J. The ABCs of pesticide toxicology: amounts, biology, and chemistry. Toxicol. Res. 6, 755–763 (2017).

Nauen, R. Insecticide mode of action: return of the ryanodine receptor. Pest. Manag. Sci. 62, 690–692 (2006).

Tohnishi, M. et al. Flubendiamide, a novel insecticide highly active against lepidopterous insect pests. J. Pestic. Sci. 30, 354–360 (2005).

Cordova, D. et al. Anthranilic diamides: a new class of insecticides with a novel mode of action, ryanodine receptor activation. Pestic. Biochem. Physiol. 84, 196–214 (2006).

Roditakis, E. et al. Ryanodine receptor point mutations confer diamide insecticide resistance in tomato leafminer, Tuta absoluta (Lepidoptera: Gelechiidae). Insect Biochem. Mol. Biol. 80, 11–20 (2016).

Zuo, Y. et al. Identification of the ryanodine receptor mutation I4743M and its contribution to diamide insecticide resistance in Spodoptera exigua (Lepidoptera: Noctuidae). Insect Sci. 27, 791–800 (2019).

Guo, L., Liang, P., Zhou, X. & Gao, X. Novel mutations and mutation combinations of ryanodine receptor in a chlorantraniliprole resistant population of Plutella xylostella (L.). Sci. Rep. 4, 6924 (2014).

Sun, Y. et al. Chlorantraniliprole resistance and its biochemical and new molecular target mechanisms in laboratory and field strains of Chilo suppressalis (Walker). Pest Manag. Sci. 74, 1416–1423 (2018).

Troczka, B. et al. Resistance to diamide insecticides in diamondback moth, Plutella xylostella (Lepidoptera: Plutellidae) is associated with a mutation in the membrane-spanning domain of the ryanodine receptor. Insect Biochem. Mol. Biol. 42, 873–880 (2012).

Nauen, R. & Steinbach, D. in Resistance to Diamide Insecticides in Lepidopteran Pests (eds Rami Horowitz, A. & Ishaaya, I.) 219–240 (Springer, 2016).

Chen, J., Xue, L., Wei, R., Liu, S. & Yin, C. The insecticide chlorantraniliprole is a weak activator of mammalian skeletal ryanodine receptor/Ca2+ release channel. Biochem. Biophys. Res. Commun. 508, 633–639 (2019).

Truong, K. M. & Pessah, I. N. Comparison of chlorantraniliprole and flubendiamide activity toward wild-type and malignant hyperthermia-susceptible ryanodine receptors and heat stress intolerance. Toxicol. Sci. 167, 509–523 (2019).

Xia, X. M., Fakler, B., Rivard, A., Wayman, G. & Adelman, J. P. Mechanism of calcium gating in small-conductance calcium-activated potassium channels. Nature 395, 503–507 (1998).

des Georges, A. et al. Structural basis for gating and activation of RyR1. Cell 167, 145–157 (2016).

Troczka, B. J. et al. Stable expression and functional characterisation of the diamondback moth ryanodine receptor G4946E variant conferring resistance to diamide insecticides. Sci. Rep. 5, 14680 (2015).

Murayama, T. et al. Efficient high-throughput screening by endoplasmic reticulum Ca2+ measurement to identify inhibitors of Ryanodine receptor Ca2+-release channels. Mol. Pharmacol. 94, 722–730 (2018).

Huang, J. M. et al. Multiple target-site mutations occurring in lepidopterans confer resistance to diamide insecticides. Insect Biochem. Mol. Biol. 121, 103367 (2020).

Richardson, E. B., Troczka, B. J., Gutbrod, O., Davies, T. G. E. & Nauen, R. Diamide resistance: 10 years of lessons from lepidopteran pests. J. Pest Sci. 93, 911–928 (2020).

Qi, S. & Casida, J. E. Species differences in chlorantraniliprole and flubendiamide insecticide binding sites in the ryanodine receptor. Pestic. Biochem. Physiol. 107, 321–326 (2013).

Qi, S., Lümmen, P., Nauen, R. & Casida, J. E. Diamide insecticide target site specificity in the Heliothis and musca Ryanodine receptors relative to toxicity. J. Agric. Food Chem. 62, 4077–4082 (2014).

Landrum, M. J. et al. ClinVar: public archive of relationships among sequence variation and human phenotype. Nucleic Acids Res. 42, 980–985 (2014).

Nicole, M. et al. Familial and sporadic forms of central core disease are associated with mutations in the C-terminal domain of the skeletal muscle ryanodine receptor. Hum. Mol. Genet. 10, 2581–2592 (2001).

Davisa, M. R. et al. Principal mutation hotspot for central core disease and related myopathies in the C-terminal transmembrane region of the RYR1 gene. Neuromuscul. Disord. 3, 151–157 (2003).

Avila, G., O'Connell, K. M. & Dirksen, R. T. The pore region of the skeletal muscle ryanodine receptor is a primary locus for excitation–contraction uncoupling in central core disease. J. Gen. Physiol. 121, 277–286 (2003).

Amburgey, K. et al. Genotype–phenotype correlations in recessive RYR1-related myopathies. Orphanet J. Rare Dis. 8, 117 (2013).

Brennan, S. et al. Mouse model of severe recessive RYR1-related myopathy. Hum. Mol. Genet. 28, 3024–3036 (2019).

Du, G. G., Khanna, V. K., Guo, X. & MacLENNAN, D. H. Central core disease mutations R4892W, I4897T and G4898E in the ryanodine receptor isoform 1 reduce the Ca2+ sensitivity and amplitude of Ca2+-dependent Ca2+ release. Biochem. J. 382, 557–564 (2004).

Rosenberg, H., Pollock, N., Schiemann, A., Bulger, T. & Stowell, K. Malignant hyperthermia: a review. Orphanet J. Rare. Dis. 12, 61–71 (2015).

Mccarthy, T. V., Quane, K. A. & Lynch, P. J. Ryanodine receptor mutations in malignant hyperthermia and central core disease. Hum. Mutat. 15, 410–417 (2000).

Jiang, D. et al. Enhanced store overload-induced Ca2+ release and channel sensitivity to luminal Ca2+ activation are common defects of RyR2 mutations linked to ventricular tachycardia and sudden death. Circ. Res. 97, 1173–1181 (2005).

Priori, S. G. et al. Mutations in the cardiac ryanodine receptor gene (hRyR2) underlie catecholaminergic polymorphic ventricular tachycardia. Circulation 103, 1996–2000 (2001).

Ylänen, K., Poutanen, T., Hiippala, A., Swan, H. & Korppi, M. Catecholaminergic polymorphic ventricular tachycardia. Heart Rhythm 2, 550–554 (2010).

Gong, D. et al. Modulation of cardiac ryanodine receptor 2 by calmodulin. Nature 572, 347–351 (2019).

Sindhu, T., Venkatesan, T., Gracy, G. R., Jalali, S. K. & Rai, A. Exploring the resistance-developing mutations on Ryanodine receptor in diamondback moth and binding mechanism of its activators using computational study. Biochem. Eng. J. 121, 59–72 (2017).

Lin, L., Hao, Z., Cao, P. & Yuchi, Z. Homology modeling and docking study of diamondback moth ryanodine receptor reveals the mechanisms for channel activation, insecticide binding and resistance. Pest Manag Sci. 76, 1291–1303 (2019).

Kadala, A., Charreton, M., Charnet, P. & Collet, C. Honey bees long-lasting locomotor deficits after exposure to the diamide chlorantraniliprole are accompanied by brain and muscular calcium channels alterations. Sci. Rep. 9, 2153 (2019).

Yuchi, Z., Lau, K. & Van Petegem, F. Disease mutations in the ryanodine receptor central region: crystal structures of a phosphorylation hot spot domain. Structure 20, 1201–1211 (2012).

Punjani, A., Rubinstein, J. L., Fleet, D. J. & Brubaker, M. A. cryoSPARC: algorithms for rapid unsupervised cryo-EM structure determination. Nat. Methods 14, 290–297 (2017).

Zivanov, J. et al. New tools for automated high-resolution cryo-EM structure determination in RELION-3. eLife 7, e42166 (2018).

Zheng, S. Q. et al. MotionCor2: anisotropic correction of beam-induced motion for improved cryo-electron microscopy. Nat. Methods 14, 331–332 (2017).

Zhang, K. Gctf: real-time CTF determination and correction. J. Struct. Biol. 193, 1–12 (2016).

Wagner, T. et al. SPHIRE-crYOLO is a fast and accurate fully automated particle picker for cryo-EM. Commun. Biol. 2, 1–13 (2019).

Zalk, R. et al. Structure of a mammalian ryanodine receptor. Nature 517, 44–49 (2015).

Terwilliger, T. C., Sobolev, O. V., Afonine, P. V. & Adams, P. D. Automated map sharpening by maximization of detail and connectivity. Acta Crystallogr. D Struct. Biol. 74, 545–559 (2018).

Terwilliger, T. C., Adams, P. D., Afonine, P. V. & Sobolev, O. V. Cryo-EM map interpretation and protein model-building using iterative map segmentation. Protein Sci. 29, 87–99 (2019).

Smart, O. S., Neduvelil, J. G., Wang, X., Wallace, B. & Sansom, M. S. HOLE: a program for the analysis of the pore dimensions of ion channel structural models. J. Mol. Graph. Model. 14, 354–360 (1996).

Tong, J. et al. Caffeine and halothane sensitivity of intracellular Ca2+ release is altered by 15 calcium release channel (ryanodine receptor) mutations associated with malignant hyperthermia and/or central core disease. J. Biol. Chem. 272, 26332–26339 (1997).

Suzuki, J. et al. Imaging intraorganellar Ca2+ at subcellular resolution using CEPIA. Nat. Commun. 5, 4153 (2014).

Murayama, T. et al. Genotype–phenotype correlations of malignant hyperthermia and central core disease mutations in the central region of the RYR1 channel. Hum. Mutat. 37, 1231–1241 (2016).
Acknowledgements
We thank Z. Li, J. Xu, X. Jin, S. Yang and X. Zhang from the Instrument Analytical Center of the School of Pharmaceutical Science and Technology at Tianjin University for providing technical support. We acknowledge C. Atkinson and the operating team of the High Resolution Macromolecular cryo-Electron Microscopy facility (HRMEM) at the University of British Columbia (UBC) for data collection. HRMEM is funded by the Canadian Foundation of Innovation, BC Knowledge Development Fund and UBC. We thank A. Li and J. Lu at Nankai University for the maintenance of electron microscopy facilities and user training. This research was enabled in part by support provided by Westgrid (www.westgrid.ca) Cedar cluster and Compute Canada (www.computecanada.ca). This research was funded by the National Key Research and Development Program of China (nos. 2017YFD0201400 and 2017YFD0201403, to Z.Y.), the National Natural Science Foundation of China (no. 31972287, to Z.Y. and Y.L.), CIHR (no. PJT-159601, to F.V.P.), Basis for Supporting Innovative Drug Discovery and Life Science Research from the Japan Agency for Medical Research and Development (no. JP20am0101080j0004, to T.M.), Grants-in-Aid for Scientific Research from the Japan Society for the Promotion of Science (no. 19H03404, to T.M.) and fellowships from the CIHR and Michael Smith Foundation for Health Research (to O.H.-G.).
Ethics declarations
Competing interests
The authors declare no competing interests.
Additional information
Publisher's note Springer Nature remains neutral with regard to jurisdictional claims in published maps and institutional affiliations.
Supplementary information
About this article
Cite this article
Ma, R., Haji-Ghassemi, O., Ma, D. et al. Structural basis for diamide modulation of ryanodine receptor. Nat Chem Biol 16, 1246–1254 (2020). https://doi.org/10.1038/s41589-020-0627-5
Received:

Accepted:

Published:

Issue Date:

DOI: https://doi.org/10.1038/s41589-020-0627-5