Abstract
Identifying molecular and cellular processes that regulate reprogramming competence of transcription factors broadens our understanding of reprogramming mechanisms. In the present study, by a chemical screen targeting major epigenetic pathways in human reprogramming, we discovered that inhibiting specific epigenetic roadblocks including disruptor of telomeric silencing 1-like (DOT1L)-mediated H3K79/K27 methylation, but also other epigenetic pathways, catalyzed by lysine-specific histone demethylase 1A, DNA methyltransferases and histone deacetylases, allows induced pluripotent stem cell generation with almost all OCT factors. We found that simultaneous inhibition of these pathways not only dramatically enhances reprogramming competence of most OCT factors, but in fact enables dismantling of species-dependent reprogramming competence of OCT6, NR5A1, NR5A2, TET1 and GATA3. Harnessing these induced permissive epigenetic states, we performed an additional screen with 98 candidate genes. Thereby, we identified 25 transcriptional regulators (OTX2, SIX3, and so on) that can functionally replace OCT4 in inducing pluripotency. Our findings provide a conceptual framework for understanding how transcription factors elicit reprogramming in dependency of the donor cell epigenome that differs across species.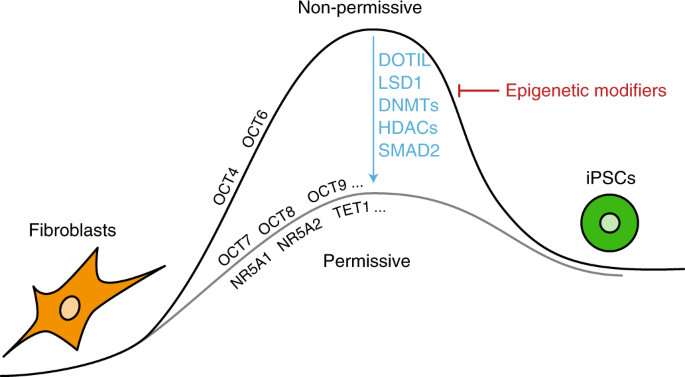 Access options
Subscribe to Journal
Get full journal access for 1 year
$119.00
only $9.92 per issue
All prices are NET prices.
VAT will be added later in the checkout.
Tax calculation will be finalised during checkout.
Rent or Buy article
Get time limited or full article access on ReadCube.
from$8.99
All prices are NET prices.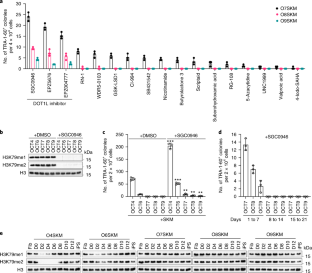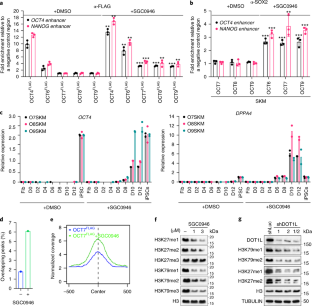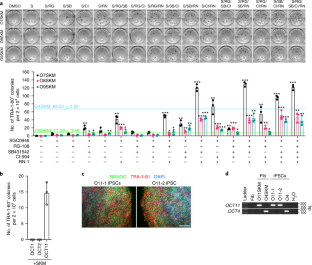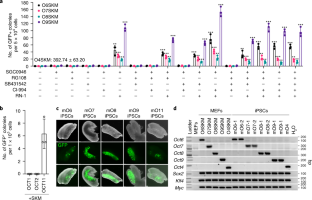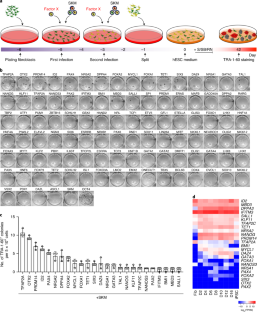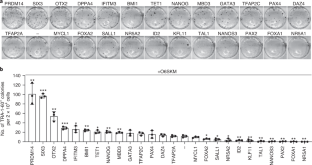 Data availability
Microarray, RNA-seq and ChIP-seq data have been deposited in the GEO under accession nos. GSE95608, GSE93706 and GSE149017. All other data supporting the findings of this study are available from the corresponding author on reasonable request. Source data are provided with this paper.
References
1.

Takahashi, K. et al. Induction of pluripotent stem cells from adult human fibroblasts by defined factors. Cell 131, 861–872 (2007).

2.

Adachi, K. & Scholer, H. R. Directing reprogramming to pluripotency by transcription factors. Curr. Opin. Genet. Dev. 22, 416–422 (2012).

3.

Apostolou, E. & Hochedlinger, K. Chromatin dynamics during cellular reprogramming. Nature 502, 462–471 (2013).

4.

Buganim, Y., Faddah, D. A. & Jaenisch, R. Mechanisms and models of somatic cell reprogramming. Nat. Rev. Genet. 14, 427–439 (2013).

5.

Cacchiarelli, D. et al. Integrative analyses of human reprogramming reveal dynamic nature of induced pluripotency. Cell 162, 412–424 (2015).

6.

dos Santos, R. L. et al. MBD3/NuRD facilitates induction of pluripotency in a context-dependent manner. Cell Stem Cell 15, 102–110 (2014).

7.

Ebrahimi, A. et al. Bromodomain inhibition of the coactivators CBP/EP300 facilitate cellular reprogramming. Nat. Chem. Biol. 15, 519–528 (2019).

8.

Mali, P. et al. Butyrate greatly enhances derivation of human induced pluripotent stem cells by promoting epigenetic remodeling and the expression of pluripotency-associated genes. Stem Cells 28, 713–720 (2010).

9.

Onder, T. T. et al. Chromatin-modifying enzymes as modulators of reprogramming. Nature 483, 598–602 (2012).

10.

Rais, Y. et al. Deterministic direct reprogramming of somatic cells to pluripotency. Nature 502, 65–70 (2013).

11.

Zhang, Z., Xiang, D. & Wu, W. S. Sodium butyrate facilitates reprogramming by derepressing OCT4 transactivity at the promoter of embryonic stem cell-specific miR-302/367 cluster. Cell Reprogram. 16, 130–139 (2014).

12.

He, X. et al. Expression of a large family of POU-domain regulatory genes in mammalian brain development. Nature 340, 35–41 (1989).

13.

Rosenfeld, M. G. POU-domain transcription factors: pou-er-ful developmental regulators. Genes Dev. 5, 897–907 (1991).

14.

Schöler, H. R., Hatzopoulos, A. K., Balling, R., Suzuki, N. & Gruss, P. A family of octamer-specific proteins present during mouse embryogenesis: evidence for germline-specific expression of an Oct factor. EMBO J. 8, 2543–2550 (1989).

15.

Jerabek, S. et al. Changing POU dimerization preferences converts Oct6 into a pluripotency inducer. EMBO Rep. 18, e201642958 (2016).

16.

Maekawa, M. et al. Direct reprogramming of somatic cells is promoted by maternal transcription factor Glis1. Nature 474, 225–229 (2011).

17.

Malik, V. et al. Pluripotency reprogramming by competent and incompetent POU factors uncovers temporal dependency for Oct4 and Sox2. Nat. Commun. 10, 3477 (2019).

18.

Nakagawa, M. et al. Generation of induced pluripotent stem cells without Myc from mouse and human fibroblasts. Nat. Biotechnol. 26, 101–106 (2008).

19.

Esch, D. et al. A unique Oct4 interface is crucial for reprogramming to pluripotency. Nat. Cell Biol. 15, 295–301 (2013).

20.

Jin, W. et al. Critical POU domain residues confer Oct4 uniqueness in somatic cell reprogramming. Sci. Rep. 6, 20818 (2016).

21.

Soufi, A., Donahue, G. & Zaret, K. S. Facilitators and impediments of the pluripotency reprogramming factors' initial engagement with the genome. Cell 151, 994–1004 (2012).

22.

Soufi, A. et al. Pioneer transcription factors target partial DNA motifs on nucleosomes to initiate reprogramming. Cell 161, 555–568 (2015).

23.

Aasen, T. et al. Efficient and rapid generation of induced pluripotent stem cells from human keratinocytes. Nat. Biotechnol. 26, 1276–1284 (2008).

24.

Blelloch, R. et al. Reprogramming efficiency following somatic cell nuclear transfer is influenced by the differentiation and methylation state of the donor nucleus. Stem Cells 24, 2007–2013 (2006).

25.

Eminli, S. et al. Differentiation stage determines potential of hematopoietic cells for reprogramming into induced pluripotent stem cells. Nat. Genet. 41, 968–976 (2009).

26.

Friedrich, R. P., Schlierf, B., Tamm, E. R., Bosl, M. R. & Wegner, M. The class III POU domain protein Brn-1 can fully replace the related Oct-6 during Schwann cell development and myelination. Mol. Cell Biol. 25, 1821–1829 (2005).

27.

Jaegle, M. et al. The POU proteins Brn-2 and Oct-6 share important functions in Schwann cell development. Genes Dev. 17, 1380–1391 (2003).

28.

Schreiber, J. et al. Redundancy of class III POU proteins in the oligodendrocyte lineage. J. Biol. Chem. 272, 32286–32293 (1997).

29.

Chang, Y. K. et al. Quantitative profiling of selective Sox/POU pairing on hundreds of sequences in parallel by Coop-seq. Nucleic Acids Res. 45, 832–845 (2017).

30.

Mistri, T. K. et al. Selective influence of Sox2 on POU transcription factor binding in embryonic and neural stem cells. EMBO Rep. 16, 1177–1191 (2015).

31.

Ferrari, K. J. et al. Polycomb-dependent H3K27me1 and H3K27me2 regulate active transcription and enhancer fidelity. Mol. Cell 53, 49–62 (2014).

32.

Lavarone, E., Barbieri, C. M. & Pasini, D. Dissecting the role of H3K27 acetylation and methylation in PRC2 mediated control of cellular identity. Nat. Commun. 10, 1679 (2019).

33.

Montserrat, N. et al. Reprogramming of human fibroblasts to pluripotency with lineage specifiers. Cell Stem Cell 13, 341–350 (2013).

34.

Shu, J. et al. Induction of pluripotency in mouse somatic cells with lineage specifiers. Cell 153, 963–975 (2013).

35.

Shu, J. et al. GATA family members as inducers for cellular reprogramming to pluripotency. Cell Res. 25, 169–180 (2015).

36.

Chen, K. et al. Gadd45a is a heterochromatin relaxer that enhances iPS cell generation. EMBO Rep. 17, 1641–1656 (2016).

37.

Gao, Y. et al. Replacement of Oct4 by Tet1 during iPSC induction reveals an important role of DNA methylation and hydroxymethylation in reprogramming. Cell Stem Cell 12, 453–469 (2013).

38.

Hu, X. et al. Tet and TDG mediate DNA demethylation essential for mesenchymal-to-epithelial transition in somatic cell reprogramming. Cell Stem Cell 14, 512–522 (2014).

39.

Dunn, S. J., Martello, G., Yordanov, B., Emmott, S. & Smith, A. G. Defining an essential transcription factor program for naive pluripotency. Science 344, 1156–1160 (2014).

40.

Takashima, Y. et al. Resetting transcription factor control circuitry toward ground-state pluripotency in human. Cell 158, 1254–1269 (2014).

41.

Theunissen, T. W. et al. Systematic identification of culture conditions for induction and maintenance of naive human pluripotency. Cell Stem Cell 15, 471–487 (2014).

42.

Mise, N. et al. Differences and similarities in the developmental status of embryo-derived stem cells and primordial germ cells revealed by global expression profiling. Genes Cells 13, 863–877 (2008).

43.

Sabour, D. et al. Identification of genes specific to mouse primordial germ cells through dynamic global gene expression. Hum. Mol. Genet. 20, 115–125 (2011).

44.

Sugawa, F. et al. Human primordial germ cell commitment in vitro associates with a unique PRDM14 expression profile. EMBO J. 34, 1009–1024 (2015).

45.

Chia, N. Y. et al. A genome-wide RNAi screen reveals determinants of human embryonic stem cell identity. Nature 468, 316–320 (2010).

46.

Hernandez, C. et al. Dppa2/4 Facilitate epigenetic remodeling during reprogramming to pluripotency. Cell Stem Cell 23, 396–411 e398 (2018).

47.

Heng, J. C. et al. The nuclear receptor Nr5a2 can replace Oct4 in the reprogramming of murine somatic cells to pluripotent cells. Cell Stem Cell 6, 167–174 (2010).

48.

Buganim, Y. et al. Single-cell expression analyses during cellular reprogramming reveal an early stochastic and a late hierarchic phase. Cell 150, 1209–1222 (2012).

49.

Mai, T. et al. NKX3-1 is required for induced pluripotent stem cell reprogramming and can replace OCT4 in mouse and human iPSC induction. Nat. Cell Biol. 20, 900–908 (2018).

50.

Zuber, M. E., Gestri, G., Viczian, A. S., Barsacchi, G. & Harris, W. A. Specification of the vertebrate eye by a network of eye field transcription factors. Development 130, 5155–5167 (2003).

51.

Braam, S. R. et al. Feeder-free culture of human embryonic stem cells in conditioned medium for efficient genetic modification. Nat. Protoc. 3, 1435–1443 (2008).

52.

Kim, D. et al. TopHat2: accurate alignment of transcriptomes in the presence of insertions, deletions and gene fusions. Genome Biol. 14, R36 (2013).

53.

Trapnell, C., Pachter, L. & Salzberg, S. L. TopHat: discovering splice junctions with RNA-Seq. Bioinformatics 25, 1105–1111 (2009).

54.

Trapnell, C. et al. Differential gene and transcript expression analysis of RNA-seq experiments with TopHat and Cufflinks. Nat. Protoc. 7, 562–578 (2012).

55.

Langmead, B. & Salzberg, S. L. Fast gapped-read alignment with Bowtie 2. Nat. Methods 9, 357–359 (2012).

56.

Li, H. et al. The sequence alignment/map format and SAMtools. Bioinformatics 25, 2078–2079 (2009).
Acknowledgements
We thank M. Sinn, I. Gelker, H.W. Choi and M. Haustein for technical assistance. We also thank J. Müller-Keuker for creating the graphical abstract. This work was supported by the Max Planck Society.
Ethics declarations
Competing interests
The authors declare no competing interests.
Additional information
Publisher's note Springer Nature remains neutral with regard to jurisdictional claims in published maps and institutional affiliations.
Supplementary information
About this article
Cite this article
Kim, KP., Choi, J., Yoon, J. et al. Permissive epigenomes endow reprogramming competence to transcriptional regulators. Nat Chem Biol 17, 47–56 (2021). https://doi.org/10.1038/s41589-020-0618-6
Received:

Accepted:

Published:

Issue Date:
Further reading
Kee-Pyo Kim

,

Dong Wook Han

,

Johnny Kim

&

Hans R. Schöler

Experimental & Molecular Medicine (2021)

Maximilian W. D. Raas

,

Dick W. Zijlmans

&

Hendrik Marks

Nature Chemical Biology (2021)