Abstract
MYCBP2 is a ubiquitin (Ub) E3 ligase (E3) that is essential for neurodevelopment and regulates axon maintenance. MYCBP2 transfers Ub to nonlysine substrates via a newly discovered RING-Cys-Relay (RCR) mechanism, where Ub is relayed from an upstream cysteine to a downstream substrate esterification site. The molecular bases for E2–E3 Ub transfer and Ub relay are unknown. Whether these activities are linked to the neural phenotypes is also unclear. We describe the crystal structure of a covalently trapped E2~Ub:MYCBP2 transfer intermediate revealing key structural rearrangements upon E2–E3 Ub transfer and Ub relay. Our data suggest that transfer to the dynamic upstream cysteine, whilst mitigating lysine activity, requires a closed-like E2~Ub conjugate with tempered reactivity, and Ub relay is facilitated by a helix–coil transition. Furthermore, neurodevelopmental defects and delayed injury-induced degeneration in RCR-defective knock-in mice suggest its requirement, and that of substrate esterification activity, for normal neural development and programmed axon degeneration.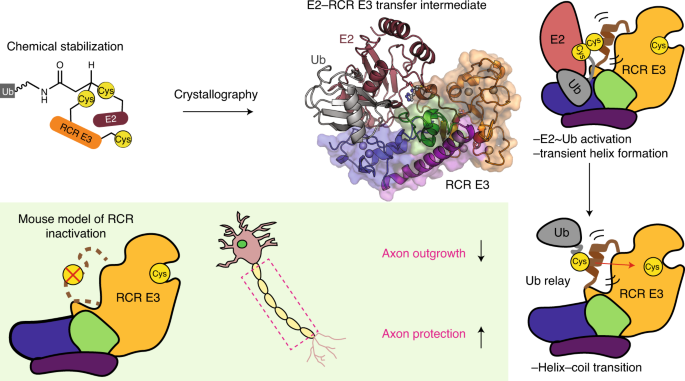 Access options
Subscribe to Journal
Get full journal access for 1 year
$169.00
only $14.08 per issue
All prices are NET prices.
VAT will be added later in the checkout.
Rent or Buy article
Get time limited or full article access on ReadCube.
from$8.99
All prices are NET prices.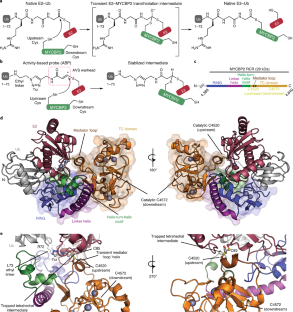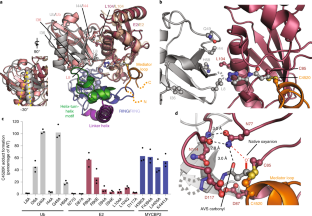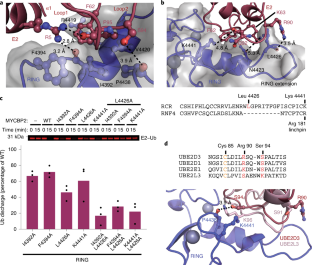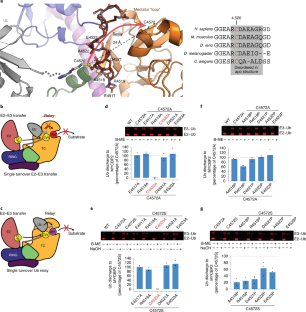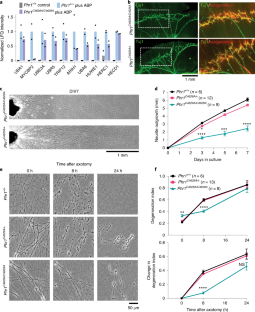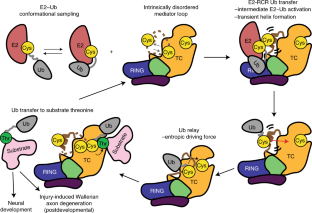 Data availability
Protein Data Bank coordinates and structure factors for RCR E2–Ub have been deposited, with accession code 6T7F. All DNA constructs were verified by DNA sequencing and are available through the Medical Research Council Protein Phosphorylation and Ubiquitylation Unit, University of Dundee, reagents website (https://mrcppureagents.dundee.ac.uk/). The data that supports these findings, including raw mass spectrometry and microscopy data, are available from the corresponding author upon request. Source data are provided with this paper.
References
1.

Komander, D. & Rape, M. The ubiquitin code. Annu. Rev. Biochem. 81, 203–229 (2012).

2.

Oh, E., Akopian, D. & Rape, M. Principles of ubiquitin-dependent signaling. Annu. Rev. Cell Dev. Biol. 34, 137–162 (2018).

3.

Deshaies, R. J. & Joazeiro, C. A. RING domain E3 ubiquitin ligases. Annu. Rev. Biochem. 78, 399–434 (2009).

4.

Pruneda, J. N., Stoll, K. E., Bolton, L. J., Brzovic, P. S. & Klevit, R. E. Ubiquitin in motion: structural studies of the ubiquitin conjugating enzyme~ubiquitin conjugate. Biochemistry 50, 1624–1633 (2011).

5.

Saha, A., Lewis, S., Kleiger, G., Kuhlman, B. & Deshaies, R. J. Essential role for ubiquitin-ubiquitin-conjugating enzyme interaction in ubiquitin discharge from Cdc34 to substrate. Mol. Cell 42, 75–83 (2011).

6.

Wickliffe, K. E., Lorenz, S., Wemmer, D. E., Kuriyan, J. & Rape, M. The mechanism of linkage-specific ubiquitin chain elongation by a single-subunit E2. Cell 144, 769–781 (2011).

7.

Plechanovova, A., Jaffray, E. G., Tatham, M. H., Naismith, J. H. & Hay, R. T. Structure of a RING E3 ligase and ubiquitin-loaded E2 primed for catalysis. Nature 489, 115–120 (2012).

8.

Dou, H., Buetow, L., Sibbet, G. J., Cameron, K. & Huang, D. T. BIRC7-E2 ubiquitin conjugate structure reveals the mechanism of ubiquitin transfer by a RING dimer. Nat. Struct. Mol. Biol. 19, 876–883 (2012).

9.

Pruneda, J. N. et al. Structure of an E3:E2~Ub complex reveals an allosteric mechanism shared among RING/U-box ligases. Mol. Cell 47, 933–942 (2012).

10.

Scheffner, M., Nuber, U. & Huibregtse, J. M. Protein ubiquitination involving an E1-E2-E3 enzyme ubiquitin thioester cascade. Nature 373, 81–83 (1995).

11.

Wenzel, D. M., Lissounov, A., Brzovic, P. S. & Klevit, R. E. UBCH7 reactivity profile reveals parkin and HHARI to be RING/HECT hybrids. Nature 474, 105–108 (2011).

12.

Kamadurai, H. B. et al. Insights into ubiquitin transfer cascades from a structure of a UbcH5B~ubiquitin-HECT(NEDD4L) complex. Mol. Cell 36, 1095–1102 (2009).

13.

Lechtenberg, B. C. et al. Structure of a HOIP/E2~ubiquitin complex reveals RBR E3 ligase mechanism and regulation. Nature 529, 546–550 (2016).

14.

Dove, K. K., Stieglitz, B., Duncan, E. D., Rittinger, K. & Klevit, R. E. Molecular insights into RBR E3 ligase ubiquitin transfer mechanisms. EMBO Rep. 17, 1221–1235 (2016).

15.

Dove, K. K. et al. Structural studies of HHARI/UbcH7~Ub reveal unique E2~Ub conformational restriction by RBR RING1. Structure 25, 890–900.e5 (2017).

16.

Yuan, L., Lv, Z., Atkison, J. H. & Olsen, S. K. Structural insights into the mechanism and E2 specificity of the RBR E3 ubiquitin ligase HHARI. Nat. Commun. 8, 211 (2017).

17.

Wan, H. I. et al. Highwire regulates synaptic growth in Drosophila. Neuron 26, 313–329 (2000).

18.

Zhen, M., Huang, X., Bamber, B. & Jin, Y. Regulation of presynaptic terminal organization by C. elegans RPM-1, a putative guanine nucleotide exchanger with a RING-H2 finger domain. Neuron 26, 331–343 (2000).

19.

Schaefer, A. M., Hadwiger, G. D. & Nonet, M. L. rpm-1, a conserved neuronal gene that regulates targeting and synaptogenesis in C. elegans. Neuron 26, 345–356 (2000).

20.

D'Souza, J. et al. Formation of the retinotectal projection requires Esrom, an ortholog of PAM (protein associated with Myc). Development 132, 247–256 (2005).

21.

Bloom, A. J., Miller, B. R., Sanes, J. R. & DiAntonio, A. The requirement for Phr1 in CNS axon tract formation reveals the corticostriatal boundary as a choice point for cortical axons. Genes Dev. 21, 2593–2606 (2007).

22.

Lewcock, J. W., Genoud, N., Lettieri, K. & Pfaff, S. L. The ubiquitin ligase Phr1 regulates axon outgrowth through modulation of microtubule dynamics. Neuron 56, 604–620 (2007).

23.

Richter, K. T., Kschonsak, Y. T., Vodicska, B. & Hoffmann, I. FBXO45-MYCBP2 regulates mitotic cell fate by targeting FBXW7 for degradation. Cell Death Differ. 27, 758–772 (2020).

24.

Crawley, O. et al. Autophagy is inhibited by ubiquitin ligase activity in the nervous system. Nat. Commun. 10, 5017 (2019).

25.

Pao, K. C. et al. Activity-based E3 ligase profiling uncovers an E3 ligase with esterification activity. Nature 556, 381–385 (2018).

26.

Burgess, R. W. et al. Evidence for a conserved function in synapse formation reveals Phr1 as a candidate gene for respiratory failure in newborn mice. Mol. Cell. Biol. 24, 1096–1105 (2004).

27.

Babetto, E., Beirowski, B., Russler, E. V., Milbrandt, J. & DiAntonio, A. The Phr1 ubiquitin ligase promotes injury-induced axon self-destruction. Cell Rep. 3, 1422–1429 (2013).

28.

Coleman, M. P. & Hoke, A. Programmed axon degeneration: from mouse to mechanism to medicine. Nat. Rev. Neurosci. 21, 183–196 (2020).

29.

Xiong, X. et al. The highwire ubiquitin ligase promotes axonal degeneration by tuning levels of Nmnat protein. PLoS Biol. 10, e1001440 (2012).

30.

Pao, K. C. et al. Probes of ubiquitin E3 ligases enable systematic dissection of parkin activation. Nat. Chem. Biol. 12, 324–331 (2016).

31.

Olsen, S. K., Capili, A. D., Lu, X., Tan, D. S. & Lima, C. D. Active site remodelling accompanies thioester bond formation in the SUMO E1. Nature 463, 906–912 (2010).

32.

Kamadurai, H. B. et al. Mechanism of ubiquitin ligation and lysine prioritization by a HECT E3. eLife 2, e00828 (2013).

33.

Streich, F. C. Jr. & Lima, C. D. Capturing a substrate in an activated RING E3/E2–SUMO complex. Nature 536, 304–308 (2016).

34.

Wu, P. Y. et al. A conserved catalytic residue in the ubiquitin-conjugating enzyme family. EMBO J. 22, 5241–5250 (2003).

35.

Yunus, A. A. & Lima, C. D. Lysine activation and functional analysis of E2-mediated conjugation in the SUMO pathway. Nat. Struct. Mol. Biol. 13, 491–499 (2006).

36.

Berndsen, C. E., Wiener, R., Yu, I. W., Ringel, A. E. & Wolberger, C. A conserved asparagine has a structural role in ubiquitin-conjugating enzymes. Nat. Chem. Biol. 9, 154–156 (2013).

37.

Wilson, R. H., Zamfir, S. & Sumner, I. Molecular dynamics simulations reveal a new role for a conserved active site asparagine in a ubiquitin-conjugating enzyme. J. Mol. Graph. Model 76, 403–411 (2017).

38.

Jones, W. M., Davis, A. G., Wilson, R. H., Elliott, K. L. & Sumner, I. A conserved asparagine in a ubiquitin-conjugating enzyme positions the substrate for nucleophilic attack. J. Comput. Chem. 40, 1969–1977 (2019).

39.

Bruice, T. C. & Pandit, U. K. Intramolecular models depicting the kinetic importance of "Fit" in enzymatic catalysis. Proc. Natl Acad. Sci. USA 46, 402–404 (1960).

40.

Zheng, N., Wang, P., Jeffrey, P. D. & Pavletich, N. P. Structure of a c-Cbl-UbcH7 complex: RING domain function in ubiquitin-protein ligases. Cell 102, 533–539 (2000).

41.

Mills, K. V., Johnson, M. A. & Perler, F. B. Protein splicing: how inteins escape from precursor proteins. J. Biol. Chem. 289, 14498–14505 (2014).

42.

Klabunde, T., Sharma, S., Telenti, A., Jacobs, W. R. Jr. & Sacchettini, J. C. Crystal structure of GyrA intein from Mycobacterium xenopi reveals structural basis of protein splicing. Nat. Struct. Biol. 5, 31–36 (1998).

43.

Oneil, K. T. & Degrado, W. F. A thermodynamic scale for the helix-forming tendencies of the commonly occurring amino acids. Science 250, 646–651 (1990).

44.

Schellman, J. A. The factors affecting the stability of hydrogen-bonded polypeptide structures in solution. J. Phys. Chem. 62, 1485–1494 (1959).

45.

Zimm, B. H. & Bragg, J. K. Theory of the phase transition between helix and random coil in polypeptide chains. J. Chem. Phys. 31, 526–535 (1959).

46.

Gilley, J., Mayer, P. R., Yu, G. & Coleman, M. P. Low levels of NMNAT2 compromise axon development and survival. Hum. Mol. Genet. 28, 448–458 (2019).

47.

Stewart, M. D. et al. Tuning BRCA1 and BARD1 activity to investigate RING ubiquitin ligase mechanisms. Protein Sci. 26, 475–483 (2017).

48.

Osterloh, J. M. et al. dSarm/Sarm1 is required for activation of an injury-induced axon death pathway. Science 337, 481–484 (2012).

49.

Essuman, K. et al. The SARM1 Toll/interleukin-1 receptor domain possesses intrinsic NAD+ cleavage activity that promotes pathological axonal degeneration. Neuron 93, 1334–1343 e.5 (2017).

50.

Loring, H. S. & Thompson, P. R. Emergence of SARM1 as a potential therapeutic target for Wallerian-type diseases. Cell Chem. Biol. 27, 1–13 (2020).

51.

Kabsch, W. XDS. Acta Crystallogr. D Biol. Crystallogr. 66, 125–132 (2010).

52.

Evans, P. R. & Murshudov, G. N. How good are my data and what is the resolution? Acta Crystallogr. D Biol. Crystallogr. 69, 1204–1214 (2013).

53.

McCoy, A. J. et al. Phaser crystallographic software. J. Appl. Crystallogr. 40, 658–674 (2007).

54.

Emsley, P., Lohkamp, B., Scott, W. G. & Cowtan, K. Features and development of Coot. Acta Crystallogr. D Biol. Crystallogr. 66, 486–501 (2010).

55.

Murshudov, G. N. et al. REFMAC5 for the refinement of macromolecular crystal structures. Acta Crystallogr. D Biol. Crystallogr. 67, 355–367 (2011).

56.

Moriarty, N. W., Grosse-Kunstleve, R. W. & Adams, P. D. electronic Ligand Builder and Optimization Workbench (eLBOW): a tool for ligand coordinate and restraint generation. Acta Crystallogr. D Biol. Crystallogr. 65, 1074–1080 (2009).

57.

Afonine, P. V. et al. FEM: feature-enhanced map. Acta Crystallogr. D Biol. Crystallogr. 71, 646–666 (2015).

58.

Brownell, J. E. et al. Substrate-assisted inhibition of ubiquitin-like protein-activating enzymes: the NEDD8 E1 inhibitor MLN4924 forms a NEDD8-AMP mimetic in situ. Mol. Cell 37, 102–111 (2010).

59.

Stanley, M. et al. Orthogonal thiol functionalization at a single atomic center for profiling transthiolation activity of E1 activating enzymes. ACS Chem. Biol. 10, 1542–1554 (2015).

60.

Sasaki, Y., Vohra, B. P., Lund, F. E. & Milbrandt, J. Nicotinamide mononucleotide adenylyl transferase-mediated axonal protection requires enzymatic activity but not increased levels of neuronal nicotinamide adenine dinucleotide. J. Neurosci. 29, 5525–5535 (2009).
Acknowledgements
We thank J.-F. Zhao, G. Gilmour, M. Mohammad, J. Varghese and A. Knebel of the MRC Protein Phosphorylation and Ubiquitylation Unit. We thank the European Synchrotron Radiation Facility. This work was funded by UK Medical Research Council (MC_UU_12016/8) and Biotechnology and Biological Sciences Research Council (BB/P003982/1). A.L. was funded by a Sir Henry Wellcome Postdoctoral Fellowship from the Wellcome Trust (210904/Z/18/Z). We also acknowledge pharmaceutical companies supporting the Division of Signal Transduction Therapy (Boehringer-Ingelheim, GlaxoSmithKline and Merck KGaA).
Ethics declarations
Competing interests
S.V., K.-C.P. and M.S. are authors on patents relating to work presented in this article.
Additional information
Publisher's note Springer Nature remains neutral with regard to jurisdictional claims in published maps and institutional affiliations.
Supplementary information
About this article
Cite this article
Mabbitt, P.D., Loreto, A., Déry, MA. et al. Structural basis for RING-Cys-Relay E3 ligase activity and its role in axon integrity. Nat Chem Biol 16, 1227–1236 (2020). https://doi.org/10.1038/s41589-020-0598-6
Received:

Revised:

Accepted:

Published:

Issue Date:
Further reading
Proceedings of the National Academy of Sciences (2021)

Sonja Lorenz

&

Katrin Rittinger

Nature Chemical Biology (2020)