Abstract
Targeted protein degradation is a new therapeutic modality based on drugs that destabilize proteins by inducing their proximity to E3 ubiquitin ligases. Of particular interest are molecular glues that can degrade otherwise unligandable proteins by orchestrating direct interactions between target and ligase. However, their discovery has so far been serendipitous, thus hampering broad translational efforts. Here, we describe a scalable strategy toward glue degrader discovery that is based on chemical screening in hyponeddylated cells coupled to a multi-omics target deconvolution campaign. This approach led us to identify compounds that induce ubiquitination and degradation of cyclin K by prompting an interaction of CDK12–cyclin K with a CRL4B ligase complex. Notably, this interaction is independent of a dedicated substrate receptor, thus functionally segregating this mechanism from all described degraders. Collectively, our data outline a versatile and broadly applicable strategy to identify degraders with nonobvious mechanisms and thus empower future drug discovery efforts.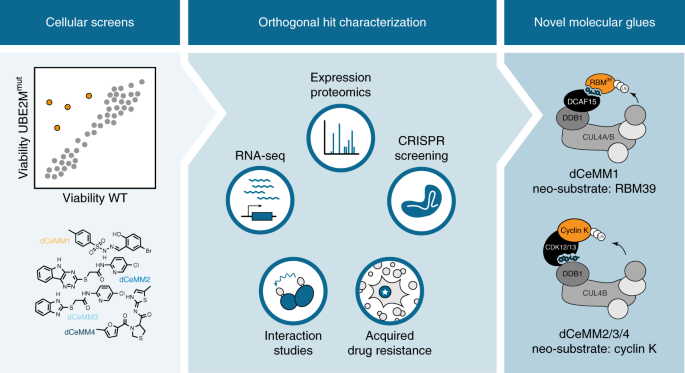 Relevant articles
Open Access articles citing this article.
Linus V. M. Hopf

,

Kheewoong Baek

…

Brenda A. Schulman

Nature Structural & Molecular Biology Open Access 18 August 2022

Evita G. Weagel

,

Jason M. Foulks

…

Steven L. Warner

Medicinal Chemistry Research Open Access 12 May 2022

Shiyun Cao

,

Shoukai Kang

…

Ning Zheng

Nature Communications Open Access 10 February 2022
Access options
Subscribe to Nature+
Get immediate online access to the entire Nature family of 50+ journals
Subscribe to Journal
Get full journal access for 1 year
$119.00
only $9.92 per issue
All prices are NET prices.
VAT will be added later in the checkout.
Tax calculation will be finalised during checkout.
Buy article
Get time limited or full article access on ReadCube.
$32.00
All prices are NET prices.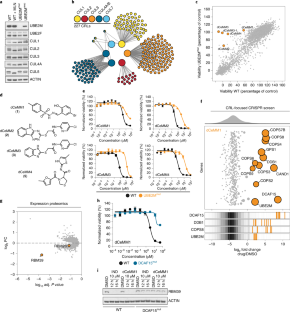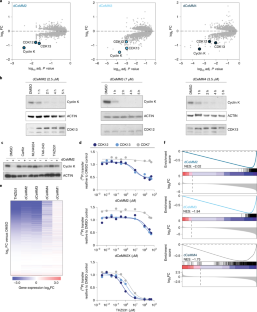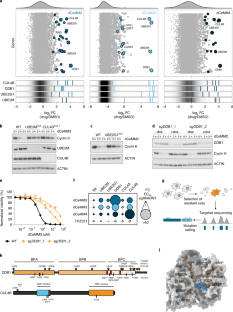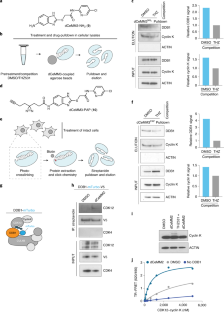 Data availability
The authors declare that the data supporting the findings of this study are available within the paper and its supplementary information files. Sequencing of sgRNA cassettes from all the CRISPR–Cas9 screens described in this study (Figs. 1h and 3a and Extended Data Figs. 5a and 6b–e) and hybrid-capture experiments (Fig. 3h and Extended Data Figs. 7h and 8d) have been deposited in the NCBI Sequence Read Archive under the accession code PRJNA599346. The analyzed data are provided in Supplementary Tables 2 and 5, respectively. Expression proteomics data (Figs. 1g and 2a and Extended Data Figs. 2a and 4d,e) are provided in Supplementary Table 3. Searches were performed with full tryptic digestion against the human SwissProt database v.2017.06 06 (https://www.uniprot.org/statistics/Swiss-Prot%202017_06). Structure of DDB1 in complex with SV5V peptide (Fig. 3i) corresponds to PDB 2HYE. RNA-seq data (Fig. 2e,f and Extended Data Fig. 4a–c) have been deposited in the GEO under the accession code GSE142405. The analyzed data are provided in Supplementary Table 4. Source data are provided with this paper.
References
Winter, G. E. et al. DRUG DEVELOPMENT. Phthalimide conjugation as a strategy for in vivo target protein degradation. Science 348, 1376–1381 (2015).

Bondeson, D. P. et al. Catalytic in vivo protein knockdown by small-molecule PROTACs. Nat. Chem. Biol. 11, 611–617 (2015).

Zengerle, M., Chan, K. H. & Ciulli, A. Selective small molecule induced degradation of the BET bromodomain protein BRD4. ACS Chem. Biol. 10, 1770–1777 (2015).

Sakamoto, K. M. et al. Protacs: chimeric molecules that target proteins to the Skp1-Cullin-F box complex for ubiquitination and degradation. Proc. Natl Acad. Sci. USA 98, 8554–8559 (2001).

Schneekloth, J. S. Jr. et al. Chemical genetic control of protein levels: selective in vivo targeted degradation. J. Am. Chem. Soc. 126, 3748–3754 (2004).

Toure, M. & Crews, C. M. Small-Molecule PROTACS: new approaches to protein degradation. Angew. Chem. Int. Ed. Engl. 55, 1966–1973 (2016).

Ito, T. et al. Identification of a primary target of thalidomide teratogenicity. Science 327, 1345–1350 (2010).

Lu, G. et al. The myeloma drug lenalidomide promotes the cereblon-dependent destruction of Ikaros proteins. Science 343, 305–309 (2014).

Kronke, J. et al. Lenalidomide causes selective degradation of IKZF1 and IKZF3 in multiple myeloma cells. Science 343, 301–305 (2014).

Sievers, Q. L. et al. Defining the human C2H2 zinc finger degrome targeted by thalidomide analogs through CRBN. Science 362, eaat0572 (2018).

Gandhi, A. K. et al. Immunomodulatory agents lenalidomide and pomalidomide co-stimulate T cells by inducing degradation of T cell repressors Ikaros and Aiolos via modulation of the E3 ubiquitin ligase complex CRL4(CRBN.). Br. J. Haematol. 164, 811–821 (2014).

Han, T. et al. Anticancer sulfonamides target splicing by inducing RBM39 degradation via recruitment to DCAF15. Science 356, eaal3755 (2017).

Uehara, T. et al. Selective degradation of splicing factor CAPERalpha by anticancer sulfonamides. Nat. Chem. Biol. 13, 675–680 (2017).

Bussiere, D. E. et al. Structural basis of indisulam-mediated RBM39 recruitment to DCAF15 E3 ligase complex. Nat. Chem. Biol. 16, 15–23 (2020).

Ting, T. C. et al. Aryl sulfonamides degrade RBM39 and RBM23 by recruitment to CRL4-DCAF15. Cell Rep. 29, 1499–1510.e6 (2019).

Faust, T. B. et al. Structural complementarity facilitates E7820-mediated degradation of RBM39 by DCAF15. Nat. Chem. Biol. 16, 7–14 (2020).

Du, X. et al. Structural basis and kinetic pathway of RBM39 recruitment to DCAF15 by a sulfonamide molecular glue E7820. Structure 27, 1625–1633.e3 (2019).

Petroski, M. D. & Deshaies, R. J. Function and regulation of cullin-RING ubiquitin ligases. Nat. Rev. Mol. Cell Biol. 6, 9–20 (2005).

Andrejeva, J., Poole, E., Young, D. F., Goodbourn, S. & Randall, R. E. The p127 subunit (DDB1) of the UV-DNA damage repair binding protein is essential for the targeted degradation of STAT1 by the V protein of the paramyxovirus simian virus 5. J. Virol. 76, 11379–11386 (2002).

Lin, G. Y., Paterson, R. G., Richardson, C. D. & Lamb, R. A. The V protein of the paramyxovirus SV5 interacts with damage-specific DNA binding protein. Virology 249, 189–200 (1998).

Li, T., Chen, X., Garbutt, K. C., Zhou, P. & Zheng, N. Structure of DDB1 in complex with a paramyxovirus V protein: viral hijack of a propeller cluster in ubiquitin ligase. Cell 124, 105–117 (2006).

Li, T., Robert, E. I., van Breugel, P. C., Strubin, M. & Zheng, N. A promiscuous alpha-helical motif anchors viral hijackers and substrate receptors to the CUL4-DDB1 ubiquitin ligase machinery. Nat. Struct. Mol. Biol. 17, 105–111 (2010).

Leyser, H. M. et al. Arabidopsis auxin-resistance gene AXR1 encodes a protein related to ubiquitin-activating enzyme E1. Nature 364, 161–164 (1993).

Mayor-Ruiz, C. et al. Plasticity of the cullin-RING ligase repertoire shapes sensitivity to ligand-induced protein degradation. Mol. Cell 75, 849–858.e8 (2019).

Wei, D. & Sun, Y. Small RING finger proteins RBX1 and RBX2 of SCF E3 ubiquitin ligases: the role in cancer and as cancer targets. Genes Cancer 1, 700–707 (2010).

Huang, D. T. et al. E2-RING expansion of the NEDD8 cascade confers specificity to cullin modification. Mol. Cell 33, 483–495 (2009).

Zhang, T. et al. Covalent targeting of remote cysteine residues to develop CDK12 and CDK13 inhibitors. Nat. Chem. Biol. 12, 876–884 (2016).

Greenleaf, A. L. Human CDK12 and CDK13, multi-tasking CTD kinases for the new millenium. Transcription 10, 91–110 (2019).

Doench, J. G. et al. Optimized sgRNA design to maximize activity and minimize off-target effects of CRISPR-Cas9. Nat. Biotechnol. 34, 184–191 (2016).

Reitsma, J. M. et al. Composition and regulation of the cellular repertoire of SCF ubiquitin ligases. Cell 171, 1326–1339.e14 (2017).

Reichermeier, K. M. et al. PIKES analysis reveals response to degraders and key regulatory mechanisms of the CRL4 network. Mol. Cell 77, 1092–1106.e9 (2020).

Branon, T. C. et al. Efficient proximity labeling in living cells and organisms with TurboID. Nat. Biotechnol. 36, 880–887 (2018).

Meyers, R. M. et al. Computational correction of copy number effect improves specificity of CRISPR-Cas9 essentiality screens in cancer cells. Nat. Genet. 49, 1779–1784 (2017).

Chamberlain, P. P. & Cathers, B. E. Cereblon modulators: low molecular weight inducers of protein degradation. Drug Discov. Today Technol. 31, 29–34 (2019).

Ritchie, M. E. et al. limma powers differential expression analyses for RNA-sequencing and microarray studies. Nucleic Acids Res. 43, e47 (2015).

Barnett, D. W., Garrison, E. K., Quinlan, A. R., Stromberg, M. P. & Marth, G. T. BamTools: a C++ API and toolkit for analyzing and managing BAM files. Bioinformatics 27, 1691–1692 (2011).

Langmead, B. & Salzberg, S. L. Fast gapped-read alignment with Bowtie 2. Nat. Methods 9, 357–359 (2012).

Bolger, A. M., Lohse, M. & Usadel, B. Trimmomatic: a flexible trimmer for Illumina sequence data. Bioinformatics 30, 2114–2120 (2014).

Dobin, A. et al. STAR: ultrafast universal RNA-seq aligner. Bioinformatics 29, 15–21 (2013).

Anders, S., Pyl, P. T. & Huber, W. HTSeq-a Python framework to work with high-throughput sequencing data. Bioinformatics 31, 166–169 (2015).

Bieniossek, C., Imasaki, T., Takagi, Y. & Berger, I. MultiBac: expanding the research toolbox for multiprotein complexes. Trends Biochem. Sci 37, 49–57 (2012).

Van der Auwera, G. A. et al. From FastQ data to high confidence variant calls: the Genome Analysis Toolkit best practices pipeline. Curr. Protoc. Bioinformatics 43, 11 10 1–11 10 33 (2013).

McKenna, A. et al. The genome analysis toolkit: a MapReduce framework for analyzing next-generation DNA sequencing data. Genome Res. 20, 1297–1303 (2010).

McLaren, W. et al. The ensembl variant effect predictor. Genome Biol. 17, 122 (2016).

Abdulrahman, W. et al. A set of baculovirus transfer vectors for screening of affinity tags and parallel expression strategies. Anal. Biochem. 385, 383–385 (2009).

Li, T., Pavletich, N. P., Schulman, B. A. & Zheng, N. High-level expression and purification of recombinant SCF ubiquitin ligases. Methods Enzymol. 398, 125–142 (2005).

Fischer, E. S. et al. Structure of the DDB1-CRBN E3 ubiquitin ligase in complex with thalidomide. Nature 512, 49–53 (2014).

Winter, G. E. et al. Systems-pharmacology dissection of a drug synergy in imatinib-resistant CML. Nat. Chem. Biol. 8, 905–912 (2012).
Acknowledgements
CeMM and the Winter laboratory are supported by the Austrian Academy of Sciences. This work has received funding from the European Research Council (ERC) under the European Union's Horizon 2020 research and innovation program (grant agreement no. 851478). This work was further enabled by funding from the Austrian Science Fund (FWF, project nos. P32125-B and P30271-B28). C.M.-R. is supported by an individual Marie Skłodowska-Curie postdoctoral fellowship (grant agreement no. 796010). Z.K. was supported by a European Union's Horizon 2020 Research and Innovation Program under the Marie Skłodowska-Curie grant agreement number 765445. G.P. was supported by the Human Frontier Science Program (HFSP Long-Term Fellowship LT000210/2014) and the European Molecular Biology Organization (EMBO Advanced Fellowship ALTF 761-849 2016). We further acknowledge funding awarded from the European Research Council (ERC) under the European Union's Horizon 2020 research and innovation program grant agreement no. 666068 and from the Novartis Research Foundation to N.H.T. Sequencing was performed at the Biomedical Sequencing facility and proteomics at the Proteomics facility at CeMM. We thank B. Ebert and M. Slabicki for sharing and discussing results ahead of publication.
Ethics declarations
Competing interests
C.M.-R. and G.E.W. are listed as inventors of a patent application for glue discovery in neddylation-deficient cellular systems. C.M.-R., S.K. and G.E.W. are listed as inventors of patent applications covering the chemical space of dCeMM2/3/4. M.B., S.K., G.E.W and CeMM are founders and equity holders of Proxygen.
Additional information
Publisher's note Springer Nature remains neutral with regard to jurisdictional claims in published maps and institutional affiliations.
Supplementary information
About this article
Cite this article
Mayor-Ruiz, C., Bauer, S., Brand, M. et al. Rational discovery of molecular glue degraders via scalable chemical profiling. Nat Chem Biol 16, 1199–1207 (2020). https://doi.org/10.1038/s41589-020-0594-x
Received:

Accepted:

Published:

Issue Date:

DOI: https://doi.org/10.1038/s41589-020-0594-x