A pair of fluorescent indicator-tagged DNA-duplex scaffolds permit assessments of nitric oxide (NO) production on cell surfaces and in intracellular networks. The application of these nanoprobes indicates formations of local NO signals that might conserve cancer cell integrity.
Access options
Subscribe to Journal
Get full journal access for 1 year
$59.00
only $4.92 per issue
All prices are NET prices.
VAT will be added later in the checkout.
Tax calculation will be finalised during checkout.
Rent or Buy article
Get time limited or full article access on ReadCube.
from$8.99
All prices are NET prices.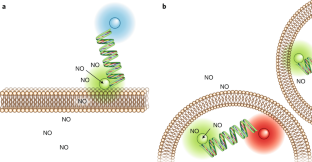 References
1.

Qian, J. & Fulton, D. Front. Physiol. 4, 347 (2013).

2.

Eroglu, E. et al. Nat. Commun 7, 10623 (2016).

3.

Eroglu, E. et al. Nitric Oxide 70, 59–67 (2017).

4.

Jani, M.S., Zou, J., Veetil, A.T. & Krishnan, Y. Nat. Chem. Biol. https://doi.org/10.1038/s41589-020-0491-3 (2020).

5.

Narayanaswamy, N. et al. Nat. Methods 16, 95–102 (2019).

6.

Kojima, H. et al. Anal. Chem 73, 1967–1973 (2001).

7.

Kufe, D. W. Cancer Biol. Ther. 8, 1197–1203 (2009).

8.

Dudzinski, D. M., Igarashi, J., Greif, D. & Michel, T. Annu. Rev. Pharmacol. Toxicol. 46, 235–276 (2006).

9.

Eroglu, E., Saravi, S. S. S., Sorrentino, A., Steinhorn, B. & Michel, T. Proc. Natl Acad. Sci. USA 116, 20210–20217 (2019).

10.

Feron, O., Saldana, F., Michel, J. B. & Michel, T. J. Biol. Chem 273, 3125–3128 (1998).
Ethics declarations
Competing interests
The authors declare no competing interests.
About this article
Cite this article
Eroglu, E., Michel, T., Graier, W.F. et al. Yes (again) to local NO. Nat Chem Biol 16, 606–607 (2020). https://doi.org/10.1038/s41589-020-0552-7