A combination of biochemical and biophysical techniques to document the asymmetric distribution of lipids, with a particular focus on the acyl tails, in mammalian cell membranes show that protein transmembrane domains are similarly asymmetric.
Access options
Subscribe to Journal
Get full journal access for 1 year
$59.00
only $4.92 per issue
All prices are NET prices.
VAT will be added later in the checkout.
Tax calculation will be finalised during checkout.
Rent or Buy article
Get time limited or full article access on ReadCube.
from$8.99
All prices are NET prices.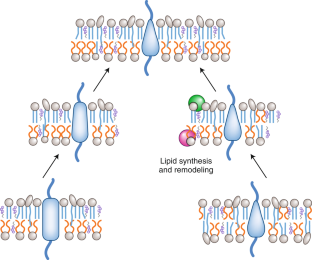 References
1.

Van Meer, G., Voelker, D. R. & Feigenson, G. W. Nat. Rev. Mol. Cell Biol. 9, 112–124 (2008).

2.

Lorent, J. et al. Nat. Chem. Biol. https://doi.org/10.1038/s41589-020-0529-6 (2020).

3.

Jacobson, K., Mouritsen, O. G. & Anderson, R. G. Nat. Cell Biol. 9, 7–14 (2007).

4.

Singer., S. J. & Nicolson, G. L. Science 175, 720–731 (1972).

5.

Yesylevskyy, S. O. & Demchenko, A. P. Methods Mol. Biol. 1232, 291–306 (2015).

6.

Simons, K. & Ikonen, E. Nature 387, 569–572 (1997).

7.

Makarova, M. et al. Curr. Biol. 30, 367–380.e8 (2020).

8.

Kaiser, H.-J. et al. J. Biol. Chem. 286, 40631–40637 (2011).
Ethics declarations
Competing interests
The authors declare no competing interests.
About this article
Cite this article
Makarova, M., Owen, D.M. Asymmetry across the membrane. Nat Chem Biol 16, 605–606 (2020). https://doi.org/10.1038/s41589-020-0545-6