Abstract
Although most acute skin wounds heal rapidly, non-healing skin ulcers represent an increasing and substantial unmet medical need that urgently requires effective therapeutics. Keratinocytes resurface wounds to re-establish the epidermal barrier by transitioning to an activated, migratory state, but this ability is lost in dysfunctional chronic wounds. Small-molecule regulators of keratinocyte plasticity with the potential to reverse keratinocyte malfunction in situ could offer a novel therapeutic approach in skin wound healing. Utilizing high-throughput phenotypic screening of primary keratinocytes, we identify such small molecules, including bromodomain and extra-terminal domain (BET) protein family inhibitors (BETi). BETi induce a sustained activated, migratory state in keratinocytes in vitro, increase activation markers in human epidermis ex vivo and enhance skin wound healing in vivo. Our findings suggest potential clinical utility of BETi in promoting keratinocyte re-epithelialization of skin wounds. Importantly, this novel property of BETi is exclusively observed after transient low-dose exposure, revealing new potential for this compound class.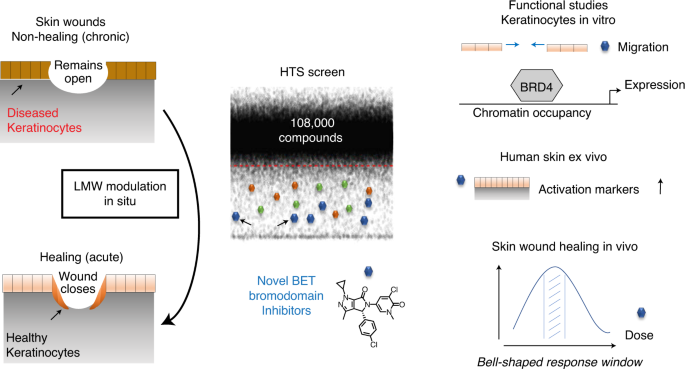 Access options
Subscribe to Journal
Get full journal access for 1 year
$119.00
only $9.92 per issue
All prices are NET prices.
VAT will be added later in the checkout.
Tax calculation will be finalised during checkout.
Rent or Buy article
Get time limited or full article access on ReadCube.
from$8.99
All prices are NET prices.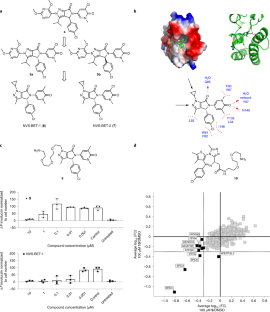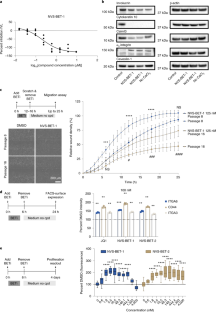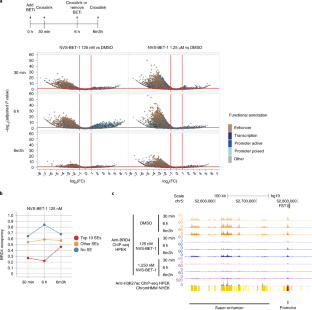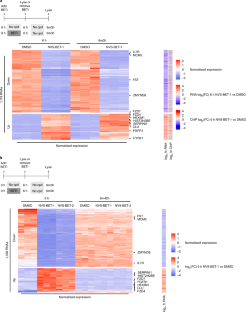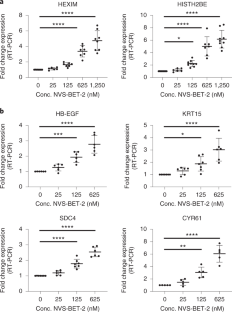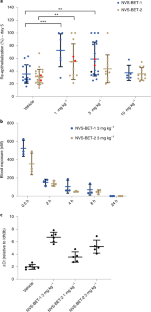 Data availability
Refined coordinates for the crystal structure data shown in Fig. 1b have been deposited in the PDB database with identification code 6ZCI. BRD4 ChIP-seq data shown in Fig. 3 and Extended Data Figs. 6 and 7 have been deposited to the NCBI GEO database under accession no. GSE130365. BRD4 ChIP-seq peaks shown in Fig. 3a,c, as well as in Extended Data Figs. 6b and 7b, were annotated using the ChromHMM (http://compbio.mit.edu/ChromHMM/) chromatin state profile of normal human epidermal keratinocytes from ENCODE (https://www.encodeproject.org/). H3K27ac ChIP-seq data from untreated, low-passage human primary epidermal keratinocytes, as shown in Fig. 3c and Extended Data Fig. 7b, were taken from ref. 29. RNA-seq data have not been deposited to a public repository to protect the donor confidentiality of commercially available primary human keratinocytes. Instead, the following are available. The gene-based count table for RNA-seq data shown in Extended Data Fig. 4 is included as Supplementary Data 2 text file 'Schutzius_Dataset_2.txt'. The gene-based count table for RNA-seq data shown in Fig. 4a and Extended Data Fig. 8 is included as Supplementary Data 3 text file 'Schutzius_Dataset_3.txt'. The gene-based count table for RNA-seq data shown in Fig. 4b is included as Supplementary Data 4 text file 'Schutzius_Dataset_4.txt'. Gene set enrichment analysis based on RNA-seq data as shown in Extended Figs. 7c and 8 was performed using the Molecular Signatures Database (MSigDB, v7.0, https://www.gsea-msigdb.org/gsea/msigdb/). The ATAC-seq data shown in Extended Data Fig. 9 were deposited in the NCBI GEO database under accession no. GSE134306. Source data are provided with this paper.
References
1.

Demidova-Rice, T. N., Hamblin, M. R. & Herman, I. M. Acute and impaired wound healing: pathophysiology and current methods for drug delivery. Part 1: normal and chronic wounds: biology, causes, and approaches to care. Adv. Skin Wound Care 25, 304–314 (2012).

2.

Eming, S. A., Martin, P. & Tomic-Canic, M. Wound repair and regeneration: mechanisms, signaling, and translation. Sci. Transl. Med. 6, 265sr6 (2014).

3.

Belokhvostova, D. et al. Homeostasis, regeneration and tumour formation in the mammalian epidermis. Int. J. Dev. Biol. 62, 571–582 (2018).

4.

Gonzales, K. A. U. & Fuchs, E. Skin and its regenerative powers: an alliance between stem cells and their niche. Dev. Cell 43, 387–401 (2017).

5.

Giangreco, A., Goldie, S. J., Failla, V., Saintigny, G. & Watt, F. M. Human skin aging is associated with reduced expression of the stem cell markers β1 integrin and MCSP. J. Invest. Dermatol. 130, 604–608 (2010).

6.

Pastar, I. et al. Epithelialization in wound healing: a comprehensive review. Adv. Wound Care 3, 445–464 (2014).

7.

Joost, S. et al. Single-cell transcriptomics of traced epidermal and hair follicle stem cells reveals rapid adaptations during wound healing. Cell Rep. 25, 585–597 (2018).

8.

Aragona, M. et al. Defining stem cell dynamics and migration during wound healing in mouse skin epidermis. Nat. Commun. 8, 14684 (2017).

9.

Stojadinovic, O. et al. Deregulation of epidermal stem cell niche contributes to pathogenesis of nonhealing venous ulcers. Wound Repair Regen. 22, 220–227 (2014).

10.

Stojadinovic, O. et al. Molecular pathogenesis of chronic wounds: the role of β-catenin and c-myc in the inhibition of epithelialization and wound healing. Am. J. Pathol. 167, 59–69 (2005).

11.

Stone, R. C. et al. A bioengineered living cell construct activates an acute wound healing response in venous leg ulcers. Sci. Transl. Med. 9, eaaf8611 (2017).

12.

Liu, K., Yu, C., Xie, M., Li, K. & Ding, S. Chemical modulation of cell fate in stem cell therapeutics and regenerative medicine. Cell Chem. Biol. 23, 893–916 (2016).

13.

Elsholz, F., Harteneck, C., Muller, W. & Friedland, K. Calcium—a central regulator of keratinocyte differentiation in health and disease. Eur. J. Dermatol. 24, 650–661 (2014).

14.

Sanz-Gomez, N., Freije, A. & Gandarillas, A. Keratinocyte differentiation by flow cytometry. Methods Mol. Biol. https://doi.org/10.1007/7651_2019_237 (2019).

15.

Spallotta, F. et al. A nitric oxide-dependent cross-talk between class I and III histone deacetylases accelerates skin repair. J. Biol. Chem. 288, 11004–11012 (2013).

16.

Zheng, X. et al. Triggering of a Dll4-Notch1 loop impairs wound healing in diabetes. Proc. Natl Acad. Sci. USA 116, 6985–6994 (2019).

17.

Filippakopoulos, P. et al. Selective inhibition of BET bromodomains. Nature 468, 1067–1073 (2010).

18.

Zhao, Y., Yang, C. Y. & Wang, S. The making of I-BET762, a BET bromodomain inhibitor now in clinical development. J. Med. Chem. 56, 7498–7500 (2013).

19.

McMullan, R. et al. Keratinocyte differentiation is regulated by the Rho and ROCK signaling pathway. Curr. Biol. 13, 2185–2189 (2003).

20.

Holzer, P. et al. Discovery of a dihydroisoquinolinone derivative (NVP-CGM097): a highly potent and selective MDM2 inhibitor undergoing phase 1 clinical trials in p53wt tumors. J. Med. Chem. 58, 6348–6358 (2015).

21.

Kallen, J. et al. Structural states of Hdm2 and HdmX: X-ray elucidation of adaptations and binding interactions for different chemical compound classes. ChemMedChem 14, 1305–1314 (2019).

22.

Lin, X. et al. HEXIM1 as a robust pharmacodynamic marker for monitoring target engagement of BET family bromodomain inhibitors in tumors and surrogate tissues. Mol. Cancer Ther. 16, 388–396 (2017).

23.

Goergler, A. Dihydrobenzimidazolones. Patent WO2019043217A1 (2019).

24.

Richardson, P. L. et al. Controlling cellular distribution of drugs with permeability modifying moieties. MedChemComm 10, 974–984 (2019).

25.

Savitski, M. M. et al. Multiplexed proteome dynamics profiling reveals mechanisms controlling protein homeostasis. Cell 173, 260–274 (2018).

26.

Bennett, R. D., Pittelkow, M. R. & Strehler, E. E. Immunolocalization of the tumor-sensitive calmodulin-like protein CALML3 in normal human skin and hyperproliferative skin disorders. PLoS ONE 8, e62347 (2013).

27.

Reynolds, L. E. et al. α3β1 integrin-controlled Smad7 regulates reepithelialization during wound healing in mice. J. Clin. Invest. 118, 965–974 (2008).

28.

Jozic, I. et al. Pharmacological and genetic inhibition of caveolin-1 promotes epithelialization and wound closure. Mol. Ther. 27, 1992–2004 (2019).

29.

Mercado, N. et al. IRF2 is a master regulator of human keratinocyte stem cell fate. Nat. Commun. 10, 4676 (2019).

30.

Seeger, M. A. & Paller, A. S. The roles of growth factors in keratinocyte migration. Adv. Wound Care 4, 213–224 (2015).

31.

Metral, E., Bechetoille, N., Demarne, F., Rachidi, W. & Damour, O. α6 integrin (α6high)/transferrin receptor (CD71)low keratinocyte stem cells are more potent for generating reconstructed skin epidermis than rapid adherent cells. Int. J. Mol. Sci. https://doi.org/10.3390/ijms18020282 (2017).

32.

Bourguignon, L. Y. Matrix hyaluronan-activated CD44 signaling promotes keratinocyte activities and improves abnormal epidermal functions. Am. J. Pathol. 184, 1912–1919 (2014).

33.

Shi, J. & Vakoc, C. R. The mechanisms behind the therapeutic activity of BET bromodomain inhibition. Mol. Cell 54, 728–736 (2014).

34.

Ernst, J. & Kellis, M. Discovery and characterization of chromatin states for systematic annotation of the human genome. Nat. Biotechnol. 28, 817–825 (2010).

35.

Loven, J. et al. Selective inhibition of tumor oncogenes by disruption of super-enhancers. Cell 153, 320–334 (2013).

36.

Haensel, D. & Dai, X. Epithelial-to-mesenchymal transition in cutaneous wound healing: where we are and where we are heading. Dev. Dyn. 247, 473–480 (2018).

37.

Antsiferova, M. et al. Keratinocyte-derived follistatin regulates epidermal homeostasis and wound repair. Lab. Invest. 89, 131–141 (2009).

38.

Bhadury, J. et al. BET and HDAC inhibitors induce similar genes and biological effects and synergize to kill in Myc-induced murine lymphoma. Proc. Natl Acad. Sci. USA 111, E2721–E2730 (2014).

39.

Meyer, M. et al. FGF receptors 1 and 2 are key regulators of keratinocyte migration in vitro and in wounded skin. J. Cell Sci. 125, 5690–5701 (2012).

40.

Du, H. et al. CCN1 accelerates re-epithelialization by promoting keratinocyte migration and proliferation during cutaneous wound healing. Biochem. Biophys. Res. Commun. 505, 966–972 (2018).

41.

Das, S. et al. Syndesome therapeutics for enhancing diabetic wound healing. Adv. Healthc. Mater. 5, 2248–2260 (2016).

42.

Xiang, Y. et al. Dysregulation of BRD4 function underlies the functional abnormalities of MeCP2 mutant neurons. Mol. Cell https://doi.org/10.1016/j.molcel.2020.05.016 (2020).

43.

Marazzi, I., Greenbaum, B. D., Low, D. H. P. & Guccione, E. Chromatin dependencies in cancer and inflammation. Nat. Rev. Mol. Cell Biol. 19, 245–261 (2018).

44.

Bernstein, B. E. et al. A bivalent chromatin structure marks key developmental genes in embryonic stem cells. Cell 125, 315–326 (2006).

45.

Duan, Q. et al. BET bromodomain inhibition suppresses innate inflammatory and profibrotic transcriptional networks in heart failure. Sci. Transl. Med. https://doi.org/10.1126/scitranslmed.aah5084 (2017).

46.

Park, L. K. et al. Genome-wide DNA methylation analysis identifies a metabolic memory profile in patient-derived diabetic foot ulcer fibroblasts. Epigenetics 9, 1339–1349 (2014).

47.

Shin, J. Y. et al. Epigenetic activation and memory at a TGFB2 enhancer in systemic sclerosis. Sci. Transl. Med. https://doi.org/10.1126/scitranslmed.aaw0790 (2019).

48.

Gilan, O. et al. Selective targeting of BD1 and BD2 of the BET proteins in cancer and immunoinflammation. Science 368, 387–394 (2020).

49.

Wang, L., Xu, M., Kao, C. Y., Tsai, S. Y. & Tsai, M. J. Small molecule JQ1 promotes prostate cancer invasion via BET-independent inactivation of FOXA1. J. Clin. Invest. 130, 1782–1792 (2020).

50.

Nicodeme, E. et al. Suppression of inflammation by a synthetic histone mimic. Nature 468, 1119–1123 (2010).

51.

Schutzius, G. et al. A quantitative homogeneous assay for fragile X mental retardation 1 protein. J. Neurodev. Disord. 5, 8 (2013).

52.

McKenna, E., Traganos, F., Zhao H. & Darzynkiewicz, Z. Persistant DNA damage caused by low levels of mitomycin C induces irreversible cell senescence. Cell Cycle 11, 3132–3140 (2012).

53.

Pal-Ghosh, S. et al. Transient mitomycin C-treatment of human corneal epithelial cells and fibroblasts alters cell migration, cytokine secretion, and matrix accumulation. Sci. Rep. 9, 13905 (2019).

54.

Corces, M. R. et al. An improved ATAC-seq protocol reduces background and enables interrogation of frozen tissues. Nat. Methods 14, 959–962 (2017).

55.

Kabsch, W. Integration, scaling, space-group assignment and post-refinement. Acta Crystallogr. D Biol. Crystallogr. 66, 133–144 (2010).

56.

McCoy, A. J. et al. Phaser crystallographic software. J. Appl. Crystallogr. 40, 658–674 (2007).

57.

Emsley, P., Lohkamp, B., Scott, W. G. & Cowtan, K. Features and development of Coot. Acta Crystallogr. D Biol. Crystallogr. 66, 486–501 (2010).

58.

Vonrhein, C. et al. Data processing and analysis with the autoPROC toolbox. Acta Crystallogr. D Biol. Crystallogr. 67, 293–302 (2011).

59.

Fabian, M. A. et al. A small molecule-kinase interaction map for clinical kinase inhibitors. Nat. Biotechnol. 23, 329–336 (2005).

60.

Gower, C. M. et al. Conversion of a single polypharmacological agent into selective bivalent inhibitors of intracellular kinase activity. ACS Chem. Biol. 11, 121–131 (2016).
Acknowledgements
We thank P. Mistry for discussion of the BET bromodomain inhibitors, L. Leder for involucrin protein preparation, J. Richter for help with keratinocyte migration assay development, J. Knehr for sequencing, M. Patoor and M. Livendahl for compound synthesis and analysis, J. Nagel for quantitative mass spectrometry, G. Hintzen and N. Carballido for help with preparation of split skin, S. Ley for help with histology and A. Sonrel, F. Kiefer and N. Renaud for implementing the chromatin analysis pipeline used in this study. We are grateful to J. Bradner for discussions.
Ethics declarations
Competing interests
All authors are current or previous employees of Novartis and may own shares.
Additional information
Publisher's note Springer Nature remains neutral with regard to jurisdictional claims in published maps and institutional affiliations.
Supplementary information
About this article
Cite this article
Schutzius, G., Kolter, C., Bergling, S. et al. BET bromodomain inhibitors regulate keratinocyte plasticity. Nat Chem Biol 17, 280–290 (2021). https://doi.org/10.1038/s41589-020-00716-z
Received:

Accepted:

Published:

Issue Date:
Further reading
Irene Ylivinkka

&

Sara A. Wickström

Nature Chemical Biology (2021)