Abstract
DNA has been the predominant information storage medium for biology and holds great promise as a next-generation high-density data medium in the digital era. Currently, the vast majority of DNA-based data storage approaches rely on in vitro DNA synthesis. As such, there are limited methods to encode digital data into the chromosomes of living cells in a single step. Here, we describe a new electrogenetic framework for direct storage of digital data in living cells. Using an engineered redox-responsive CRISPR adaptation system, we encoded binary data in 3-bit units into CRISPR arrays of bacterial cells by electrical stimulation. We demonstrate multiplex data encoding into barcoded cell populations to yield meaningful information storage and capacity up to 72 bits, which can be maintained over many generations in natural open environments. This work establishes a direct digital-to-biological data storage framework and advances our capacity for information exchange between silicon- and carbon-based entities.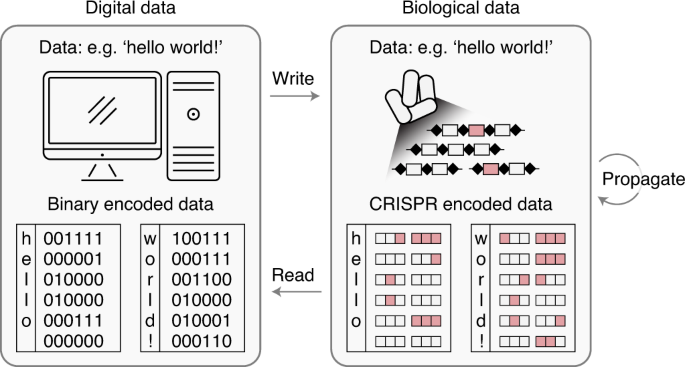 Access options
Access Nature and 54 other Nature Portfolio journals
Get Nature+, our best-value online-access subscription
$29.99 / 30 days
cancel any time
Subscribe to this journal
Receive 12 print issues and online access
$259.00 per year
only $21.58 per issue
Rent or buy this article
Prices vary by article type
from$1.95
to$39.95
Prices may be subject to local taxes which are calculated during checkout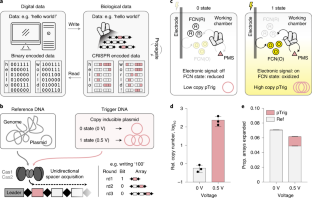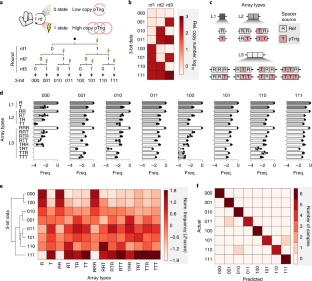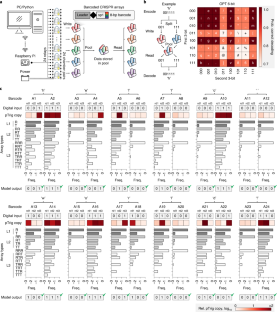 Similar content being viewed by others
Data availability
All data supporting the findings of this study are available within the Article and its Supplementary Information or are available from the authors upon request. Sequencing data associated with this study are available at NCBI SRA under PRJNA625964.
References
Church, G. M., Gao, Y. & Kosuri, S. Next-generation digital information storage in DNA. Science 337, 1628 (2012).

Erlich, Y. & Zielinski, D. DNA fountain enables a robust and efficient storage architecture. Science 355, 950–954 (2017).

Allentoft, M. E. et al. The half-life of DNA in bone: measuring decay kinetics in 158 dated fossils. Proc. Biol. Sci. 279, 4724–4733 (2012).

Ceze, L., Nivala, J. & Strauss, K. Molecular digital data storage using DNA. Nat. Rev. Genet. 20, 456–466 (2019).

Newman, S. et al. High density DNA data storage library via dehydration with digital microfluidic retrieval. Nat. Commun. 10, 1706 (2019).

Organick, L. et al. Random access in large-scale DNA data storage. Nat. Biotechnol. 36, 242–248 (2018).

Anavy, L., Vaknin, I., Atar, O., Amit, R. & Yakhini, Z. Data storage in DNA with fewer synthesis cycles using composite DNA letters. Nat. Biotechnol. 37, 1229–1236 (2019).

Lee, H. H., Kalhor, R., Goela, N., Bolot, J. & Church, G. M. Terminator-free template-independent enzymatic DNA synthesis for digital information storage. Nat. Commun. 10, 2383 (2019).

Farzadfard, F. & Lu, T. K. Emerging applications for DNA writers and molecular recorders. Science 361, 870–875 (2018).

Sheth, R. U. & Wang, H. H. DNA-based memory devices for recording cellular events. Nat. Rev. Genet. 19, 718–732 (2018).

Chan, M. M. et al. Molecular recording of mammalian embryogenesis. Nature 570, 77–82 (2019).

Kalhor, R. et al. Developmental barcoding of whole mouse via homing CRISPR. Science 361, eaat9804 (2018).

McKenna, A. et al. Whole-organism lineage tracing by combinatorial and cumulative genome editing. Science 353, aaf7907 (2016).

Munck, C., Sheth, R. U., Freedberg, D. E. & Wang, H. H. Recording mobile DNA in the gut microbiota using an Escherichia coli CRISPR-Cas spacer acquisition platform. Nat. Commun. 11, 95 (2020).

Farzadfard, F. & Lu, T. K. Genomically encoded analog memory with precise in vivo DNA writing in living cell populations. Science 346, 1256272 (2014).

Loveless, T. B. et al. DNA writing at a single genomic site enables lineage tracing and analog recording in mammalian cells. Preprint at bioRxiv https://doi.org/10.1101/639120 (2019).

Schmidt, F., Cherepkova, M. Y. & Platt, R. J. Transcriptional recording by CRISPR spacer acquisition from RNA. Nature 562, 380–385 (2018).

Tang, W. & Liu, D. R. Rewritable multi-event analog recording in bacterial and mammalian cells. Science 360, eaap8992 (2018).

Yang, L. et al. Permanent genetic memory with >1-byte capacity. Nat. Methods 11, 1261–1266 (2014).

Mimee, M., Tucker, A. C., Voigt, C. A. & Lu, T. K. Programming a human commensal bacterium, Bacteroides thetaiotaomicron, to sense and respond to stimuli in the murine gut microbiota. Cell Syst. 1, 62–71 (2015).

Riglar, D. T. et al. Engineered bacteria can function in the mammalian gut long-term as live diagnostics of inflammation. Nat. Biotechnol. 35, 653–658 (2017).

Sheth, R. U., Yim, S. S., Wu, F. L. & Wang, H. H. Multiplex recording of cellular events over time on CRISPR biological tape. Science 358, 1457–1461 (2017).

Roquet, N., Soleimany, A. P., Ferris, A. C., Aaronson, S. & Lu, T. K. Synthetic recombinase-based state machines in living cells. Science 353, aad8559 (2016).

Farzadfard, F. et al. Single-nucleotide-resolution computing and memory in living cells. Mol. Cell 75, 769–780 (2019).

Akhmetov, A., Ellington, A. D. & Marcotte, E. M. A highly parallel strategy for storage of digital information in living cells. BMC Biotechnol. 18, 64 (2018).

Shipman, S. L., Nivala, J., Macklis, J. D. & Church, G. M. CRISPR-Cas encoding of a digital movie into the genomes of a population of living bacteria. Nature 547, 345–349 (2017).

Liu, Y. et al. Connecting biology to electronics: molecular communication via redox modality. Adv. Healthc. Mater. 6 (2017); https://doi.org/10.1002/adhm.201700789

Mimee, M. et al. An ingestible bacterial-electronic system to monitor gastrointestinal health. Science 360, 915–918 (2018).

Weber, W. et al. A synthetic mammalian electro-genetic transcription circuit. Nucleic Acids Res. 37, e33 (2009).

Bellin, D. L. et al. Electrochemical camera chip for simultaneous imaging of multiple metabolites in biofilms. Nat. Commun. 7, 10535 (2016).

VanArsdale, E. et al. A co-culture based tyrosine-tyrosinase electrochemical gene circuit for connecting cellular communication with electronic networks. ACS Synth. Biol 9, 1117–1128 (2020).

Gordonov, T. et al. Electronic modulation of biochemical signal generation. Nat. Nanotechnol. 9, 605–610 (2014).

Tschirhart, T. et al. Electronic control of gene expression and cell behaviour in Escherichia coli through redox signalling. Nat. Commun. 8, 14030 (2017).

Bhokisham, N. et al. A redox-based electrogenetic CRISPR system to connect with and control biological information networks. Nat. Commun. 11, 2427 (2020).

Nunez, J. K., Lee, A. S., Engelman, A. & Doudna, J. A. Integrase-mediated spacer acquisition during CRISPR-Cas adaptive immunity. Nature 519, 193–198 (2015).

Michel, J. B. et al. Quantitative analysis of culture using millions of digitized books. Science 331, 176–182 (2011).

Nivala, J., Shipman, S. L. & Church, G. M. Spontaneous CRISPR loci generation in vivo by non-canonical spacer integration. Nat. Microbiol. 3, 310–318 (2018).

Din, M. O., Martin, A., Razinkov, I., Csicsery, N. & Hasty, J. Interfacing gene circuits with microelectronics through engineered population dynamics. Sci. Adv. 6, eaaz8344 (2020).

Fernandez-Rodriguez, J., Moser, F., Song, M. & Voigt, C. A. Engineering RGB color vision into Escherichia coli. Nat. Chem. Biol. 13, 706–708 (2017).

Piraner, D. I., Abedi, M. H., Moser, B. A., Lee-Gosselin, A. & Shapiro, M. G. Tunable thermal bioswitches for in vivo control of microbial therapeutics. Nat. Chem. Biol. 13, 75–80 (2017).

Makarova, K. S. et al. Evolutionary classification of CRISPR-Cas systems: a burst of class 2 and derived variants. Nat. Rev. Microbiol. 18, 67–83 (2020).

Heler, R. et al. Mutations in Cas9 enhance the rate of acquisition of viral spacer sequences during the CRISPR-Cas immune response. Mol. Cell 65, 168–175 (2017).

Shipman, S. L., Nivala, J., Macklis, J. D. & Church, G. M. Molecular recordings by directed CRISPR spacer acquisition. Science 353, aaf1175 (2016).

Wright, A. V. et al. A functional mini-integrase in a two-protein type V-C CRISPR system. Mol. Cell 73, 727–737 (2019).

Blazejewski, T., Ho, H.-I. & Wang, H. H. Synthetic sequence entanglement augments stability and containment of genetic information in cells. Science 365, 595–598 (2019).

Deatherage, D. E., Leon, D., Rodriguez, A. E., Omar, S. K. & Barrick, J. E. Directed evolution of Escherichia coli with lower-than-natural plasmid mutation rates. Nucleic Acids Res. 46, 9236–9250 (2018).

Cox, J. P. Long-term data storage in DNA. Trends Biotechnol. 19, 247–250 (2001).

Li, F. et al. Modular engineering to increase intracellular NAD (H/+) promotes rate of extracellular electron transfer of Shewanella oneidensis. Nat. Commun. 9, 3637 (2018).

Lee, H. H. et al. Functional genomics of the rapidly replicating bacterium Vibrio natriegens by CRISPRi. Nat. Microbiol. 4, 1105–1113 (2019).

Davis, J. et al. In vivo multi-dimensional information-keeping in Halobacterium salinarum. Preprint at bioRxiv https://doi.org/10.1101/2020.02.14.949925 (2020).

Sharan, S. K., Thomason, L. C., Kuznetsov, S. G. & Court, D. L. Recombineering: a homologous recombination-based method of genetic engineering. Nat. Protoc. 4, 206–223 (2009).

St-Pierre, F. et al. One-step cloning and chromosomal integration of DNA. ACS Synth. Biol. 2, 537–541 (2013).

Ji, B. W. et al. Quantifying spatiotemporal variability and noise in absolute microbiota abundances using replicate sampling. Nat. Methods 16, 731–736 (2019).

Edgar, R. C. Search and clustering orders of magnitude faster than BLAST. Bioinformatics 26, 2460–2461 (2010).

Wang, Q., Garrity, G. M., Tiedje, J. M. & Cole, J. R. Naive Bayesian classifier for rapid assignment of rRNA sequences into the new bacterial taxonomy. Appl. Environ. Microbiol. 73, 5261–5267 (2007).

Letunic, I. & Bork, P. Interactive Tree Of Life (iTOL) v4: recent updates and new developments. Nucleic Acids Res. 47, W256–W259 (2019).
Acknowledgements
We thank A. Kaufman and members of the Wang laboratory for advice and comments on the manuscript. H.H.W. acknowledges funding support from ONR (N00014-17-1-2353), NSF (MCB‐1453219), NIH (1R01AI132403-01) and the Burroughs Wellcome Fund (PATH1016691). S.S.Y. is grateful for support from the Basic Science Research Program through the National Research Foundation of Korea funded by the Ministry of Education (NRF-2017R1A6A3A03003401). R.U.S. was supported by a Fannie and John Hertz Foundation Fellowship and an NSF Graduate Research Fellowship (DGE-1644869).
Ethics declarations
Competing interests
H.H.W. is a scientific advisor to SNIPR Biome. The other authors declare no competing interests.
Additional information
Publisher's note Springer Nature remains neutral with regard to jurisdictional claims in published maps and institutional affiliations.
Supplementary information
Supplementary Figs. 1–6 and Tables 1–3.
About this article
Cite this article
Yim, S.S., McBee, R.M., Song, A.M. et al. Robust direct digital-to-biological data storage in living cells. Nat Chem Biol 17, 246–253 (2021). https://doi.org/10.1038/s41589-020-00711-4
Received:

Revised:

Accepted:

Published:

Issue Date:

DOI: https://doi.org/10.1038/s41589-020-00711-4