A chemical screen identifies BET bromodomain inhibitors as inducers of an activated skin keratinocyte state that promotes the wound-healing capabilities of these cells. The study implicates epigenetic modifiers as potential targets for non-healing, chronic wounds.
Access options
Subscribe to Journal
Get full journal access for 1 year
$169.00
only $14.08 per issue
All prices are NET prices.
VAT will be added later in the checkout.
Rent or Buy article
Get time limited or full article access on ReadCube.
from$8.99
All prices are NET prices.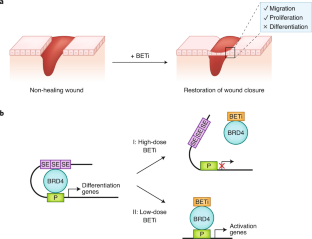 References
1.

Biggs, L. C., Kim, C. S., Miroshnikova, Y. A. & Wickström, S. A. J. Invest. Dermatol. 140, 284–290 (2020).

2.

Eming, S. A., Martin, P. & Tomic-Canic, M. Sci. Transl. Med. 6, 265sr6 (2014).

3.

Lewis, C. J., Stevenson, A., Fear, M. W. & Wood, F. M. Wound Repair Regen. 28, 710–718 (2020).

4.

Schutzius, G. et al. Nat. Chem. Biol. https://doi.org/10.1038/s41589-020-00716-z (2020).

5.

Pastar, I. et al. Adv. Wound Care (New Rochelle) 3, 445–464 (2014).

6.

Muller, S., Filippakopoulos, P. & Knapp, S. Expert Rev. Mol. Med. 13, e29 (2011).

7.

Pérez-Salvia, M. & Esteller, M. Epigenetics 12, 323–339 (2017).

8.

Pervaiz, M., Mishra, P. & Günther, S. Chem. Rec. 18, 1808–1817 (2018).

9.

Miroshnikova, Y. A., Cohen, I., Ezhkova, E. & Wickström, S. A. Curr. Opin. Genet. Dev. 55, 46–51 (2019).
Ethics declarations
Competing interests
The authors declare no competing interests.
About this article
Cite this article
Ylivinkka, I., Wickström, S.A. BETting against wound healing. Nat Chem Biol 17, 233–235 (2021). https://doi.org/10.1038/s41589-020-00709-y