Re-channeling metabolic routes in Nicotiana benthamiana allows elucidation and reconstitution of the biosynthesis of the natural products momilactones A and B. Insights into how plants make these and other natural crop protection chemicals promise future biotechnologies for sustainable agriculture.
Access options
Subscribe to Journal
Get full journal access for 1 year
$59.00
only $4.92 per issue
All prices are NET prices.
VAT will be added later in the checkout.
Tax calculation will be finalised during checkout.
Rent or Buy article
Get time limited or full article access on ReadCube.
from$8.99
All prices are NET prices.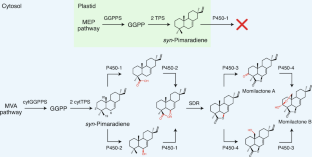 References
1.

Zhao, M., Cheng, J., Guo, B., Duan, J. & Che, C. T. J. Agric. Food Chem. 66, 7859–7872 (2018).

2.

Zhang, J. & Peters, R. J. Proc. Natl Acad. Sci. USA 117, 13867–13869 (2020).

3.

De La Peña, R. & Sattely, E. S. Nat. Chem. Biol. https://doi.org/10.1038/s41589-020-00669-3 (2020).

4.

Wang, Q. et al. J. Biol. Chem. 287, 6159–6168 (2012).

5.

Sainsbury, F. & Lomonossoff, G. P. Curr. Opin. Plant Biol. 19, 1–7 (2014).

6.

Reed, J. & Osbourn, A. Plant Cell Rep. 37, 1431–1441 (2018).

7.

Wang, Q., Hillwig, M. L. & Peters, R. J. Plant J. 65, 87–95 (2011).

8.

Schaller, H., Gondet, L., Maillot-Vernier, E. & Benveniste, P. Planta 194, 295–305 (1994).
Ethics declarations
Competing interests
The authors declare no competing interests.
About this article
Cite this article
Nguyen, TD., Dang, TT.T. Demystifying the momilactone pathway. Nat Chem Biol 17, 126–128 (2021). https://doi.org/10.1038/s41589-020-00707-0