Abstract
Degrons are elements within protein substrates that mediate the interaction with specific degradation machineries to control proteolysis. Recently, a few classes of C-terminal degrons (C-degrons) that are recognized by dedicated cullin-RING ligases (CRLs) have been identified. Specifically, CRL2 using the related substrate adapters FEM1A/B/C was found to recognize C degrons ending with arginine (Arg/C-degron). Here, we uncover the molecular mechanism of Arg/C-degron recognition by solving a subset of structures of FEM1 proteins in complex with Arg/C-degron-bearing substrates. Our structural research, complemented by binding assays and global protein stability (GPS) analyses, demonstrates that FEM1A/C and FEM1B selectively target distinct classes of Arg/C-degrons. Overall, our study not only sheds light on the molecular mechanism underlying Arg/C-degron recognition for precise control of substrate turnover, but also provides valuable information for development of chemical probes for selectively regulating proteostasis.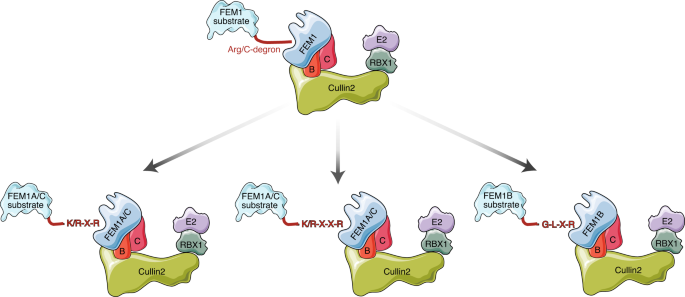 Access options
Subscribe to Journal
Get full journal access for 1 year
$169.00
only $14.08 per issue
All prices are NET prices.
VAT will be added later in the checkout.
Rent or Buy article
Get time limited or full article access on ReadCube.
from$8.99
All prices are NET prices.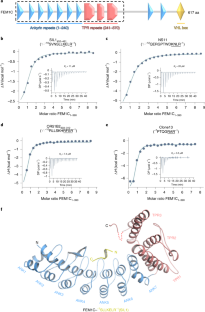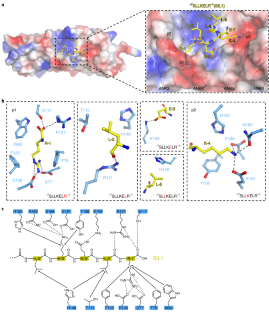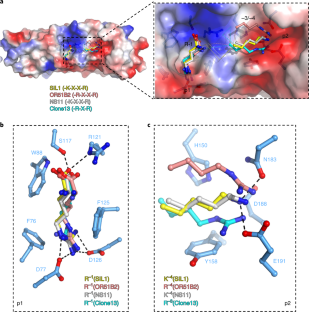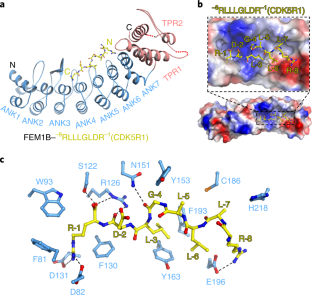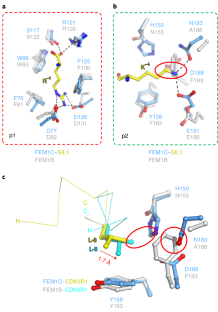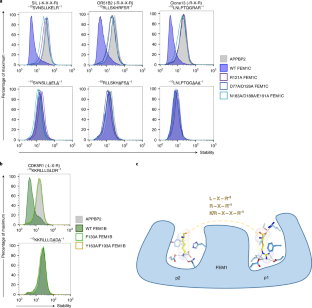 References
1.

Dikic, I. Proteasomal and autophagic degradation systems. Annu. Rev. Biochem. 86, 193–224 (2017).

2.

Hershko, A., Ciechanover, A. & Varshavsky, A. Basic Medical Research Award. The ubiquitin system. Nat. Med. 6, 1073–1081 (2000).

3.

Varshavsky, A. N-degron and C-degron pathways of protein degradation. Proc. Natl Acad. Sci. USA 116, 358–366 (2019).

4.

Zheng, N. & Shabek, N. Ubiquitin ligases: structure, function, and regulation. Annu. Rev. Biochem. 86, 129–157 (2017).

5.

Sarikas, A., Hartmann, T. & Pan, Z. Q. The cullin protein family. Genome Biol. 12, 220 (2011).

6.

Petroski, M. D. & Deshaies, R. J. Function and regulation of cullin-RING ubiquitin ligases. Nat. Rev. Mol. Cell Biol. 6, 9–20 (2005).

7.

Bosu, D. R. & Kipreos, E. T. Cullin-RING ubiquitin ligases: global regulation and activation cycles. Cell Div. 3, 7 (2008).

8.

Jang, S. M. et al. The replication initiation determinant protein (RepID) modulates replication by recruiting CUL4 to chromatin. Nat. Commun. 9, 2782 (2018).

9.

Li, L. et al. The CRL3(BTBD9) E3 ubiquitin ligase complex targets TNFAIP1 for degradation to suppress cancer cell migration. Signal Transduct. Target Ther. 5, 42 (2020).

10.

Rape, M. Ubiquitylation at the crossroads of development and disease. Nat. Rev. Mol. Cell Biol. 19, 59–70 (2018).

11.

Tank, E. M. & True, H. L. Disease-associated mutant ubiquitin causes proteasomal impairment and enhances the toxicity of protein aggregates. PLoS Genet. 5, e1000382 (2009).

12.

Dey, A. et al. Loss of the tumor suppressor BAP1 causes myeloid transformation. Science 337, 1541–1546 (2012).

13.

Zhao, Y. & Sun, Y. Cullin-RING ligases as attractive anti-cancer targets. Curr. Pharm. Des. 19, 3215–3225 (2013).

14.

Bachmair, A., Finley, D. & Varshavsky, A. In vivo half-life of a protein is a function of its amino-terminal residue. Science 234, 179–186 (1986).

15.

Timms, R. T. et al. A glycine-specific N-degron pathway mediates the quality control of protein N-myristoylation. Science 365, eaaw4912 (2019).

16.

Chen, S. J., Wu, X., Wadas, B., Oh, J. H. & Varshavsky, A. An N-end rule pathway that recognizes proline and destroys gluconeogenic enzymes. Science 355, eaal3655 (2017).

17.

Koren, I. et al. The eukaryotic proteome is shaped by E3 ubiquitin ligases targeting C-terminal degrons. Cell 173, 1622–1635 e14 (2018).

18.

Lin, H. C. et al. C-terminal end-directed protein elimination by CRL2 ubiquitin ligases. Mol. Cell 70, 602–613 e3 (2018).

19.

Ravalin, M. et al. Specificity for latent C termini links the E3 ubiquitin ligase CHIP to caspases. Nat. Chem. Biol. 15, 786–794 (2019).

20.

Timms, R. T. & Koren, I. Tying up loose ends: the N-degron and C-degron pathways of protein degradation. Biochem. Soc. Trans. 48, 1557–1567.

21.

Chatr-Aryamontri, A., van der Sloot, A. & Tyers, M. At long last, a C-terminal bookend for the ubiquitin code. Mol. Cell 70, 568–571 (2018).

22.

Mosavi, L. K., Cammett, T. J., Desrosiers, D. C. & Peng, Z. Y. The ankyrin repeat as molecular architecture for protein recognition. Protein Sci. 13, 1435–1448 (2004).

23.

Mahrour, N. et al. Characterization of cullin-box sequences that direct recruitment of Cul2-Rbx1 and Cul5-Rbx2 modules to Elongin BC-based ubiquitin ligases. J. Biol. Chem. 283, 8005–8013 (2008).

24.

Dankert, J. F., Pagan, J. K., Starostina, N. G., Kipreos, E. T. & Pagano, M. FEM1 proteins are ancient regulators of SLBP degradation. Cell Cycle 16, 556–564 (2017).

25.

Senderek, J. et al. Mutations in SIL1 cause Marinesco–Sjogren syndrome, a cerebellar ataxia with cataract and myopathy. Nat. Genet. 37, 1312–1314 (2005).

26.

Anttonen, A. K. et al. The gene disrupted in Marinesco–Sjogren syndrome encodes SIL1, an HSPA5 cochaperone. Nat. Genet. 37, 1309–1311 (2005).

27.

Trimmer, C. et al. Genetic variation across the human olfactory receptor repertoire alters odor perception. Proc. Natl Acad. Sci. USA 116, 9475–9480 (2019).

28.

Kwon, D. H. et al. Insights into degradation mechanism of N-end rule substrates by p62/SQSTM1 autophagy adapter. Nat. Commun. 9, 3291 (2018).

29.

Zhang, Y. et al. ZZ-dependent regulation of p62/SQSTM1 in autophagy. Nat. Commun. 9, 4373 (2018).

30.

Liu, K. et al. Structural basis for recognition of arginine methylated Piwi proteins by the extended Tudor domain. Proc. Natl Acad. Sci. USA 107, 18398–18403 (2010).

31.

Liu, H. et al. Structural basis for methylarginine-dependent recognition of Aubergine by Tudor. Genes Dev. 24, 1876–1881 (2010).

32.

Rusnac, D. V. et al. Recognition of the diglycine C-end degron by CRL2(KLHDC2) ubiquitin ligase. Mol. Cell 72, 813–822 e4 (2018).

33.

Emanuele, M. J. et al. Global identification of modular cullin-RING ligase substrates. Cell 147, 459–474 (2011).

34.

Yen, H. C., Xu, Q., Chou, D. M., Zhao, Z. & Elledge, S. J. Global protein stability profiling in mammalian cells. Science 322, 918–923 (2008).

35.

Komander, D. & Rape, M. The ubiquitin code. Annu. Rev. Biochem. 81, 203–229 (2012).

36.

Tasaki, T., Sriram, S. M., Park, K. S. & Kwon, Y. T. The N-end rule pathway. Annu. Rev. Biochem. 81, 261–289 (2012).

37.

Tasaki, T. et al. The substrate recognition domains of the N-end rule pathway. J. Biol. Chem. 284, 1884–1895 (2009).

38.

Dougan, D. A., Micevski, D. & Truscott, K. N. The N-end rule pathway: from recognition by N-recognins, to destruction by AAA+proteases. Biochim. Biophys. Acta 1823, 83–91 (2012).

39.

Xu, C. et al. Sequence-specific recognition of a PxLPxI/L motif by an ankyrin repeat tumbler lock. Sci. Signal 5, ra39 (2012).

40.

Wang, C. et al. Structural basis of diverse membrane target recognitions by ankyrins. eLife 3, e04353 (2014).

41.

Collins, R. E. et al. The ankyrin repeats of G9a and GLP histone methyltransferases are mono- and dimethyllysine binding modules. Nat. Struct. Mol. Biol. 15, 245–250 (2008).

42.

Nie, J. et al. Ankyrin repeats of ANKRA2 recognize a PxLPxL motif on the 3M syndrome protein CCDC8. Structure 23, 700–712 (2015).

43.

Subauste, M. C. et al. RACK1 downregulates levels of the pro-apoptotic protein Fem1b in apoptosis-resistant colon cancer cells. Cancer Biol. Ther. 8, 2297–2305 (2009).

44.

Liu, X. et al. Phase separation drives decision making in cell division. J. Biol. Chem. 295, 13419–13431 (2020).

45.

Zhang, W.-Z. et al. The protein complex crystallography beamline (BL19U1) at the Shanghai Synchrotron Radiation Facility. Nucl. Sci. Techn. 30, 170 (2019).

46.

Guo, Q. et al. Structural insights into SETD3-mediated histidine methylation on beta-actin. eLife 8, e43676 (2019).

47.

Wang, Q. S. et al. Upgrade of macromolecular crystallography beamline BL17U1 at SSRF. Nucl. Sci. Techn. 29, https://doi.org/10.1007/s41365-018-0398-9 (2018).

48.

Otwinowski, Z. & Minor, W. Processing of X-ray diffraction data collected in oscillation mode. Macromol. Crystallogr. A. 276, 307–326 (1997).

49.

Minor, W., Cymborowski, M., Otwinowski, Z. & Chruszcz, M. HKL-3000: the integration of data reduction and structure solution - from diffraction images to an initial model in minutes. Acta Crystallogr. D. Struct. Biol. 62, 859–866 (2006).

50.

Kabsch, W. XDSs. Acta Crystallogr. D. Biol. Crystallogr. 66, 125–132 (2010).

51.

Pannu, N. S. et al. Recent advances in the CRANK software suite for experimental phasing. Acta Crystallogr. D. Biol. Crystallogr. 67, 331–337 (2011).

52.

Emsley, P. & Cowtan, K. COOT: model-building tools for molecular graphics. Acta Crystallogr. D. Biol. Crystallogr. 60, 2126–2132 (2004).

53.

Adams, P. D. et al. PHENIX: building new software for automated crystallographic structure determination. Acta Crystallogr. D. Biol. Crystallogr. 58, 1948–1954 (2002).
Acknowledgements
We thank the staff from the BL17B/BL18U1/BL19U1/BL19U2/BL01B beamline45 of National Facility for Protein Science in Shanghai at Shanghai Synchrotron Radiation Facility for assistance during data collection, S.J. Elledge for helpful advice and discussion, D. Wasserman for technical assistance and M. Pagano for kindly providing the plasmids containing cDNAs of human FEM1B and FEM1C. This work is supported by the 'Strategic Priority Research Program' of the Chinese Academy of Sciences (grant no. XDB19000000) and the National Natural Science Foundation of China (grant nos. 92053107, 31770806). C.X. is also supported by the Major/Innovative Program of the Development Foundation of the Hefei Center for Physical Science and Technology (2018CXFX007) and the 'Thousand Young Talent program'. I.K. is supported by Alon fellowship for outstanding young researchers.
Ethics declarations
Competing interests
The authors declare no competing interests.
Additional information
Peer review information Nature Chemical Biology thanks David Dougan, Hyun Kyu Song and the other, anonymous, reviewer(s) for their contribution to the peer review of this work.
Publisher's note Springer Nature remains neutral with regard to jurisdictional claims in published maps and institutional affiliations.
Supplementary information
About this article
Cite this article
Chen, X., Liao, S., Makaros, Y. et al. Molecular basis for arginine C-terminal degron recognition by Cul2FEM1 E3 ligase. Nat Chem Biol 17, 254–262 (2021). https://doi.org/10.1038/s41589-020-00704-3
Received:

Accepted:

Published:

Issue Date: