The plant cuticle has long been considered a barrier to volatile organic compound emission. New research reveals the paradoxical role of the cuticle as a barrier and facilitator of volatile emissions in hybrid petunia.
Access options
Subscribe to Journal
Get full journal access for 1 year
$59.00
only $4.92 per issue
All prices are NET prices.
VAT will be added later in the checkout.
Tax calculation will be finalised during checkout.
Rent or Buy article
Get time limited or full article access on ReadCube.
from$8.99
All prices are NET prices.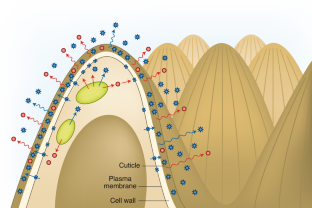 References
1.

Proffit, M. et al. Sci. Rep. 10, 10071 (2020).

2.

Blande, J. D., Holopainen, J. K. & Niinemets, U. Plant Cell Environ. 37, 1892–1904 (2014).

3.

Liao, P. et al. Nat. Chem. Biol. https://doi.org/10.1038/s41589-020-00670-w (2020).

4.

Widhalm, J. R., Jaini, R., Morgan, J. A. & Dudareva, N. Trends Plant Sci. 20, 545–550 (2015).

5.

Adebesin, F. et al. Science 356, 1386–1388 (2017).

6.

McFarlane, H. E., Shin, J. J. H., Bird, D. A. & Samuels, A. L. Plant Cell 22, 3066–3075 (2010).

7.

Beck, J. J. et al. J. Agric. Food Chem. 66, 6663–6674 (2018).

8.

Huchelmann, A., Boutry, M. & Hachez, C. Plant Phys. 175, 6–22 (2017).
Ethics declarations
Competing interests
The authors declare no competing interests.
About this article
Cite this article
Livingston, S.J., Samuels, A.L. To protect and emit beauty. Nat Chem Biol 17, 124–125 (2021). https://doi.org/10.1038/s41589-020-00692-4