Abstract
Neutralizing agents against SARS-CoV-2 are urgently needed for the treatment and prophylaxis of COVID-19. Here, we present a strategy to rapidly identify and assemble synthetic human variable heavy (VH) domains toward neutralizing epitopes. We constructed a VH-phage library and targeted the angiotensin-converting enzyme 2 (ACE2) binding interface of the SARS-CoV-2 Spike receptor-binding domain (Spike-RBD). Using a masked selection approach, we identified VH binders to two non-overlapping epitopes and further assembled these into multivalent and bi-paratopic formats. These VH constructs showed increased affinity to Spike (up to 600-fold) and neutralization potency (up to 1,400-fold) on pseudotyped SARS-CoV-2 virus when compared to standalone VH domains. The most potent binder, a trivalent VH, neutralized authentic SARS-CoV-2 with a half-maximal inhibitory concentration (IC50) of 4.0 nM (180 ng ml−1). A cryo-EM structure of the trivalent VH bound to Spike shows each VH domain engaging an RBD at the ACE2 binding site, confirming our original design strategy.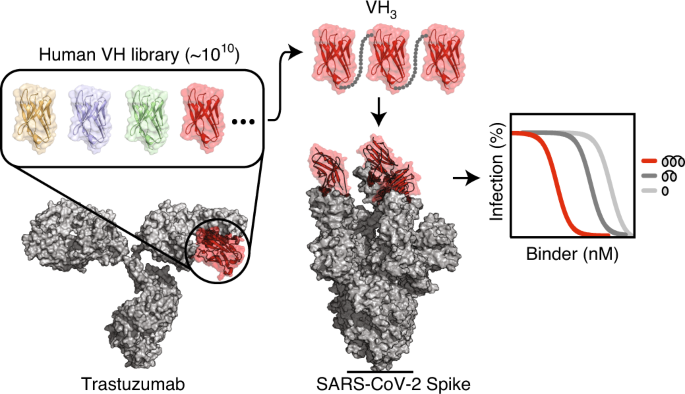 Data availability
Cryo-EM structural data have been deposited in the Protein Data Bank and Electron Microscopy Data Bank, (PDB 7JWB and EMD-22514). The cryo-EM structure of the Spike trimer from PDB 6VSB and ACE2 from PDB 6M17 and PDB 6M0J were used for distance estimates. The cryo-EM structure of Spike trimer from PDB 6X2B and the crystal structure of a VH domain from PDB 3P9W were used for cryo-EM data processing. Source data are provided with this paper. Any additional information is available upon request.
References
Yan, R. et al. Structural basis for the recognition of SARS-CoV-2 by full-length human ACE2. Science 367, 1444–1448 (2020).

Abraham, J. Passive antibody therapy in COVID-19. Nat. Rev. Immunol. 20, 401–403 (2020).

Robbiani, D. F. et al. Convergent antibody responses to SARS-CoV-2 in convalescent individuals. Nature 584, 437–442 (2020).

Pinto, D. et al. Cross-neutralization of SARS-CoV-2 by a human monoclonal SARS-CoV antibody. Nature 583, 290–295 (2020).

Rogers, T. F. et al. Isolation of potent SARS-CoV-2 neutralizing antibodies and protection from disease in a small animal model. Science 7520, eabc7520 (2020).

Cao, Y. et al. Potent neutralizing antibodies against SARS-CoV-2 identified by high-throughput single-cell sequencing of convalescent patients' B cells. Cell 182, 73–84 (2020).

Shi, R. et al. A human neutralizing antibody targets the receptor binding site of SARS-CoV-2. Nature 584, 120–124 (2020).

Miersch, S. et al. Scalable high throughput selection from phage-displayed synthetic antibody libraries. J. Vis. Exp. 1–15 (2015); https://doi.org/10.3791/51492

Nguyen, V. K., Hamers, R., Wyns, L. & Muyldermans, S. Camel heavy-chain antibodies: diverse germline V(H)H and specific mechanisms enlarge the antigen-binding repertoire. EMBO J. 19, 921–930 (2000).

Holt, L. J., Herring, C., Jespers, L. S., Woolven, B. P. & Tomlinson, I. M. Domain antibodies: proteins for therapy. Trends Biotechnol. 21, 484–490 (2003).

Ingram, J. R., Schmidt, F. I. & Ploegh, H. L. Exploiting nanobodies' singular traits. Annu. Rev. Immunol. 36, 695–715 (2018).

Hamer-Casterman, C. & Atarchouch, T. et al. Naturally occurring antibodies devoid of light chains. Nature 363, 446–448 (1998).

De Genst, E. et al. Molecular basis for the preferential cleft recognition by dromedary heavy-chain antibodies. Proc. Natl Acad. Sci. USA 103, 4586–4591 (2006).

Arbabi-Ghahroudi, M., Tanha, J. & MacKenzie, R. Prokaryotic expression of antibodies. Cancer Metastasis Rev. 24, 501–519 (2005).

Zimmermann, I. et al. Synthetic single domain antibodies for the conformational trapping of membrane proteins. eLife 7, 1–32 (2018).

McMahon, C. et al. Yeast surface display platform for rapid discovery of conformationally selective nanobodies. Nat. Struct. Mol. Biol. 25, 289–296 (2018).

Saerens, D., Ghassabeh, G. H. & Muyldermans, S. Single-domain antibodies as building blocks for novel therapeutics. Curr. Opin. Pharmacol. 8, 600–608 (2008).

Nilvebrant, J., Tessier, P. & Sidhu, S. Engineered autonomous human variable domains. Curr. Pharm. Des. 22, 6527–6537 (2016).

Rouet, R., Dudgeon, K., Christie, M., Langley, D. & Christ, D. Fully human VH single domains that rival the stability and cleft recognition of camelid antibodies. J. Biol. Chem. 290, 11905–11917 (2015).

Sun, Z. et al. Potent neutralization of SARS-CoV-2 by human antibody heavy-chain variable domains isolated from a large library with a new stable scaffold. MAbs 12, 1778435 (2020).

Huo, J. et al. Neutralizing nanobodies bind SARS-CoV-2 spike RBD and block interaction with ACE2. Nat. Struct. Mol. Biol. 27, 846–854 (2020).

Walter, J. D. et al. Sybodies targeting the SARS-CoV-2 receptor-binding domain. Preprint at bioRxiv https://doi.org/10.1101/2020.04.16.045419 (2020).

Palomo, C. et al. Trivalency of a nanobody specific for the human respiratory syncytial virus fusion glycoprotein drastically enhances virus neutralization and impacts escape mutant selection. Antimicrob. Agents Chemother. 60, 6498–6509 (2016).

Carter, P. et al. Humanization of an anti-p185HER2 antibody for human cancer therapy. Proc. Natl Acad. Sci. USA 89, 4285–4289 (1992).

Harmsen, M. M. et al. Llama heavy-chain V regions consist of at least four distinct subfamilies revealing novel sequence features. Mol. Immunol. 37, 579–590 (2000).

Ma, X., Barthelemy, P. A., Rouge, L., Wiesmann, C. & Sidhu, S. S. Design of synthetic autonomous VH domain libraries and structural analysis of a VH domain bound to vascular endothelial growth factor. J. Mol. Biol. 425, 2247–2259 (2013).

Dudgeon, K. et al. General strategy for the generation of human antibody variable domains with increased aggregation resistance. Proc. Natl Acad. Sci. USA 109, 10879–10884 (2012).

Birtalan, S. et al. The intrinsic contributions of tyrosine, serine, glycine and arginine to the affinity and specificity of antibodies. J. Mol. Biol. 377, 1518–1528 (2008).

Hornsby, M. et al. A high throughput platform for recombinant antibodies to folded proteins. Mol. Cell. Proteomics 14, 2833–2847 (2015).

Martinko, A. J. et al. Targeting RAS-driven human cancer cells with antibodies to upregulated and essential cell-surface proteins. eLife 7, e31098 (2018).

Kabat, E. A., Wu, T. T., Reid-Miller, M., Perry, H. & Gottesman, K. Sequences of Proteins of Immunological Interest (US Department of Health and Human Services, Public Health Service, National Institutes of Health, 1987); https://doi.org/10.1016/0003-2697(84)90805-4

Wrapp, D. et al. Cryo-EM structure of the 2019-nCoV spike in the prefusion conformation. Science 367, 1260–1263 (2020).

Lui, I. et al. Trimeric SARS-CoV-2 Spike interacts with dimeric ACE2 with limited intra-Spike avidity. Preprint at bioRxiv https://doi.org/10.1101/2020.05.21.109157 (2020).

Neuman, B. W. et al. Supramolecular architecture of severe acute respiratory syndrome coronavirus revealed by electron cryomicroscopy. J. Virol. 80, 7918–7928 (2006).

Byrnes, J. R. et al. Competitive SARS-CoV-2 serology reveals most antibodies targeting the Spike receptor-binding domain compete for ACE2 binding. mSphere 5, e00802–e00820 (2020).

Crawford, K. H. D. et al. Protocol and reagents for pseudotyping lentiviral particles with SARS-CoV-2 spike protein for neutralization assays. Viruses 12, 513 (2020).

Walls, A. C. et al. Structure, function and antigenicity of the SARS-CoV-2 spike glycoprotein. Cell 180, 281–292 (2020).

Zhou, T. et al. A pH-dependent switch mediates conformational masking of SARS-CoV-2 spike. Preprint at bioRxiv https://doi.org/10.1101/2020.07.04.187989 (2020).

Lan, J. et al. Structure of the SARS-CoV-2 spike receptor-binding domain bound to the ACE2 receptor. Nature 581, 215–220 (2020).

Dong, J. et al. Development of multi-specific humanized llama antibodies blocking SARS-CoV-2/ACE2 interaction with high affinity and avidity. Emerg. Microbes Infect. 9, 1034–1036 (2020).

Binz, H. K., Amstutz, P. & Plückthun, A. Engineering novel binding proteins from nonimmunoglobulin domains. Nat. Biotechnol. 23, 1257–1268 (2005).

Binz, H. K., Stumpp, M. T., Forrer, P., Amstutz, P. & Plückthun, A. Designing repeat proteins: well-expressed, soluble and stable proteins from combinatorial libraries of consensus ankyrin repeat proteins. J. Mol. Biol. 332, 489–503 (2003).

Binz, H. K. et al. Design and characterization of MP0250, a tri-specific anti-HGF/anti-VEGF DARPin® drug candidate. MAbs 9, 1262–1269 (2017).

Conrath, K. E., Lauwereys, M., Wyns, L. & Muyldermans, S. Camel single-domain antibodies as modular building units in bispecific and bivalent antibody constructs. J. Biol. Chem. 276, 7346–7350 (2001).

Strauch, E. M. et al. Computational design of trimeric influenza-neutralizing proteins targeting the hemagglutinin receptor binding site. Nat. Biotechnol. 35, 667–671 (2017).

Galimidi, R. P. et al. Intra-Spike crosslinking overcomes antibody evasion by HIV-1. Cell 160, 433–446 (2015).

Lee, C. V. et al. High-affinity human antibodies from phage-displayed synthetic Fab libraries with a single framework scaffold. J. Mol. Biol. 340, 1073–1093 (2004).

Chen, G. & Sidhu, S. S. Design and generation of synthetic antibody libraries for phage display. Methods Mol. Biol. 1131, 113–131 (2014).

Wang, B. et al. Bivalent binding of a fully human IgG to the SARS-CoV-2 spike proteins reveals mechanisms of potent neutralization. Preprint at bioRxiv https://doi.org/10.1101/2020.07.14.203414 (2020).

Zheng, S. Q. et al. MotionCor2: anisotropic correction of beam-induced motion for improved cryo-electron microscopy. Nat. Methods 14, 331–332 (2017).

Punjani, A., Rubinstein, J. L., Fleet, D. J. & Brubaker, M. A. CryoSPARC: algorithms for rapid unsupervised cryo-EM structure determination. Nat. Methods 14, 290–296 (2017).

Punjani, A., Zhang, H. & Fleet, D. J. Non-uniform refinement: adaptive regularization improves single particle cryo-EM reconstruction. Preprint at bioRxiv https://doi.org/10.1101/2019.12.15.877092 (2019).

Pettersen, E. F. et al. UCSF Chimera—a visualization system for exploratory research and analysis. J. Comput. Chem. 25, 1605–1612 (2004).

Kucukelbir, A., Sigworth, F. J. & Tagare, H. D. Quantifying the local resolution of cryo-EM density maps. Nat. Methods 11, 63–65 (2014).

Goddard, T. D. et al. UCSF ChimeraX: meeting modern challenges in visualization and analysis. Protein Sci. 27, 14–25 (2018).
Acknowledgements
We thank members of the Wells Lab, particularly those working on COVID-19 projects, for their efforts and contributions. Specifically, we would like to thank J. Gramespacher for purifying binders and M. Nix (UCSF) for guidance on pseudotyped virus neutralization assays. Additionally, we thank the entire QCRG for its rapid large-scale collaborative effort. Specifically, we thank C. Puchades and C. Azumaya for their efforts in the optimization of cryo-EM grid freezing and data collection, T. Owens for assistance in protein purification, D. Diwanji for expression of Secto and A. Manglik (UCSF) for advice on cryo-EM experiments and protein purification. We also thank the laboratory of P. Kim (Stanford University) for providing plasmids for pseudotyped virus production. Finally, we thank M. Wilson, C. Chiu and R. Loudermilk (UCSF), as well as the patients, for providing convalescent sera. J.A.W. is supported by generous grants from NCI (R35 GM122451-01); the Chan-Zuckerberg Biohub, UCSF Program for Breakthrough Biomedical Research (PBBR); Fast Grants from Emergent Ventures at the Mercatus Center, George Mason University (#2154); and funding from The Harrington Discovery Institute (GA33116). S.A.L. is a Merck Fellow of the Helen Hay Whitney Foundation. K.S. is a Fellow of the Helen Hay Whitney Foundation. X.X.Z. is a Merck Fellow of the Damon Runyon Cancer Research Foundation, DRG-2297-17. J.R.B. and J.Z. are supported by the National Institutes of Health National Cancer Institute (F32 5F32CA239417 (J.R.B.) and 5F32CA236151-02 (J.Z.)). B.S.Z. is supported by the National Institutes of Health National Cancer Institute (T32, HL007185). N.J.R. and I.L. are supported by the National Science Foundation (GRFP). D.P.N. was the Connie and Bob Lurie Fellow of the Damon Runyon Cancer Research Foundation (DRG-2204-14) and supported by a UCSF-PBBR Postdoctoral Independent Research Award, which is partially funded by the Sandler Foundation.
QCRG Structural Biology Consortium. In addition to those listed explicitly in the Author contributions, the structural biology portion of this work was performed by the QCRG (Quantitative Biosciences Institute Coronavirus Research Group) Structural Biology Consortium. Listed below are the contributing members of the consortium listed by teams in order of team relevance to the published work. The team leads (responsible for organization of each team and for the experimental design utilized within each team) are as follows: Cryo-EM grid freezing/collection team—Caleigh M. Azumaya, Cristina Puchades, Ming Sun; Cryo-EM data processing team—Miles Sasha Dickinson, Henry C. Nguyen; Mammalian cell expression team—Christian Billesboelle, Melody G. Campbell, Devan Diwanji, Carlos Nowotny, Amber M. Smith, Jianhua Zhao; Protein purification team—Daniel Asarnow, Michelle Moritz, Tristan W. Owens, Sergei Pourmal; Crystallography team—Nadia Herrera, Huong T. Kratochvil, Ursula Schulze-Gahmen, Iris D. Young; Bacterial expression team—Amy Diallo, Meghna Gupta, Erron W. Titus; Leadership team—Oren S. Rosenberg, Kliment A Verba. The QCRG Structural Biology Consortium has received support from the Quantitative Biosciences Institute, the Defense Advanced Research Projects Agency HR0011-19-2-0020 (to D.A.A. and K.A.V.; B. Shoichet PI), a FastGrants COVID19 grant (K.A. Verba PI), the Laboratory for Genomics Research (O.S. Rosenberg PI) and the Laboratory For Genomics Research (R.M. Stroud PI).
Ethics declarations
Competing interests
The authors declare no competing interests.
Additional information
Publisher's note Springer Nature remains neutral with regard to jurisdictional claims in published maps and institutional affiliations.
Supplementary information
Supplementary Figs. 1–11 and Tables 1–7.
About this article
Cite this article
Bracken, C.J., Lim, S.A., Solomon, P. et al. Bi-paratopic and multivalent VH domains block ACE2 binding and neutralize SARS-CoV-2. Nat Chem Biol 17, 113–121 (2021). https://doi.org/10.1038/s41589-020-00679-1
Received:

Accepted:

Published:

Issue Date:

DOI: https://doi.org/10.1038/s41589-020-00679-1