Abstract
Untargeted mass spectrometry is employed to detect small molecules in complex biospecimens, generating data that are difficult to interpret. We developed Qemistree, a data exploration strategy based on the hierarchical organization of molecular fingerprints predicted from fragmentation spectra. Qemistree allows mass spectrometry data to be represented in the context of sample metadata and chemical ontologies. By expressing molecular relationships as a tree, we can apply ecological tools that are designed to analyze and visualize the relatedness of DNA sequences to metabolomics data. Here we demonstrate the use of tree-guided data exploration tools to compare metabolomics samples across different experimental conditions such as chromatographic shifts. Additionally, we leverage a tree representation to visualize chemical diversity in a heterogeneous collection of samples. The Qemistree software pipeline is freely available to the microbiome and metabolomics communities in the form of a QIIME2 plugin, and a global natural products social molecular networking workflow.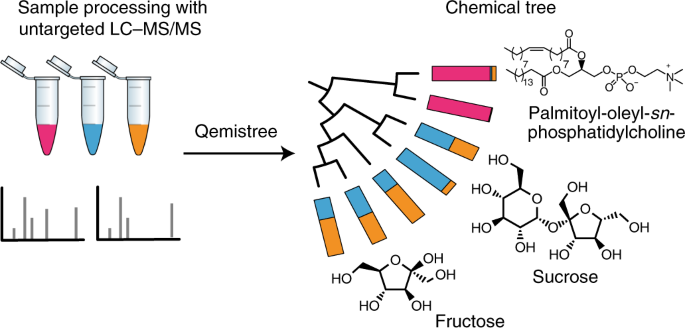 Relevant articles
Open Access articles citing this article.
Carlos G. Gonzalez

,

Robert H. Mills

…

David J. Gonzalez

Microbiome Open Access 24 August 2022

Shijuan Yan

,

Ruchika Bhawal

…

Sheng Zhang

Molecular Horticulture Open Access 23 July 2022

Gajender Aleti

,

Jordan N. Kohn

…

Suzi Hong

BMC Microbiology Open Access 14 March 2022
Access options
Subscribe to Nature+
Get immediate online access to the entire Nature family of 50+ journals
Subscribe to Journal
Get full journal access for 1 year
$119.00
only $9.92 per issue
All prices are NET prices.
VAT will be added later in the checkout.
Tax calculation will be finalised during checkout.
Buy article
Get time limited or full article access on ReadCube.
$32.00
All prices are NET prices.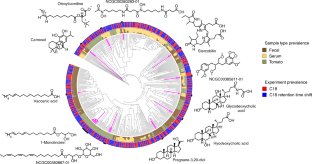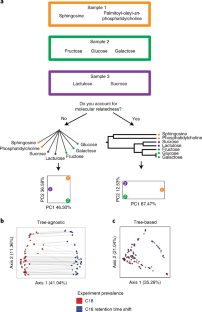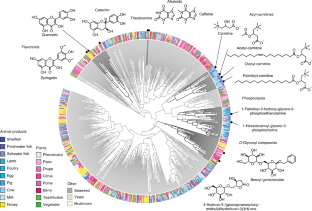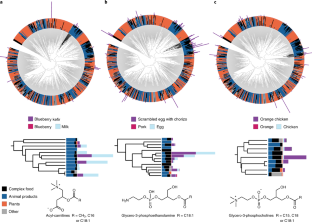 References
Watrous, J. et al. Mass spectral molecular networking of living microbial colonies. Proc. Natl Acad. Sci. USA 109, E1743–E1752 (2012).

Wang, M. et al. Sharing and community curation of mass spectrometry data with global natural products social molecular networking. Nat. Biotechnol. 34, 828–837 (2016).

Fox Ramos, A. E., Evanno, L., Poupon, E., Champy, P. & Beniddir, M. A. Natural products targeting strategies involving molecular networking: different manners, one goal. Nat. Prod. Rep. 36, 960–980 (2019).

Böcker, S. & Dührkop, K. Fragmentation trees reloaded. J. Chem. Inform. 8, 5 (2016).

Rasche, F. et al. Identifying the unknowns by aligning fragmentation trees. Anal. Chem. 84, 3417–3426 (2012).

Washburne, A. D. et al. Phylogenetic factorization of compositional data yields lineage-level associations in microbiome datasets. PeerJ 5, e2969 (2017).

Faith, D. P. Conservation evaluation and phylogenetic diversity. Biol. Conserv. 61, 1–10 (1992).

Janssen, S. et al. Phylogenetic placement of exact amplicon sequences improves associations with clinical information. mSystems 3, e00021–18 (2018).

McDonald, D. et al. Striped UniFrac: enabling microbiome analysis at unprecedented scale. Nat. Methods 15, 847–848 (2018).

Willett, P. Similarity-based virtual screening using 2D fingerprints. Drug Discov. Today 11, 1046–1053 (2006).

Heinonen, M., Shen, H., Zamboni, N. & Rousu, J. Metabolite identification and molecular fingerprint prediction through machine learning. Bioinformatics 28, 2333–2341 (2012).

Laponogov, I., Sadawi, N., Galea, D., Mirnezami, R. & Veselkov, K. A. ChemDistiller: an engine for metabolite annotation in mass spectrometry. Bioinformatics 34, 2096–2102 (2018).

Dührkop, K., Shen, H., Meusel, M., Rousu, J. & Böcker, S. Searching molecular structure databases with tandem mass spectra using CSI:FingerID. Proc. Natl Acad. Sci. USA 112, 12580–12585 (2015).

Fan, Z., Ghaffari, K., Alley, A. & Ressom, H. W. Metabolite identification using artificial neural network. In Proc. 2019 IEEE International Conference on Bioinformatics and Biomedicine (BIBM) 244–248 (IEEE, 2019).

Li, Y., Kuhn, M., Gavin, A.-C. & Bork, P. Identification of metabolites from tandem mass spectra with a machine learning approach utilizing structural features. Bioinformatics 36, 1213–1218 (2020).

Dührkop, K. et al. SIRIUS 4: a rapid tool for turning tandem mass spectra into metabolite structure information. Nat. Methods 16, 299–302 (2019).

Pluskal, T., Castillo, S., Villar-Briones, A. & Oresic, M. MZmine 2: modular framework for processing, visualizing, and analyzing mass spectrometry-based molecular profile data. BMC Bioinf. 11, 395 (2010).

Nothias, L. et al. Feature-based molecular networking in the GNPS analysis environment.Nat. Methods 17, 905–908 (2020).

Treutler, H. et al. Discovering regulated metabolite families in untargeted metabolomics studies. Anal. Chem. 88, 8082–8090 (2016).

Depke, T., Franke, R. & Brönstrup, M. Clustering of MS2 spectra using unsupervised methods to aid the identification of secondary metabolites from Pseudomonas aeruginosa. J. Chromatogr. B 1071, 19–28 (2017).

Rawlinson, C. et al. Hierarchical clustering of MS/MS spectra from the firefly metabolome identifies new lucibufagin compounds. Sci. Rep. 10, 6043 (2020).

Schymanski, E. L. et al. Critical assessment of small molecule identification 2016: automated methods. J. Cheminform. 9, 22 (2017).

Feunang, Y. D. et al. ClassyFire: automated chemical classification with a comprehensive, computable taxonomy. J. Cheminform. 8, 61 (2016).

Letunic, I. & Bork, P. Interactive Tree Of Life (iTOL) v4: recent updates and new developments. Nucleic Acids Res. 47, W256–W259 (2019).

Bolyen, E. et al. Reproducible, interactive, scalable and extensible microbiome data science using QIIME 2. Nat. Biotechnol. 37, 852–857 (2019).

Morton, J. T. et al. Learning representations of microbe-metabolite interactions. Nat. Methods 16, 1306–1314 (2019).

van der Hooft, J. J. J., Wandy, J., Barrett, M. P., Burgess, K. E. V. & Rogers, S. Topic modeling for untargeted substructure exploration in metabolomics. Proc. Natl Acad. Sci. USA 113, 13738–13743 (2016).

Sedio, B. E., Rojas Echeverri, J. C., Boya, P. C. A. & Joseph Wright, S. Sources of variation in foliar secondary chemistry in a tropical forest tree community. Ecology 98, 616–623 (2017).

Bray, J. R., Roger Bray, J. & Curtis, J. T. An ordination of the upland forest communities of southern Wisconsin. Ecol. Monogr. 27, 325–349 (1957).

Gauglitz, J. M. et al. Metabolome-informed microbiome analysis refines metadata classifications and reveals unexpected medication transfer in captive cheetahs. mSystems 5, e00635–19 (2018).

Thompson, L. R. et al. A communal catalogue reveals Earth's multiscale microbial diversity. Nature 551, 457–463 (2017).

Garland, T., Harvey, P. H. & Ives, A. R. Procedures for the analysis of comparative data using phylogenetically independent contrasts. Syst. Biol. 41, 18 (1992).

Junker, R. R. A biosynthetically informed distance measure to compare secondary metabolite profiles. Chemoecology 28, 29–37 (2017).

Bajusz, D., Rácz, A. & Héberger, K. Why is Tanimoto index an appropriate choice for fingerprint-based similarity calculations? J. Chem. Inform. 7, 20 (2015).

Kuczynski, J. et al. Microbial community resemblance methods differ in their ability to detect biologically relevant patterns. Nat. Methods 7, 813–819 (2010).

Gonzalez, A. et al. Qiita: rapid, web-enabled microbiome meta-analysis. Nat. Methods 15, 796–798 (2018).

McDonald, D. et al. American Gut: an Open platform for citizen science microbiome research. mSystems 3, e00031-18 (2018).

Sinha, R., Abnet, C. C., White, O., Knight, R. & Huttenhower, C. The microbiome quality control project: baseline study design and future directions. Genome Biol. 16, 276 (2015).

Wang, M. et al. Assembling the community-scale discoverable human proteome. Cell Syst. 7, 412–421.e5 (2018).

Sumner, L. W. et al. Proposed minimum reporting standards for chemical analysis. Metabolomics 3, 211–221 (2007).

Ludwig, M. et al. Database-independent molecular formula annotation using Gibbs sampling through ZODIAC. Nat. Mach. Intell. 2, 629–641 (2020).

Lozupone, C. A. & Knight, R. Species divergence and the measurement of microbial diversity. FEMS Microbiol. Rev. 32, 557–578 (2008).

Dührkop, K., Hufsky, F. & Böcker, S. Molecular formula identification using isotope pattern analysis and calculation of fragmentation trees. Mass Spectrom. 3, S0037 (2014).

Simón-Manso, Y. et al. Metabolite profiling of a NIST Standard Reference Material for human plasma (SRM 1950): GC-MS, LC-MS, NMR, and clinical laboratory analyses, libraries, and web-based resources. Anal. Chem. 85, 11725–11731 (2013).

Martens, L. et al. mzML-a community standard for mass spectrometry data. Mol. Cell. Proteom. 10, R110.000133 (2011).

Chambers, M. C. et al. A cross-platform toolkit for mass spectrometry and proteomics. Nat. Biotechnol. 30, 918–920 (2012).

Gauglitz, J. M. et al. Untargeted mass spectrometry-based metabolomics approach unveils molecular changes in raw and processed foods and beverages. Food Chem. 302, 125290 (2020).
Acknowledgements
P.C.D. was supported by the Gordon and Betty Moore Foundation (grant no. GBMF7622), CCF foundation no. 675191, the US National Institutes of Health (grant nos. U19 AG063744 01, P41 GM103484, R03 CA211211, R01 GM107550, 1 DP1 AT010885, P30 DK120515) and the University of Wisconsin-Madison OVCRGE; L.F.N. was supported by the US National Institutes of Health (grant no. R01 GM107550), and the European Union's Horizon 2020 program (MSCA-GF, 704786). J.J.J.v.d.H. was supported by an ASDI eScience grant no. ASDI.2017.030, from the Netherlands eScience Center—NLeSC. K.D., M.F., M.L. and S.B. were supported by Deutsche Forschungsgemeinschaft (BO 1910/20). Y.V.B. was funded by the Janssen Human Microbiome Initiative through the Center for Microbiome Innovation at UC San Diego.
Ethics declarations
Competing interests
M.W. is a founder of Ometa Laboratories LLC. P.C.D. is a scientific advisor for Sirenas, Cybele and Galileo PCD is also a scientific advisor and founde of Enveda ans Ometa Laboratories LLC with approval by University of California San Diego. LLC. K.D., M.L., M.F. and S.B. are founders of Bright Giant GmbH.
Additional information
Publisher's note Springer Nature remains neutral with regard to jurisdictional claims in published maps and institutional affiliations.
Supplementary information
About this article
Cite this article
Tripathi, A., Vázquez-Baeza, Y., Gauglitz, J.M. et al. Chemically informed analyses of metabolomics mass spectrometry data with Qemistree. Nat Chem Biol 17, 146–151 (2021). https://doi.org/10.1038/s41589-020-00677-3
Received:

Accepted:

Published:

Issue Date:

DOI: https://doi.org/10.1038/s41589-020-00677-3