Abstract
Mitochondrial DNA (mtDNA) mutations are the major cause of mitochondrial diseases. Cells harboring disease-related mtDNA mutations exhibit various phenotypic abnormalities, such as reduced respiration and elevated lactic acid production. Induced pluripotent stem cell (iPSC) lines derived from patients with mitochondrial disease, with high proportions of mutated mtDNA, exhibit defects in maturation into neurons or cardiomyocytes. In this study, we have discovered a small-molecule compound, which we name tryptolinamide (TLAM), that activates mitochondrial respiration in cybrids generated from patient-derived mitochondria and fibroblasts from patient-derived iPSCs. We found that TLAM inhibits phosphofructokinase-1 (PFK1), which in turn activates AMPK-mediated fatty-acid oxidation to promote oxidative phosphorylation, and redirects carbon flow from glycolysis toward the pentose phosphate pathway to reinforce anti-oxidative potential. Finally, we found that TLAM rescued the defect in neuronal differentiation of iPSCs carrying a high ratio of mutant mtDNA, suggesting that PFK1 represents a potential therapeutic target for mitochondrial diseases.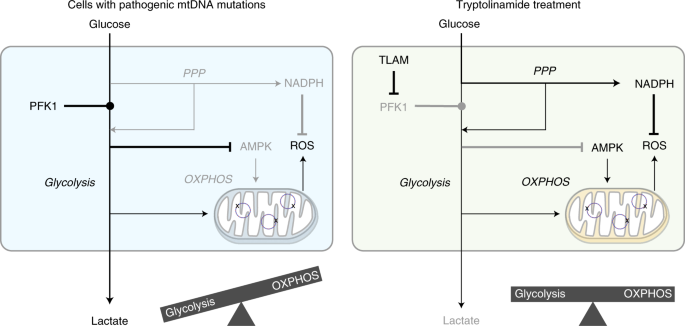 This is a preview of subscription content
Access options
Subscribe to Journal
Get full journal access for 1 year
$119.00
only $9.92 per issue
All prices are NET prices.
VAT will be added later in the checkout.
Tax calculation will be finalised during checkout.
Rent or Buy article
Get time limited or full article access on ReadCube.
from$8.99
All prices are NET prices.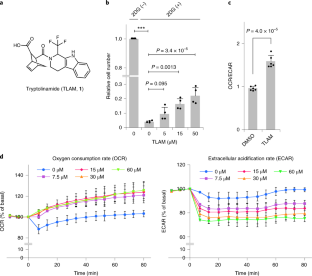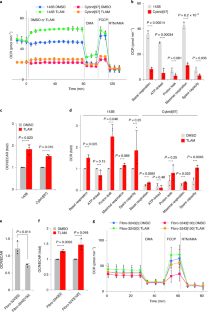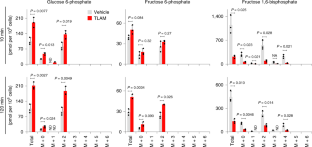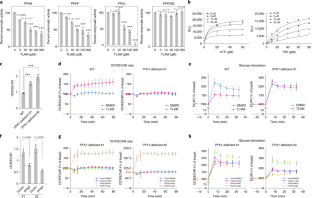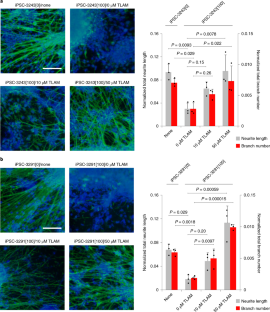 References
1.

Schon, E. A., DiMauro, S. & Hirano, M. Human mitochondrial DNA: roles of inherited and somatic mutations. Nat. Rev. Genet. 13, 878–890 (2012).

2.

Taylor, R. W. & Turnbull, D. M. Mitochondrial DNA mutations in human disease. Nat. Rev. Genet. 6, 389–402 (2005).

3.

Goto, Y., Nonaka, I. & Horai, S. A mutation in the tRNALeu(UUR) gene associated with the MELAS subgroup of mitochondrial encephalomyopathies. Nature 348, 651–653 (1990).

4.

Avula, S., Parikh, S., Demarest, S., Kurz, J. & Gropman, A. Treatment of mitochondrial disorders. Curr. Treat. Options Neurol. 16, 292 (2014).

5.

Yun, J. & Finkel, T. Mitohormesis. Cell Metab. 19, 757–766 (2014).

6.

Katayama, Y. et al. Accumulation of oxidative stress around the stroke-like lesions of MELAS patients. Mitochondrion 9, 306–313 (2009).

7.

Ikawa, M. et al. Evaluation of systemic redox states in patients carrying the MELAS A3243G mutation in mitochondrial DNA. Eur. Neurol. 67, 232–237 (2012).

8.

Whitehouse, S., Cooper, R. H. & Randle, P. J. Mechanism of activation of pyruvate dehydrogenase by dichloroacetate and other halogenated carboxylic acids. Biochem. J. 141, 761–774 (1974).

9.

Kato, M., Li, J., Chuang, J. L. & Chuang, D. T. Distinct structural mechanisms for inhibition of pyruvate dehydrogenase kinase isoforms by AZD7545, dichloroacetate and radicicol. Structure 15, 992–1004 (2007).

10.

Kaufmann, P. et al. Dichloroacetate causes toxic neuropathy in MELAS: a randomized, controlled clinical trial. Neurology 66, 324–330 (2006).

11.

Vander Heiden, M. G., Cantley, L. C. & Thompson, C. B. Understanding the Warburg effect: the metabolic requirements of cell proliferation. Science 324, 1029–1033 (2009).

12.

Chen, W. & Guéron, M. The inhibition of bovine heart hexokinase by 2-deoxy-d-glucose-6-phosphate: characterization by 31P NMR and metabolic implications. Biochimie 74, 867–873 (1992).

13.

Chang, J. C. et al. Peptide-mediated delivery of donor mitochondria improves mitochondrial function and cell viability in human cybrid cells with the MELAS A3243G mutation. Sci. Rep. 7, 10710 (2017).

14.

Seo, K. S. et al. KL1333, a Novel NAD+ modulator, improves energy metabolism and mitochondrial dysfunction in MELAS fibroblasts. Front. Neurol. 9, 552 (2018).

15.

Ma, H. et al. Metabolic rescue in pluripotent cells from patients with mtDNA disease. Nature 524, 234–238 (2015).

16.

Goto, Y. et al. Mitochondrial myopathy, encephalopathy, lactic acidosis and stroke-like episodes (MELAS): a correlative study of the clinical features and mitochondrial DNA mutation. Neurology 42, 545–550 (1992).

17.

Koga, Y., Nonaka, I., Kobayashi, M., Tojyo, M. & Nihei, K. Findings in muscle in complex I (NADH coenzyme Q reductase) deficiency. Ann. Neurol. 24, 749–756 (1988).

18.

Kirino, Y. et al. Codon-specific translational defect caused by a wobble modification deficiency in mutant tRNA from a human mitochondrial disease. Proc. Natl Acad. Sci. USA 101, 15070–15075 (2004).

19.

Kirino, Y., Goto, Y., Campos, Y., Arenas, J. & Suzuki, T. Specific correlation between the wobble modification deficiency in mutant tRNAs and the clinical features of a human mitochondrial disease. Proc. Natl Acad. Sci. USA 102, 7127–7132 (2005).

20.

Wong, A. et al. Differentiation-specific effects of LHON mutations introduced into neuronal NT2 cells. Hum. Mol. Genet. 11, 431–438 (2002).

21.

Mattiazzi, M. et al. The mtDNA T8993G (NARP) mutation results in an impairment of oxidative phosphorylation that can be improved by antioxidants. Hum. Mol. Genet. 13, 869–879 (2004).

22.

Wojewoda, M., Duszyński, J. & Szczepanowska, J. Antioxidant defence systems and generation of reactive oxygen species in osteosarcoma cells with defective mitochondria: effect of selenium. Biochim. Biophys. Acta 1797, 890–896 (2010).

23.

Pang, C. Y., Lee, H. C. & Wei, Y. H. Enhanced oxidative damage in human cells harboring A3243G mutation of mitochondrial DNA: implication of oxidative stress in the pathogenesis of mitochondrial diabetes. Diabetes Res. Clin. Pract. 54, S45–S56 (2001).

24.

Hardie, D. G. & Pan, D. A. Regulation of fatty acid synthesis and oxidation by the AMP-activated protein kinase. Biochem. Soc. Trans. 30, 1064–1070 (2002).

25.

Ducommun, S. et al. Enhanced activation of cellular AMPK by dual-small molecule treatment: AICAR and A769662. Am. J. Physiol. Endocrinol. Metab. 306, E688–E696 (2014).

26.

Zhou, G. et al. Role of AMP-activated protein kinase in mechanism of metformin action. J. Clin. Invest. 108, 1167–1174 (2001).

27.

Lopaschuk, G. D., Wall, S. R., Olley, P. M. & Davies, N. J. Etomoxir, a carnitine palmitoyltransferase I inhibitor, protects hearts from fatty acid-induced ischemic injury independent of changes in long chain acylcarnitine. Circ. Res. 63, 1036–1043 (1988).

28.

Yamamoto, T. et al. Reduced methylation of PFKFB3 in cancer cells shunts glucose towards the pentose phosphate pathway. Nat. Commun. 5, 3480 (2014).

29.

Moreno-Sánchez, R. et al. Phosphofructokinase type 1 kinetics, isoform expression and gene polymorphisms in cancer cells. J. Cell. Biochem. 113, 1692–1703 (2012).

30.

Yokota, M., Hatakeyama, H., Ono, Y., Kanazawa, M. & Goto, Y. I. Mitochondrial respiratory dysfunction disturbs neuronal and cardiac lineage commitment of human iPSCs. Cell Death Dis. 8, e2551 (2017).

31.

Zancan, P., Rosas, A. O., Marcondes, M. C., Marinho-Carvalho, M. M. & Sola-Penna, M. Clotrimazole inhibits and modulates heterologous association of the key glycolytic enzyme 6-phosphofructo-1-kinase. Biochem. Pharmacol. 73, 1520–1527 (2007).

32.

Marcondes, M. C., Sola-Penna, M. & Zancan, P. Clotrimazole potentiates the inhibitory effects of ATP on the key glycolytic enzyme 6-phosphofructo-1-kinase. Arch. Biochem. Biophys. 497, 62–67 (2010).

33.

Kim, S. G., Manes, N. P., El-Maghrabi, M. R. & Lee, Y. H. Crystal structure of the hypoxia-inducible form of 6-phosphofructo-2-kinase/fructose-2,6-bisphosphatase (PFKFB3): a possible new target for cancer therapy. J. Biol. Chem. 281, 2939–2944 (2006).

34.

Webb, B. A. et al. Structures of human phosphofructokinase-1 and atomic basis of cancer-associated mutations. Nature 523, 111–114 (2015).

35.

Mor, I., Cheung, E. C. & Vousden, K. H. Control of glycolysis through regulation of PFK1: old friends and recent additions. Cold Spring Harb. Symp. Quant. Biol. 76, 211–216 (2011).

36.

Wang, M. D. et al. Acetyl-coenzyme A carboxylase alpha promotion of glucose-mediated fatty acid synthesis enhances survival of hepatocellular carcinoma in mice and patients. Hepatology 63, 1272–1286 (2016).

37.

Tufi, R. et al. Enhancing nucleotide metabolism protects against mitochondrial dysfunction and neurodegeneration in a PINK1 model of Parkinson's disease. Nat. Cell Biol. 16, 157–166 (2014).

38.

Yi, W. et al. Phosphofructokinase 1 glycosylation regulates cell growth and metabolism. Science 337, 975–980 (2012).

39.

Kim, N. H. et al. Snail reprograms glucose metabolism by repressing phosphofructokinase PFKP allowing cancer cell survival under metabolic stress. Nat. Commun. 8, 14374 (2017).

40.

Miyazawa, H. et al. Rewiring of embryonic glucose metabolism via suppression of PFK-1 and aldolase during mouse chorioallantoic branching. Development 144, 63–73 (2017).

41.

Naito, Y., Hino, K., Bono, H. & Ui-Tei, K. CRISPRdirect: software for designing CRISPR/Cas guide RNA with reduced off-target sites. Bioinformatics 31, 1120–1123 (2015).

42.

Okita, K. et al. A more efficient method to generate integration-free human iPS cells. Nat. Methods 8, 409–412 (2011).

43.

Hatakeyama, H., Katayama, A., Komaki, H., Nishino, I. & Goto, Y. Molecular pathomechanisms and cell-type-specific disease phenotypes of MELAS caused by mutant mitochondrial tRNATrp. Acta Neuropathol. Commun. 3, 52 (2015).

44.

Schneider, C. A., Rasband, W. S. & Eliceiri, K. W. NIH Image to ImageJ: 25 years of image analysis. Nat. Methods 9, 671–675 (2012).

45.

Pool, M., Thiemann, J., Bar-Or, A. & Fournier, A. E. NeuriteTracer: a novel ImageJ plugin for automated quantification of neurite outgrowth. J. Neurosci. Methods 168, 134–139 (2008).

46.

Arganda-Carreras, I., Fernández-González, R., Muñoz-Barrutia, A. & Ortiz-De-Solorzano, C. 3D reconstruction of histological sections: application to mammary gland tissue. Microsc. Res. Tech. 73, 1019–1029 (2010).

47.

King, M. P. & Attardi, G. Human cells lacking mtDNA: repopulation with exogenous mitochondria by complementation. Science 246, 500–503 (1989).

48.

Mimaki, M. et al. Reversible infantile respiratory chain deficiency: a clinical and molecular study. Ann. Neurol. 68, 845–854 (2010).
Acknowledgements
We are grateful to the RIKEN CBS RRD for DNA sequencing analysis. We thank K. Ohgane, G. Hirai, K. Dodo and M. Sodeoka (RIKEN, Japan) for confirmation of the structure and purity of TLAM. We also thank Y. Ono, S. Okabe and M. Kanazawa (NCNP, Japan) for their assistance. This work was supported in part by the RIKEN Aging Project (to M.S. and M. Yoshida); a Grant-in-Aid for Scientific Research (S) (JP19H05640; M. Yoshida) and Grants-in-Aid for Young Scientist (JP16K18432 and JP19K16728; H.K.) from the Japan Society for the Promotion of Science (JSPS); a Grant-in-Aid for Scientific Research on Innovative Areas (JP18H05503; M. Yoshida) from the Ministry of Education, Culture, Sports, Science and Technology of Japan (MEXT); Grants-in-Aid of the Research on Intractable Diseases (Mitochondrial Disorder; Y.G.) from the Ministry of Health, Labour and Welfare of Japan (MHLW); and the Intramural Research Grant for Neurological and Psychiatric Disorders of NCNP (24-8, 27-6 and 30-7; Y.G.). This work was inspired by the JSPS Asian Chemical Biology Initiative.
Ethics declarations
Competing interests
The authors declare no competing interests.
Additional information
Publisher's note Springer Nature remains neutral with regard to jurisdictional claims in published maps and institutional affiliations.
Supplementary information
Supplementary Figs. 1–11 and Tables 1–5.
About this article
Cite this article
Kobayashi, H., Hatakeyama, H., Nishimura, H. et al. Chemical reversal of abnormalities in cells carrying mitochondrial DNA mutations. Nat Chem Biol 17, 335–343 (2021). https://doi.org/10.1038/s41589-020-00676-4
Received:

Revised:

Accepted:

Published:

Issue Date: