Abstract
The mitotic kinase AURORA-A is essential for cell cycle progression and is considered a priority cancer target. Although the catalytic activity of AURORA-A is essential for its mitotic function, recent reports indicate an additional non-catalytic function, which is difficult to target by conventional small molecules. We therefore developed a series of chemical degraders (PROTACs) by connecting a clinical kinase inhibitor of AURORA-A to E3 ligase-binding molecules (for example, thalidomide). One degrader induced rapid, durable and highly specific degradation of AURORA-A. In addition, we found that the degrader complex was stabilized by cooperative binding between AURORA-A and CEREBLON. Degrader-mediated AURORA-A depletion caused an S-phase defect, which is not the cell cycle effect observed upon kinase inhibition, supporting an important non-catalytic function of AURORA-A during DNA replication. AURORA-A degradation induced rampant apoptosis in cancer cell lines and thus represents a versatile starting point for developing new therapeutics to counter AURORA-A function in cancer.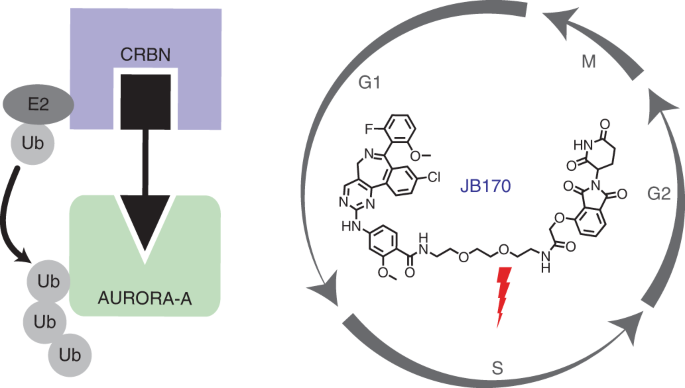 Relevant articles
Open Access articles citing this article.
Zi Liu

,

Mingxing Hu

…

Yongmei Xie

Molecular Biomedicine Open Access 20 December 2022

Ming He

,

Chaoguo Cao

…

Yu Rao

Signal Transduction and Targeted Therapy Open Access 09 June 2022

Xinyi Li

,

Wenchen Pu

…

Yong Peng

Molecular Cancer Open Access 11 April 2022
Access options
Access Nature and 54 other Nature Portfolio journals
Get Nature+, our best-value online-access subscription
$29.99 / 30 days
cancel any time
Subscribe to this journal
Receive 12 print issues and online access
$259.00 per year
only $21.58 per issue
Rent or buy this article
Get just this article for as long as you need it
$39.95
Prices may be subject to local taxes which are calculated during checkout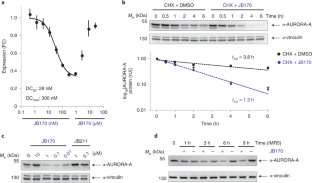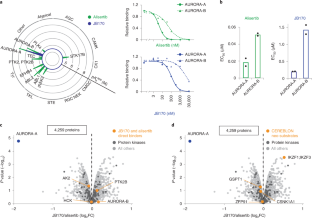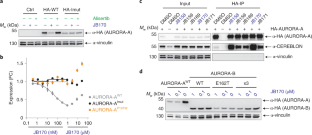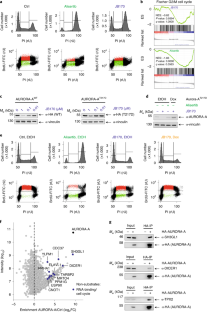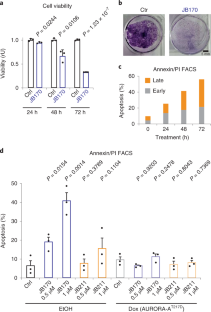 Data availability
Sequence data have been deposited at GEO with accession no. GSE141911. SILAC MS proteomics data have been deposited at the ProteomeXchange Consortium via the PRIDE partner repository with the dataset identifier PXD017342. TMT MS proteomics data have been deposited with the dataset identifier PXD019585 (PRIDE). AURORA-A interactome data have been deposited with the dataset identifier PXD019684 (PRIDE). AURORA-A sedimentation profile in the presence and absence of RNases was obtained from http://r-deep.dkfz.de (AURKA_HUMAN.pdf). Source data are provided with this paper.
Code availability
Data analysis was mostly performed with published analysis tools (as described above). Custom code was only used for standard operations and will be made available by the corresponding authors on request.
References
Hanahan, D. & Weinberg, R. A. Hallmarks of cancer: the next generation. Cell 144, 646–674 (2011).

Otto, T. & Sicinski, P. Cell cycle proteins as promising targets in cancer therapy. Nat. Rev. Cancer 17, 93–115 (2017).

Nigg, E. A. Mitotic kinases as regulators of cell division and its checkpoints. Nat. Rev. Mol. Cell Biol. 2, 21–32 (2001).

Marumoto, T., Zhang, D. & Saya, H. Aurora-A—a guardian of poles. Nat. Rev. Cancer 5, 42–50 (2005).

Kettenbach, A. N. et al. Quantitative phosphoproteomics identifies substrates and functional modules of Aurora and Polo-like kinase activities in mitotic cells. Sci. Signal 4, rs5 (2011).

Hochegger, H., Hegarat, N. & Pereira-Leal, J. B. Aurora at the pole and equator: overlapping functions of Aurora kinases in the mitotic spindle. Open Biol. 3, 120185 (2013).

Tanner, M. M. et al. Frequent amplification of chromosomal region 20q12-q13 in ovarian cancer. Clin. Cancer Res. 6, 1833–1839 (2000).

Bischoff, J. R. et al. A homologue of Drosophila aurora kinase is oncogenic and amplified in human colorectal cancers. EMBO J. 17, 3052–3065 (1998).

Zhou, H. et al. Tumour amplified kinase STK15/BTAK induces centrosome amplification, aneuploidy and transformation. Nat. Genet. 20, 189–193 (1998).

Wang, X. et al. Overexpression of aurora kinase A in mouse mammary epithelium induces genetic instability preceding mammary tumor formation. Oncogene 25, 7148–7158 (2006).

Treekitkarnmongkol, W. et al. Aurora kinase-A overexpression in mouse mammary epithelium induces mammary adenocarcinomas harboring genetic alterations shared with human breast cancer. Carcinogenesis 37, 1180–1189 (2016).

Gong, X. et al. Aurora a kinase inhibition is synthetic lethal with loss of the RB1 tumor suppressor gene. Cancer Discov. 9, 248–263 (2019).

Wu, C. et al. Targeting AURKA-CDC25C axis to induce synthetic lethality in ARID1A-deficient colorectal cancer cells. Nat. Commun. 9, 3212 (2018).

Mollaoglu, G. et al. MYC drives progression of small cell lung cancer to a variant neuroendocrine subtype with vulnerability to aurora kinase inhibition. Cancer Cell 31, 270–285 (2017).

Otto, T. et al. Stabilization of N-Myc is a critical function of Aurora A in human neuroblastoma. Cancer Cell 15, 67–78 (2009).

Borisa, A. C. & Bhatt, H. G. A comprehensive review on Aurora kinase: small molecule inhibitors and clinical trial studies. Eur. J. Med. Chem. 140, 1–19 (2017).

Gorgun, G. et al. A novel Aurora-A kinase inhibitor MLN8237 induces cytotoxicity and cell-cycle arrest in multiple myeloma. Blood 115, 5202–5213 (2010).

O'Connor, O. A. et al. Randomized phase III study of alisertib or investigator's choice (Selected Single Agent) in patients with relapsed or refractory peripheral T-cell lymphoma. J. Clin. Oncol. 37, 613–623 (2019).

DuBois, S. G. et al. Phase II trial of alisertib in combination with irinotecan and temozolomide for patients with relapsed or refractory neuroblastoma. Clin. Cancer Res. 24, 6142–6149 (2018).

Mosse, Y. P. et al. A Phase II study of alisertib in children with recurrent/refractory solid tumors or leukemia: children's oncology group Phase I and pilot consortium (ADVL0921). Clin. Cancer Res. 25, 3229–3238 (2019).

Beltran, H. et al. A Phase II trial of the Aurora kinase A inhibitor alisertib for patients with castration-resistant and neuroendocrine prostate cancer: efficacy and biomarkers. Clin. Cancer Res. 25, 43–51 (2019).

Brockmann, M. et al. Small molecule inhibitors of Aurora-A induce proteasomal degradation of N-myc in childhood neuroblastoma. Cancer Cell 24, 75–89 (2013).

Dauch, D. et al. A MYC-Aurora kinase A protein complex represents an actionable drug target in p53-altered liver cancer. Nat. Med. 22, 744–753 (2016).

Toya, M., Terasawa, M., Nagata, K., Iida, Y. & Sugimoto, A. A kinase-independent role for Aurora A in the assembly of mitotic spindle microtubules in Caenorhabditis elegans embryos. Nat. Cell Biol. 13, 708–714 (2011).

Zheng, F. et al. Nuclear AURKA acquires kinase-independent transactivating function to enhance breast cancer stem cell phenotype. Nat. Commun. 7, 10180 (2016).

Richards, M. W. et al. Structural basis of N-Myc binding by Aurora-A and its destabilization by kinase inhibitors. Proc. Natl Acad. Sci. USA 113, 13726–13731 (2016).

Gustafson, W. C. et al. Drugging MYCN through an allosteric transition in Aurora kinase A. Cancer Cell 26, 414–427 (2014).

Burslem, G. M. & Crews, C. M. Proteolysis-targeting chimeras as therapeutics and tools for biological discovery. Cell 181, 102–114 (2020).

Hanzl, A. & Winter, G. E. Targeted protein degradation: current and future challenges. Curr. Opin. Chem. Biol. 56, 35–41 (2020).

Winter, G. E. et al. Phthalimide conjugation as a strategy for in vivo target protein degradation. Science 348, 1376–1381 (2015).

Bondeson, D. P. et al. Catalytic in vivo protein knockdown by small-molecule PROTACs. Nat. Chem. Biol. 11, 611–617 (2015).

Maniaci, C. & Ciulli, A. Bifunctional chemical probes inducing protein-protein interactions. Curr. Opin. Chem. Biol. 52, 145–156 (2019).

Sloane, D. A. et al. Drug-resistant Aurora A mutants for cellular target validation of the small molecule kinase inhibitors MLN8054 and MLN8237. ACS Chem. Biol. 5, 563–576 (2010).

Dodson, C. A. et al. Crystal structure of an Aurora-A mutant that mimics Aurora-B bound to MLN8054: insights into selectivity and drug design. Biochem. J. 427, 19–28 (2010).

Douglass, E. F. Jr, Miller, C. J., Sparer, G., Shapiro, H. & Spiegel, D. A. A comprehensive mathematical model for three-body binding equilibria. J. Am. Chem. Soc. 135, 6092–6099 (2013).

Crosio, C. et al. Mitotic phosphorylation of histone H3: spatio-temporal regulation by mammalian Aurora kinases. Mol. Cell Biol. 22, 874–885 (2002).

Meraldi, P. & Nigg, E. A. Centrosome cohesion is regulated by a balance of kinase and phosphatase activities. J. Cell Sci. 114, 3749–3757 (2001).

Klaeger, S. et al. The target landscape of clinical kinase drugs. Science 358, eaan4368 (2017).

Chamberlain, P. P. et al. Structure of the human Cereblon-DDB1-lenalidomide complex reveals basis for responsiveness to thalidomide analogs. Nat. Struct. Mol. Biol. 21, 803–809 (2014).

Farnaby, W. et al. BAF complex vulnerabilities in cancer demonstrated via structure-based PROTAC design. Nat. Chem. Biol. 15, 672–680 (2019).

Gadd, M. S. et al. Structural basis of PROTAC cooperative recognition for selective protein degradation. Nat. Chem. Biol. 13, 514–521 (2017).

Zengerle, M., Chan, K. H. & Ciulli, A. Selective small molecule induced degradation of the BET bromodomain protein BRD4. ACS Chem. Biol. 10, 1770–1777 (2015).

Elkins, J. M., Santaguida, S., Musacchio, A. & Knapp, S. Crystal structure of human Aurora B in complex with INCENP and VX-680. J. Med. Chem. 55, 7841–7848 (2012).

Tsuchiya, Y. et al. Covalent Aurora A regulation by the metabolic integrator coenzyme A. Redox Biol. 28, 101318 (2020).

Buchel, G. et al. Association with Aurora-A controls N-MYC-dependent promoter escape and pause release of RNA polymerase II during the cell cycle. Cell Rep. 21, 3483–3497 (2017).

Caudron-Herger, M. et al. R-DeeP: proteome-wide and quantitative identification of RNA-dependent proteins by density gradient ultracentrifugation. Mol. Cell 75, 184–199 (2019).

Bondeson, D. P. et al. Lessons in PROTAC design from selective degradation with a promiscuous warhead. Cell Chem. Biol. 25, 78–87 (2018).

Remillard, D. et al. Degradation of the BAF Complex Factor BRD9 by heterobifunctional ligands. Angew. Chem. Int. Ed. 56, 5738–5743 (2017).

Baluapuri, A. et al. MYC Recruits SPT5 to RNA Polymerase II to promote processive transcription elongation. Mol. Cell 74, 674–687 (2019).

Cox, J. & Mann, M. MaxQuant enables high peptide identification rates, individualized p.p.b.-range mass accuracies and proteome-wide protein quantification. Nat. Biotechnol. 26, 1367–1372 (2008).

Zecha, J. et al. TMT labeling for the masses: a robust and cost-efficient, in-solution labeling approach. Mol. Cell Proteom. 18, 1468–1478 (2019).

Bian, Y. et al. Robust, reproducible and quantitative analysis of thousands of proteomes by micro-flow LC-MS/MS. Nat. Commun. 11, 157 (2020).

Cox, J. et al. Andromeda: a peptide search engine integrated into the MaxQuant environment. J. Proteome Res. 10, 1794–1805 (2011).

Tyanova, S. et al. The Perseus computational platform for comprehensive analysis of (prote)omics data. Nat. Methods 13, 731–740 (2016).

Medard, G. et al. Optimized chemical proteomics assay for kinase inhibitor profiling. J. Proteome Res. 14, 1574–1586 (2015).

Cox, J. et al. Accurate proteome-wide label-free quantification by delayed normalization and maximal peptide ratio extraction, termed MaxLFQ. Mol. Cell Proteom. 13, 2513–2526 (2014).

Fedorov, O., Niesen, F. H. & Knapp, S. Kinase inhibitor selectivity profiling using differential scanning fluorimetry. Methods Mol. Biol. 795, 109–118 (2012).

Robinson, M. D., McCarthy, D. J. & Smyth, G. K. edgeR: a Bioconductor package for differential expression analysis of digital gene expression data. Bioinformatics 26, 139–140 (2010).
Acknowledgements
We thank A. Kutschke for excellent technical assistance. Manuscript editing was provided by V. Matarese. We appreciate the scientific discussions with M. Eilers and K. Burger about the biology of AURORA-A and DICER1 and thank the Eilers laboratory for cell lines and plasmids. This work was supported by grants from the German Research Foundation (WO 2108/1-1 to E.W., GRK 2243 to C.S.), the European Research Council (TarMYC to E.W.) and the Federal Ministry of Education and Research (CANCER to E.W. and S.K.). S.M. and M.S. are grateful for support by the SGC, a registered charity (no. 1097737) that receives funds from AbbVie, Bayer Pharma AG, Boehringer Ingelheim, Canada Foundation for Innovation, Eshelman Institute for Innovation, Genome Canada, Innovative Medicines Initiative (EU/EFPIA) (EUbOPEN, agreement no. 875510), Janssen, Merck KGaA, MSD, Ontario Ministry of Economic Development and Innovation, Pfizer, São Paulo Research Foundation-FAPESP, Takeda and the Wellcome Trust. M.W. is grateful for support by the Else Kröner-Fresenius PhD program (TRIP) and J.B. by the German Cancer Research Center DKTK.
Ethics declarations
Competing interests
B.K. is a cofounder and shareholder of msAId GmbH and OmicScouts GmbH. B.K. has no operational role in either company. The University of Würzburg has filed a patent for the degraders described in the study and E.W. is listed as an inventor.
Additional information
Publisher's note Springer Nature remains neutral with regard to jurisdictional claims in published maps and institutional affiliations.
Supplementary information
About this article
Cite this article
Adhikari, B., Bozilovic, J., Diebold, M. et al. PROTAC-mediated degradation reveals a non-catalytic function of AURORA-A kinase. Nat Chem Biol 16, 1179–1188 (2020). https://doi.org/10.1038/s41589-020-00652-y
Received:

Accepted:

Published:

Issue Date:

DOI: https://doi.org/10.1038/s41589-020-00652-y