Phenotypic screening is an engine of discovery for bioactive small molecules and can unravel novel mechanisms and pathways controlling cellular physiology. A recent study reveals the CPSF complex as a pharmacologically tractable target of JTE-607 and context-specific cancer dependency.
Access options
Subscribe to Journal
Get full journal access for 1 year
$59.00
only $4.92 per issue
All prices are NET prices.
VAT will be added later in the checkout.
Tax calculation will be finalised during checkout.
Rent or Buy article
Get time limited or full article access on ReadCube.
from$8.99
All prices are NET prices.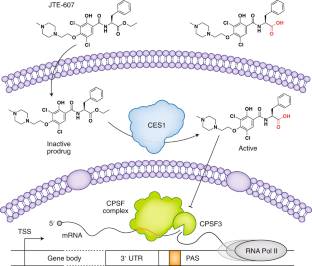 References
1.

Kakutani, M., Takeuchi, K., Waga, I., Iwamura, H. & Wakitani, K. Inflamm. Res. 48, 461–468 (1999).

2.

Uesato, N., Fukui, K., Maruhashi, J., Tojo, A. & Tajima, N. Exp. Hematol. 34, 1385–1392 (2006).

3.

Ross, N. T. et al. Nat. Chem. Biol. https://doi.org/10.1038/s41589-019-0424-1 (2019).

4.

Kakegawa, J., Sakane, N., Suzuki, K. & Yoshida, T. Biochem. Biophys. Res. Commun. 518, 32–37 (2019).

5.

Kuehner, J. N., Pearson, E. L. & Moore, C. Nat. Rev. Mol. Cell Biol. 12, 283–294 (2011).

6.

Kaelin, W. G. Jr. Nat. Rev. Cancer 17, 425–440 (2017).

7.

Bishop, T. R., Zhang, Y. & Erb, M. A. Trends Pharmacol. Sci. 40, 388–402 (2019).

8.

Gorthi, A. et al. Nature 555, 387–391 (2018).

9.

Borozdenkova, S. et al. Int. Immunopharmacol. 11, 1837–1843 (2011).
Ethics declarations
Competing interests
The author declares no competing interests.
About this article
Cite this article
Erb, M.A. Processing for destruction. Nat Chem Biol 16, 3–4 (2020). https://doi.org/10.1038/s41589-019-0428-x