Endocytosis mediates the internalization of proteins and lipids at the plasma membrane and plays essential roles in plant growth and development. A new small molecule enables manipulation of plant endocytosis in an acute and transient manner.
Access options
Subscribe to Journal
Get full journal access for 1 year
$59.00
only $4.92 per issue
All prices are NET prices.
VAT will be added later in the checkout.
Tax calculation will be finalised during checkout.
Rent or Buy article
Get time limited or full article access on ReadCube.
from$8.99
All prices are NET prices.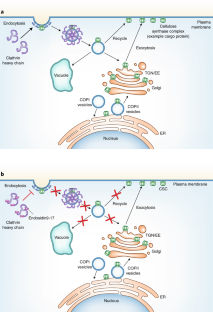 References
1.

Dejonghe, W. et al. Nat. Chem. Biol. https://doi.org/10.1038/s41589-019-0262-1 (2019).

2.

Barlow, L. D. & Dacks, J. B. Semin. Cell Dev. Biol. 80, 142–152 (2018).

3.

Bashline, L., Li, S. & Gu, Y. Ann. Bot. 114, 1059–1067 (2014).

4.

Reynolds, G. D., Wang, C., Pan, J. & Bednarek, S. Y. Plant Physiol. 176, 208–218 (2018).

5.

Kitakura, S. et al. Plant Cell 23, 1920–1931 (2011).

6.

Maib, H., Smythe, E. & Ayscough, K. Mol. Biol. Cell 28, 843–847 (2017).

7.

Paez Valencia, J., Goodman, K. & Otegui, M. S. Annu. Rev. Plant Biol. 67, 309–335 (2016).

8.

von Kleist, L. et al. Cell 146, 471–484 (2011).

9.

Dejonghe, W. et al. Nat. Commun. 7, 11710 (2016).

10.

Drakakaki, G. et al. Proc. Natl. Acad. Sci. USA 108, 17850–17855 (2011).
Ethics declarations
Competing interests
The authors declare no competing interests.
About this article
Cite this article
Zhang, C., Hicks, G.R. Braking plant endocytosis. Nat Chem Biol 15, 553–555 (2019). https://doi.org/10.1038/s41589-019-0273-y