Faster-than-transcription control of cellular activities is an important but challenging engineering target. Using split ferredoxins and induced dimerization or conformational changes, newly developed metalloprotein switches provide a fast method to control electron flux.
Access options
Subscribe to Journal
Get full journal access for 1 year
$59.00
only $4.92 per issue
All prices are NET prices.
VAT will be added later in the checkout.
Tax calculation will be finalised during checkout.
Rent or Buy article
Get time limited or full article access on ReadCube.
from$8.99
All prices are NET prices.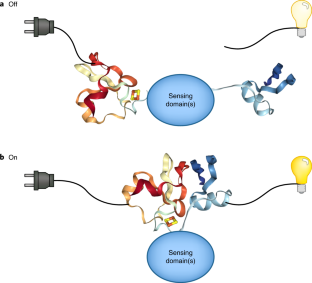 References
1.

Cameron, D. E., Bashor, C. J. & Collins, J. J. Nat. Rev. Microbiol. 12, 381–390 (2014).

2.

Taylor, N. D. et al. Nat. Methods 13, 177–183 (2016).

3.

Rosenfeld, N., Elowitz, M. B. & Alon, U. J. Mol. Biol. 323, 785–793 (2002).

4.

Atkinson, J. et al. Nat. Chem. Biol. https://doi.org/10.1038/s41589-018-0192-3 (2019).

5.

Stein, V. & Alexandrov, K. Trends Biotechnol. 33, 101–110 (2015).

6.

Tantama, M. & Yellen, G. Methods Enzymol. 547, 355–371 (2014).

7.

Hung, Y. P., Albeck, J. G., Tantama, M. & Yellen, G. Cell Metab. 14, 545–554 (2011).

8.

TerAvest, M. A. & Ajo-Franklin, C. M. Biotechnol. Bioeng. 113, 687–697 (2016).
Ethics declarations
Competing interests
The author declares no competing interests.
About this article
Cite this article
TerAvest, M. Fast bioelectrical switches. Nat Chem Biol 15, 99–100 (2019). https://doi.org/10.1038/s41589-018-0212-3