Characterization of a novel mutation in the E2 ubiquitin-conjugating enzyme UBE2A accounts for the decreased activity of the mutant enzyme that underlies disease and provides important insight into the catalytic mechanism of E2s.
Access options
Subscribe to Journal
Get full journal access for 1 year
$119.00
only $9.92 per issue
All prices are NET prices.
VAT will be added later in the checkout.
Tax calculation will be finalised during checkout.
Rent or Buy article
Get time limited or full article access on ReadCube.
from$8.99
All prices are NET prices.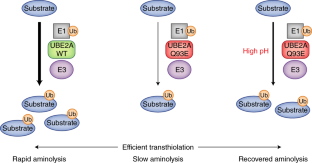 References
1.

Pickart, C. M. Annu. Rev. Biochem. 70, 503–533 (2001).

2.

Stewart, M. D., Ritterhoff, T., Klevit, R. E. & Brzovic, P. S. Cell Res. 26, 423–440 (2016).

3.

de Oliveira, J. F. et al. Nat. Chem. Biol. https://doi.org/10.1038/s41589-018-0177-2 (2018).

4.

Kim, J. et al. Cell 137, 459–471 (2009).

5.

Hibbert, R. G., Huang, A., Boelens, R. & Sixma, T. K. Proc. Natl Acad. Sci. USA 108, 5590–5595 (2011).

6.

Nascimento, R. M., Otto, P. A., de Brouwer, A. P. & Vianna-Morgante, A. M. Am. J. Hum. Genet. 79, 549–555 (2006).
Ethics declarations
Competing interests
The authors declare no competing interests.
About this article
Cite this article
Foglizzo, M., Day, C.L. E2 enzymes: lessons in ubiquitin transfer from XLID patients. Nat Chem Biol 15, 6–7 (2019). https://doi.org/10.1038/s41589-018-0191-4