Duramycin is a small post-translationally modified peptide with antibody-like affinity for phosphatidylethanolamine. As it turns out, the same functionality that is essential for duramycin activity helps to catalyze the formation of its conformationally constrained and compact polycyclic architecture.
Access options
Subscribe to Journal
Get full journal access for 1 year
$59.00
only $4.92 per issue
All prices are NET prices.
VAT will be added later in the checkout.
Tax calculation will be finalised during checkout.
Rent or Buy article
Get time limited or full article access on ReadCube.
from$8.99
All prices are NET prices.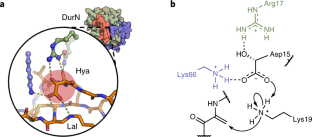 References
1.

Arnison, P. G. et al. Nat. Prod. Rep. 30, 108–160 (2013).

2.

An, L. et al. Nat. Chem. Biol. https://doi.org/10.1038/s41589-018-0122-4 (2018).

3.

Makino, A. et al. J. Biol. Chem. 278, 3204–3209 (2003).

4.

Hosoda, K. et al. J. Biochem. 119, 226–230 (1996).

5.

Ökesli, A., Cooper, L. E., Fogle, E. J. & van der Donk, W. A. J. Am. Chem. Soc. 133, 13753–13760 (2011).

6.

Dall'Acqua, W. & Carter, P. Protein Sci. 9, 1–9 (2000).

7.

Carter, P. & Wells, J. A. Science 237, 394–399 (1987).
Ethics declarations
Competing interests
The author declares no competing interests.
About this article
Cite this article
Bowers, A.A. The substrate lends a hand. Nat Chem Biol 14, 907–908 (2018). https://doi.org/10.1038/s41589-018-0135-z