One mechanism of thalidomide teratogenicity involves binding to the CUL4–CRBN E3 ubiquitin ligase complex, which then mediates the degradation of transcription factors. New studies reveal that species-specific variants of the transcription factor SALL4 are differentially ubiquitinated and degraded via the thalidomide-bound complex.
Access options
Subscribe to Journal
Get full journal access for 1 year
$59.00
only $4.92 per issue
All prices are NET prices.
VAT will be added later in the checkout.
Tax calculation will be finalised during checkout.
Rent or Buy article
Get time limited or full article access on ReadCube.
from$8.99
All prices are NET prices.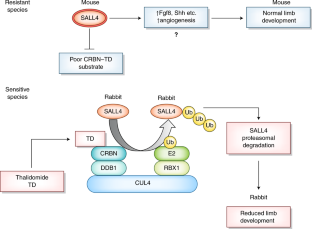 References
1.

Vargesson, N. Birth Defects Res. C Embryo Today 105, 140–156 (2015).

2.

Lee, C. J. J., Gonçalves, L. L. & Wells, P. G. FASEB J. 25, 2468–2483 (2011).

3.

Hansen, J. M. & Harris, C. Reprod. Toxicol. 35, 165–179 (2013).

4.

Parman, T., Wiley, M. J. & Wells, P. G. Nat. Med. 5, 582–585 (1999).

5.

Hansen, J. M. & Harris, C. Antioxid. Redox Signal. 6, 1–14 (2004).

6.

Knobloch, J., Schmitz, I., Götz, K., Schulze-Osthoff, K. & Rüther, U. Mol. Cell. Biol. 28, 529–538 (2008).

7.

Ito, T. et al. Science 327, 1345–1350 (2010).

8.

Therapontos, C., Erskine, L., Gardner, E. R., Figg, W. D. & Vargesson, N. Proc. Natl. Acad. Sci. USA 106, 8573–8578 (2009).

9.

Matyskiela, M. E. et al. Nat. Chem. Biol. https://doi.org/10.1038/s41589-018-0129-x (2018).

10.

Donovan, K. A. et al. eLife 7, e38430 (2018).
Ethics declarations
Competing interests
The author declares no competing interests.
About this article
Cite this article
Wells, P.G. A new target for thalidomide. Nat Chem Biol 14, 904–905 (2018). https://doi.org/10.1038/s41589-018-0134-0
Further reading
Cüneyt Kemal Buharalıoğlu

&

Gökçe Yıldırım Buharalıoğlu

Mersin Üniversitesi Sağlık Bilimleri Dergisi (2019)