Fast, single-molecule tracking microscopy monitors transitions between mobile and ribosome-bound fluorescent tRNAs to achieve nucleotide-resolution measurements of translation rates in living cells.
Access options
Subscribe to Journal
Get full journal access for 1 year
$119.00
only $9.92 per issue
All prices are NET prices.
VAT will be added later in the checkout.
Tax calculation will be finalised during checkout.
Rent or Buy article
Get time limited or full article access on ReadCube.
from$8.99
All prices are NET prices.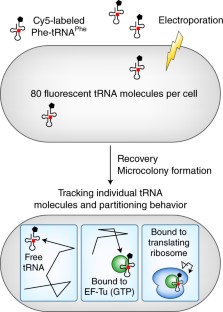 References
1.

Volkov, I. L. et al. Nat. Chem. Biol. https://doi.org/10.1038/s41589-018-0063-y (2018).

2.

Yu, J., Xiao, J., Ren, X., Lao, K. & Xie, X. S. Science 311, 1600–1603 (2006).

3.

Golding, I. & Cox, E. C. Proc. Natl. Acad. Sci. USA 101, 11310–11315 (2004).

4.

Crawford, R. et al. Biophys. J. 105, 2439–2450 (2013).

5.

Plochowietz, A., Farrell, I., Smilansky, Z., Cooperman, B. S. & Kapanidis, A. N. Nucleic Acids Res. 45, 926–937 (2017).

6.

Lindén, M., Ćurić, V., Amselem, E. & Elf, J. Nat. Commun. 8, 15115 (2017).

7.

Rodnina, M. V. Protein Sci. 25, 1390–1406 (2016).

8.

Mustafi, M. & Weisshaar, J. C. MBio 9, e02143–17 (2018).
Ethics declarations
Competing interests
The authors declare no competing interests.
About this article
Cite this article
Kapanidis, A.N., Stracy, M. Tracking tRNA packages. Nat Chem Biol 14, 528–529 (2018). https://doi.org/10.1038/s41589-018-0066-8