Abstract
Metazoan promoters are enriched in secondary DNA structure-forming motifs, such as G-quadruplexes (G4s). Here we describe 'G4access', an approach to isolate and sequence G4s associated with open chromatin via nuclease digestion. G4access is antibody- and crosslinking-independent and enriches for computationally predicted G4s (pG4s), most of which are confirmed in vitro. Using G4access in human and mouse cells, we identify cell-type-specific G4 enrichment correlated with nucleosome exclusion and promoter transcription. G4access allows measurement of variations in G4 repertoire usage following G4 ligand treatment, HDAC and G4 helicases inhibitors. Applying G4access to cells from reciprocal hybrid mouse crosses suggests a role for G4s in the control of active imprinting regions. Consistently, we also observed that G4access peaks are unmethylated, while methylation at pG4s correlates with nucleosome repositioning on DNA. Overall, our study provides a new tool for studying G4s in cellular dynamics and highlights their association with open chromatin, transcription and their antagonism to DNA methylation.
Access options
Access Nature and 54 other Nature Portfolio journals
Get Nature+, our best-value online-access subscription
$29.99 / 30 days
cancel any time
Subscribe to this journal
Receive 12 print issues and online access
$209.00 per year
only $17.42 per issue
Rent or buy this article
Prices vary by article type
from$1.95
to$39.95
Prices may be subject to local taxes which are calculated during checkout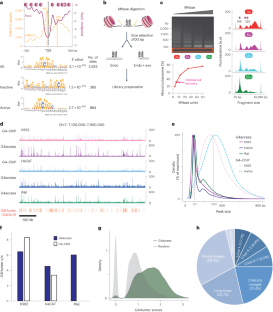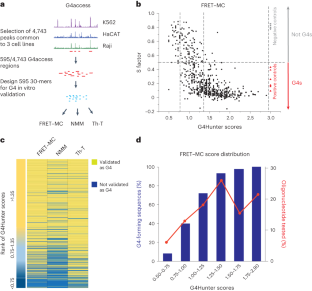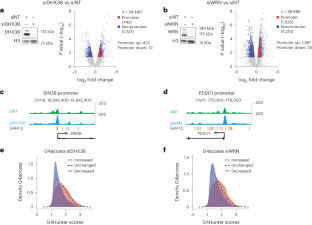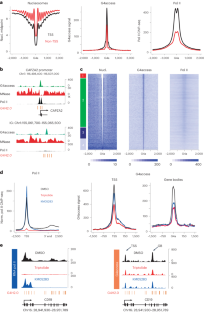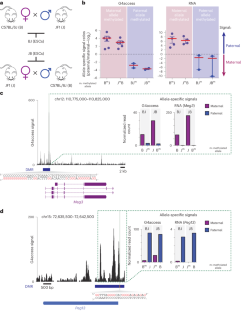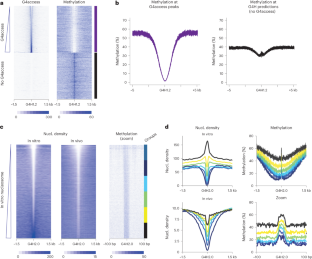 Similar content being viewed by others
Data availability
The genomic datasets published in this study are available under GSE187007. All data used from the previously published study are referenced in Supplementary Table 4. Source data are provided with this paper.
Code availability
Code generated and used for this study has been deposited in the linked Zenodo repository: https://zenodo.org/record/7912528 (ref. 62). The G4Hunter algorithm version code and functions used in this article are included as supplementary files (G4Hunter.r and G4HunterAccess_function.r).
References
Jiang, C. & Pugh, B. F. Nucleosome positioning and gene regulation: advances through genomics. Nat. Rev. Genet. 10, 161–172 (2009).

Fenouil, R. et al. CpG islands and GC content dictate nucleosome depletion in a transcription-independent manner at mammalian promoters. Genome Res. 22, 2399–2408 (2012).

Esnault, C. et al. G-quadruplexes are promoter elements controlling nucleosome exclusion and RNA polymerase II pausing. Preprint at bioRxiv https://doi.org/10.1101/2023.02.24.529838 (2023).

Bochman, M. L., Paeschke, K. & Zakian, V. A. DNA secondary structures: stability and function of G-quadruplex structures. Nat. Rev. Genet. 13, 770–780 (2012).

Hansel-Hertsch, R., Di Antonio, M. & Balasubramanian, S. DNA G-quadruplexes in the human genome: detection, functions and therapeutic potential. Nat. Rev. Mol. Cell. Biol. 18, 279–284 (2017).

Bedrat, A., Lacroix, L. & Mergny, J. L. Re-evaluation of G-quadruplex propensity with G4Hunter. Nucleic Acids Res. 44, 1746–1759 (2016).

Huppert, J. L. & Balasubramanian, S. Prevalence of quadruplexes in the human genome. Nucleic Acids Res. 33, 2908–2916 (2005).

Hansel-Hertsch, R. et al. G-quadruplex structures mark human regulatory chromatin. Nat. Genet. 48, 1267–1272 (2016).

Li, C. et al. Ligand-induced native G-quadruplex stabilization impairs transcription initiation. Genome Res. 31, 1546–1560 (2021).

Mao, S. Q. et al. DNA G-quadruplex structures mold the DNA methylome. Nat. Struct. Mol. Biol. 25, 951–957 (2018).

Ray, S. et al. Custom DNA microarrays reveal diverse binding preferences of proteins and small molecules to thousands of G-Quadruplexes. ACS Chem. Biol. 15, 925–935 (2020).

Tran, P. L. T. et al. Folding and persistence times of intramolecular G-quadruplexes transiently embedded in a DNA duplex. Nucleic Acids Res. 49, 5189–5201 (2021).

van Holde, K. & Zlatanova, J. Unusual DNA structures, chromatin and transcription. BioEssays 16, 59–68 (1994).

Hershman, S. G. et al. Genomic distribution and functional analyses of potential G-quadruplex-forming sequences in Saccharomyces cerevisiae. Nucleic Acids Res. 36, 144–156 (2008).

Dingwall, C., Lomonossoff, G. P. & Laskey, R. A. High sequence specificity of micrococcal nuclease. Nucleic Acids Res. 9, 2659–2673 (1981).

Horz, W. & Altenburger, W. Sequence specific cleavage of DNA by micrococcal nuclease. Nucleic Acids Res. 9, 2643–2658 (1981).

Foulk, M. S., Urban, J. M., Casella, C. & Gerbi, S. A. Characterizing and controlling intrinsic biases of Lambda exonuclease in nascent strand sequencing reveals phasing between nucleosomes and G-quadruplex motifs around a subset of human replication origins. Genome Res. 25, 725–735 (2015).

Luo, Y., Granzhan, A., Verga, D. & Mergny, J. L. FRET-MC: a fluorescence melting competition assay for studying G4 structures in vitro. Biopolymers 112, e23415 (2020).

Rodriguez, R. et al. Small-molecule-induced DNA damage identifies alternative DNA structures in human genes. Nat. Chem. Biol. 8, 301–310 (2012).

Chambers, V. S. et al. High-throughput sequencing of DNA G-quadruplex structures in the human genome. Nat. Biotechnol. 33, 877–881 (2015).

Sun, H., Karow, J. K., Hickson, I. D. & Maizels, N. The Bloom's syndrome helicase unwinds G4 DNA. J. Biol. Chem. 273, 27587–27592 (1998).

Vaughn, J. P. et al. The DEXH protein product of the DHX36 gene is the major source of tetramolecular quadruplex G4-DNA resolving activity in HeLa cell lysates. J. Biol. Chem. 280, 38117–38120 (2005).

Natoli, G. & Andrau, J. C. Noncoding transcription at enhancers: general principles and functional models. Annu. Rev. Genet. 46, 1–19 (2012).

Xia, Y. et al. Transmission of dynamic supercoiling in linear and multi-way branched DNAs and its regulation revealed by a fluorescent G-quadruplex torsion sensor. Nucleic Acids Res. 46, 7418–7424 (2018).

Jonkers, I., Kwak, H. & Lis, J. T. Genome-wide dynamics of Pol II elongation and its interplay with promoter proximal pausing, chromatin, and exons. eLife 3, e02407 (2014).

Medlin, J. et al. P-TEFb is not an essential elongation factor for the intronless human U2 snRNA and histone H2b genes. EMBO J. 24, 4154–4165 (2005).

Shen, J. et al. Promoter G-quadruplex folding precedes transcription and is controlled by chromatin. Genome Biol. 22, 143 (2021).

Cusack, M. et al. Distinct contributions of DNA methylation and histone acetylation to the genomic occupancy of transcription factors. Genome Res. 30, 1393–1406 (2020).

Vaid, R., Wen, J. & Mannervik, M. Release of promoter-proximal paused Pol II in response to histone deacetylase inhibition. Nucleic Acids Res. 48, 4877–4890 (2020).

Kelsey, G. & Feil, R. New insights into establishment and maintenance of DNA methylation imprints in mammals. Philos. Trans. R. Soc. Lond. B Biol. Sci. 368, 20110336 (2013).

Sanli, I. et al. Meg3 non-coding RNA expression controls imprinting by preventing transcriptional upregulation in cis. Cell Rep. 23, 337–348 (2018).

Valouev, A. et al. Determinants of nucleosome organization in primary human cells. Nature 474, 516–520 (2011).

Capra, J. A., Paeschke, K., Singh, M. & Zakian, V. A. G-quadruplex DNA sequences are evolutionarily conserved and associated with distinct genomic features in Saccharomyces cerevisiae. PLoS Comput. Biol. 6, e1000861 (2010).

Fu, Y., Sinha, M., Peterson, C. L. & Weng, Z. The insulator binding protein CTCF positions 20 nucleosomes around its binding sites across the human genome. PLoS Genet. 4, e1000138 (2008).

Lay, F. D. et al. The role of DNA methylation in directing the functional organization of the cancer epigenome. Genome Res. 25, 467–477 (2015).

Ozcan, K. A., Ghaffari, L. T. & Haeusler, A. R. The effects of molecular crowding and CpG hypermethylation on DNA G-quadruplexes formed by the C9orf72 nucleotide repeat expansion. Sci. Rep. 11, 23213 (2021).

Stevens, A. J. et al. G-quadruplex structures and CpG methylation cause drop-out of the maternal allele in polymerase chain reaction amplification of the imprinted MEST gene promoter. PLoS ONE 9, e113955 (2014).

Wang, Z. F. et al. Cytosine epigenetic modification modulates the formation of an unprecedented G4 structure in the WNT1 promoter. Nucleic Acids Res. 48, 1120–1130 (2020).

Valton, A. L. & Prioleau, M. N. G-Quadruplexes in DNA replication: a problem or a necessity? Trends Genet. 32, 697–706 (2016).

Mendoza, O., Bourdoncle, A., Boule, J. B., Brosh, R. M. Jr. & Mergny, J. L. G-quadruplexes and helicases. Nucleic Acids Res. 44, 1989–2006 (2016).

Asamitsu, S., Obata, S., Yu, Z., Bando, T. & Sugiyama, H. Recent progress of targeted G-quadruplex-preferred ligands toward cancer therapy. Molecules 24, 429 (2019).

Esnault, C., Magat, T., García-Oliver, E. & Andrau, J. C. Analyses of promoter, enhancer, and nucleosome organization in mammalian cells by MNase-seq. Methods Mol. Biol. 2351, 93–104 (2021).

Langmead, B. & Salzberg, S. L. Fast gapped-read alignment with Bowtie 2. Nat. Methods 9, 357–359 (2012).

Fenouil, R. et al. Pasha: a versatile R package for piling chromatin HTS data. Bioinformatics 32, 2528–2530 (2016).

Zhang, Y. et al. Model-based analysis of ChIP–seq (MACS). Genome Biol. 9, R137 (2008).

Orlando, D. A. et al. Quantitative ChIP–seq normalization reveals global modulation of the epigenome. Cell Rep. 9, 1163–1170 (2014).

Anders, S. & Huber, W. Differential expression analysis for sequence count data. Genome Biol. 11, R106 (2010).

Descostes, N. et al. Tyrosine phosphorylation of RNA polymerase II CTD is associated with antisense promoter transcription and active enhancers in mammalian cells. eLife 3, e02105 (2014).

Bailey, T. L. et al. MEME SUITE: tools for motif discovery and searching. Nucleic Acids Res. 37, W202–W208 (2009).

Anvar, Z. et al. ZFP57 recognizes multiple and closely spaced sequence motif variants to maintain repressive epigenetic marks in mouse embryonic stem cells. Nucleic Acids Res. 44, 1118–1132 (2016).

Morison, I. M., Ramsay, J. P. & Spencer, H. G. A census of mammalian imprinting. Trends Genet. 21, 457–465 (2005).

Schulz, R. et al. WAMIDEX: a web atlas of murine genomic imprinting and differential expression. Epigenetics 3, 89–96 (2008).

Xie, W. et al. Base-resolution analyses of sequence and parent-of-origin dependent DNA methylation in the mouse genome. Cell 148, 816–831 (2012).

Lacroix, L. G4HunterApps. Bioinformatics 35, 2311–2312 (2019).

Quinlan, A. R. & Hall, I. M. BEDTools: a flexible suite of utilities for comparing genomic features. Bioinformatics 26, 841–842 (2010).

Trapnell, C. et al. Transcript assembly and quantification by RNA-seq reveals unannotated transcripts and isoform switching during cell differentiation. Nat. Biotechnol. 28, 511–515 (2010).

Huang da, W., Sherman, B. T. & Lempicki, R. A. Systematic and integrative analysis of large gene lists using DAVID bioinformatics resources. Nat. Protoc. 4, 44–57 (2009).

Krueger, F. & Andrews, S. R. Bismark: a flexible aligner and methylation caller for Bisulfite-seq applications. Bioinformatics 27, 1571–1572 (2011).

Loyfer, N. et al. A DNA methylation atlas of normal human cell types. Nature 613, 355–364 (2023).

Saldanha, A. J. Java Treeview—extensible visualization of microarray data. Bioinformatics 20, 3246–3248 (2004).

Humayun, M. S., Rady, A. M. & Soliman, G. M. Obstructive jaundice secondary to intra-biliary rupture of hepatic hydatid cyst. Int. Surg. 74, 4–6 (1989).

Makrini, A., Esnault, C., Andrau, J. C. & Magat, T. Scripts and codes for G4access analysis. Zenodo. https://zenodo.org/record/7912528 (2023).
Acknowledgements
This work was supported by JCA lab (grant ANR-20-CE12-0023), FRM (grant AJE20130728183), INCA PLbIO (grant 2020-117) and CNRS 80prime 2021 (grant DeciphG4). This project has received financial support from the CNRS through the MITI interdisciplinary programs. C.E. was supported in part by an ARC grant (retour postdoc). We thank B. Loriod and the Transcriptomics and Genomics Marseille-Luminy (TGML) platform for sequencing the G4access samples. We are grateful to D. Monchaud for providing us with G4-interfering molecules in exploratory experiments. TGML is a member of the France Génomique Consortium (ANR-10-INBS-0009). E.G.O., T.M. and S.B. were supported by grants from the Epigenesys Labex of excellence and EGO in part by ANR-18-CE12-0019. We acknowledge the financial support from the France Génomique National Infrastructure, funded as part of 'Investissement d'Avenir' program managed by the Agence Nationale de la Recherche (contract ANR-10-INBS-09) for the MGX sequencing platform facility in Montpellier. We are also grateful to the Genotoul Bioinformatics Platform Toulouse Midi-Pyrenees for computing and storage resources. The funders had no role in study design, data collection and analysis, and decision to publish or preparation of the manuscript. We also thank P. Navarro and E. Kremer for critical reading of the manuscript and the Raman-Livaja lab for help in the yeast extract preparation.
Ethics declarations
Competing interests
The authors declare no competing interests.
Peer review
Peer review information
Nature Genetics thanks F. Brad Johnson and the other, anonymous, reviewer(s) for their contribution to the peer review of this work. Peer reviewer reports are available.
Additional information
Publisher's note Springer Nature remains neutral with regard to jurisdictional claims in published maps and institutional affiliations.
Supplementary information
Rights and permissions
Springer Nature or its licensor (e.g. a society or other partner) holds exclusive rights to this article under a publishing agreement with the author(s) or other rightsholder(s); author self-archiving of the accepted manuscript version of this article is solely governed by the terms of such publishing agreement and applicable law.
About this article
Cite this article
Esnault, C., Magat, T., Zine El Aabidine, A. et al. G4access identifies G-quadruplexes and their associations with open chromatin and imprinting control regions. Nat Genet 55, 1359–1369 (2023). https://doi.org/10.1038/s41588-023-01437-4
Received:

Accepted:

Published:

Issue Date:

DOI: https://doi.org/10.1038/s41588-023-01437-4