Abstract
Accurate somatic mutation detection from single-cell DNA sequencing is challenging due to amplification-related artifacts. To reduce this artifact burden, an improved amplification technique, primary template-directed amplification (PTA), was recently introduced. We analyzed whole-genome sequencing data from 52 PTA-amplified single neurons using SCAN2, a new genotyper we developed to leverage mutation signatures and allele balance in identifying somatic single-nucleotide variants (SNVs) and small insertions and deletions (indels) in PTA data. Our analysis confirms an increase in nonclonal somatic mutation in single neurons with age, but revises the estimated rate of this accumulation to 16 SNVs per year. We also identify artifacts in other amplification methods. Most importantly, we show that somatic indels increase by at least three per year per neuron and are enriched in functional regions of the genome such as enhancers and promoters. Our data suggest that indels in gene-regulatory elements have a considerable effect on genome integrity in human neurons.
Access options
Subscribe to Nature+
Get immediate online access to Nature and 55 other Nature journal
Subscribe to Journal
Get full journal access for 1 year
$79.00
only $6.58 per issue
All prices are NET prices.
VAT will be added later in the checkout.
Tax calculation will be finalised during checkout.
Buy article
Get time limited or full article access on ReadCube.
$32.00
All prices are NET prices.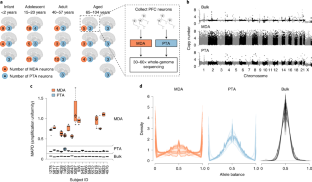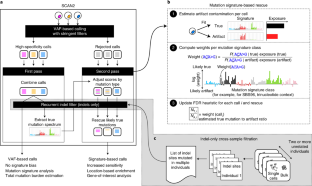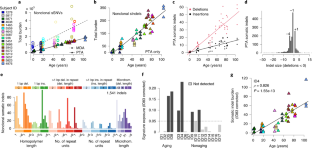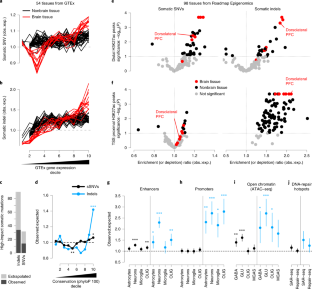 Data availability
All MDA-amplified single neurons and matched bulks listed in Supplementary Table 2 were downloaded from dbGaP, accession no. phs001485.v1.p1. Only neurons from the PFCs of individuals for which additional PTA data were generated were used. Raw sequencing read data for PTA-amplified human neurons can be downloaded from dbGaP, accession no. phs001485.v3.p1. PTA-amplified mESC kindred cells and bulks can be downloaded from the National Center for Biotechnology Information's Sequence Read Archive, accession no. PRJNA832209.
References
Poduri, A., Evrony, G. D., Cai, X. & Walsh, C. A. Somatic mutation, genomic variation, and neurological disease. Science 341, 43–51 (2013).

Lodato, M. et al. Somatic mutation in single human neurons tracks developmental and transcriptional history. Science 350, 94–98 (2015).

Martincorena, I. et al. High burden and pervasive positive selection of somatic mutations in normal human skin. Science 348, 880–886 (2015).

Jaiswal, S. et al. Clonal hematopoiesis and risk of atherosclerotic cardiovascular disease. N. Engl. J. Med. 377, 111–121 (2017).

Blokzijl, F. et al. Tissue-specific mutation accumulation in human adult stem cells during life. Nature 538, 260–264 (2016).

Lodato, M. et al. Aging and neurodegeneration are associated with increased mutations in single human neurons. Science 359, 555–559 (2018).

Martincorena, I. et al. Somatic mutant clones colonize the human esophagus with age. Science 362, 911–917 (2018).

Lee-Six, H. et al. The landscape of somatic mutation in normal colorectal epithelial cells. Nature 574, 532–537 (2019).

Franco, I. et al. Somatic mutagenesis in satellite cells associates with human skeletal muscle aging. Nat. Commun. 9, 800 (2018).

Franco, I. et al. Whole genome DNA sequencing provides an atlas of somatic mutagenesis in healthy human cells and identifies a tumor-prone cell type. Genome Biol. 20, 285 (2019).

Woodworth, M. B., Girskis, K. M. & Walsh, C. A. Building a lineage from single cells: genetic techniques for cell lineage tracking. Nat. Rev. Genet. 18, 230–244 (2017).

Evrony, G., Lee, E., Park, P. J. & Walsh, C. A. Resolving rates of mutation in the brain using single-neuron genomics. eLife 5, e12966 (2016).

Zhang, C. Z. et al. Calibrating genomic and allelic coverage bias in single-cell sequencing. Nat. Commun. 6, 6822 (2015).

Luquette, L. J. et al. Identification of somatic mutations in single cell DNA-seq using a spatial model of allelic imbalance. Nat. Commun. 10, 3908 (2019).

Bohrson, C. et al. Linked-read analysis identifies mutations in single-cell DNA sequencing data. Nat. Genet. 51, 749–754 (2019).

Gonzalez-Pena, V. et al. Accurate genomic variant detection in single cells with primary template-directed amplification. Proc. Natl Acad. Sci. USA 118, e2024176118 (2021).

Alexandrov, L. B. et al. Signatures of mutational processes in human cancer. Nature 500, 415–421 (2013).

Zafar, H., Wang, Y., Nakhleh, L., Navin, N. & Chen, K. Monovar: single-nucleotide variant detection in single cells. Nat. Methods 13, 505–507 (2016).

Singer, J., Kuipers, J., Jahn, K. & Beerenwinkel, N. Single-cell mutation identification via phylogenetic inference. Nat. Commun. 9, 5144 (2018).

Miller, M. B. et al. Somatic genomic changes in single Alzheimer's disease neurons. Nature 604, 714–722 (2022).

McConnell, M. J. et al. Mosaic copy number variation in human neurons. Science 342, 632–637 (2013).

Chronister, W. D. et al. Neurons with complex karyotypes are rare in aged human neocortex. Cell Rep. 26, 825–835 (2019).

Dong, X. et al. Accurate identification of single-nucleotide variants in whole-genome-amplified single cells. Nat. Methods 14, 491–493 (2017).

Petljak, M. et al. Characterizing mutational signatures in human cancer cell lines reveals episodic APOBEC mutagenesis. Cell 176, 1282–1294 (2019).

Gymrek, M. PCR-free library preparation greatly reduces stutter noise at short tandem repeats. Preprint at bioRxiv https://doi.org/10.1101/043448 (2016).

Lasken, R. S. & Stockwell, T. B. Mechanism of chimera formation during the multiple displacement amplification reaction. BMC Biotechnol. https://doi.org/10.1186/1472-6750-7-19 (2007).

Yoshida, K. et al. Tobacco smoking and somatic mutations in human bronchial epithelium. Nature 578, 266–272 (2020).

Cingolani, P. et al. A program for annotating and predicting the effects of single nucleotide polymorphisms, SnpEff: SNPs in the genome of Drosophila melanogaster strain w1118; iso-2; iso-3. Fly 6, 80–92 (2012).

Reid, D. et al. Incorporation of a nucleoside analog maps genome repair sites in postmitotic human neurons. Science 372, 91–94 (2021).

Wu, W. et al. Neuronal enhancers are hotspots for DNA single-strand break repair. Nature 593, 440–444 (2021).

Madabhushi, R. et al. Activity-induced DNA breaks govern the expression of neuronal early-response genes. Cell 161, 1592–1605 (2015).

Roadmap Epigenomics Consortium, Kundaje, A. et al. Integrative analysis of 111 reference human epigenomes. Nature 518, 317–330 (2015).

Nott et al. Brain cell type-specific enhancer-promoter interactome maps and disease-risk association. Science 366, 1134–1139 (2019).

Hauberg, M. et al. Common schizophrenia risk variants are enriched in open chromatin regions of human glutamatergic neurons. Nat. Commun. 11, 5581 (2020).

Alt, F. W. & Schwer, B. DNA double-strand breaks as drivers of neural genomic change, function, and disease. DNA Repair 71, 158–163 (2018).

Xing, D. et al. Accurate SNV detection in single cells by transposon-based whole-genome amplification of complementary strands. Proc. Natl Acad. Sci. USA 118, e2013106118 (2021).

Abascal, F. et al. Somatic mutation landscapes at single-molecule resolution. Nature 593, 405–410 (2021).

Evrony, G. D. et al. Single-neuron sequencing analysis of L1 retrotransposition and somatic mutation in the human brain. Cell 151, 483–496 (2012).

Baslan, T. et al. Genome-wide copy number analysis of single cells. Nat. Protoc. 7, 1024–1041 (2012).

Garvin, T. et al. Interactive analysis and assessment of single-cell copy-number variations. Nat. Methods 12, 1058–1060 (2015).

Bergstrom, E. N. et al. SigProfilerMatrixGenerator: a tool for visualizing and exploring patterns of small mutational events. BMC Genom. 20, 685 (2019).

Bates, D., Mächler, M., Bolker, B. & Walker, S. Fitting linear mixed-effects models using lme4. J. Stat. Softw. 67, 1–48 (2015).

Alexandrov, L. SigProfiler. MATLAB Central File Exchange https://www.mathworks.com/matlabcentral/fileexchange/38724-sigprofiler (2020).

Luquette, L. SCAN2_PTA_paper_2022. Zenodo https://doi.org/10.5281/zenodo.6532827 (2022).
Acknowledgements
We thank R. S. Hill, R. Mathieu and L. (Sahithi) Cheemalamarri at the Boston Children's Hospital & Harvard Stem Cell Institute Flow Cytometry Research Facility, the Research Computing group at Harvard Medical School, and the Boston Children's Hospital Intellectual and Developmental Disabilities Research Center Molecular Genetics Core for assistance. Human tissue was obtained from the NIH Neurobiobank at the University of Maryland, and we thank the donors and families for their invaluable contributions to the advancement of science. This work was supported by the Bioinformatics and Integrative Genomics training grant (no. T32HG002295 to L.J.L.), grant nos. K08 AG065502 and T32 HL007627 (to M.B.M.), the Brigham and Women's Hospital Program for Interdisciplinary Neuroscience through a gift from Lawrence and Tiina Rand (to M.B.M.), the donors of the Alzheimer's Disease Research program of the BrightFocus Foundation (no. A20201292F to M.B.M.), the Doris Duke Charitable Foundation Clinical Scientist Development Award (no. 2021183 to M.B.M.), PRMRP Discovery Award (no. W81XWH2010028 to Z.Z.), the Edward R. and Anne G. Lefler Center postdoctoral fellowship (to Z.Z.), and grant nos. R00 AG054748 (to M.A.L.), R01 AG070921 (to C.A.W.) and R01NS032457 and U01MH106883 (to P.J.P. and C.A.W.), and the Allen Discovery Center program, a Paul G. Allen Frontiers Group advised program of the Paul G. Allen Family Foundation (to C.A.W.). C.A.W. is an investigator at the Howard Hughes Medical Institute. The funders had no role in the study design, data collection and analysis, decision to publish or preparation of the manuscript.
Ethics declarations
Competing interests
The authors declare the following competing interests: C.G. is Director and cofounder and J.W. is CEO and cofounder of Bioskryb, Inc., the manufacturer of PTA kits used in the present study. C.A.W. is a consultant for Maze Therapeutics (cash, equity), Third Rock Ventures (cash) and Flagship Pioneering (cash), none of which have any relevance to the present study. The remaining authors declare no competing interests.
Peer review
Peer review information
Nature Genetics thanks Ruben van Boxtel and Federico Abascal for their contribution to the peer review of this work.
Additional information
Publisher's note Springer Nature remains neutral with regard to jurisdictional claims in published maps and institutional affiliations.
Supplementary information
Supplementary Figs. 1–11, Note and Tables 1–3.
Rights and permissions
Springer Nature or its licensor holds exclusive rights to this article under a publishing agreement with the author(s) or other rightsholder(s); author self-archiving of the accepted manuscript version of this article is solely governed by the terms of such publishing agreement and applicable law.
About this article
Cite this article
Luquette, L.J., Miller, M.B., Zhou, Z. et al. Single-cell genome sequencing of human neurons identifies somatic point mutation and indel enrichment in regulatory elements. Nat Genet 54, 1564–1571 (2022). https://doi.org/10.1038/s41588-022-01180-2
Received:

Accepted:

Published:

Issue Date:

DOI: https://doi.org/10.1038/s41588-022-01180-2